Last Updated on January 2, 2023
Are you a die-hard Gmod fan? Or have you just started to get into the game?
Regardless, you may feel the urge to create your own private servers to play with your friends.
But finding server hosts is not always be easy.
For that reason, we've created this article to list down some of the very best server hosting deals for GMod on the web right now, so you could wait no longer to enjoy the game with your friends or strangers.
What is the best GMod server hosting service?
Below you would find our list of the best Garry's Mod hosting providers this year: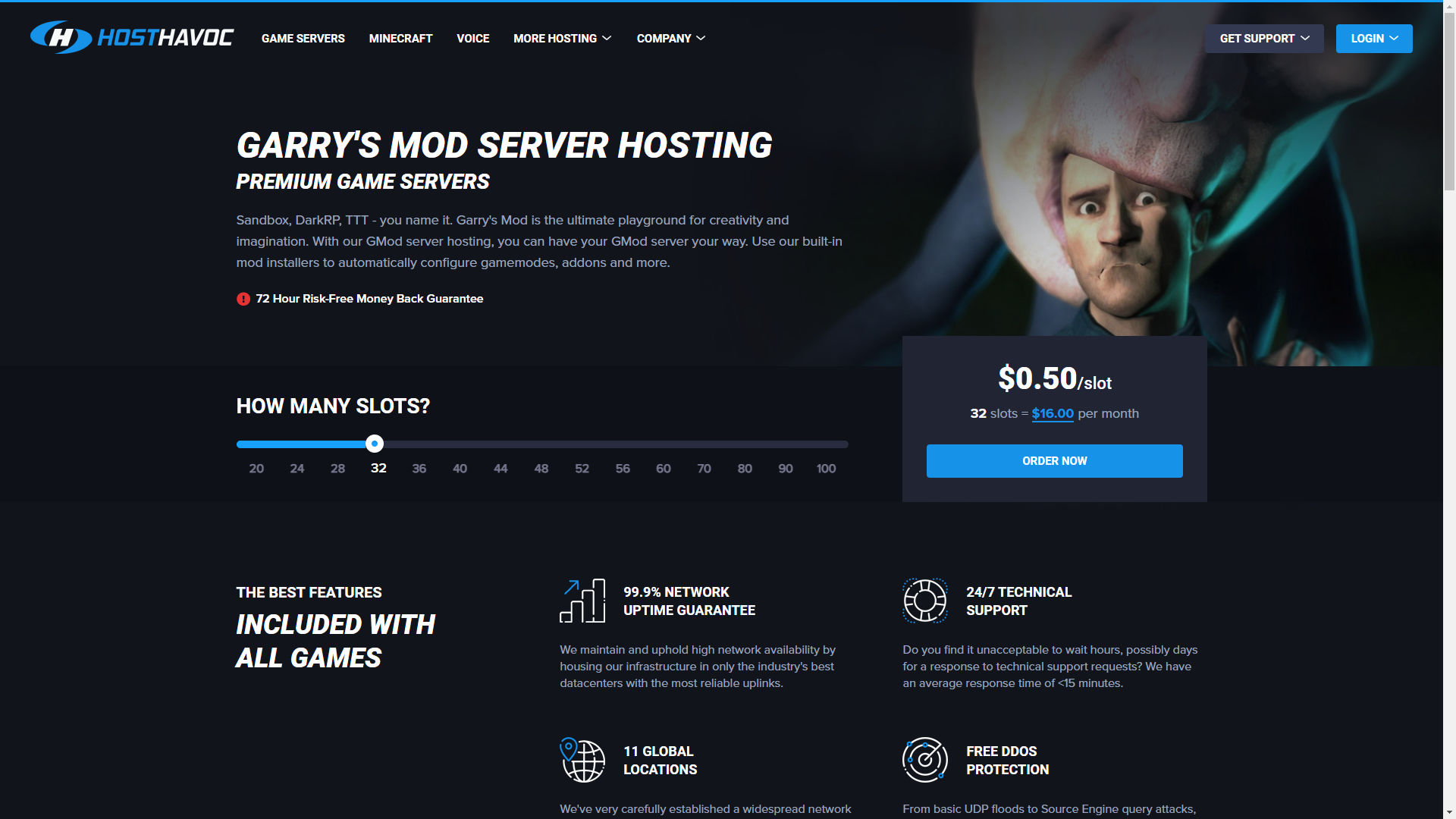 HostHavoc is definitely the best company that hosts servers for GMod.
They feature all the great aspects of a perfect server. From speed, security, and technical support, to extremely user-friendly and customizable interface options.
One special feature is that they also allow the user to creatively meddle with the server's launch command line. Their server hosting is highly effective and uninterrupted, the interface is pretty user-friendly, and they have a 24/7 active technical support team.
Besides that, you get free DDoS and FTP, as well as a web-based file manager. You get many creative options with the mods too.
Pros:
Reasonable pricing.
Easy to use.
Secure and fast.
Free FTP access.
Free DDoS Protection.
The ability to configure their server's launch command line.
Mods easy-to-install.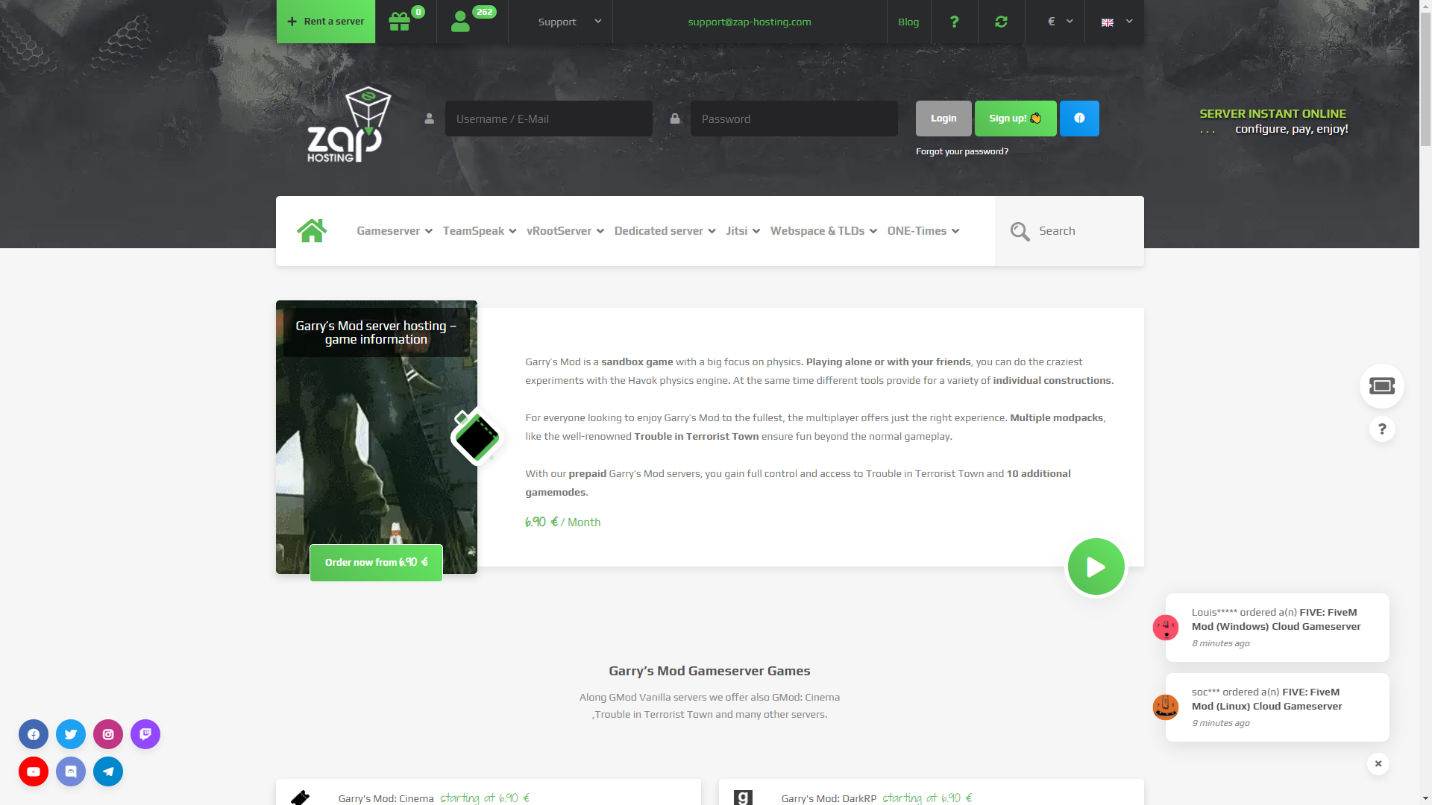 Zap-Hosting is another top-tier GMod server hosting company.
And since it's a matter of the very best companies, it will have most of the good features of the top rated service too. Their prepaid servers become online only a few seconds after the purchase is made.
Zap-Hosting's servers are very effective and secure, and their interface is one of the easiest ones to use, as well as one that allows a great deal of creativity. You can easily modify the settings to suit what you want, and with the free FTP access, you can also extend the server with files uploaded by you.
They can host large memory boosts effectively, and the server's initial setup is automatic. The mods are very easy to install, and the mod-packs can be fun.
Pros:
Rapid service.
Reasonable pricing.
Easy to use.
Secure and fast.
Free FTP access.
Free DDoS Protection.
Mods easy-to-install.
3. Iceline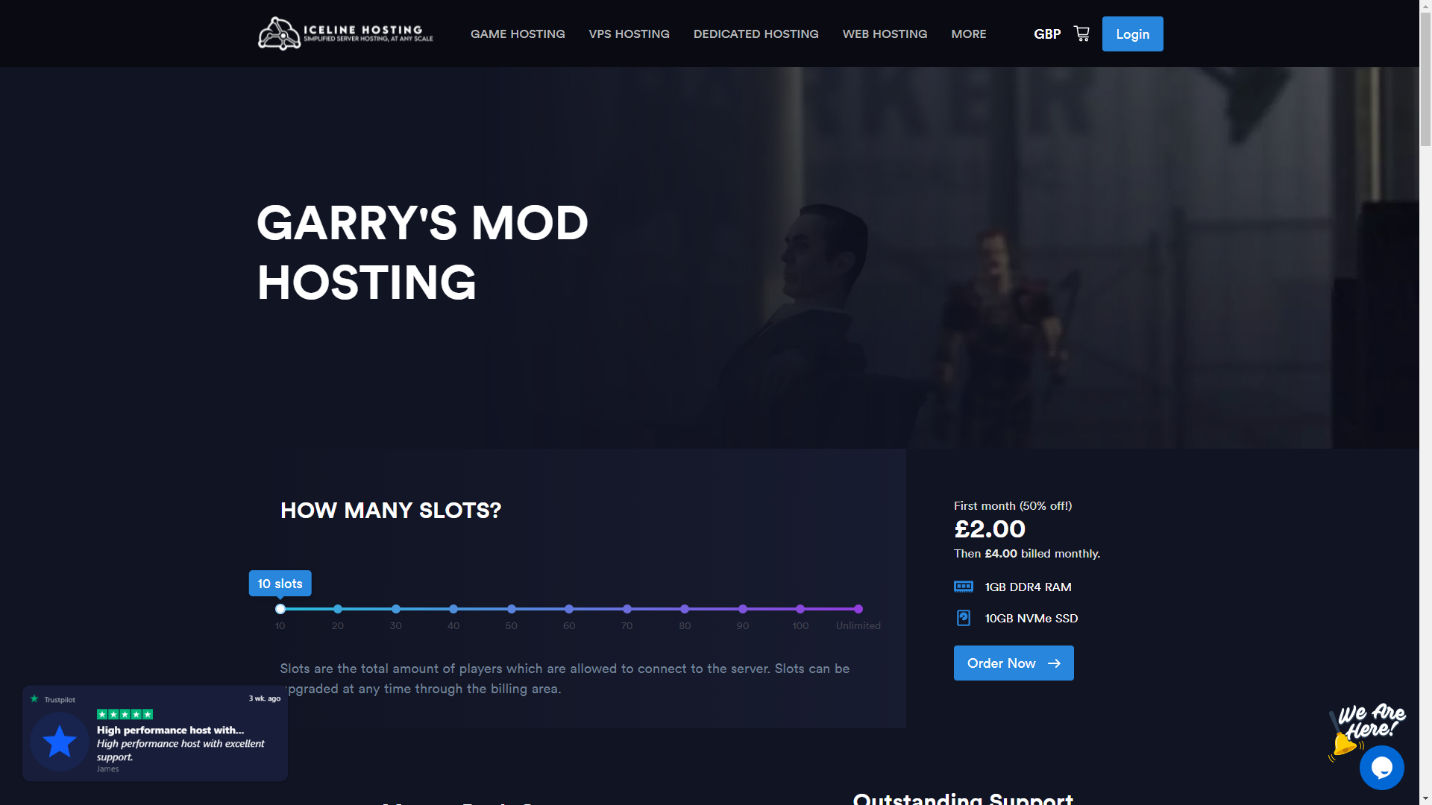 Probably the simplest, but also one of the most effective GMod server hosting.
A lot of effective controls, information, and resources are provided with their servers, and their quickness can be argued in favor of with the fact that they use the most high-end NVMe storage and CPUs.
It features one of the easiest ways of installing the mods too, albeit due to its simple yet handy interface, which would take only a short amount of time to familiarize. In addition, they have a policy of providing a 48 hour refund if one's not satisfied with their service.
Extremely easy to use.
Secure and fast.
Free FTP access.
Free DDoS Protection.
Mods extremely easy-to-install.
Refund policies.
How much does it cost to host an GMod server?
How much an GMod server may cost depends on the duration and the features of the package. On a per-week basis though, It can range from $7 to over $20 depending on the service and the additional features that one has chosen for it.
Can you host your own GMod server?
Yes, it is very possible for you to host an GMod server of your own, despite how relatively mediocre that may turn out to be. For this to work though, you'll have to follow some unorthodox guidelines that manipulate the local files of the game, and if in you're no mood for that, you're definitely recommended to purchase server hosting from companies that dedicate themselves to hosting good GMod servers.
Can I host an GMod server for free?
Yes, it is possible for you to host your own GMod server for free.
However, it would be a very long process, and would require a lot of control from the hosts.