Last Updated on April 15, 2022
Looking to create new custom Discord emotes for your Discord channel? Don't know where to start searching for a talented artist?
Well, we've got you covered!
In this article I would share with my personal list of the top Discord emote artists, based on my own experience from multiple different artists.
What are the best discord emote commission services?
Below you'd find my list of the best Discord emote artists to try this year:
1. weiicart – Best Discord emote artist on Fiverr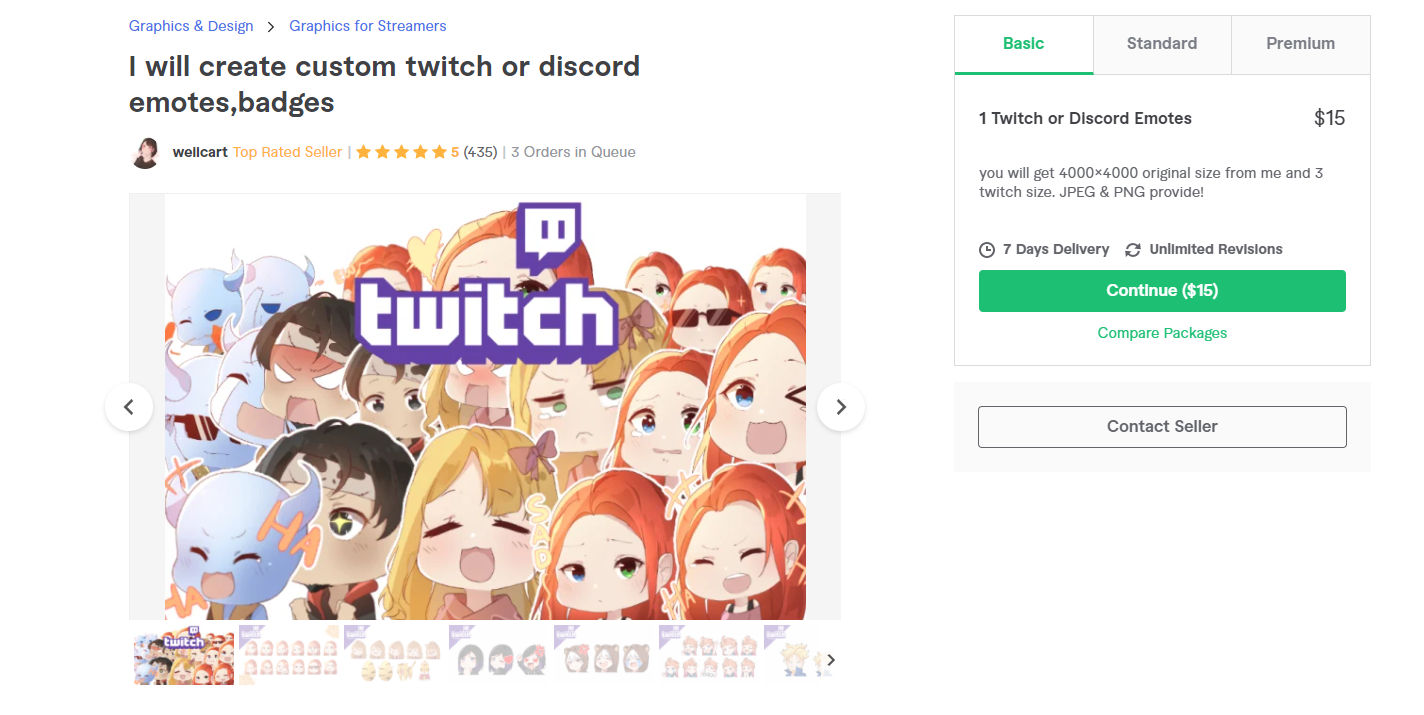 This top rated artist from Indonesia creates the most professional emotes for multiple platforms, and displays potential of creating the perfect emotes for your Discord servers.
Weiicart's work is a great mixture of professionalism and adorableness. Their sample images also show excellence in multiple styles of art, which is why they'd be a great choice if you have a very specific vision for your emote.
The reviewers praise their responsiveness, attention to detail, and the ability to turn their visions into creative manifestation. Their gig stands at an average rating of solid 5 stars with 435 total ratings.
What their customer's have to say about them:

Want your custom Discord emotes to be made by the very best Discord emote artist? Check out weiicart's gig.
2. Nidhmtd – Most Affordable Discord Emote Artist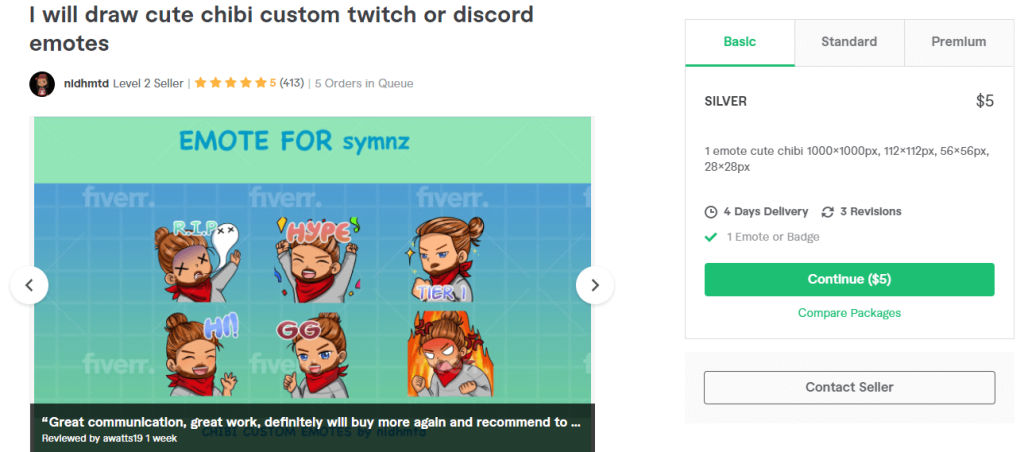 Nidhom is an experienced Indonesian emote artist with over 8 years of experience as an illustrator.
She has the cheapest gig on the platform while still providing high-quality stunning emotes. Her emotes, which are well-drawn with a lot of details and cute features, are one of her art's selling qualities.
The sky is the limit with this artist as she can bring any of your idea to life.
All she needs is a reference picture and detailed information about what you're looking for. There are five revisions available, so you can rest assured that you'll be happy with the final product.
Their past client commends her for the fast turnaround time, excellent communication, responsiveness, as well as the ability to achieve exactly what the buyers need. Their gig stands at an average rating of 5.0 stars with 413 total ratings.
Want a very affordable yet stunning discord emote? Reach out to Nidhom.
3. reptilisa – Extremely budget-friendly Discord emoji artist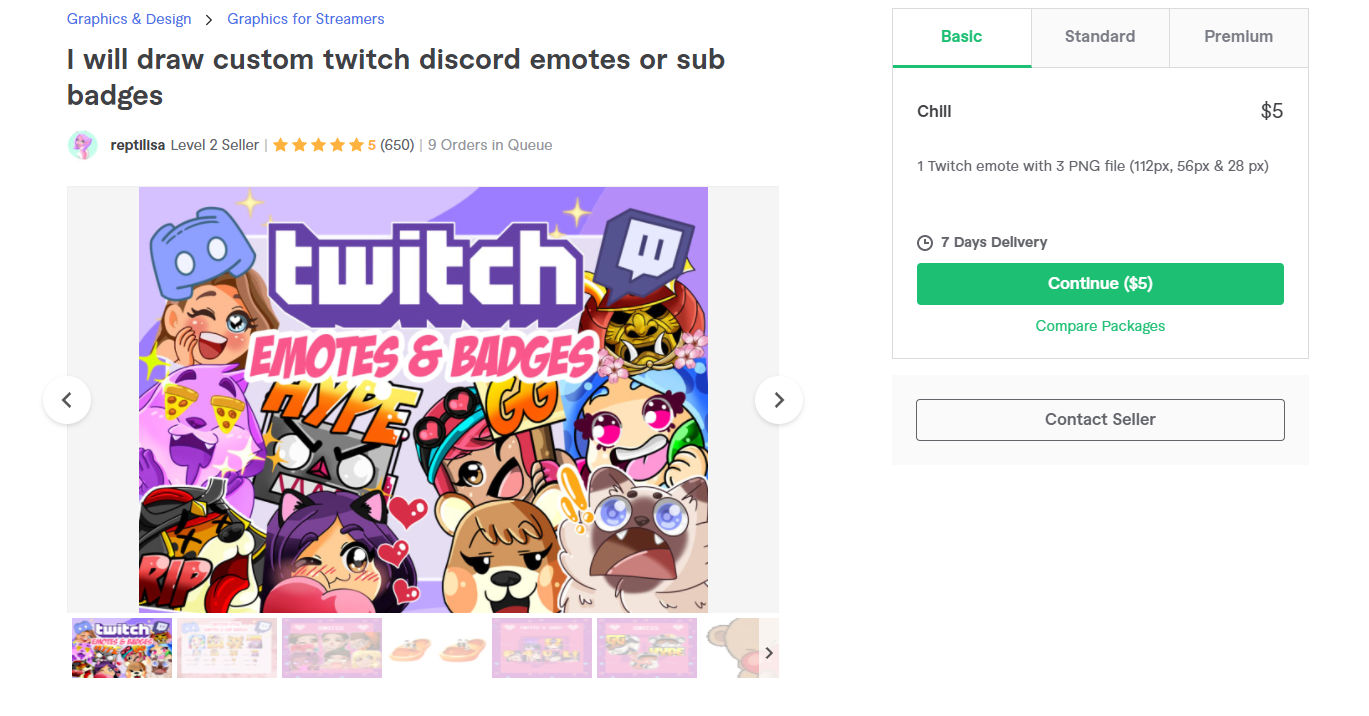 This artist from Mexico who identifies as an alien-like character creates absolutely marvelous emotes for multiple platforms. Their art style would definitely fit the nature of Discord server emotes.
What I personally like this the way this artist draws expression. The animated nature of this artist's work, alongside the extremely affordable price, is definitely one of the best aspects of their art.
The reviewers of reptilisa praise the fact that they need very little detail to understand what the buyer wants, and their communication and correction skill. Their emote gig stands at an average rating of solid 5 stars with 650 total ratings.
Want to commission beautiful custom Discord emotes at an affordable price? Check out reptilisa's gig.
4. yane_art – High quality custom Discord emote artist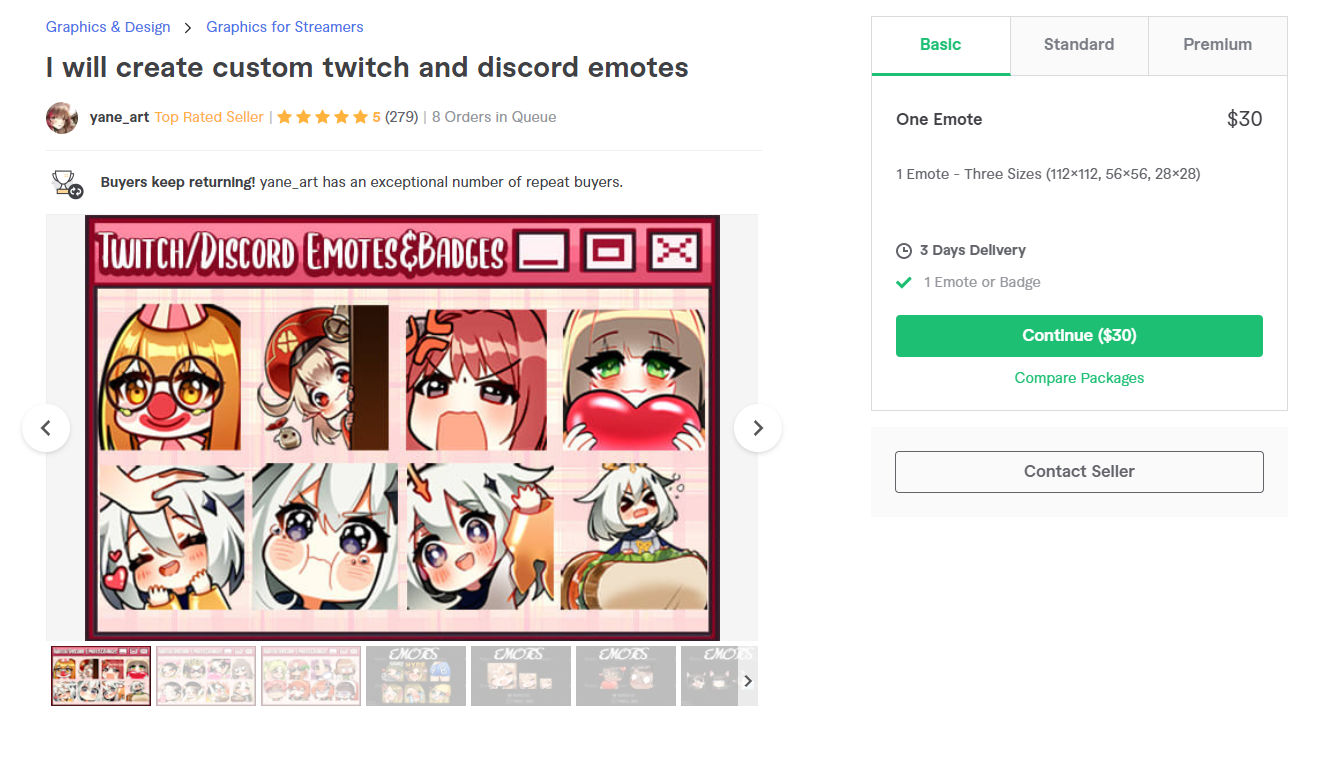 Yane is a very talented emote artist from Turkey who creates some of the funniest and most adorable emotes for Discord and Twitch, and is deservedly a top rated seller on Fiverr. Her emotes are drawn in a water color style, which is one of the selling aspects of her art.
The reviewers of her gig marvel at how adorable her emoji art is, and commend Yane for quick and effective communication throughout the order. She's also praised for understanding what the customer wants with very little detail. Her emote art gig stands at an average rating of solid 5 stars with 279 total ratings.
Want your custom Discord emotes to look absolutely beautiful? Check out yane_art's gig.
5. eightyeightdes – A versatile and popular Discord Emoji artist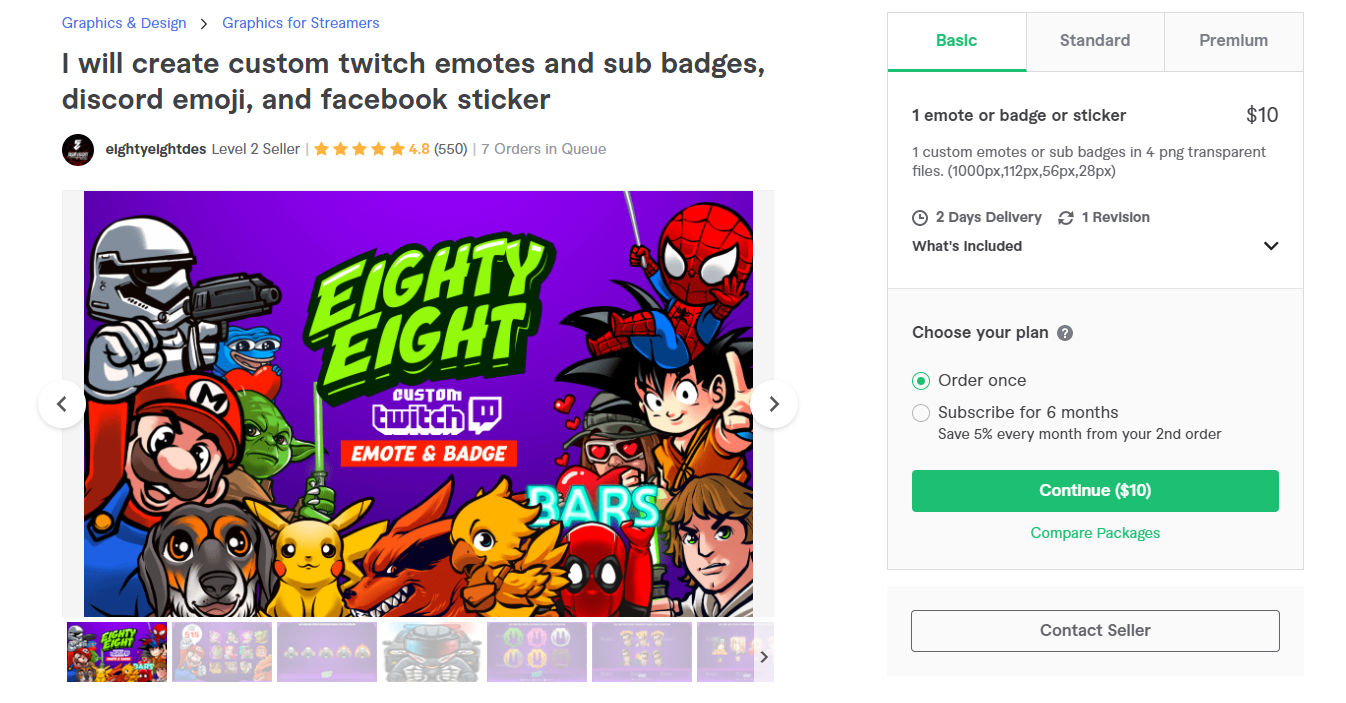 This team of graphic designers from Indonesia provides a vast range of art styles to base your Discord emotes on.
This group of artists makes service always possible due to the number of artists involved, and the service itself can be quick work too. They create accurate-looking yet funny emotes of pop-culture characters.
Their reviewers commend them for their quick service, responsiveness, as well as the ability to achieve exactly what the buyers need. Their gig stands at an average rating of 4.8 stars with 550 total ratings.
Want your custom Discord emotes to be made in distinct and versatile styles? Try eightyeightdes' Discord emote art service.
6. Heathen_caerus – Meme Discord Emotes Artist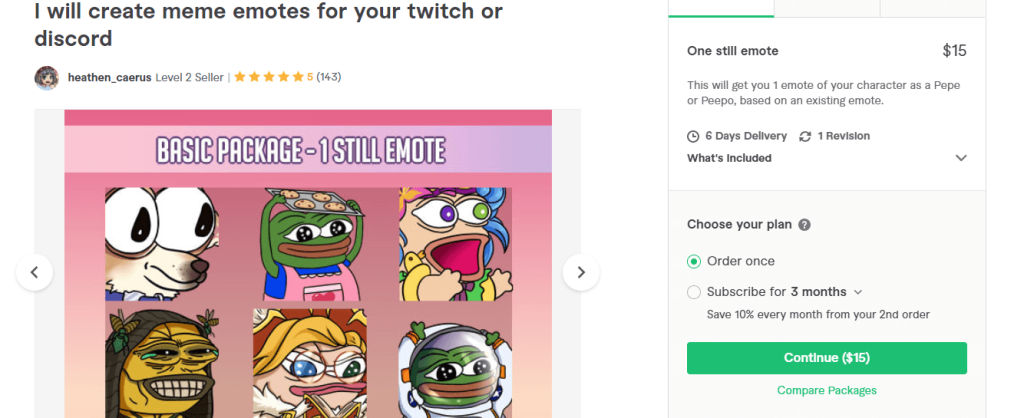 Are you a fan of Pepe the frog, Peepo and all other memes and looking to adapt it to a discord emote? Then Caerus is your go-to pro.
Caerus is a skilled artist who offers discord emotes of your favorite characters' meme versions. All you have to do is provide him with a character or visual reference, as well as the Pepe you want to see morphed together.
He's also willing to adapt additional memes that aren't Pepe, so feel free to inform him.
Her previous clients remark on how pleased they are with the outcome and praise Caerus for keeping them informed throughout the process. She's also praised for figuring out precisely what the consumer wants with very little information.
With 143 total ratings, her emotion art gig has an average rating of solid 5 stars.
Looking to adapt memes to your discord emotes? Send Caerus a message today!
How much do discord emotes cost?
An average discord emotes art commission can cost anywhere from $5 to $150.
The cost of hiring an artist for your discord emotes is determined by the type of art style required, the number of emotes, the emotes features, animation and complexity; all of these factors influence the final commission cost.
How do I get an emote Commission?
The best way to get an emote commission is to hire an emote artist from Fiverr.com. A list of skilled artists will display upon searching, out of which you should pick an artist who meets your needs and begin the commission.
Can't find a package that suits your requirements? Always feel free to contact individual sellers and request that they create a custom order for you. The majority of them would be delighted to take on the opportunity.