Last Updated on January 8, 2023
Are you a fan of the Final Fantasy XIV MMORPG game and searching for an art commission with no prior experience? Then you've come to the right place.
As a fan of this fantastic game, you may be interested in FFXIV commissions for yourself or as a gift for your loved ones.
We've done the heavy lifting for you and compiled a list of excellent FFXIV commission artists for your your next project.
What are the best FFXIV art commission services?
Getting an excellent commission starts with hiring a skilled and professional artist, and there's no better place to find one than Fiverr.
Although there are alternative platforms such as Twitter, Reddit, and Deviant Art. However, Fiverr stands out as it provides substantial benefits.
Fiverr is the world's largest marketplace for digital services, where creatives of all kinds sell their services for as low as $5.
They are offering an escrow service to ensure the safety of your funds.
Other features are also included to assist buyers in getting what they want while staying within their budget. So, yeah, Fiverr is the right choice.
In this article, we'll be reviewing the Top 5 Digital Artists on Fiverr best to handle your FFXIV projects based on our experience:
1. Captainiro – An Experienced, True-to-Style FFXIV Commission Artist

Captainiro is a skilled digital artist who creates a highly detailed, true-to-style FFXIV illustration that captures the essence of the characters.
She is not only a digital artist but also a fan of this fantastic game, which explains why she grasps the aesthetic and can draw more efficiently. She distinguishes out among other sellers as she only offers illustrations in the style of Final Fantasy XIV.
Capainiro is capable of handling a wide range of projects and offered to complete them in 3 to 5 days with only one revision. With prices ranging from $55 to $90, there's something for everyone. Her usual response time is one hour, so you should receive a response within that time frame.
Looking for a Pro to give your Character that FFXIV feel? Check out Captainiro's service.
2. Aphin123 – A Seasoned, True-to-style anime-like Illustrator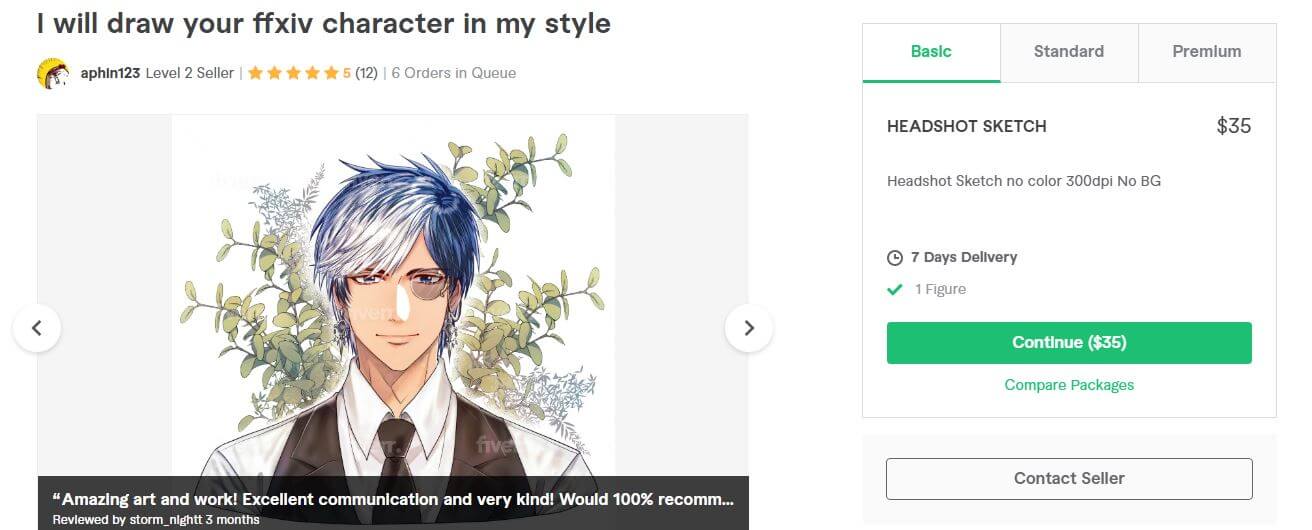 Aphin123 is an 8-year veteran in the webtoon manga industry who previously worked as a Senior Artist at Cocoon Production Studio. He offers to draw FFXIV character headshots in his anime style, leveraging his skills as a manga artist and an all-around excellent illustrator to create a wonderful piece of art.
He offers to draw headshots of characters such as LALAFELL, AU RA, HYUR, ELEZEN, ROEGADYN, MIQO'TE, HROTHGAR, VIERA, WOL/WOD, as well as NPCs and other characters in general.
Aphin123 offers affordable pricing ranging from $35 to $65, with delivery in 7-14 days. The result is well worth the wait, so if delivery time isn't an issue, you should give him a try. His standard response time is one hour, so you should hear back within that time frame.
He values discussions about the project so that he and the buyer are on the same page before placing an order. Extra services, such as express delivery, more detailing, or custom concepts, come at a higher cost. So, write him a message to discuss your project.
Looking for an Anime-style FFXIV illustration? Try Aphin123.
3. Wengo_art – Beautiful FF14 Art Commissions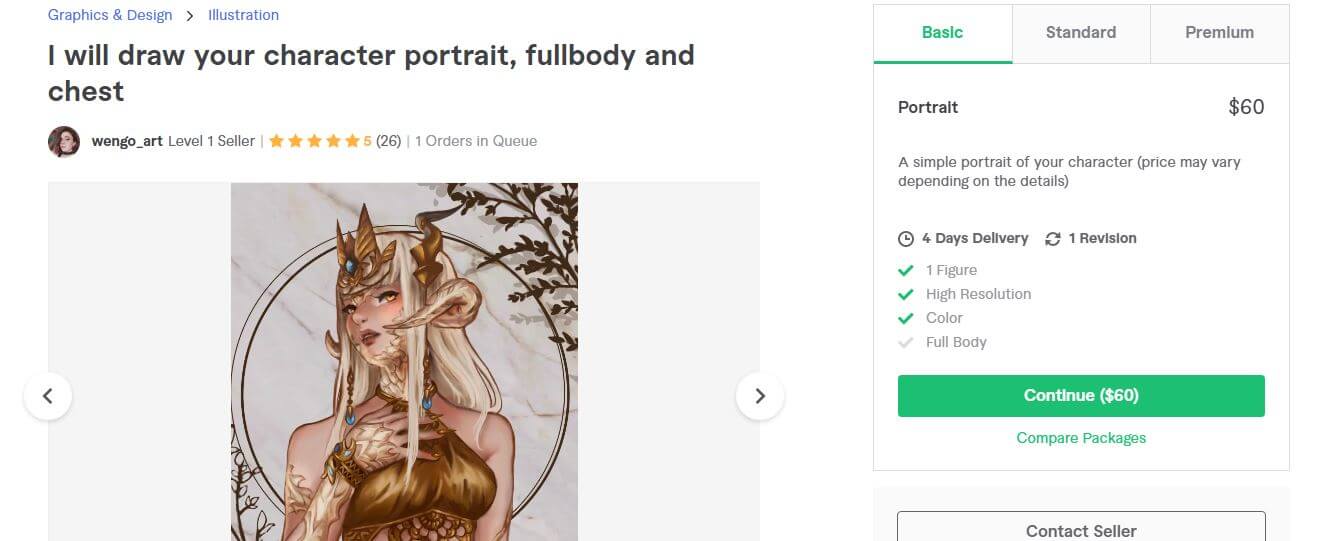 Wengo is a rising talent artist that is just getting started on the platform and has already risen to become a level-one seller, with 26 5-star reviews. Not just brief reviews, but lengthy ones where the buyer conveys their satisfaction with her service. That just goes to demonstrate how good she is.
Wengo's illustration has a good touch of consistency and uniqueness to it, with a price range of $60 to $120, although this isn't set in stone because the price may vary depending on the artwork's characteristics. She can handle complex details and offers to deliver in 4-6 days with only a single revision.
Looking for an expert to handle your projects? Check out Wengo's gig.
4. Candeflakes – A self-taught Underrated Artist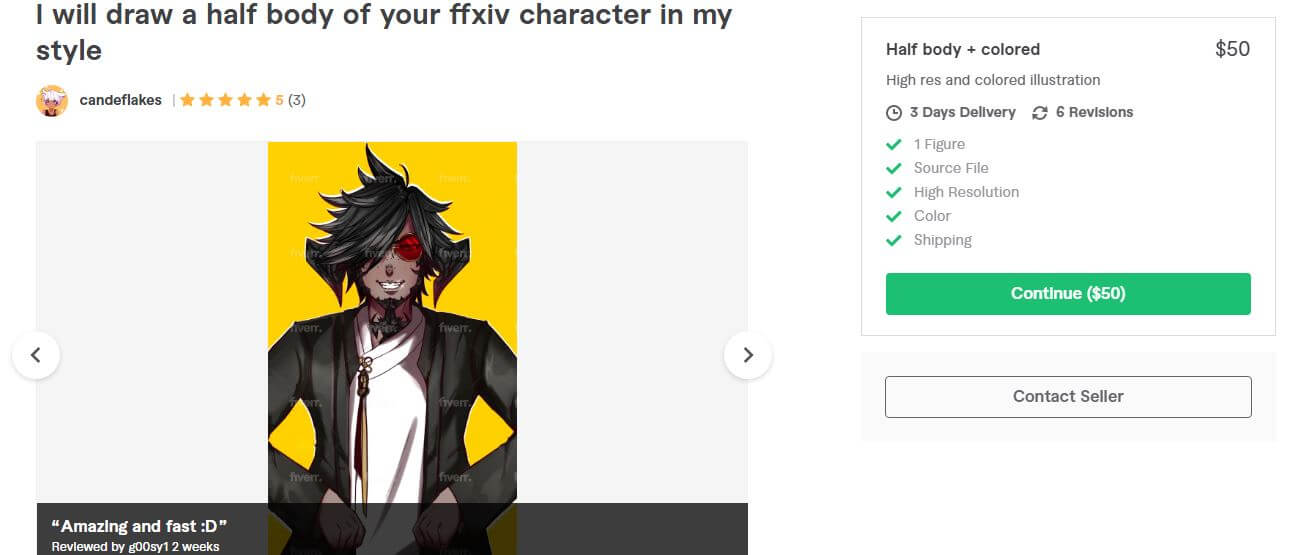 Candeflakes is an outstanding self-taught artist that I feel is underrated as she has just three reviews on her gig. She turns characters from Final Fantasy XIV into magnificent works of art in her style. Her style is so distinct, original, and unique.
for just $50, she provides a half-body painting of every FFXIV character, except Hrothgar, who will be updated soon. Her delivery time is 3-6 days at most.
Looking for a unique FFXIV art style? Check out Candeflakes.
5. Petrijk – An All-round Fantasy Character Expert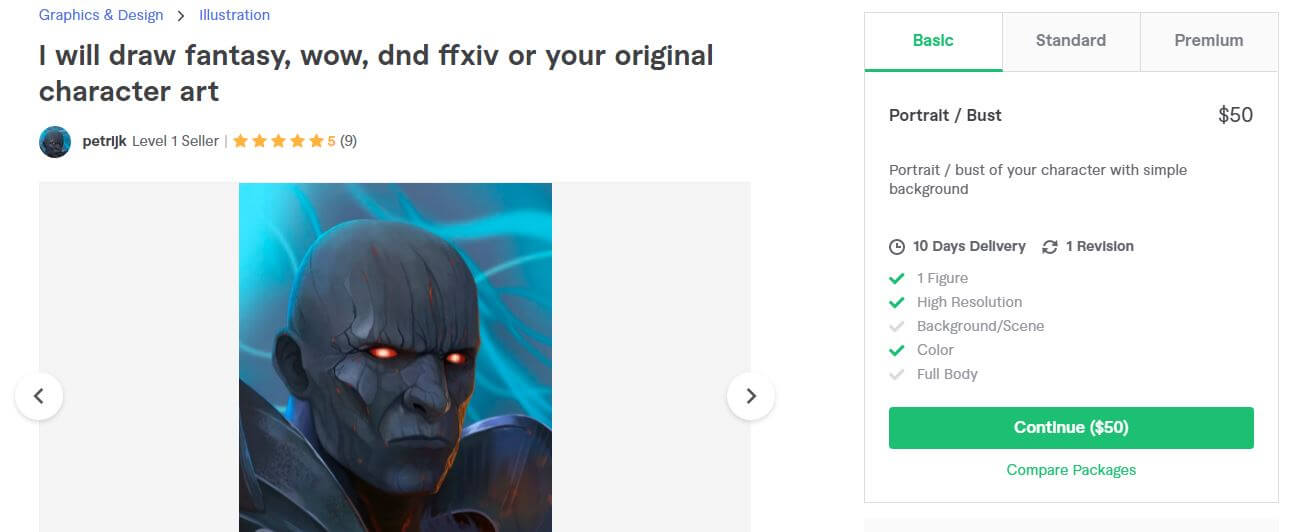 Petrik, an experienced digital artist who specializes in drawing fantasy gaming characters from Dungeon & Dragons, Pathfinder, World of Warcraft, and finally Final Fantasy XIV, is number 1 on our list.
His illustrations are well-detailed, color-balanced and incredibly realistic distinguishing him from other sellers.
I was fascinated by the Bolvar Fordragon artwork he used as his thumbnail and wanted to see more of his art. I wasn't disappointed as I discovered a succession of eye-catching, well-detailed fantasy art.
His prices range from $50 to $120; you can get an outstanding artwork of your fantasy character in 10-21 days with two revisions; the end product however is worth the wait. His average response time is 2 hours, so you can expect a response within that time frame.
Looking for well-detailed and realistic fantasy art? Check out Petrijk's service.
Where to get FFXIV couple commissions?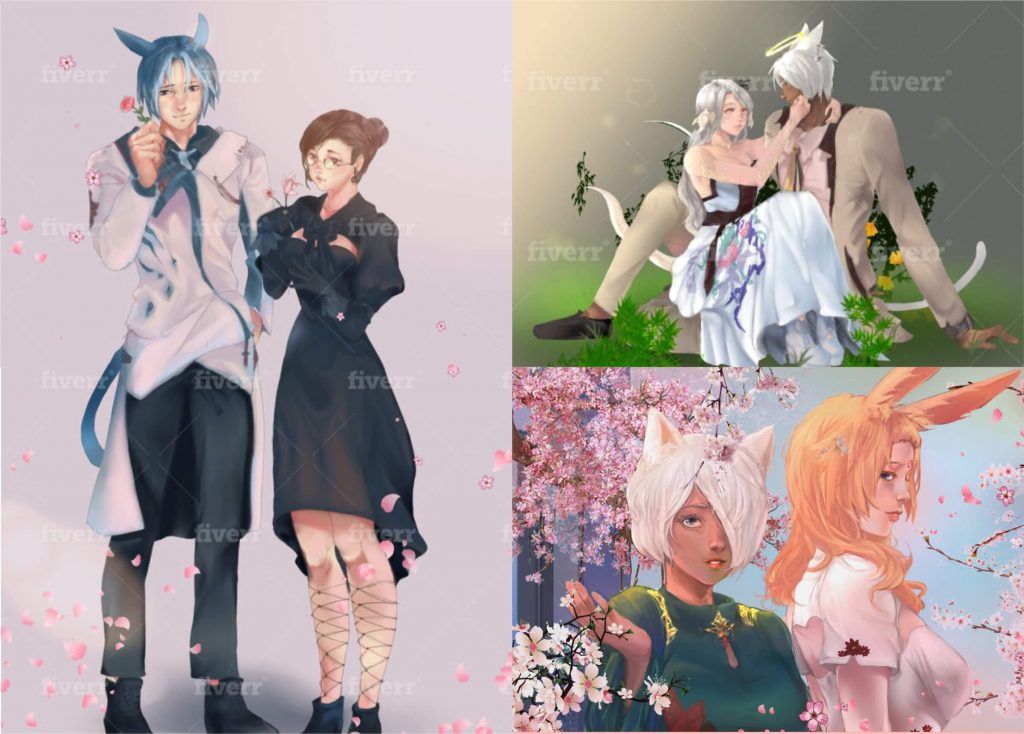 I would recommend Captainiro for an exceptional FFXIV couple art commission as he's the best for the task.
He indicated in his profile that he is right for the job and also attached a sample in his portfolio that would be included below.
He's able to customize the drawing as much as you want to! So, feel free to ask for lovey-dovey scenes.
Where to get FFXIV fanart commissions?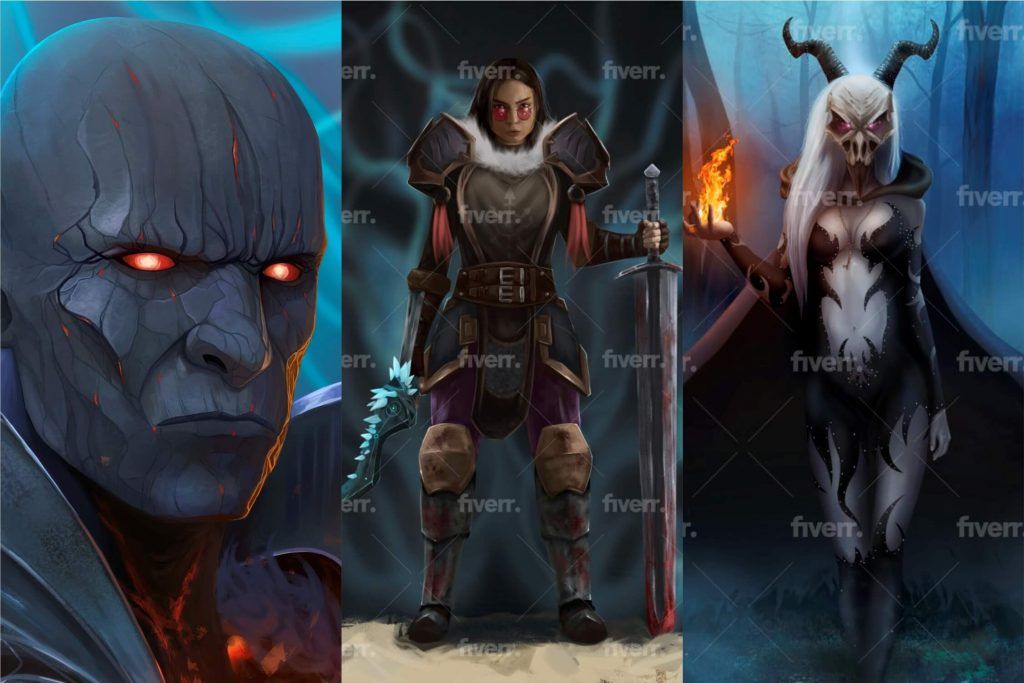 Petrijk is the best for FFIXV fan art commissions, as he provides top-notch, high-quality, well-detailed, realistic art. Bringing your characters to life and reflecting their essence.
Where to get FFXIV character commissions?

For FF14 character commissions, I recommend Aphin123 since he adds an extra feature to your character, which is the anime style he utilizes.
It's unique and distinct, highlighting and distinguishing your character.
However, if you're not a fan of anime, you can check out Wengo_art. She's also qualified for this position and will perform an excellent job on your project.