Last Updated on September 14, 2023
Love VRChat? Used up all the existing models you could find and now you want to create your own custom avatar?
Well, I have got you!
I tested over 25 different VRChat avatar designers, and ranked the best of them according to budget and style.
This article will teach you all you need to know about VRChat custom avatars and how you can get one for yourself without any prior technical or artistic knowledge.
How to create your own custom VRChat avatar?
If you want to create your own custom VRChat avatar and to stand out from the crowd, you have two main options – to design one yourself using tools such as Blender, or to find an artist and commission him to do the design work for you.
Assuming that you don't have the design capabilities yourself, you are left with the second option.
Creating a custom VRChat avatar is not an easy task at all. It requires 3D modeling, rendering and rigging in varying levels of difficulty, depending on how complicated the avatar model is. More advanced avatars can cost up to 5000 dollars.
In this article, I will introduce you to the best and most affordable places where you could commission your own custom VRChat avatar easily and without waiting months in a queue.
What are the best places to get custom VRChat avatar commissions?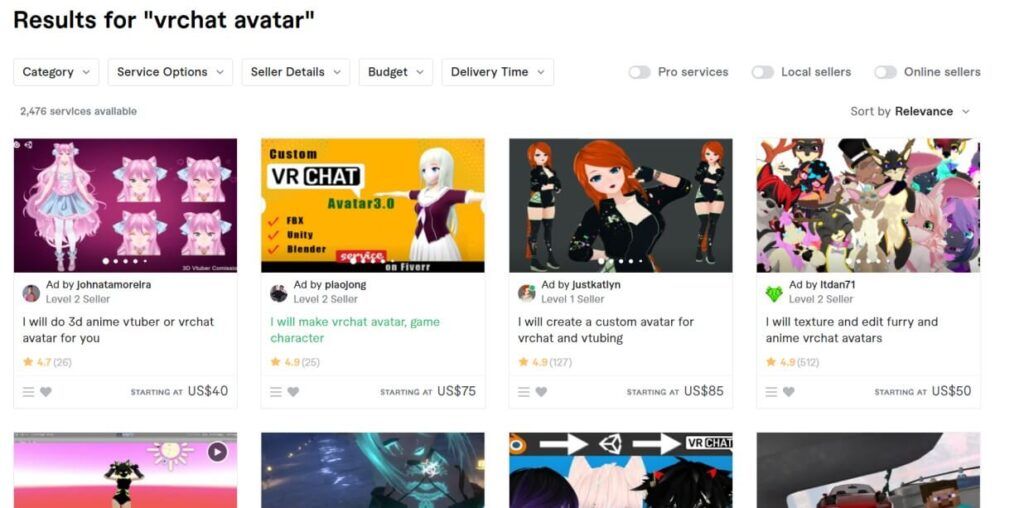 My number 1 pick when it comes to commissioning custom VRChat avatars is Fiverr.com.
Fiverr is the world's largest digital services marketplace, boasting a record-breaking number of over 3 million different services.
Between this humongous amount of services, there are dozens of VRChat avatar artists as well, ranging in both price and quality. They can all be found in the VRChat section of the site, which you can access here.
Some of the artists over there are extremely talented and already have years of experience in 3D modeling.
Beyond that, the main benefits of commissioning a custom avatar via Fiverr are the short delivery times and their escrow service, which guarantee that your money won't go to waste and won't be delivered to the seller until you are 100% satisfied with the service you received.
Fiverr – Best Marketplace For VRChat Avatar Commissions
With over 1000 different VRChat avatar artists and prices ranging from $5 to $1,000, Fiverr is the perfect place for commissioning your own VRChat avatar.
Browse through their marketplace, find an artist that fits your desired style and give them a go.
Remember – all transactions on Fiverr are 100% safe, with a speedy delivery time.
If you feel overwhelmed from the amount of sellers and want some direct recommendations, here are my 3 favorite VRChat avatar artists from Fiverr:
1. Best Overall VRChat Model Artist – Natam_Braga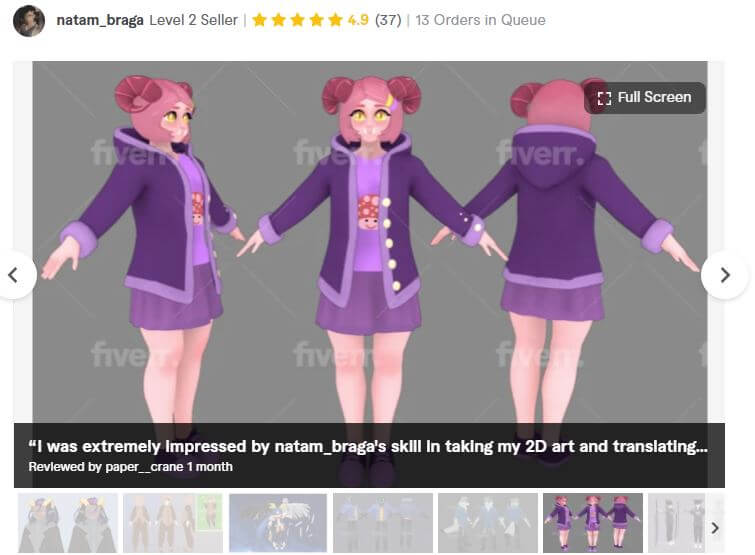 Natam is my top choice when it comes to custom VRChat avatars.
I went through dozens of different artists on Fiverr in my quest for finding the best avatar and no one came close to his level of professionalism.
Just look at his stunning past work to understand what you can possibly get from his service.
When it comes to commissioning a 3D model like a VRChat avatar, hiring a non-vetted seller from a 3rd party site like Discord can be a big risk. There just too many ways they can screw you over.
If you'll choose to hire Natam, you can be certain that you buy from a trusted source and that you'd get a quality avatar design in a timely manner.
He's been the main Fiverr seller in this category for a while now and his quality of work is absolutely fantastic, especially when you take into consideration his very affordable commission prices.
Natam's Fiverr gig got dozens of honest reviews that seem to agree with us that he is the real deal.
Natam_Braga – Best VRChat Avatar Artist
If you are looking for an affordable custom VRChat avatar designer with a top notch quality, Natam is the perfect choice for you.

With prices starting at only $45 for avatar design, he is my top pick for affordable avatars!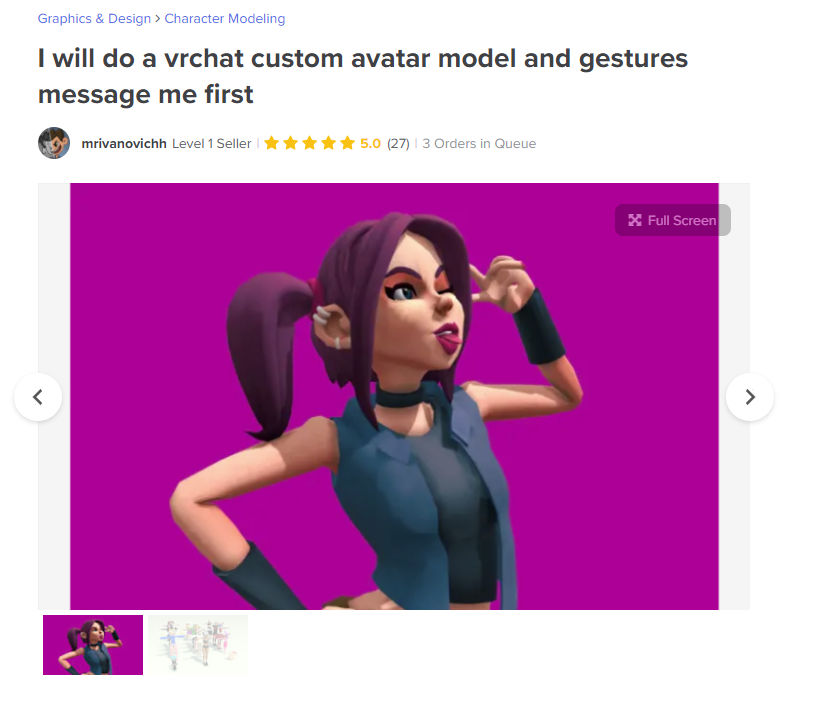 If your budget is a bit higher and you want to get an high quality custom avatar from a reputable seller, Jonatham is the perfect choice for you.
He's a Brazilian 3D artist with plenty of experience in custom VRChat avatars, and over 3 years of selling on Fiverr.
He is extremely knowledgeable and responsive, and can help create the avatar of your dreams without spending a fortune on it.
Highest Quality of Commissions
Best Model Design Quality – Johnatamoreira
If your budget is around $200-$500 and you are looking for an amazingly detailed 3D VRChat model – you should definitely check Johnatamoreira and his gig.

His designs are rich and detailed, and he can take any possible idea you might have and turn it into an awesome VRChat avatar.
3. VRChat Furry Avatar Commission – Dan "Ltdan71"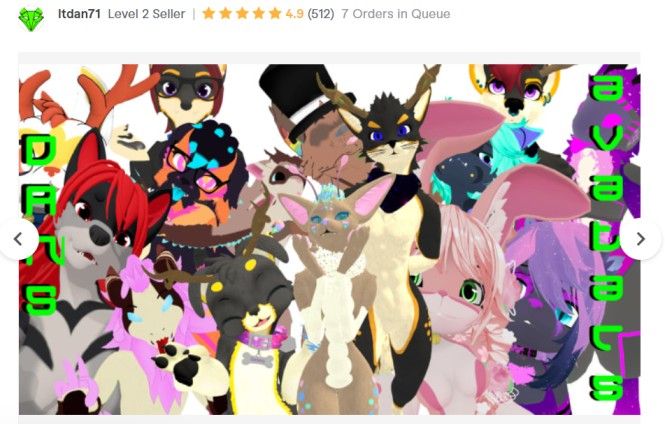 I know that getting furry VRChat avatars can be quite hard, as a lot of artists do not offer this kind of service.
But do not despair!
if you are looking for a furry model specifically for VRChat, there are sellers like Dan who offer this exact service, and with great results.
With over 500 five star ratings for furry avatars gig, Dan is a great choice for quick, affordable and customized models.
Number 2 – The VRChat community forum
The second place you should go to in order to issue a VRChat avatar commission is the official VRChat community forum. They have a whole section dedicated to avatar commissions, where individual artists can showcase and advertise their services.
This section is pretty small at the moment and the sellers tend to be more on the inexperienced side, but it would get better as the months go by and more artists show up. You can visit the community forum here.
Number 3 – Unity asset store
Another way to get a VRChat avatar is to download a pre made avatar from the unity asset store.
You can search for any kind of character model you want but make sure to search for a 3D character.
It's very easy to find free avatars that can be downloaded and imported into the VRChat game.
How much does a custom VRChat avatar cost?
The average price of VRChat avatar commission is between $150 to $600. The exact number depends on the complexity of the avatar model, the number of effects required and the level of experience of the artist himself.
All those factors are taken into consideration when it comes to avatar commissions, and can bring the total commission cost to even higher numbers.
What is a VRChat avatar?
In VRChat, each player take the form of a game avatar, which he can choose from a library of hundreds of different in-game avatars.
Avatars are 3D models that have their own rigging, which makes them available to work in VRChat.
The downside is that all of those avatars are available publicly to anyone else as well, meaning none of them are exclusively unique to you and your character.
Why should you create your own VRChat avatar?
Having your own custom VRChat avatar has great advantages over generic models.
Making a custom avatar provides an opportunity to choose between infinite designs. Depending on your choice, you can specify your custom avatar to show your personality traits or traits you would like to have. The avatar can be dressed and styled in any way you want, like anime for example.
Your custom avatar will allow to connect with your character in the game. Custom designs allow you to go beyond standard designs and create unique new models. These models can have exclusive rig structure that allows exceptional movement capacities. For example: if you want a dragon with two heads that can twist, or a unicorn with two horns that move. It can all be possible!
Further Reading On SMBillion: Looking to commission a VTuber model as well? read our custom VTuber models guide.