Last Updated on September 23, 2023
Are you interested in becoming a VTuber? Looking to commission your own custom VTuber model but don't know where to start?
I have personally tested over 20 different VTuber artists during the last 2 years, and ranked the best of them for you.
In this article, I will teach you everything you need to know about custom VTuber models, and the best places to commission your next VTuber avatar.
How to create your own custom VTuber model?
If you want to create your own custom VTuber model and stand out from the crowd, you have two main options:
Design one yourself using graphic tools such as Blender and Live2D
Find an artist and commission him to do the design work for you.
Assuming that you don't have the design capabilities yourself, you are left with the second option.
Creating a custom VTuber model is not an easy task at all. It requires 3D modelling, rendering and rigging in varying levels of difficulty, depending on how complicated the avatar model is. More advanced models can cost up to 10,000 dollars.
In the next section, I will introduce you to the best and most affordable places where you could commission your own custom VTuber model easily and without waiting months in queue.
Where to find a VTuber artist?
While there are plenty of places online where you can probably pick up a VTuber model, the only place I would ever suggest that you get one from is Fiverr.
If you haven't heard of Fiverr, it is this awesome site packed to the brim with freelancers that offers services for as little as $5.00. It is a perfectly safe and legit site to use too, so you shouldn't have that much trouble using the sellers on there.
There are other sites out there where you can get a VTuber commission, but as you will see from the next section, there are so many reasons why you would want to be buying from Fiverr that you really wouldn't even need to visit any of those other websites.
They are simply the best option available on the market.
Best VTuber model artists:
1. Xiao Jing – My Personal Favorite VTuber Artist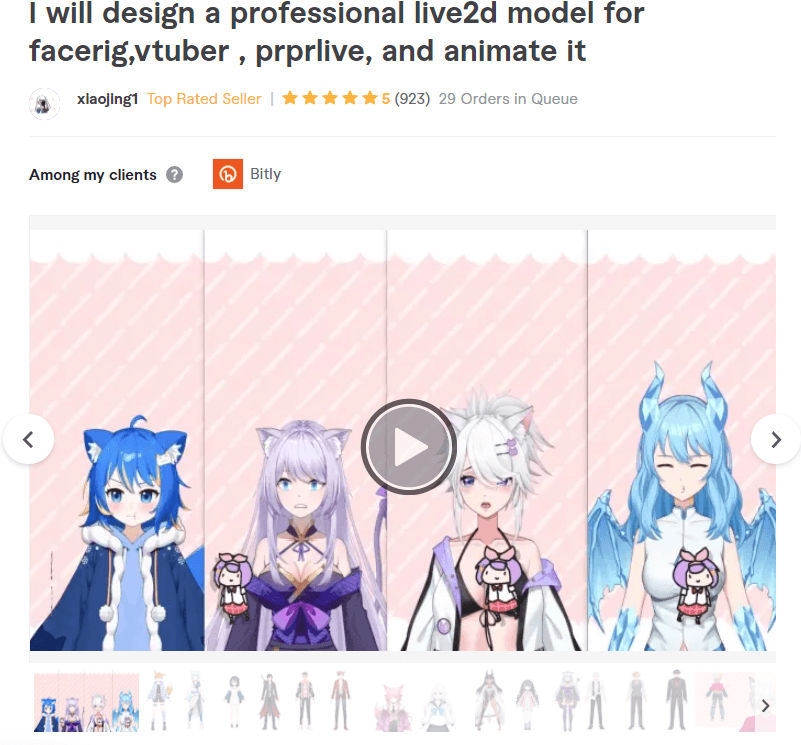 If you want to take VTubing career to the next level and get an high quality VTuber model from a reputable seller, then Xiao Jing is the perfect choice for you.
With 300 five star ratings and Fiverr's choice tag (which is awarded only to the top 1% sellers on the site), XiaoJing totally stunned me with her work.
I went through dozens of different artists on Fiverr in my quest to find the perfect model for me and no one came close to her level of professionalism. Just look at her awesome past work to understand what you can possibly get from hiring Xiaojing.
She's an awesome Chinese 3D artist and illustrator with plenty of experience in creating VTuber models, including expertise with software such as Live2D and Adobe Animate. She is extremely knowledgeable and responsive, and can help create the model of your dreams without spending a fortune on it.
What XiaoJing's customers say about her:

If you are interested in commissioning her work, make sure to have a closer look in Xiaojing's Fiverr gig.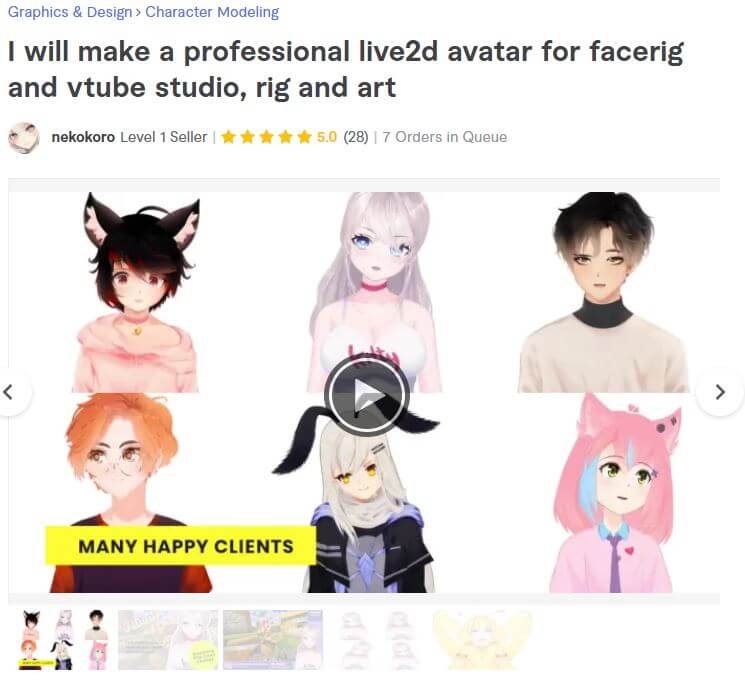 Misa or if you go by her username Nekokro is an awesome Vtuber designer from Switzerland. She's offering an all-in-one service where she takes care of both the rigging and animation, and her quality of service is extremely high.
When it comes to commissioning 2D models, hiring non-vetted sellers can be a big risk. There are just too many ways they can screw you over. If you'll choose to hire Nekokoro, you can be certain that you buy from a trusted source. Her Fiverr gig got dozens of honest reviews that seem to agree with me that she is the real deal.
If you are interested in commissioning her work, make sure to have a closer look in Nekokoro's Fiverr gig.
3. Jasminpearl – Best Artist for 3D VTuber models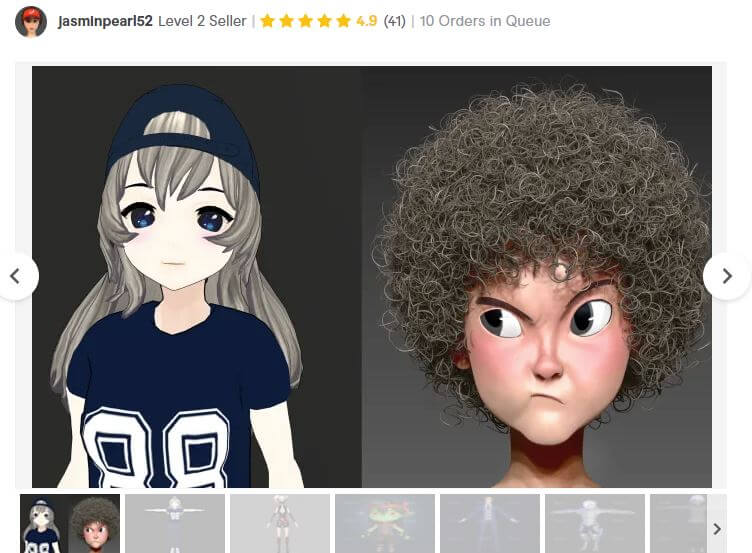 3D VTuber models are notoriously harder to create than 2D models, and most of the artists I know charge at least $2000 for a proper 3D model. Yet somehow, Jasmin is offering to create a stunning 3D VTuber model quickly and efficiently in less than tenth of this price.
Looking at her past work gallery, you'd find that her designs and models are solid and worth every penny.
Looking for a 3D model with an otherworldly ambience? Check out Jasmin's portfolio here.
How much does a VTuber model cost?
A VTuber model can cost anywhere between $150 to $3000.
The actual pricing depends on multiple different factors, such as: the type of the model (2D or 3D), the level of experience of the artist, the number of animations the buyer is looking for and whether the model is full body or upper body only.
If you are just starting out, my suggestion for you would be choose a 2D model for the price range of around $500.
Why is Fiverr the best place for commissioning a VTuber model?
There are plenty of reasons why you should be making a beeline for Fiverr if you are looking for a VTuber commission:
The first is that there are a lot of artists there. In fact, you would find hundreds of gigs that are just about making VTuber avatars.
This means you shouldn't have that much issue finding an artist that matches your tastes. Almost all of the sellers will have samples of their work and reviews too (often accompanied with details of the completed project), which means that you can really get a feel for which artist is right for you.
Since most of the services start at just $5.00, it is an awesome way to get an affordable VTuber model done.
If you headed to any other freelance website, then you would be looking at upwards of $1000.
People on Fiverr are willing to offer exactly the same thing for as little as a cup of coffee. No. You aren't taking advantage of them either. A lot of people are using Fiverr to build, up a side income or a portfolio. They want to be offering this service to you for such a low price! You would be a fool not to take them up on the offer.
The best part is that many of the people offering their services through Fiverr will have some sort of revisions policy in place. This means that if you are not happy with the first thing that they produce for you, then you can ask for small changes to the VTuber model.
This means that you are almost guaranteed to get exactly what you want, assuming that you choose the right sellers!
If that wasn't enough, there is a decent customer support system in place at Fiverr. This means that if you do run into any problems with the seller, then the customer service team will be able to help you out.
Honestly, once you have seen just how easy it is to pick up a VTuber Model from Fiverr, you are pretty much going to want to be using them for all of your YouTube or social media needs.
Thousands and thousands of sellers mean that there will almost always be somebody offering a service that you will love, and at an affordable price too! Why not have a couple of them designed? This way you can have several different personalities!
What is a VTuber Model?
Almost everybody that uses social media dreams of success on sites like YouTube. The problem is that many of us do not want to actually put our faces on YouTube, for whatever reason. This is where VTuber Models come into play.
VTubers are classed as 'online personalities'. They are animated cartoon characters, often based upon a Japanese anime style. When a VTuber create YouTube videos, they will be instead voicing their model. This means that they do not need to appear in the YouTube video themselves. This 'craze' started in Japan, but it very quickly spread around the world, in part due to the general love for Japanese culture in some circles.
Working with a VTuber model has a ton of benefits. Obviously, the main one being that you do not actually need to go on camera. This means that if you are a bit fearful of being in the spotlight, you still have options if you want to record video content.
A lot of VTuber model users have never even shown their faces on camera. Pretty much everything that the world knows about them is the personality that they have given their model. It is a unique world, and an incredibly fun one.
Having a VTuber model also means that you are not confined by gender norms and the like. You could voice a female model if you are a male, for instance. Your VTuber model doesn't even need to be a person.
It can be pretty much anything that you want it to be. This means that you can choose something that really shows off your personality!
Of course, if you want to have success with your VTuber model, then you need to make sure that it has been designed properly. This means that you are going to need to choose the right place to commission a VTuber model from. Luckily for you, we have a suggestion!
Conclusion
If you want a VTuber model for your YouTube channel, or perhaps another video project that you are working on, then you should always be using Fiverr. There is no better place online to be purchasing a service like this.
Further Reading On SMBillion: Looking to commission other types of artwork? read our guides to custom VRChat avatars, Live2D models and anime art commissions, as well as our list of top VTuber maker software.