Last Updated on September 15, 2023
Are you an anime fan? Looking to commission anime art for yourself or your loved ones but lack the artistic talent?
Then you're in the right place!
With thousands of artists selling their work online, anime art commissions are an easy way to get STUNING custom artwork made specifically for you and per your instructions.
To save you time, here are the top 3 artists I personally recommend for anime commissions:
If you have more time and want to get an in-depth review of the best places and artists to get anime art commissions, read on!
Where Can I Find Anime Art Commissions?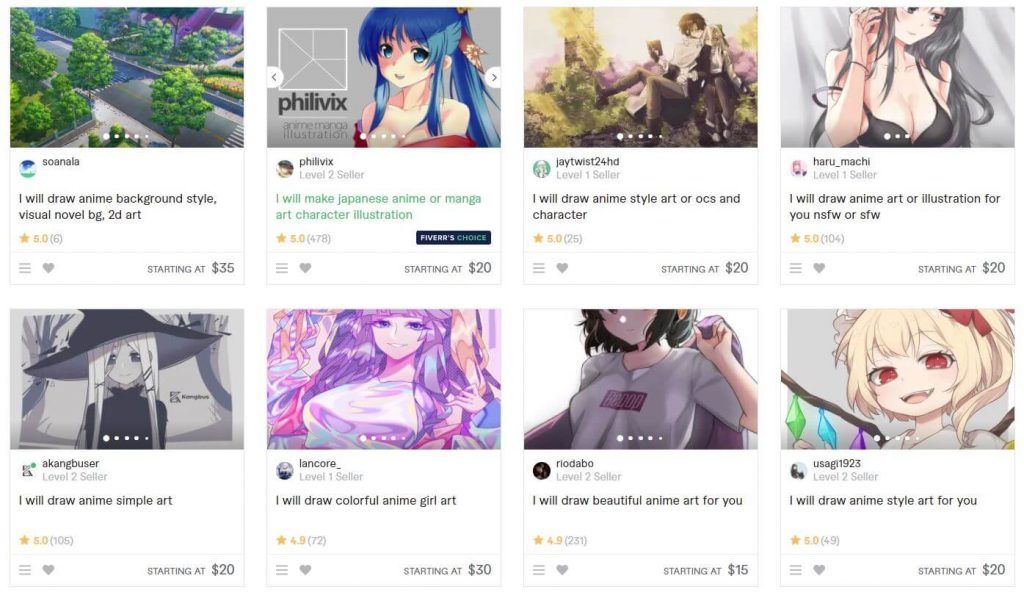 Getting an excellent commission starts with hiring a skilled and professional artist, and there's no better place to find one than Fiverr.
There are alternative platforms such as Twitter, Reddit, and Deviant Art. However, Fiverr stands out as it provides substantial benefits.
Fiverr is the world's largest marketplace for digital services, where creatives of all kinds sell their services for as low as $5 or near that cheap price threshold—offering an escrow service to ensure the safety of your funds. It can be tough to trust a stranger with your money over the internet.
There are two main advantages to using Fiverr over online forums:
Your money is 100% protected – Every order on Fiverr is handled by the site using their own escrow service. That means your money is not sent to the seller until you as the buyer confirms that you are satisfied with the order. Need revisions? no problem. The seller didn't provide the service they promised? You'll get your money back, and won't need to run in circles trying to contact the seller.
Quick delivery times – Most of the artists selling their services on online forums do not have a clear delivery date, and usually they are packed with existing orders in queue. At Fiverr, after making your order you'll get a clear deadline. Most of the time, the services there take between 4 to 14 days.
Fiverr – Best Marketplace For Anime Art Commissions
Looking to commission your own custom anime art? Searching for a talented artist but don't know where to look for?

With over 1800 different anime artists and prices ranging all the way from $5 to $600, Fiverr is the perfect place for commissioning your own art!

Best Anime Artists For Hire:
To make your life even easier, here are my top 7 recommended anime artists from Fiverr:
1. Weiicart – Best overall anime artist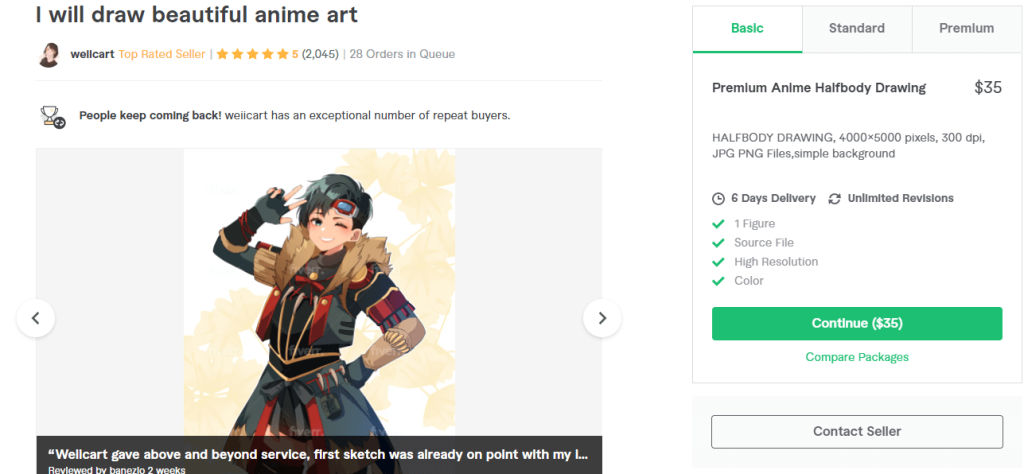 Weiic is a top-rated seller with over 2000+ positive reviews. She is a full-time freelance artist and a webcomic artist with her own web comics.
She is able to draw a character based on Yourself, an original character, Anime Characters and Game characters but doesn't offer NSFW.
Her price ranges from $35 to $45 and guarantees delivery in 8 days with unlimited revision, meaning she won't stop until you're satisfied. You just can't go wrong with Weiic.
Looking for an experience, top-rated artist to take on your project? Send Weiic a message!
2. Quitedesign – Budget friendly veteran anime artist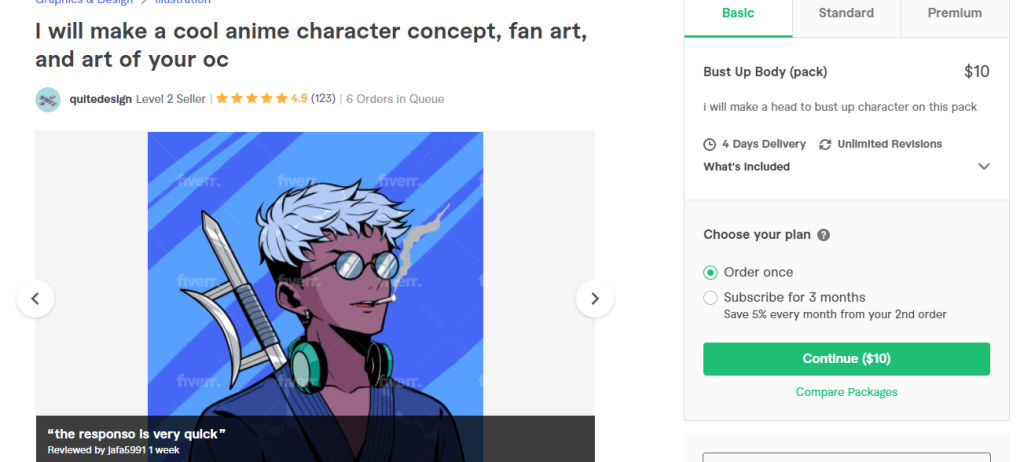 Datta is a veteran artist offering to create a cool anime character concept, fan art, and art of your oc.
His price ranges from $10 to $40, ranging from a headshot, half body and full body. He offers to deliver within 4days alongside unlimited revision. The sky is the limit with this artist as far as it doesn't involve NSFW, Religious content and LGBTQ.
What are you waiting for?! Send him a message now, and be sure to get a response in an hour.
Looking for a budget-friendly commission? Reach out to Datta.
3. Divaartx – Kawai (Cute) Anime Commissions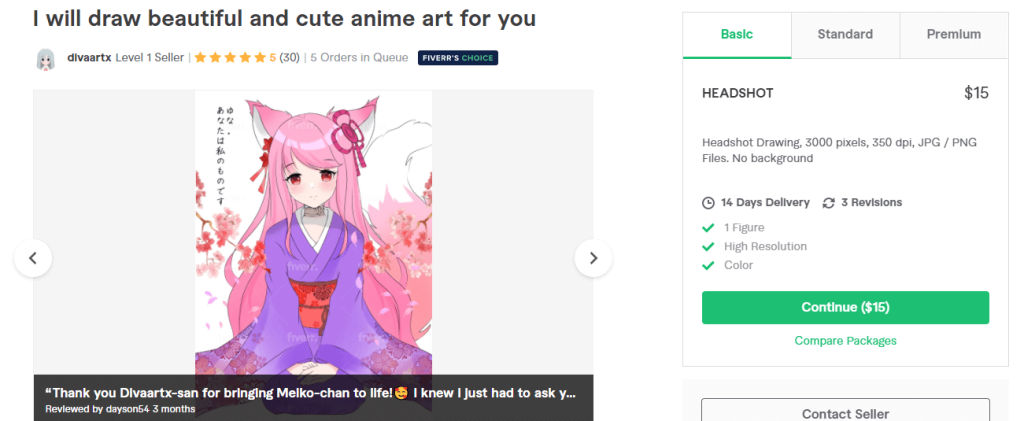 Looking for an artist that understands the features of cute characters? Look no more; Diva is your go-to pro.
Diva is a level one seller on the platform with a Fiverr's choice badge; (meaning she is recommended by Fiverr themselves). She's able to draw anything cute with the exception of Mecha/Armor, Extremely Gore characters, and NSFW.
Her price ranges from $15 to $50, ranging from a headshot, half body and full body. She offers to deliver within 14 to 30days, depending on the package purchased.
Looking to commission a cute anime art? Reach out to Diva.
4. Kyogree – Explicit Anime Art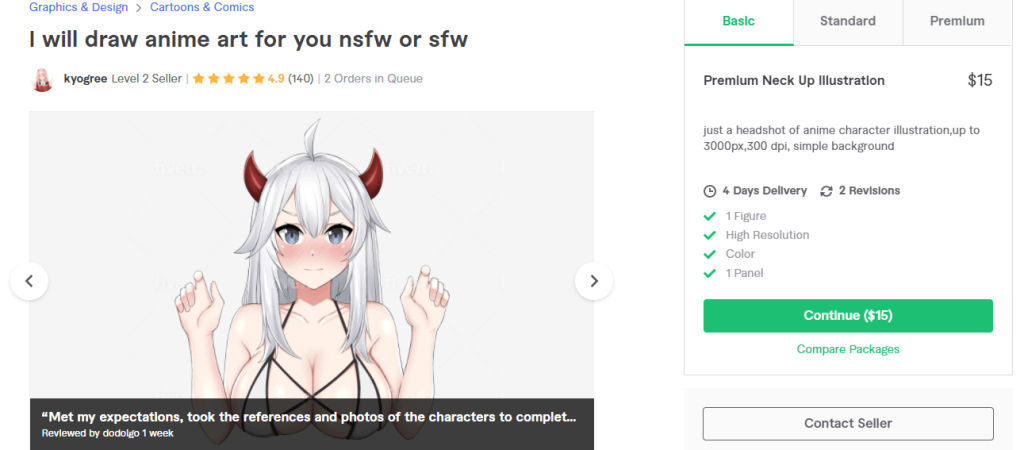 Kyogree is your go-to pro if you're looking to commission explicit anime art, including NSFW, SFW, Ecchi, Hentai, and more. Kyogree has your back. All you have to do is express what you want in detail, then sit back and be wowed.
His price ranges from $15 to $65 and guarantees delivery in 4 to 10 days with two revisions.
Looking for explicit anime art? Send Kyogree a message.
5. Geekray – Chibi Style Expert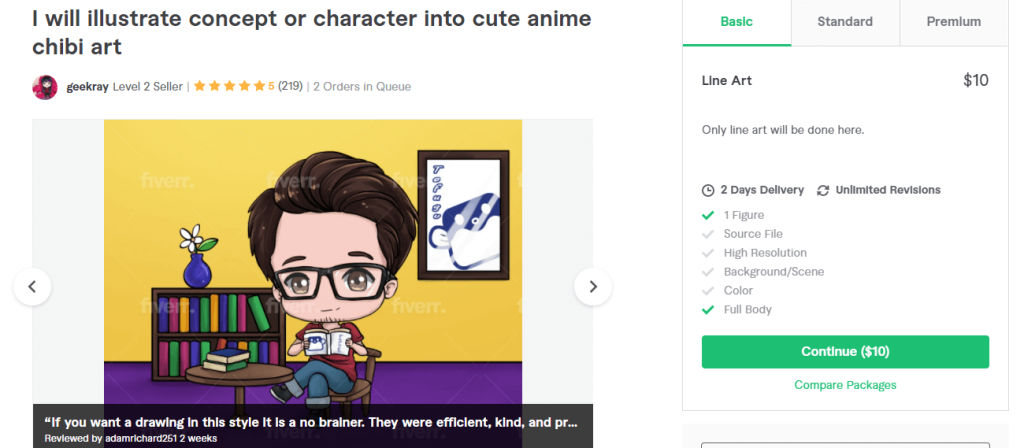 Want to commission a chibi art for yourself or loved ones? Look no more; Geekray got you.
Geekery is an experienced artist that specializes in chibi art style. For as low as $10 to $30, you can get yourself a Cute detailed and colourful chibi with a background.
He guarantees delivery in 5days with unlimited revisions. Send him a message today, and be sure to get a response in an hour's time.
Looking for a chibi style expert? Reach out to Geekray.
6. Kochim – I will do illustration portraits, anime and concept art nsfw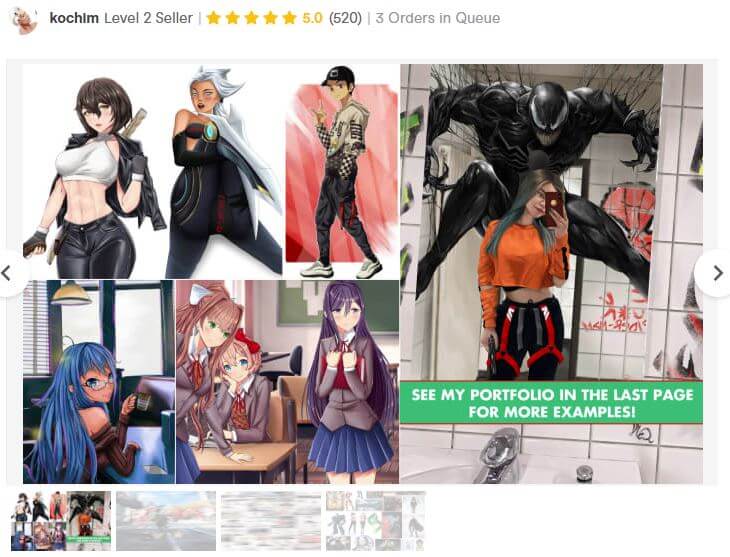 If you are looking for a more modern style of anime drawings, look no further than this gig by Kochim.
He is an Italian designer with years of experience in drawing detailed anime illustrations, concept art and caricatures. He is currently offering an all-in-one tailored illustration service for the crazy price of $10. I am not sure how long this deal would last, but you should definitely take advantage of it as long as it's there.
7. Phi_md – I will draw pretty anime character reference for live2d and vtuber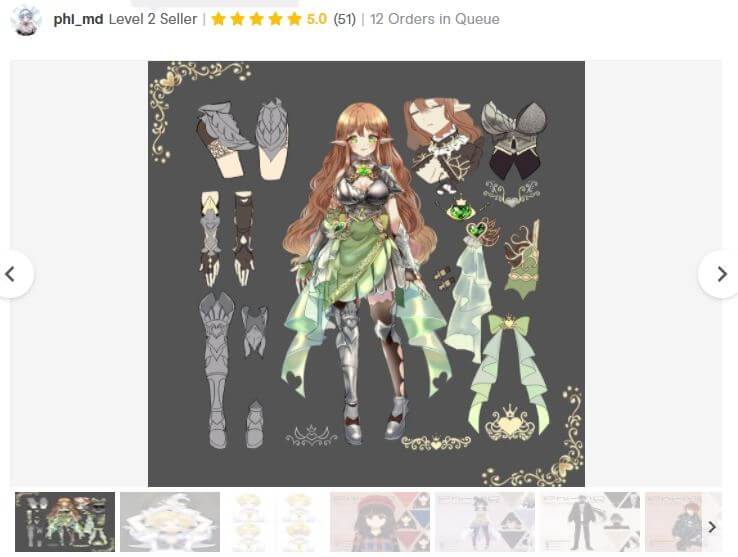 If you are after an Anime style vtube model, then you definitely need to check out this gig by phi_md.
With over 8 years of experience in digital art, this seller would design an extremely-detailed character model for your VTuber persona. He got 5 star reviews all over the board and holds the Fiverr's choice tag, which is given only to select few sellers for their superb work.
How to get an Anime portrait commission?
If you are looking to commission an anime-style portrait for you or your loved ones, our best recommendation is to hire the artist Kochim.
His anime portraits are top notch and I can guarantee you won't be disappointed from his service.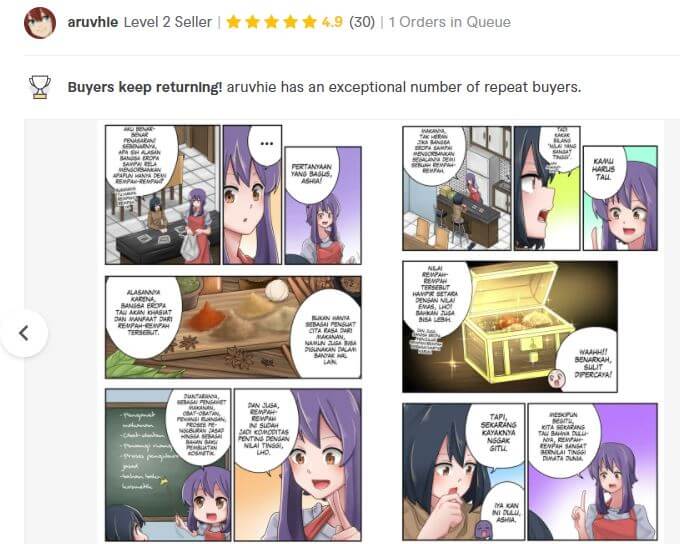 There are manga artists all over the world, but finding one who suits your needs and budget can be a daunting task.
Whether you would like to commission a single page for fun or a full manga series, my recommendation for you would be to hire aruvhie. She's an extremely talented manga artist on Fiverr, with stunningly cute illustrations.
She can draw manga from many different genres, including:
Action (Shounen manga)
Fan manga
Romance (Shoujo manga)
cute manga strips
How Do You Ask For Commission Art?
Go to the anime art commissions section on Fiverr.
Look through the different artist gigs and their portfolios until you find a designer that you like. You can filter the results according to different parameters such as pricings, seller level and ratings.
Once you found an artist who fits your style, look into the packages they offer on their gig. Choose the one that fits your needs.
Don't see something you like? You can always contact individual sellers and ask them to make a custom order for you. Most of them would gladly take this opportunity.
Fiverr – Best Marketplace For Anime Art Commissions
Looking to commission your own custom anime art? Searching for a talented artist but don't know where to look for?

With over 1800 different anime artists and prices ranging from $5 to $600, Fiverr is the perfect place for commissioning your own art!

Frequently Asked Questions
What are the prices for anime art commissions?
Art commission prices can vary greatly depending on the specific artist you choose to use, his past experience and portfolio. High-tier established artists can charge up to $3000 for a single illustration, while new up and coming artists can charge extremely low prices ($5-10) to expand their portfolio and list of clients.
The average price for anime art is between $15 to $150. In this price range you'd be able to get all the design work you need.
How long should an art commission take?
Using a platform like Fiverr, you can expect art commissions to take on average between 4 to 14 days. Some sellers offer extra packages where they charge you a bit more for faster delivery.
Can art commissions be free?
Usually, the answer is no. Artists spend countless number of hours drawing artwork, and they deserve to get paid for doing all this work.
However, sometimes new designers who look to grow their portfolio or improve their skill might post a request for suggestions on their social media pages. This can be a rare opportunity for you to get free art commissions.
Further reading on SMBillion: Interested in commissioning other types of art and illustrations? read our commission guides for Animal Crossing, Furry art and DnD character art .