Last Updated on January 8, 2023
Are you an outlier when it comes to art, and finds oil painting fascinating? Looking to commission an artwork for yourself or as a gift but don't know where to start? Then you've come to the right place.
Finding qualified and affordable freelancers that are a good fit for your project can be a difficult task. To take the pressure off, we've done the legwork and collected a list of exceptional artists that are best equipped to take on your projects, each with their own set of skills and distinctive style.
Each of these freelancers was found on Fiverr, my all-time favorite hiring platform, which features hundreds of thousands of skilled creatives from all over the world selling their services for as little as $5 or near that cheap price threshold.
What are the best oil painting commission services?
In this article, we'll be reviewing the Top 5 Oil paint artists on Fiverr most suited to handle your projects based on our experience:
1. Abduhadi3532 – A Handmade Oil Paint Expert, With Physical Delivery Option.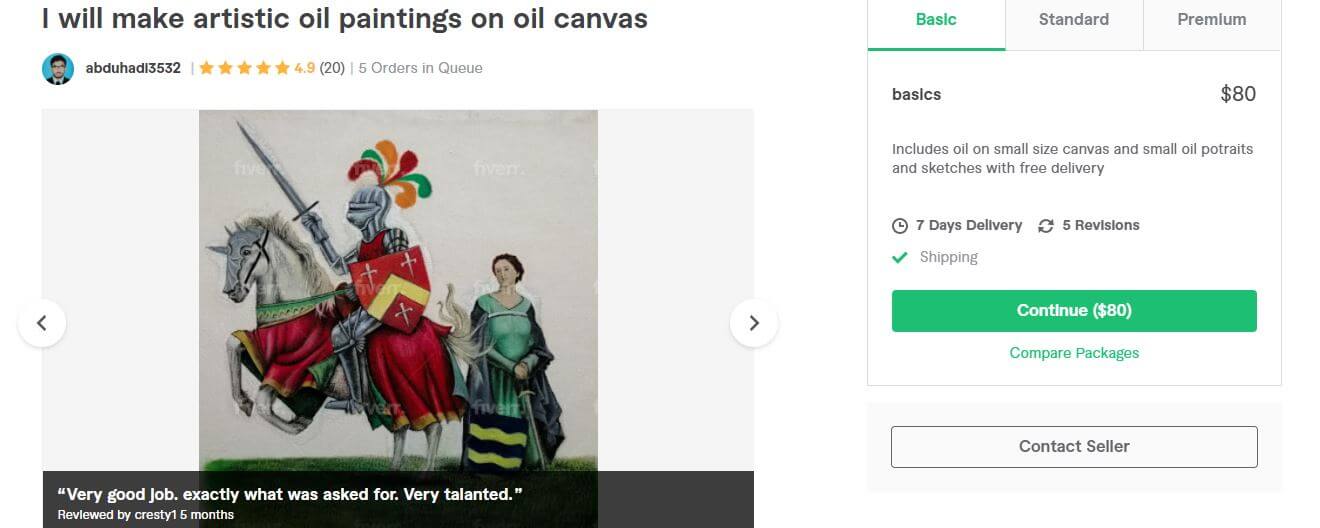 Unlike other artists in this field who specialize in digital oil painting, abdulhadi stands out by giving the highest quality hand-painted oil paintings on oil primed canvas. He can create all types of realistic and replica art, as well as provide physical delivery in the UK, US, UAE, QATAR, RUSSIA, and Europe if required.
Abduhadi is your go-to pro if you're not a fan of digital art and want to commission a handmade oil paint art.
His price ranges from $80 to $100 which I find reasonable as he is offering a free delivery giveaway. He promises to deliver in 10days with 5 revisions. Sounds great!
Looking for well detailed handmade oil paint art? Check out Abduhadi3532.
2. Hello_kelum – A Friendly Budget, Seasoned Digital Artist.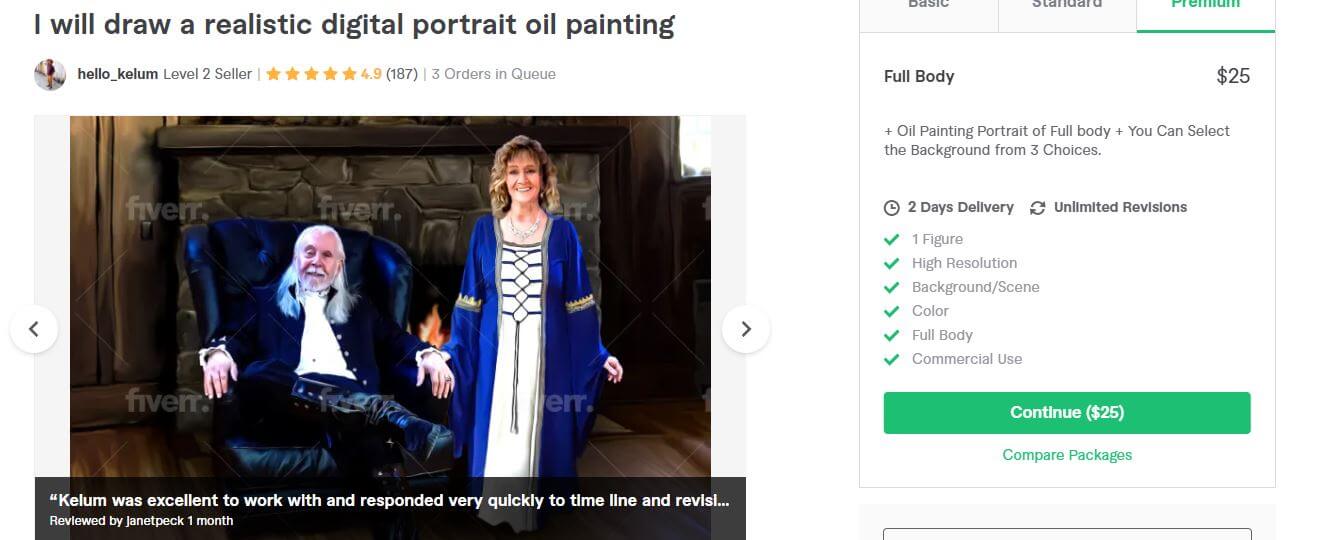 Are you looking to commission a high-quality realistic oil paint art without breaking the bank? Then Kelum is your go-to pro. For as low as $5 to $25 you'll get your art delivered in just 2 days with unlimited revision. Can this deal get any better?!
His 100+ positive reviews demonstrate that he is more than capable of handling your projects. And, you know the saying, "reviews don't lie." His average response time is one hour, so you should receive a response within that time range.
Looking for quality digital oil paint art without breaking the bank? Send Kelum a message.
3. Dedicahmad – A Top Rated Professional Digital Artist.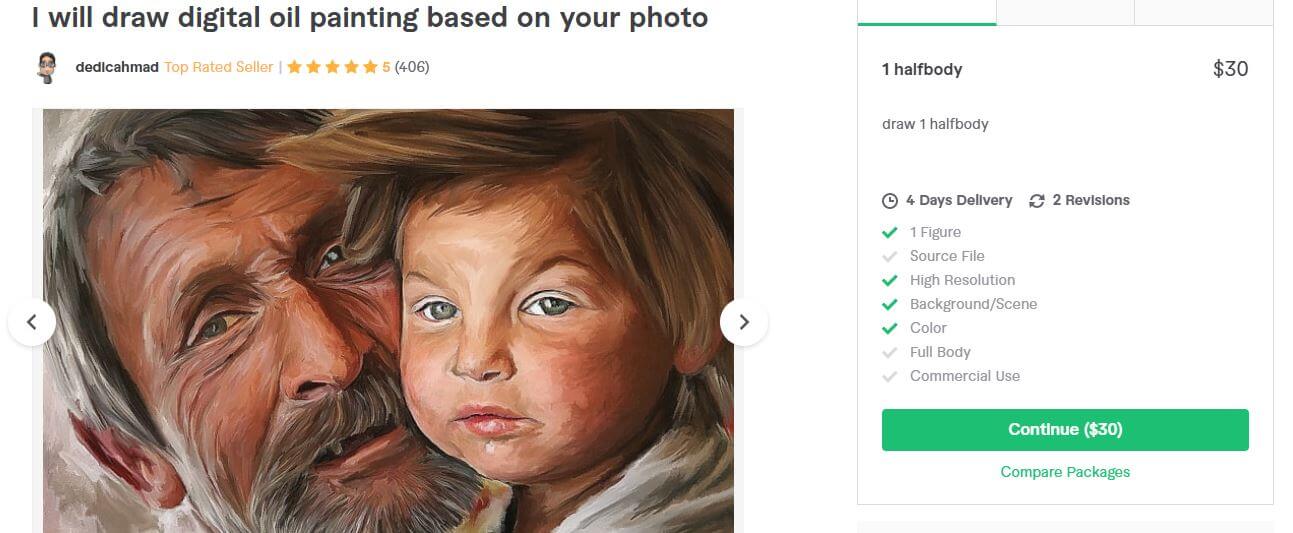 Dedicahmad is a top-rated seller on the platform, which is no small feat since that is the greatest rating a seller can achieve on Fiverr. He has completed over 1,000 deliveries while maintaining a 5.0 rating. He has made every one of his clients delighted by providing high-quality artwork.
It should be noted that this is not a physical painting service, but rather a digital art service using oil paint style, with the final result being delivered as digital files. He does not draw custom painting styles or offers custom poses, figures, or outfits, nor does he draw from a sketch. He only does one thing: digitally transform your photo to an oil painting style, which he's amazingly good at. So, make sure you understand all this before placing an order
His prices range from $30 to $60 and offer to deliver in 3days with 3 revisions. His typical response time is one hour, so you should receive a response within that time range.
Looking for a top-rated artist to take on your project? Message Dedicahmad.
4. Gopyur – A Pet Exclusive Professional Artist.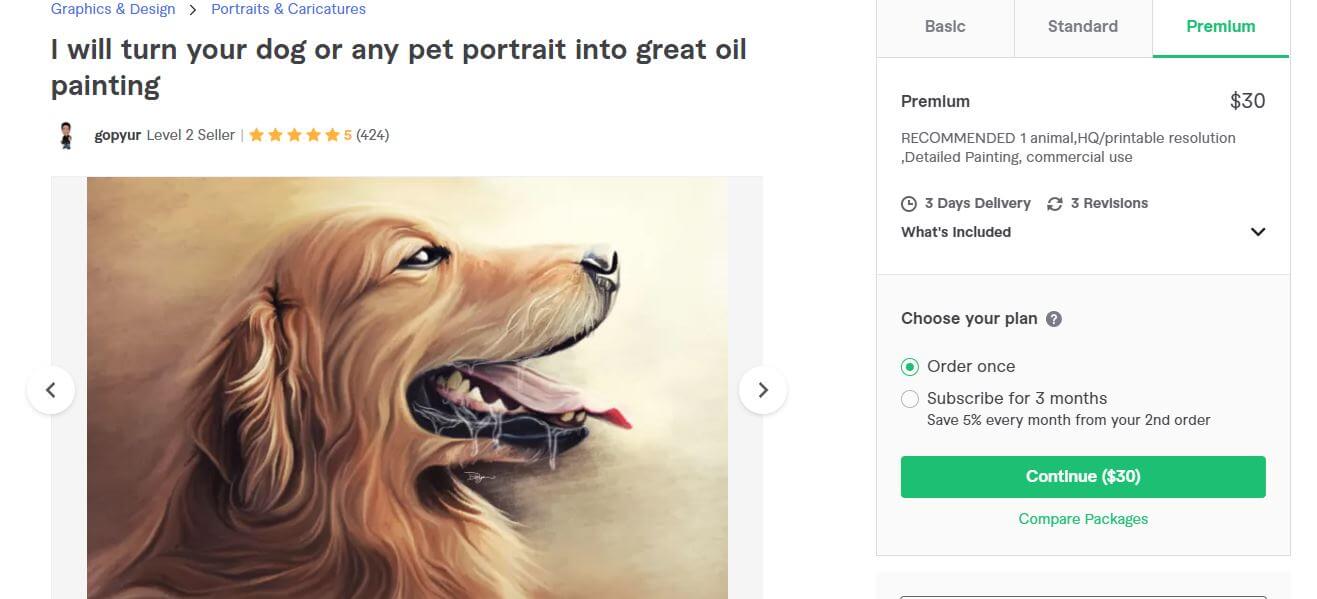 Looking for a true expert to bring out your pet's true essence in Oil Paint style? Just as the caption indicates, Gopyur is an expert that exclusively draws pets, Creating a well-detailed portrait for your pet.
He's a level two seller with over 400+ positive reviews. His price ranges from $10 to $30 and offers to deliver in 3days with three modifications. You can't go wrong with Gopyur when it comes to oil painting.
Looking to commission art for your pet? Send Gopyur a message.
5. Artist_vens – A highly Rated, Fiverr's Choice.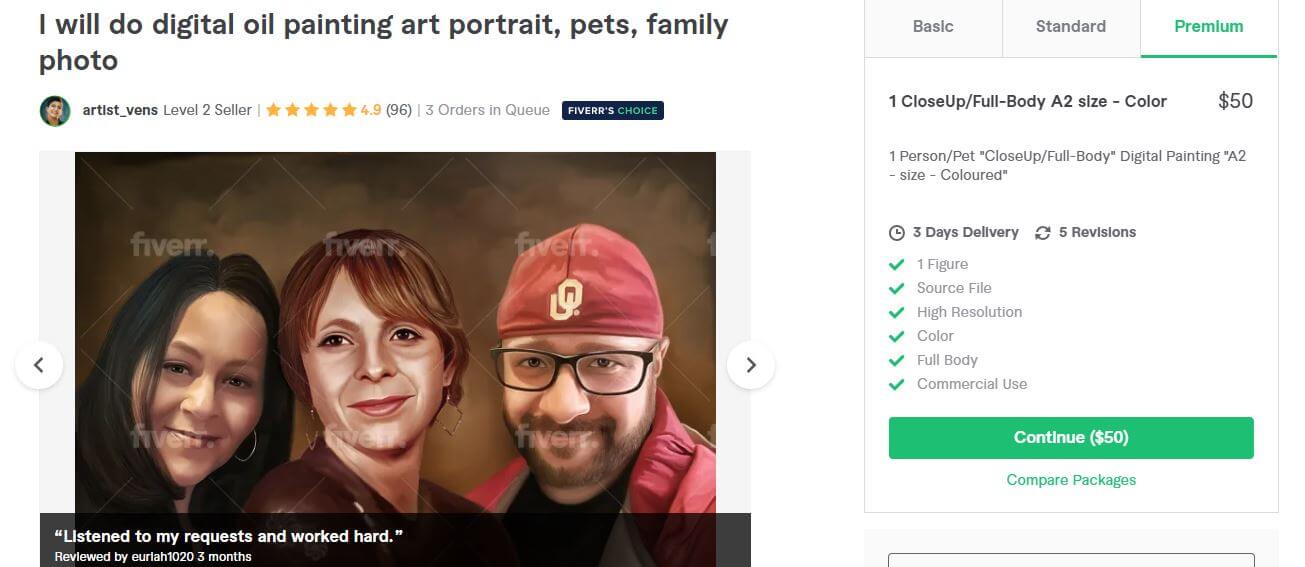 Artist_vens is a Fiverr favorite and a highly rated level two seller. Her ability to hold two of the platform's top positions demonstrates that she is more than capable of handling your project.
She is a skilled artist with over 10 years of experience, Passionate about Creating Digital Designs & Digital Portrait Paintings, Caricatures, Pet Portraits. She offers Completely Manual Handmade Digital Oil Painting on Digital Tab (Wacom Cintiq) by using Photoshop & Corel Painter.
Her prices range from $15 to $50 and offer to deliver in 3days with 5 revisions. Her typical response time is one hour, so you should receive a response within that time range.
Looking to commission from a professional? Message Artist_vens.
How much does it cost to commission an oil painting?
Using the artist listed above as an example, we can estimate that an average oil paint art commission can cost anywhere from $5 to $100.
The cost of hiring an oil painter is determined by the type of art service you require. The canvas sizes, the effects and colors, the background, the complexity, commercial usage, and whether it's digital art or handmade physical art– all of these factors influence the final commission cost.
Also, as with other criteria of hiring an artist online, price does not necessarily dictate the quality. My advice is to look through the artist's portfolio regardless of your budget to see exactly what they have to offer and if you'll appreciate that work of art.