Last Updated on January 8, 2023
Are you looking for a creative writer to help with your writing project? Is it poetry, a script, a story, an essay, song lyrics, a speech, or fanfic?
Then you're in the right place!
We've done the groundwork for you and compiled a list of qualified and experienced writers best suited to take on your writing projects.
What are the best writing commissions services?
The ultimate goal of writing is to connect with the audience, which can only be accomplished by a skilled creative writer, and there's no better place to find one than Fiverr.
Fiverr is a freelancing website where creatives of all kinds sell their services for as little as $5. There are dozens of outstanding writers who offer writing packages at or near this cheap price threshold. Even better, by simply searching, you can easily find writers who specialize in any type of writing you're looking for.
In this article, we'll be reviewing the Top 5 Creative Writers on Fiverr most suited to handle your writing projects based on our experience:
1. Meliseguram – An All-Round Multilingual Creative Writer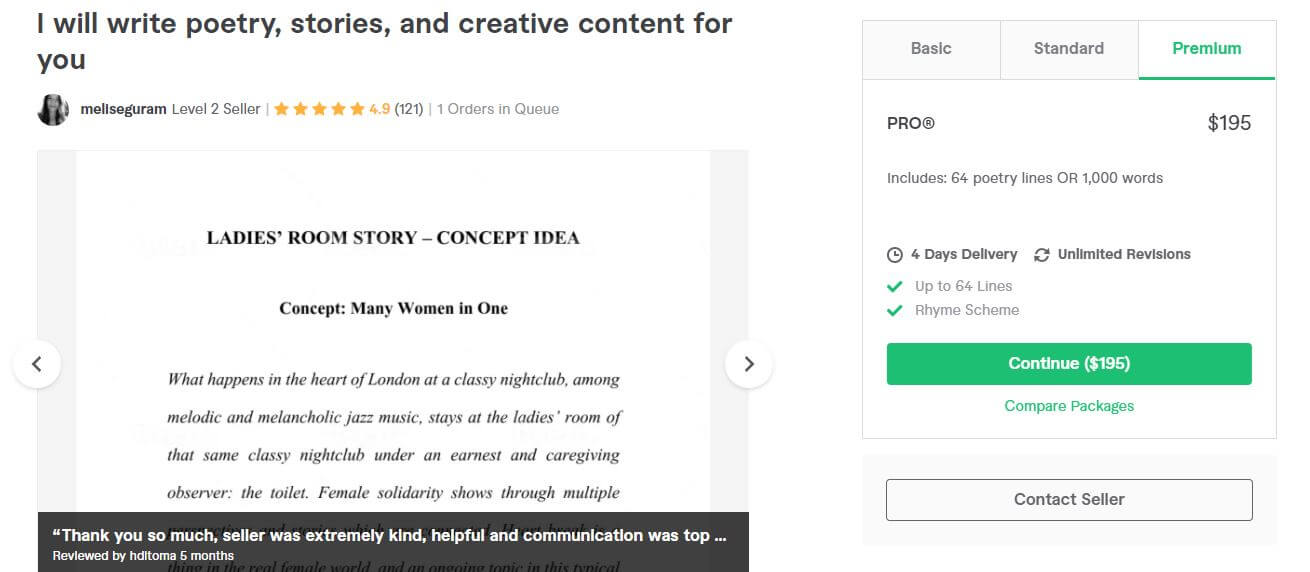 Melisa is an outstanding writer with experience in poetry, creative writing, copywriting, creative ideas, content generation, marketing, and branding. She's the full package!
She specializes and excels in all forms of creative writing. She provides custom-made poems, amazing prose poetry and stories, and poetic content. Scripts and plots, as well as imagery, lyrics, personal letters, and speeches.
The sky is the limit With Melisa handling your project as she is more than capable. All that is required of you as a buyer is that you complete her questionnaire, which is filled with important questions designed to learn about your preferences and expectations.
Her prices range from $45 to $195, which is in line with what one would expect from a professional writer. She is multilingual and can present the write-up in English, Spanish, or Catalan, depending on the buyer's preference. Her delivery time is limited to four days with limitless revisions. This is unusual, giving it excellent value for money.
Looking for an All-Round Professional to take on your projects? Check out Melisa.
2. Samantha3445 – A Seasoned Screenwriting Expert.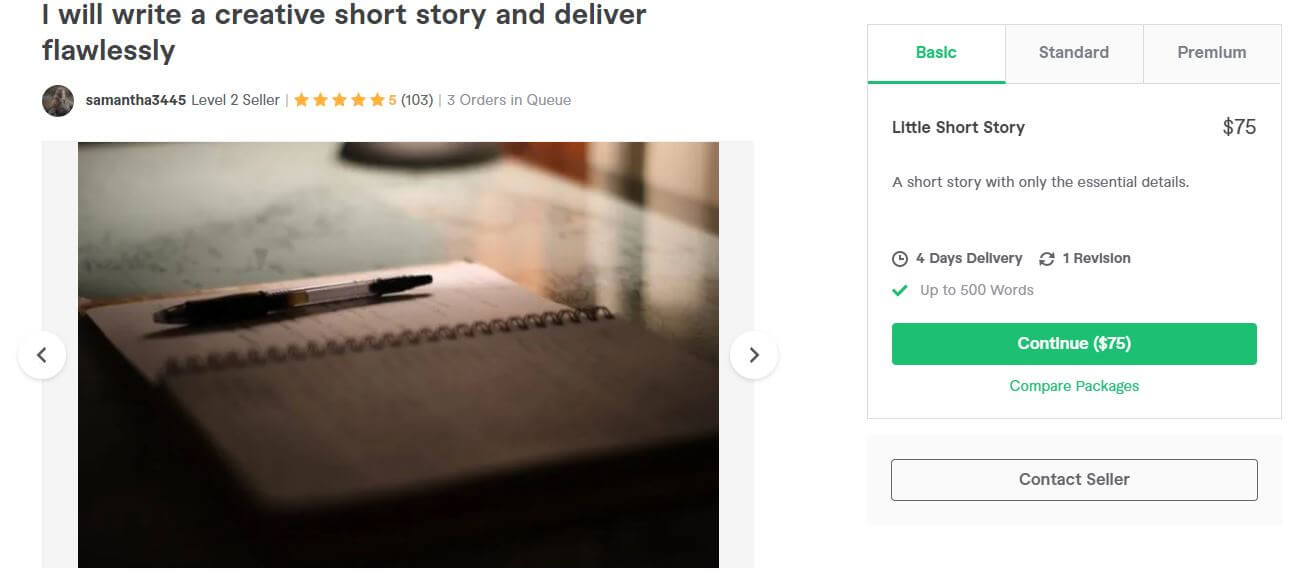 As quoted by the seller "No matter how big or small, every story deserves to be told."
Those words piqued my interest, prompting me to investigate the seller further. Samantha is a creative well-versed in storytelling and scriptwriting. With her deep knowledge of prose writing, she's able to efficiently deliver a flawless write-up.
Samantha has worked on set with some of the industry's best directors, giving her an advantage over other vendors and the ability to recognize what top professionals look for in both screenplays and short stories, allowing her to tell intriguing stories.
Her 100+ positive reviews demonstrate that she is more than capable of handling your projects. And, as the saying goes, "reviews don't lie," so she's your go-to pro if you want a compelling story with a rich plot and interesting characters.
Her prices range from $75 to $300, and I believe she is well worth it based on her credentials and reviews. She offers to deliver between 4 to 10 days with a single revision. Her typical response time is one hour, so you should receive a response within that time range. She also creates backstory for video games if required.
Looking for an expert storyteller/ screenwriter? Send Samantha a message
3. Writing_legend – A Friendly Budget, Experienced Writer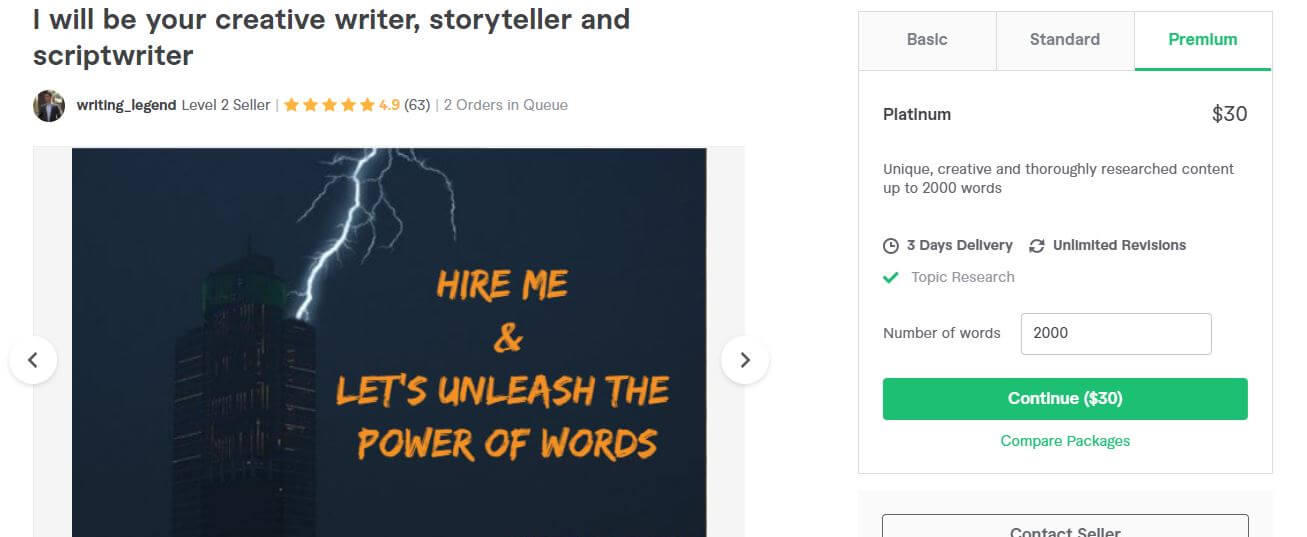 As quoted by the seller "I believe words have power and that power can only be unleashed by someone who knows how to properly use them." Acknowledging that he is perfectly capable of bringing any idea to life through his words.
Writing_legend is a copywriter and content creator well-versed in short stories, speech, and essay writing as well as other forms of creative writing. Even though he provides excellent work, his fees are reasonable, ranging from $20 to $30 per page with unlimited revisions. This is the best gig for someone on a tight budget and wants high-quality writing. He also has a speedy turn-around time, as he promises delivery in three days.
Looking for an experienced writer with a friendly budget? Send writing_legend a message.
4. Fedrivas – An All-round Professional Speech Writer.

Looking for a professional that can whip up a compelling speech for any situation? Is it Business conferences, TED Talks, Informative speeches, Argumentative speeches, Government activities, Political Campaigning, Debates, Fundraising? Fedrivas is your best bet.
As quoted by the seller "Let me help you communicate a story that people will never forget, not because of what you said but because of what you made them feel with your words." These words alone show's that he recognizes his target and can deliver.
Fedrivas is bilingual and can present the write-up in both English and Spanish, depending on the buyer's preference. His price ranges from $25 to $50 and offers to deliver in 2 to 4days.
Looking for a professional speechwriter? Contact Fedrivas
5. Gdshoem – A Seasoned Fiction Expert

If you're seeking high fantasy fiction, Gdshoem is your best bet.
He has a lot of experience writing as a Dungeon Master for the role-playing game Dungeons and Dragons makig him well-versed in the fantasy realm.
He is willing to work on a vast scope of fiction and is not bound by any word count. His prices range from $20 to $60, and he promises to produce within three to seven days with some modifications. To have Gshoem handle your fiction projects, send him a note today.
Looking for a fiction expert? Check out Gdshoem's gig
Can you commission fanfics?
Copyright and trademarks are held by the majority of the works for which fanfiction will be written. If you make money off either, then you are using someone else's brand for your profit. That is precisely what copyright legislation is intended to safeguard.
Yes, you can commission for virtually anything, even fanfic, as long as it not intend to publish or distribute it for a profit. It's only unlawful to make money off of your fanfiction.
Also, if it upset the rights holders enough, fanfiction without profit may be accused of copyright infringement. Most people are unconcerned since you're not earning off it. As a result, it's a bit jumbled.
If you want to commission a fanfiction, I recommend checking out agustinatamini's gig, a highly rated professional who is quite active in the fanfic scene.