Last Updated on December 28, 2022
Twitch art commissions are an increasingly popular way of getting custom artwork for Twitch streamers.
There are thousands of artists who will create unique pieces of artwork for hours, days, or weeks at a time to get your vision across so you can show it off on your channel!
Twitch art commissions come in many different shapes and forms, but the most common types are emotes, overlays, and animations.
The prices vary depending on what type of commission is desired as well as the amount that needs to be done.

Some artists even offer several tiers that give twitch users more options when looking into new ways to engage with their audience.
Let's look at some of the best Twitch art commissions on Fiverr right now!
Who are the best twitch channel artists for hire?
One of the best places to look for Twitch channel artists for hire is on Fiverr!
There are a ton of really experienced and popular sellers waiting to create something stunning for you!
Here are the best twitch channel artists for hire on Fiverr right now:
1. mikanimus – Level-Two Seller & Fiverr's Choice for Twitch Art Commissions!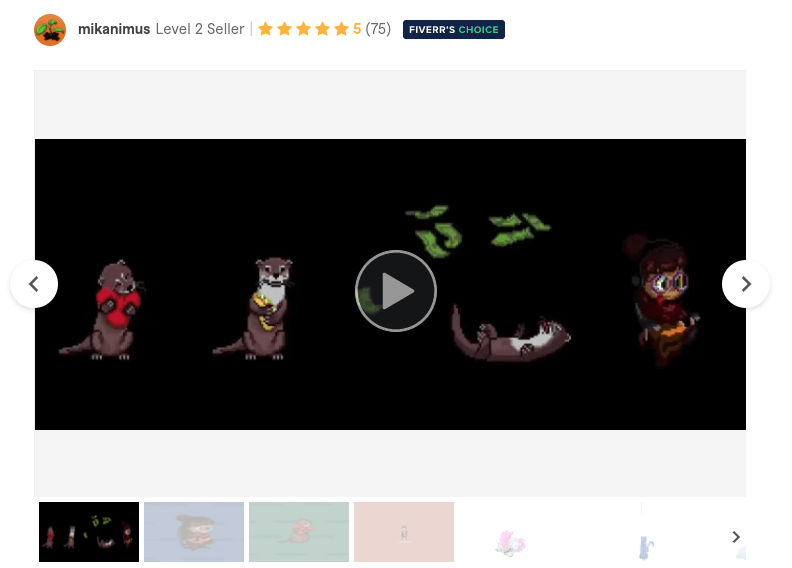 Mikanimus is an artist from France that has been on Fiverr since 2020. They specialize in anime, pixel art, and digital painting.
From their reviews and over 70 five-star reviews, mikanimus has a lot of satisfied customers, all complimenting them on quick delivery and better than expected product!
Their commissions vary depending on the type you're looking for but usually cost around $50-$100. This seller offers multiple revisions, accommodates almost any request from their customer, and delivers high-quality work! Mikanimus offers three-tiers of options for their Twitch art: including:
A Basic Package- Pixel art simple animation 64x64px
A Standard Package-Pixel art simple animation 64x64px
A Premium Package-Pixel art complex animation 64x64px
With all of their packages delivered in 7-10 days, this Fiverr seller offers an extremely quick turnaround compared to their fellow creators. Mikanimus has over 70 five-star reviews. To see this and more of their gigs, check out their Fiverr profile here!
2. gvidasba – High-Rated Fiverr Seller & Unique Twitch Art Banner Creator!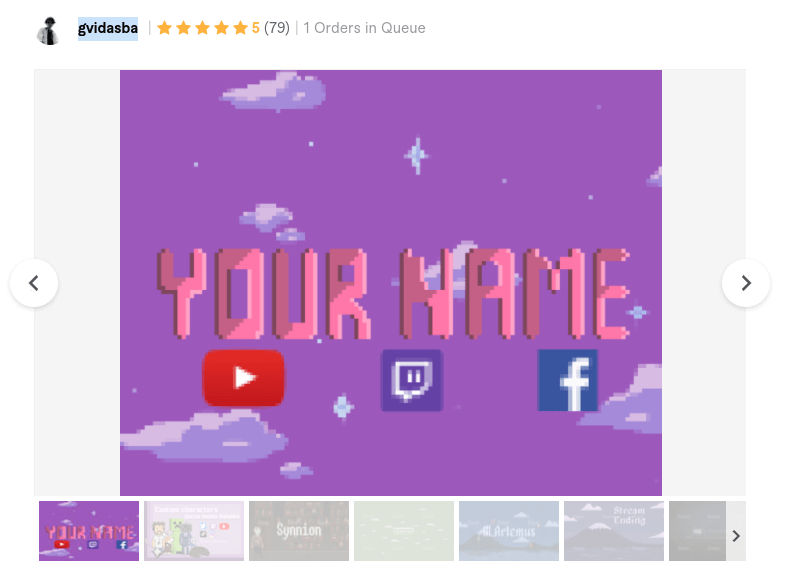 gvidasba is a professional graphic designer and producer working on Fiverr. They are based in Lithuania and have been selling on Fiverr since mid-2020. They offer custom pixel-art banners, chibi emotes and logo designs that will give your social media a unique look!
This seller has ALL 4 and 5-star reviews and some raving feedback from their customers. They offer a ton of examples in the gig gallery, so you know exactly what you're getting before you order!
As if that wasn't enough, with their gig, you'll get:
Custom pixel art Banner with your Username
Easy and Fluent Communication
High-resolution file in exact social media size
Full Ownership of the Banner
For an additional $5, they can add a character sprite in the banner or social media handles.
Gvidaba offers only a single their for their gig starting at just $15, but in that tier, you receive:
Pixel Art Banner
High-resolution banner with your name, one revision
1 Day Delivery
1 Revision
1 Thumbnail
Image Sourcing
Custom Designed Images
Gvidasba has one of the quickest deliveries on Fiverr for Twitch art, and with over 75 five-star reviews, it's clear that they offer high-quality art and excellent customer service. To find this and more of their gigs, find their profile here!
3. coliflornina – A Unique Level-One Seller Specializing in Custom 8-bit Twitch Badges!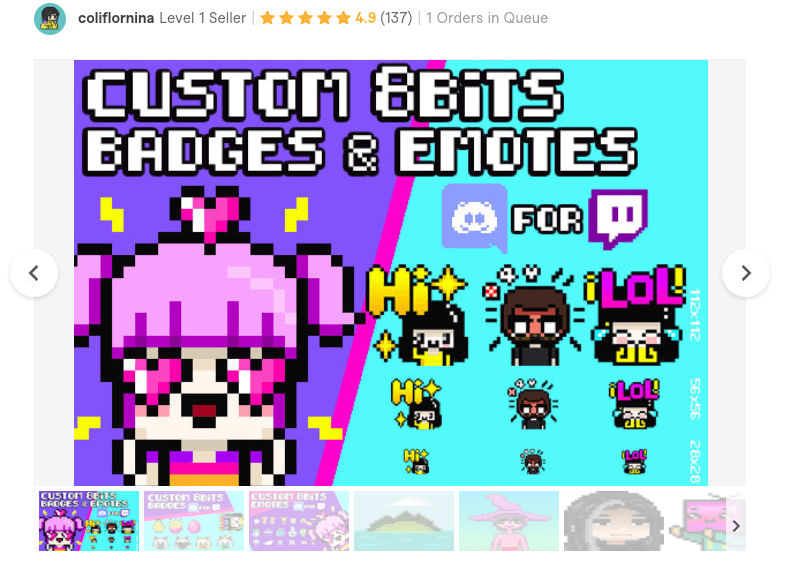 coliflornina is a customer 8-bit twitch sub badge artist on Fiverr.
From Venezuela, Johana Zurria works as a graphic designer and likes to make illustrations, specially Pixelart, 8bits, Portraits, Avatars, and more! This 8-bit design is incredibly unique and to make it even better, this gig starts at JUST $10!
Their three-tiered gig includes an option for 1, 4, or 6 emotes or badges. With their gig, you'll get the option to choose from a few different sizes and specifications, including:
8Bit Badges

72 x 72 pixels PNG files.
36 x 36 pixels PNG files.
18 x 18 pixels PNG files; Or

8Bit Emote

112 x 112 pixels PNG files.
56 x 56 pixels PNG files.
28 x 28 pixels PNG files.
coliflornina has over 130 five-star reviews and multiple gigs to offer. You can see them all on their Fiverr page!
4. chrisdarkerart – High-Selling & High-Rated Fiverr Twitch Logo Avatar Creator!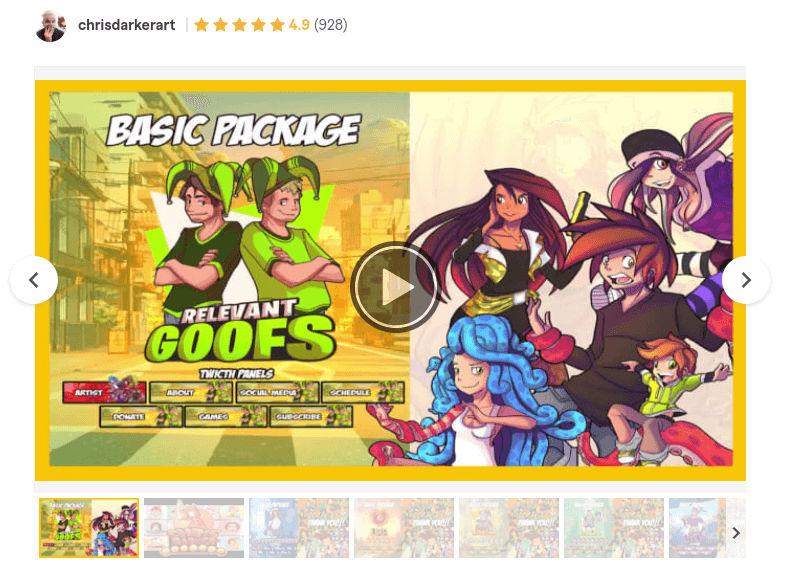 Our list wouldn't be complete without Chrisdarkerart!
This Fiverr Seller has nearly 900 five-star reviews on their Twitch Art gig! Compared to the rest of the sellers here, Chrisdarkerart has an incredible amount of experience!
This gig offers a ton of examples in the gallery and if you're still not sold, just read through the reviews they've received!
Christopher Greco is an artist from Chile. They have been a professional illustrator for over ten years. You can find them on Twitter at ChrisDarkerART or Facebook Chris Darker ART.
With this Fiverr gig, Chrisdarkerart offers a one-tier package. You'll receive:
Avatar/Logo +Banners social media (Facebook Twitter ) +Youtube banner +emotes
3 Days Delivery
1 Revision
Social Media Kit
Chrisdarkerart offers this and multiple other gigs, and with an impressive almost 900 five-star reviews, it's easy to see why this artist is one of the top sellers in this niche. Check out this and other gigs of Chrisdarkerart's here!
How much does Twitch art cost?
Twitch art varies in cost from seller to seller. In general, you can expect a price anywhere from $10 for a basic emote up to $80-$100 for something more impressive.
You can sometimes get emotes for your channel for free if you find someone to volunteer their time and skill (or create them yourself, of course). Many sellers charge an average of around $32 per emote, but there are other artists that charge much more.