Last Updated on October 10, 2022
Pixel art is a form of digital artwork that has been gaining more and more popularity over the years. With it's distinctive 8-bit look, pixel art is unique in its own way and can be used to represent many different things.
Pixel art commissions are a way to get your hands on some of the best pixel art in the world. Whether you want an original, or just need someone to create a sprite for you, there are tons of artists out there who can help.
In this blog post we'll show you where to find these talented individuals and how to work with them!
How to commission your own custom pixel art
When you're looking for an artist to commission your pixel art, people tend to recommend sites like Deviant Art, Twitter and Reddit.
Those options are all viable and have great artists, but from my experience the best platform for commissioning any type of artwork is Fiverr.
Fiverr is the world's largest marketplace for digital services with over 3 million sellers and a huge variety of services.
But that's not the reason I recommend it. The reason I think Fiverr is a better option for art commissions is because unlike sites like Deviant Art, they provide an escrow service which guarantee your money would remain safe.
Trusting people with money over the internet is hard. No matter how many positive reviews an artist might have, you can never know if they'll run away with your money or delay your work considerably. There's no bigger bummer when getting excited for a commission and then not hearing from the seller for a month.
Fiverr is a supervised marketplace and as such – your money won't be delivered to the seller until you are 100% satisfied with your order. This would give you the piece of mind knowing that your order is safe and that your commission is ensured.
Beyond that, they also have plenty of amazing artists on board. Check them out below:
What are the best pixel art commission services?
Here are our top 3 favorite pixel art artists on Fiverr:
1. Heriumu – Best overall Pixel Artist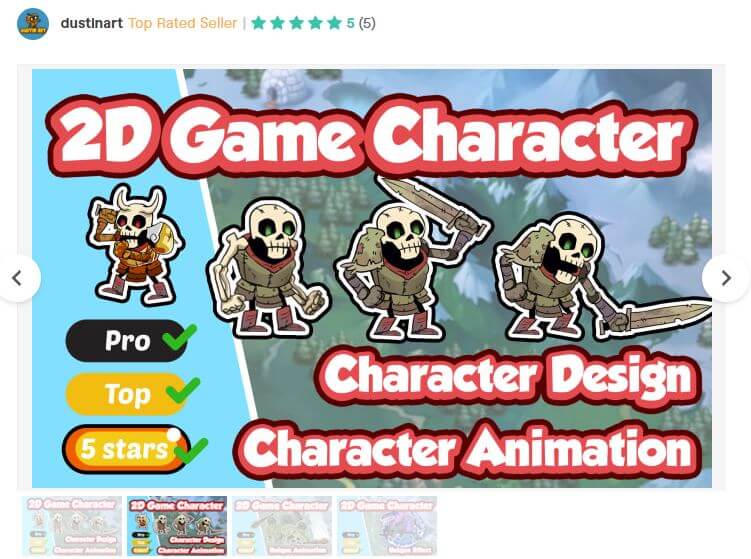 Looking for 2D game character art or sprite sheet for your game? Want to hire the creme de la creme of Fiverr? Then you have to check out Heriumu.
Heriumu is both a PRO and top rated seller on Fiverr, which are the highest levels available on the platform. He's 2D artist and Graphic Designer with over 4 years of professional experience in the Illustration and pixel art animation field.
His artwork is absolutely stunning in my opinion, and if you are looking for a trustworthy, established designer to jumpstart your new game's art and design – you should definitely consider his services.
For the best pixel art commisssions service – check out Heriumu's gig.
2. benrittmann – 8 bit or 16 bit pixel sprites for games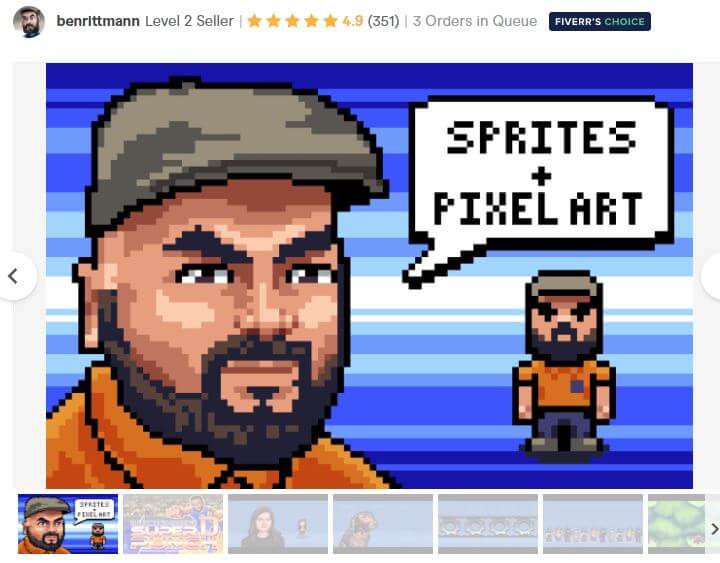 Another option for you to consider is benrittmann, who specializes in pixel art and can make your game's sprites look awesome.
If you're looking for high quality sprite work with a fast turnaround time, this artist will be perfect! He is also very responsive on Fiverr which makes him a great seller to work with.
3. ae1996 – Animated 8 bit, pixel art sprite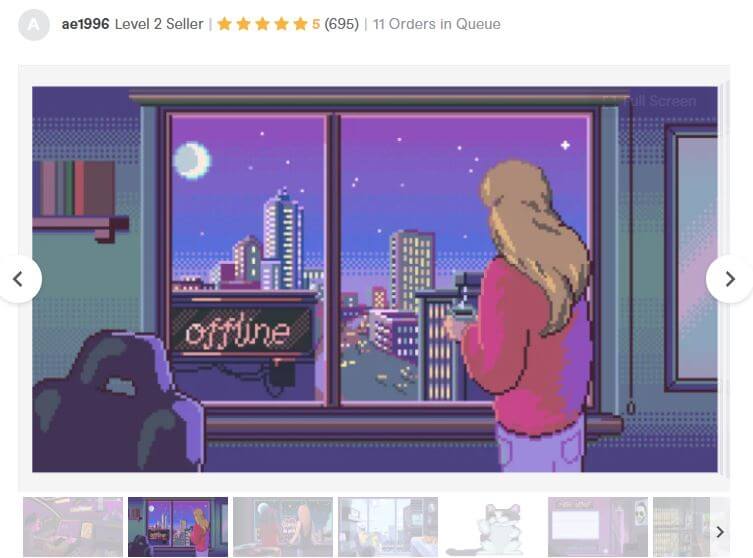 ae1996 (Ash) is an excellent pixel artist from the United Kingdom. he can draw your pixel art or sprites ideas and create high quality animations for the ridiculously affordable price of $15.
I find him to be a very good option if you just pixel art in general and want to commission a few pieces for personal use. If you need artwork for your game, you should probably consider one of the previous sellers as their work is more professional and suitable for this kind of task.
How much does pixel artists cost?
The cost of pixel art varies greatly based on the artist, their skill level and how much work they want to put into it. A basic sprite might be anywhere from $20 to $150, while a more detailed piece can go for upwards of five hundred dollars.
For that reason, if you'd like to save money when ordering pixel art commissions from an artist – ask for a bundle. Most artists would give you a significant discount if you'd make a bulk order of 5 or more sprites.
How long does it take to make a sprite?
On average, a sprite commission can take between 3 to 7 days. However, the time it takes to create an individual pixel art commission depends on how many orders the artist already have and your exact position on his or her queue.
Do you have to pay for pixel art?
You can get pixel art templates for free using online sites such as template.net.
Custom pixel art, however, is not free and you would have to pay for it.
The cost of commissioning an artist vary depending on various factors such as: how complex you want your project to be, whether you are ordering it for personal use or commercial purposes and what kind of work the artist usually specializes in.