Last Updated on January 8, 2022
Love Manga? Want to create your own Manga or Manga inspired art but don't have any artistic knowledge?
Well, we've got you covered!
In this article I would share with you my top 4 recommended manga artists, and how to commission their work.
Who are the best manga artists for hire?
Below you'd find my list of the best manga commission artists for hire:
1. mieart – The best and the most popular manga artist ($45-$90)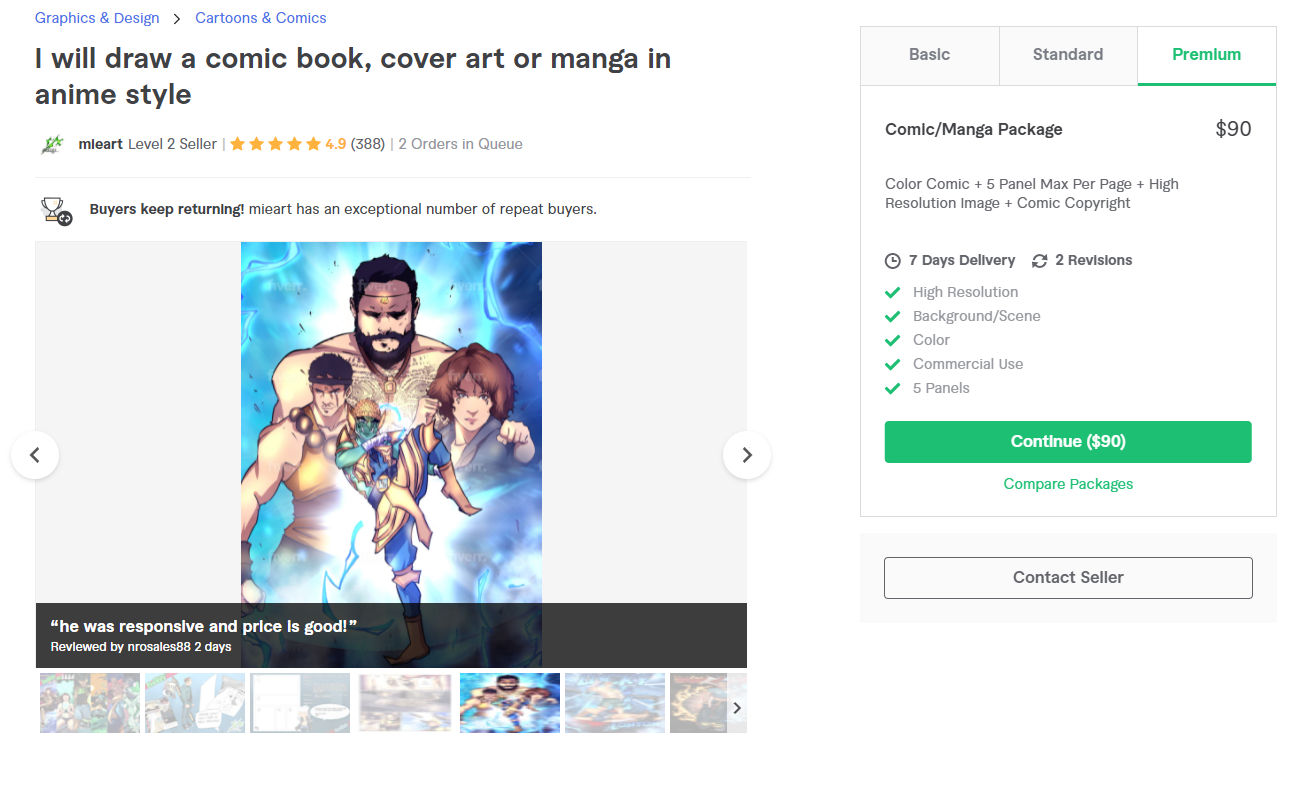 This seller from Malaysia creates the most professional-looking manga art. They're the most popular choice for a good reason. They don't only make greatly drawn manga panels, but also have a colored panel package with excellent shading and textures. They seem to excel in various art-styles as seen in the preview images too.
This gig stands at an average rating of 4.9 stars with 388 ratings in total. You can have up to 5 total panels per page in this service, which is a great addition.
Want to have an excellently drawn and colored manga of your own? Check out mieart's manga art commission.
2. aruvhie – High quality budget manga art ($10-$40)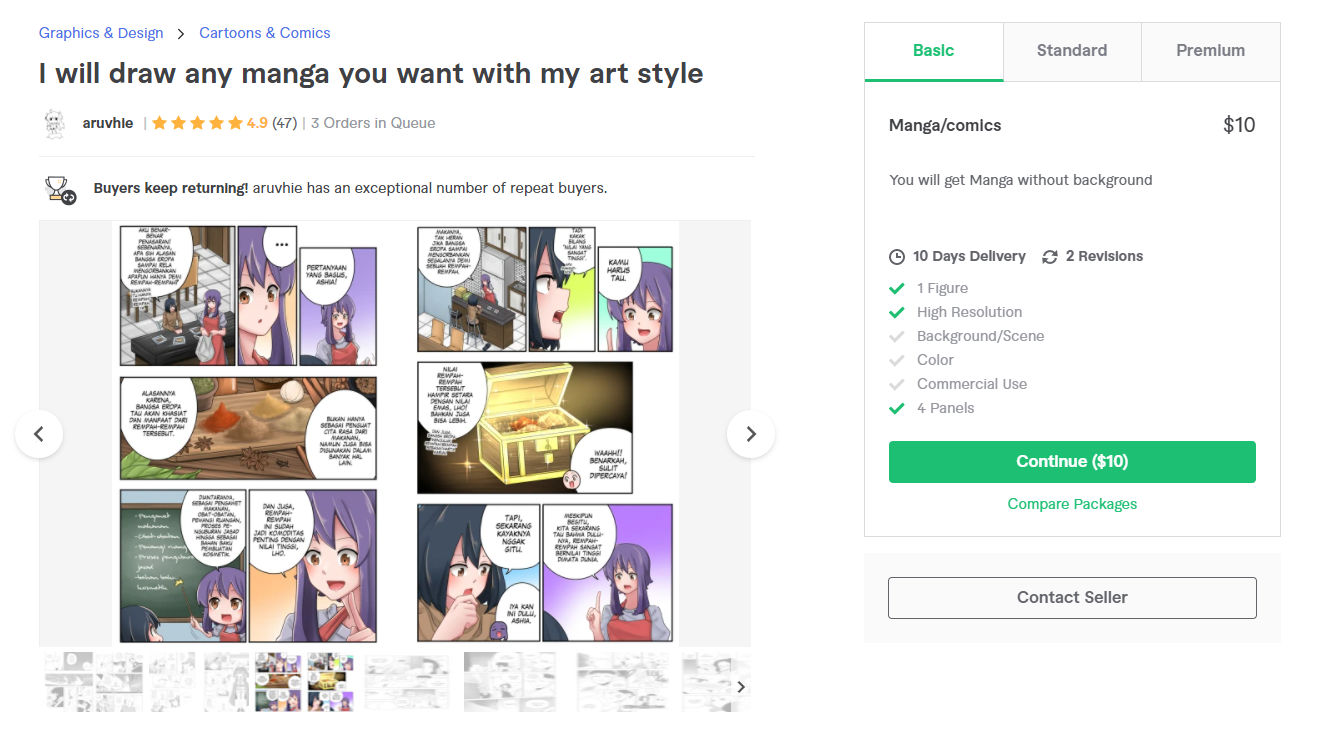 This is one of the most interesting services that I have seen due to how it sorts its packages by the parts of the sum. You can get a black and white manga without background at a price as low as 10$, or get one with background or colors with the higher packages.
It is surprising how such a talented artist charges at a very affordable rate, and the opportunity should be utilized.
Their premium package allows you to have even 6-panel manga pages. Due to this Indonesian manga artist's excellent and affordable service, the gig has an average rating of 4.9 stars with 47 total ratings. Buyers keep returning to his work, and the same reviewers can be seen with satisfaction regarding what was delivered to them by this artist.
Want to have your manga to look fantastic with affordable art? The manga art commission of aruhvie has you covered.
3. derryferbian – A highly rated and affordable manga art service ($10-$60)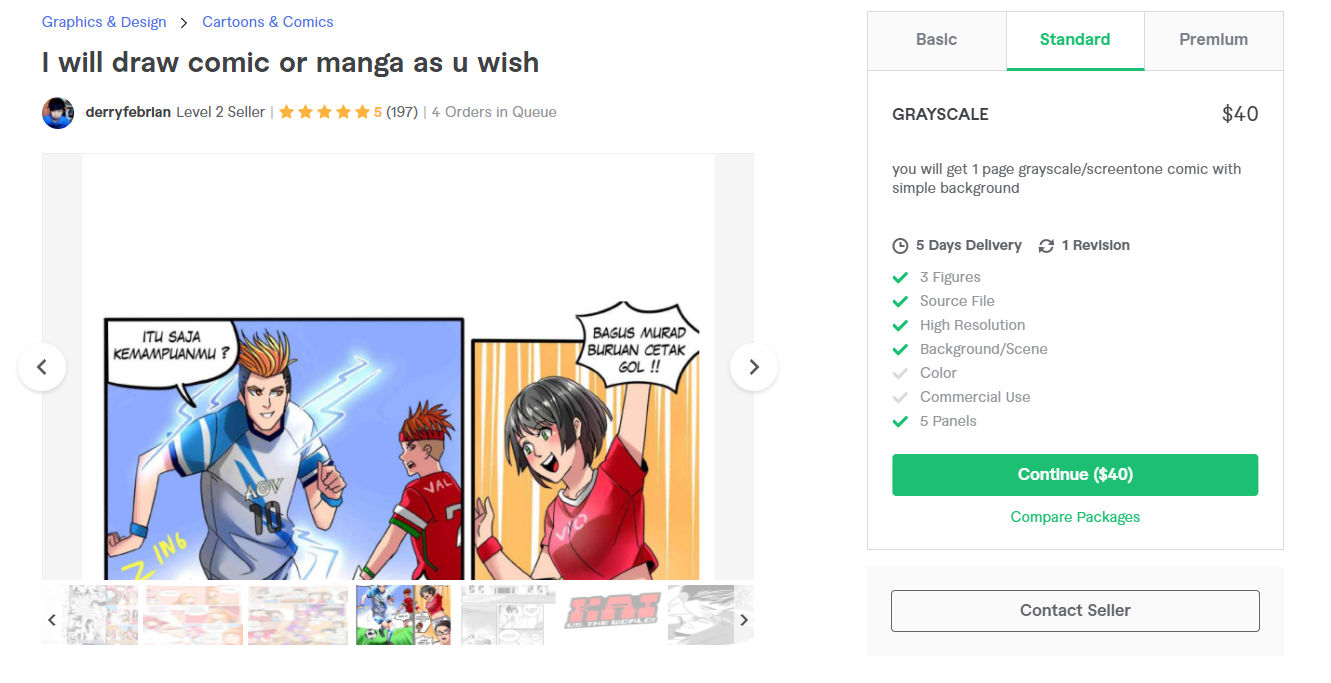 This artist from Indonesia has a very talented style of art. He's a popular option but also a very affordable one. You can purchase manga pages that are without background, black & white alongside background, and complete colored manga pages.
The gig page shows that he's done art style of several different styles, which is why derryferbian's versatility should never be in doubt. He is our first solid 5 star artist on the list, with 197 overall ratings on the gig.
Want a trusted manga artist to draw for you at a reasonable rate? Try derryferbian's gig.
4. kazex423 – Best manga artist for those seeking style ($30-$65)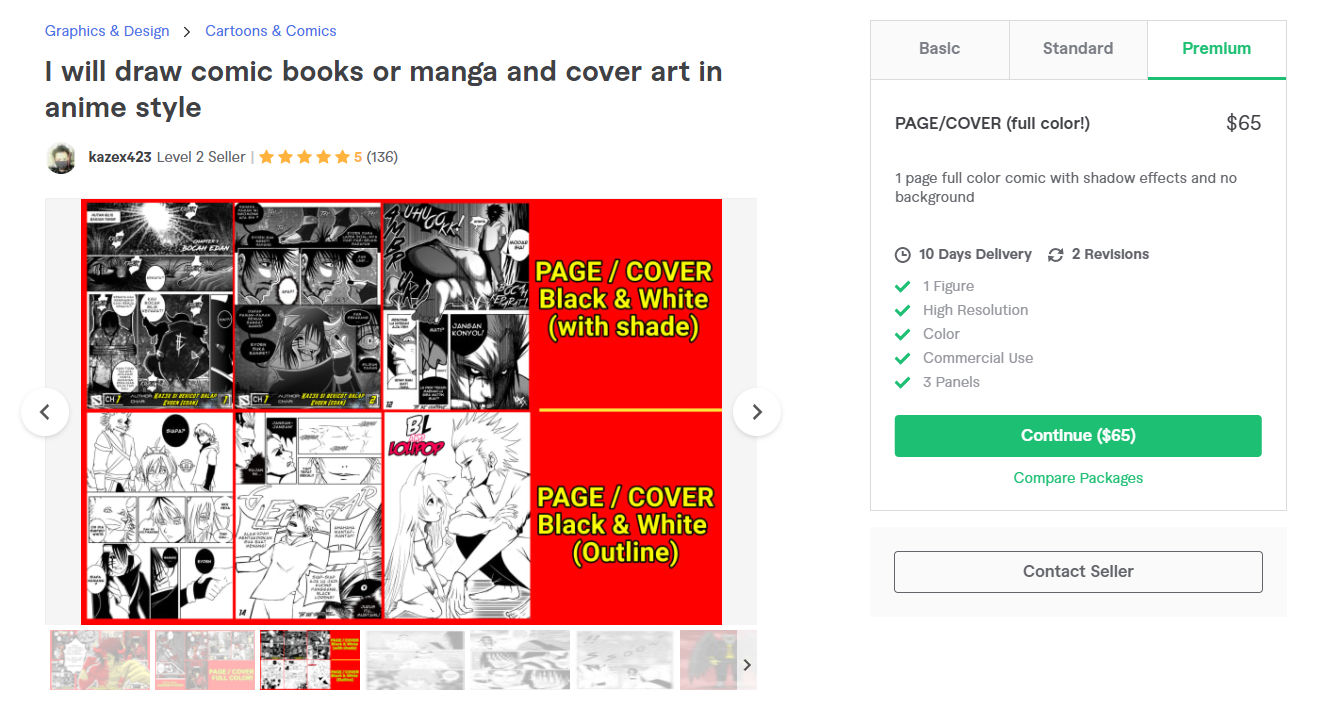 Another popular option among the manga artists on Fiverr.
Compared to others, kazex423's art style focuses much more on a specific style that works for many genres.
It's highly recommended to buy his premium package due to how great he is with the background effects. The Indonesian manga artist's service is rated an average of 5 stars with 136 total ratings.
Want your manga to be artistically stylish? Try kazex423's service.
How much does manga commission art cost?
A manga art commission price can range from $30 to $100.
The price that a manga commission artist should charge is dependent on the kind of manga service you want. From the number of pages or panels, to the effects and colors, – all end up making a drastic change in the total cost of manga commission cost.