Last Updated on December 22, 2021
Thinkific is undoubtedly one of the most exciting course creation platform available. Due to its ease of use, versatility, and customizations, a lot of people use it to create and sell their online courses.
Thinkific pricing model is also designed to cater to all types of creators. This is because you have the option to go for the free version or the paid alternative.
Globally, there are more than 50,000 active course creators using Thinkific. These course creators are spread across more than 165 countries. In 2020 alone, these individuals received payments of more than $275 million.
So how does Thinkific work? Thinkific has an easy-to-use backend that allows instructors and course creators to customize lessons and sell or provide them to students. It is easy to create courses of all manners and even provide files as reference materials.
In this article, we will look at some of the main features of Thinkific, talk about how it stands out from its competitors and address why you need to consider the platform if you are looking to share your knowledge with the world.
Best Thinkific Features:
Below you'd find the best features of Thinkific in my opinion:
The Course Designer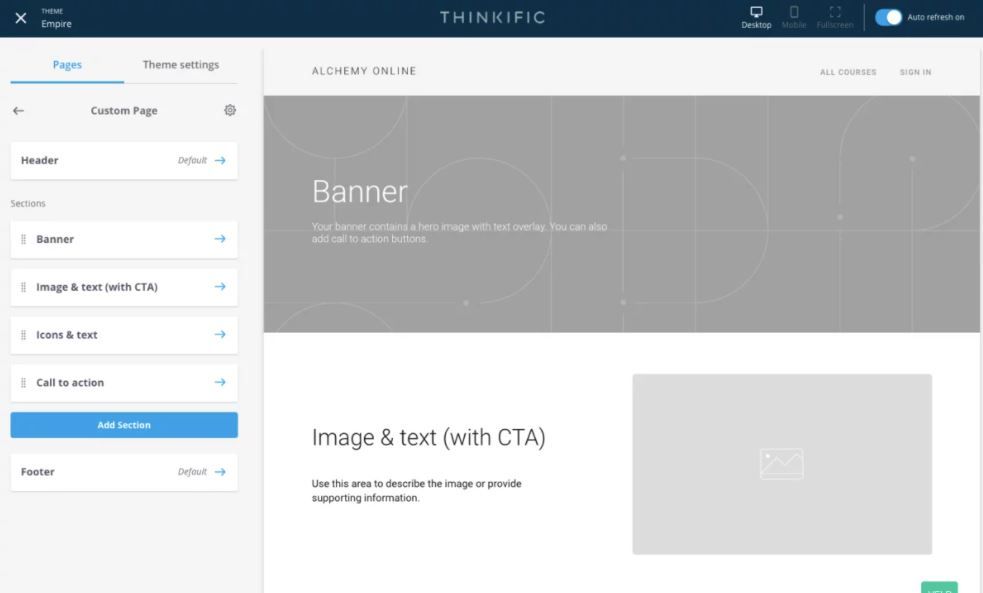 One of the things that set Thinkific apart from its competitors is its easy-to-use and intuitive tool for designing courses. The interface is based on simple drag and drop, which allows you to stack all the content you want to publish.
You don't need to deal with any CSS or HTML codes which makes it inclusive for everyone. The platform's integrative system allows you to upload any type of media you want to upload, from pdf to audio files.
Since Thinkific has its own servers, your audience can easily and quickly access your information regardless of the file size. In addition, you are provided with a lot of space to publish as much content as you like. This means that you do not have to worry about hosting.
Despite the platform providing creators with a wide array of templates to choose from, if you are experienced in coding, you have the option to customize your site as much as you want. Any element you wish to include in your courses, such as banners, logos, and color schemes, can be easily edited.
Thinkific Support
Another great thing about Thinkific is that it offers personal email and phone support to its users. It also provides content creators with a knowledge base, webinar support, and training area to help them start and grow their courses.
The platform has a fantastic support team that monitors everything 24/7 and has an impressive 99.9% uptime. Apart from Thinkific workers, the platform has an engaging social media community that connects creators worldwide to share their ideas and ask questions.
Also, Thinkific has automated all its updates. As such, you will always have the most up-to-date features available.
Thinkific Pricing Model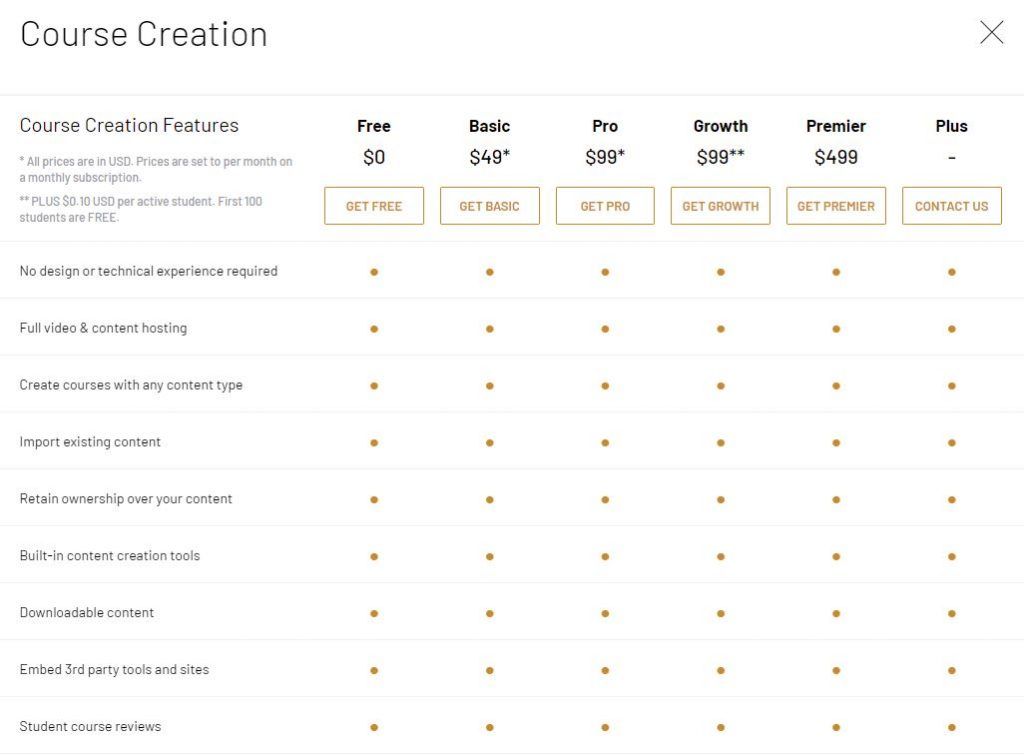 Another thing that sets Thinkific apart is that it is the only course creation platform that offers a free plan. While, you do miss out on a lot of features, having a free option is great for a lot of beginners. The paid versions include the basic at $49, pro at $99 and premier $499.
Now let's look at what you get for each price range.
Free pricing plan
Most platforms that offer a free payment plan usually provide it for a limited duration and even limit a lot of the features that would allow you to publish a complete course. Thinkific, on the other hand, will enable you to build a student base and launch an online store to sell your courses free of charge.
With the free version, you can create an unlimited number of courses; you also get content hosting, access to all the funds, and provide the basic types of integrations.
In addition, you also have the chance to try any of the advanced options with their free trial. The main drawback to the free version is that you do not have the flexibility to customize your content as much as you would like.
The Basic Pricing Plan
With the Basic plan, you get all the features of the free version together with the following upgrades.
Drip content
Course bundles
Basic Zapier integrations
Affiliate reporting
Course bundles
A custom domain
Bulk student emailing tool
Monthly subscriptions
Additional course prices
Intermediate integrations
The pro pricing plan
When you sign up for the pro plan, the first thing you will notice is that Thinkific will not charge you any transaction fees. Apart from these you get a ton of other new features including
Direct Infusion soft integration
Payment plans
Onboarding calls
Instructor payout reports
Priority support
Advanced options for CSS and HTML editing
Three course admin accounts
Webhooks
Intermediate Zapier integrations
Host storyline
White labeling for your site
Hidden and private courses
Completion certificates
Premier Pricing plan
This is the most expensive pricing plan and it costs $499 per month. I wouldn't recommend it if you are a beginner. However, it offers you a significant upgrade when compared with the pro plan.
Some of the additional features you get include;
Advanced Zapier integrations
Advanced integration options
A public API
Onboarding package
An onboarding specialist
course admin accounts
Three site admin accounts
A single sign-on.
10 course admin accounts
Marketing and Selling
Creating a course is one thing; however, marketing it and having students buy/enrol is another thing. Luckily, Thinkific has various features and tools that will help you market and sell your course.
One of the things that I like the most about Thinkific is that it allows you to have more control over how much you will charge on a course-by-course basis. This is very important as it can help you attract all types of students. For instance, you have options such as free, monthly payments, one-time payment or subscription/membership.
Essentially, you can package your courses however you wish and provide students with more ways to pay and learn, thus making your lessons accessible to all.
Another way you can market your course is through affiliates. Thinkific allows you to enlist affiliate marketers to promote your courses and earn a commission. The platform has made this very easy; all you need to do is add the affiliate person as a user, and Thinkific will track the courses he or she sells and the revenue generated.
Other sales and marketing tools/options that Thinkific facilitates include
Coupons
Sales widgets
Advanced data tracking to improve campaigns using tools such as Google AdWords
Ability to integrate with over 1000 external business and marketing apps
The Thinkific App Store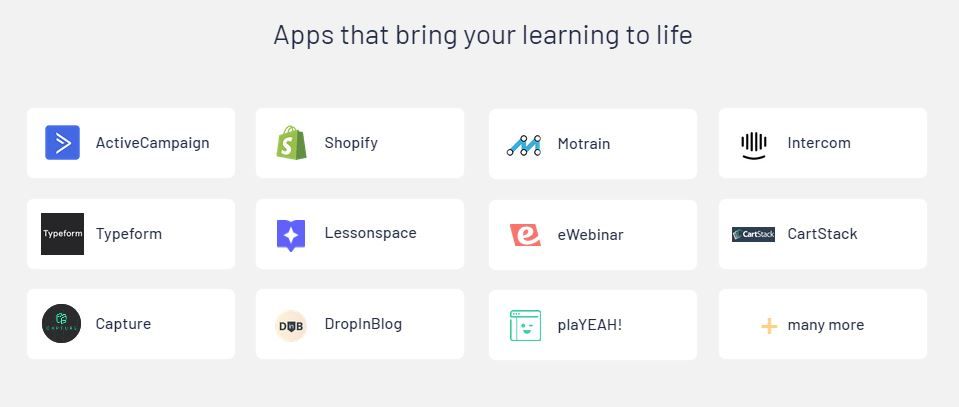 Probably one of the standout features of Thinkific is their new App store. It offers course creators the option to integrate their courses with apps that can boost their business, for example, Zoom and Shopify.
Thinkific does not make these apps; instead, they are premade integrations with 3rd party tools. The app store is different from the already strong integrations that the platform has. It makes the whole process of integrations easy and more streamlined. You don't need any technical skills to use the apps, just install an app you want, and you are good to go.
The App Store is designed to focus on four main categories
Student Experience: This will entail apps with the functionality to encourage and increase student engagement. Some of the apps that will help achieve this include Zoom for live lessons, Lessonspace for visual collaboration, and Motrain for gamification
Automation: Thinkific is committed to simplifying backend operations and customer communication. To achieve this, the platform offers email automation tools that can be integrated with apps such as Active Campaign, Convert Kit, Mailchimp.
Scaling: The platform also wants to make it easier for creators to scale their businesses and reach new audiences, increasing their revenue. Some apps that can help with this include Shopify (ecommerce), DropinBlog (content and SEO), and Typeforms (surveys)
Tracking and Reporting: Thinkific also wants to make it easier for course creators to understand their students' behavior and preference and streamline their courses accordingly. Apps such as Segment, Google Analytics, and Mixpanel will help collect data and provide relevant analysis.
The significance of the New App Store
The primary significance of the new app store is that it will provide creators with tools that will enable them not only to create courses easily but also to make the platform adaptable to the needs of the creator. So essentially, the app store is meant to provide you with "plugins" that support different types of customizations.
With the App Store, the course creators can access their business details easily and faster. This can be done with the help of tools such as Segment and Mixpanel that will allow them to track and analyze all relevant information regarding their courses.
The Thinkific App Store came when the company is expanding fast and even listed on the New York Stock Exchange. As earlier mentioned, one of the critical categories is scaling. The App Store will provide creators with scaling tools to ensure they can grow their platform faster and meet the company's expansion goals.
Additionally, you do not need any technical experience to install, integrate and use the apps. The App Store increases the accessibility and ease of operation.
The App Store will also foster a better connection between the creators and the consumers through apps such as Zoom and Motrain, therefore improving the popularity of the Thinkific courses. Course creators can also fully customize their courses and receive feedback on the same with ease.
Some app may also help them introduce sophisticated features even with limited technical experience. These features include data collection and analysis tools. These features allow the course creators to reach out to their consumers in ways they did not fathom before.
Why Thinkific Stands out against its Competitors
Thinkific is already one of the leading platforms in course creation and marketing, and it is becoming more and more popular as time go by. The launch of the Thinkific app store is another big factors that would contribute to its rise to the top.
Most of its competitors do not have this feature. Therefore, sharing courses and integrating them with apps that increase user engagement becomes hard for them.
Thinkific is an easy-to-use platform, and the users can control the backend, similar to how WordPress websites work. That alone is instrumental in course creation and development and helps creators publish content exactly how they want it.
Creating customized courses gives the course creators, businesses, and entrepreneurs a personal brand that they can be associated with. Therefore, the platform has provided all its users with a connection that gives them a sense of belonging.
The pride of being a part of such a large platform is an integral part of marketing the courses and enables students to find some of the best courses tailored to their needs. Other platforms such as LearnWorlds and Teachable have an almost similar design, but that customization and multimedia support level is only found at Thinkific.
However, it may be said that Thinkific has a shortcoming of not having as many learning features as expected. For instance, it does not support SCORM and HTML files, yet its competitors do.
Final Words
Putting together an online course can be daunting. You need to consider so many things, such as how many lessons should you include or even what other file types should you include? However, Thinkific can make this whole process seamless.
While there are some things that Thinkific can improve, for example, including a live chat option, it is still one of the best platforms out there, especially when it comes to integrations and designing courses.