Last Updated on December 27, 2022
Were you one of those people who throughout school, like most of the rest of us, were not gifted with any particular mathematical prowess? Basic math made sense, it was logical, there was a special linguistic quality about it, but you weren't exactly fluent in this language.
And now you're a business owner in the age of information, overwhelmed with numbers and patterns and big data, but also with everything else about your business.
You need help making sense and use of this data. Well, let's take a look at the best data analysis services available to you today.
What are the best data analysis services?
Here are my top picks for the best data analysis services:
sadya_z – Turning Random Numbers Into Valuable Business Insights
Sadya is a Pakistani data scientist who has been selling on Fiverr since May of 2020. Unlike most, she is someone who has a passion for numbers and describes herself as one who loves to play with data.
She is one of the top sellers under the Business & Financial category of Data Analysis, a level two seller, and has 77 5-star ratings and nothing below.
Her expertise is primarily in Business insights, but also trends, forecasts, predications, and more. Her customers have left reviews like "I'd give her 6 stars out of 5 if I could" and " sadya_z has worked hard to provide world-class data analysis and visualization."
Her process involves importing your data from files such as CSV, JSON, and Excel, cleaning and refining the data with python script, playing with and sorting the data with python pandas and numpy to find useful insights, then providing her clients with a written and visual form of those insights using python matplotlib.
It's very obvious from her customer reviews that Sadya is very communicative and responsive throughout the order process. She truly wants the best for her clients and will work to ensure the end product is one that exceeds expectations.
Sadya's packages range from basic data analysis costing roughly USD $16, to her premium package which includes cleaning of data, data analysis and visualization, and "perfect" predictions, all for roughly USD $105.
Need your data to be compiled into meaningful insights? Consider Sadya, and check out her gig profile here.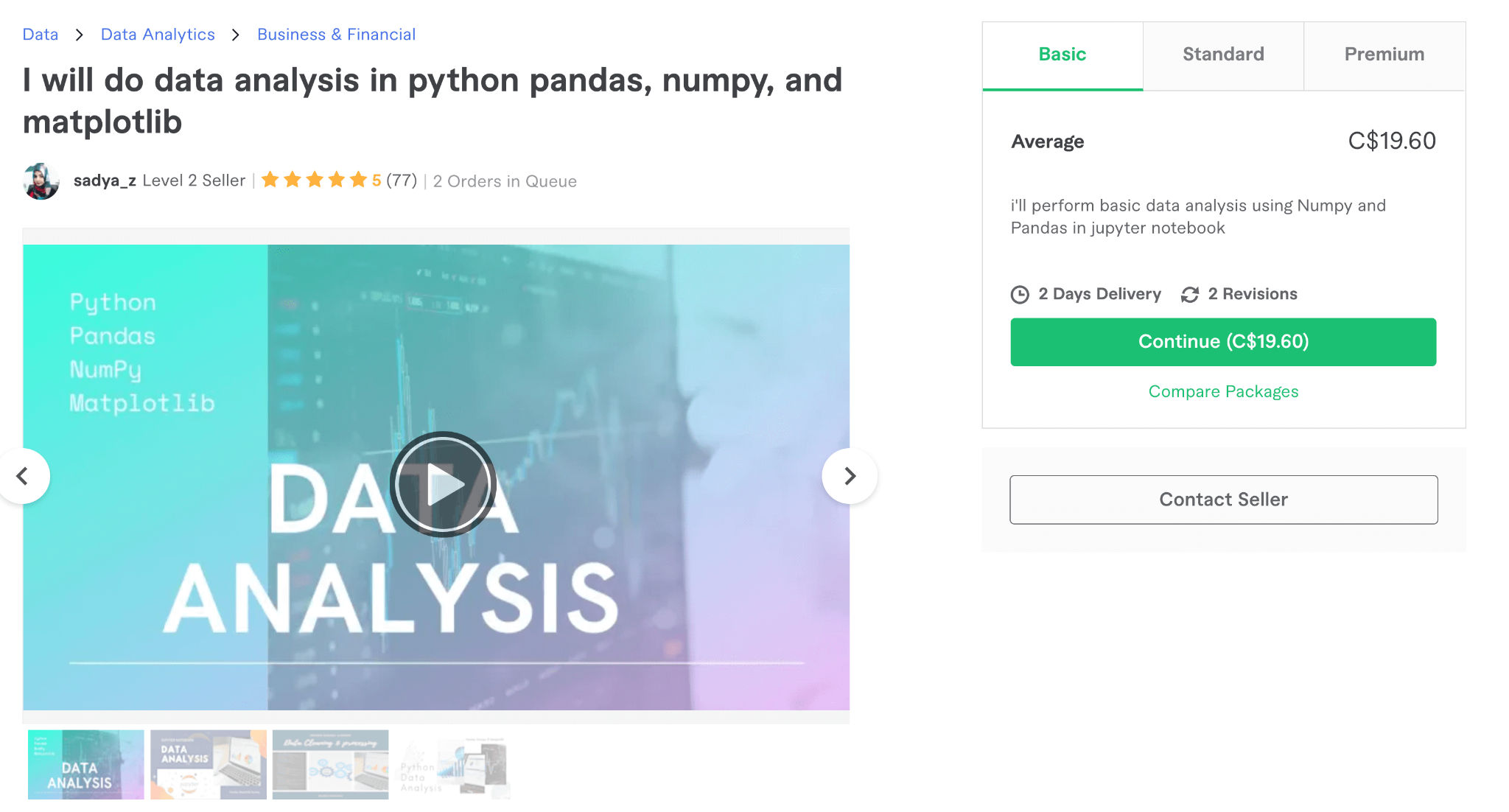 Of the roughly 2000 options available to you on Fiverr for Data Analytics, specifically Surveys & Research, Faiza is one of the highest ranking Top-Rated and Level Two sellers.
She is a software engineer from Pakistan with 3+ years in the statistical data analysis and interpretation field using SPSS, AMOS, and WrapPLS. She began selling on Fiverr in 2017 and has since raked in almost 300 5-star ratings, an average response time of 1-hour, and garnered many glowing reviews.
Her expertise is in prediction, statistics, factor analysis, and regression testing, and her services include SPSS data analysis, required SPSS tests, SPSS output file, and SPSS final data files.
And when all is said and done, she will provide you with a written report of data analysis along with interpretation and supporting references so you can be sure of the quality of her work.
Faiza's packages range from basic descriptive analysis costing roughly USD $10, to her premium package which consists of inferential analysis for roughly USD $72.
For any SPSS involved analysis at an affordable rate, Faiza may be your girl. Check out her Fiverr gig here!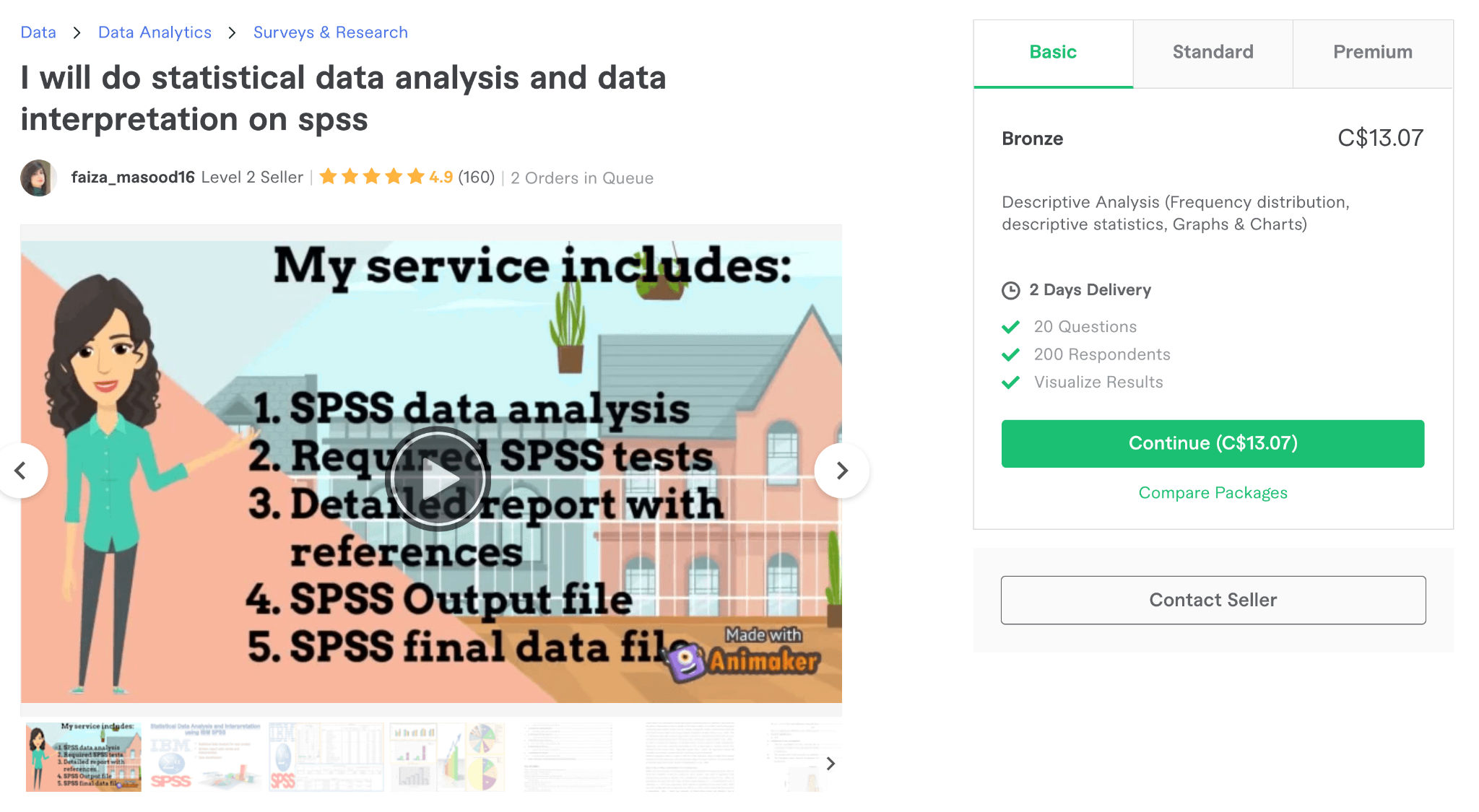 salam337 – Willing To Go Above and Beyond For His Clients
Salam is a self-described passionate data enthusiast. He has 5+ years professional experience with various types of data analysis tools. He has been a Fiverr seller since September 2020 and has almost 90 5-star reviews.
Salam has a wide range of expertise in fields like trends, algorithms, prediction, math, churn and retention statistics, and more.
He fulfills his highest priority, customer satisfaction, by offering services such as excel data analysis, reporting with tables, graphs, and charts, dashboard creation for visualization, and forecasting future growth.
And if that's not enough, Salam assures his customers that he can offer additional services based on your requirements. The man just wants to help!
If Salam sounds like your guy for business insights in Marketing and Sales, head over to his Fiverr gig now!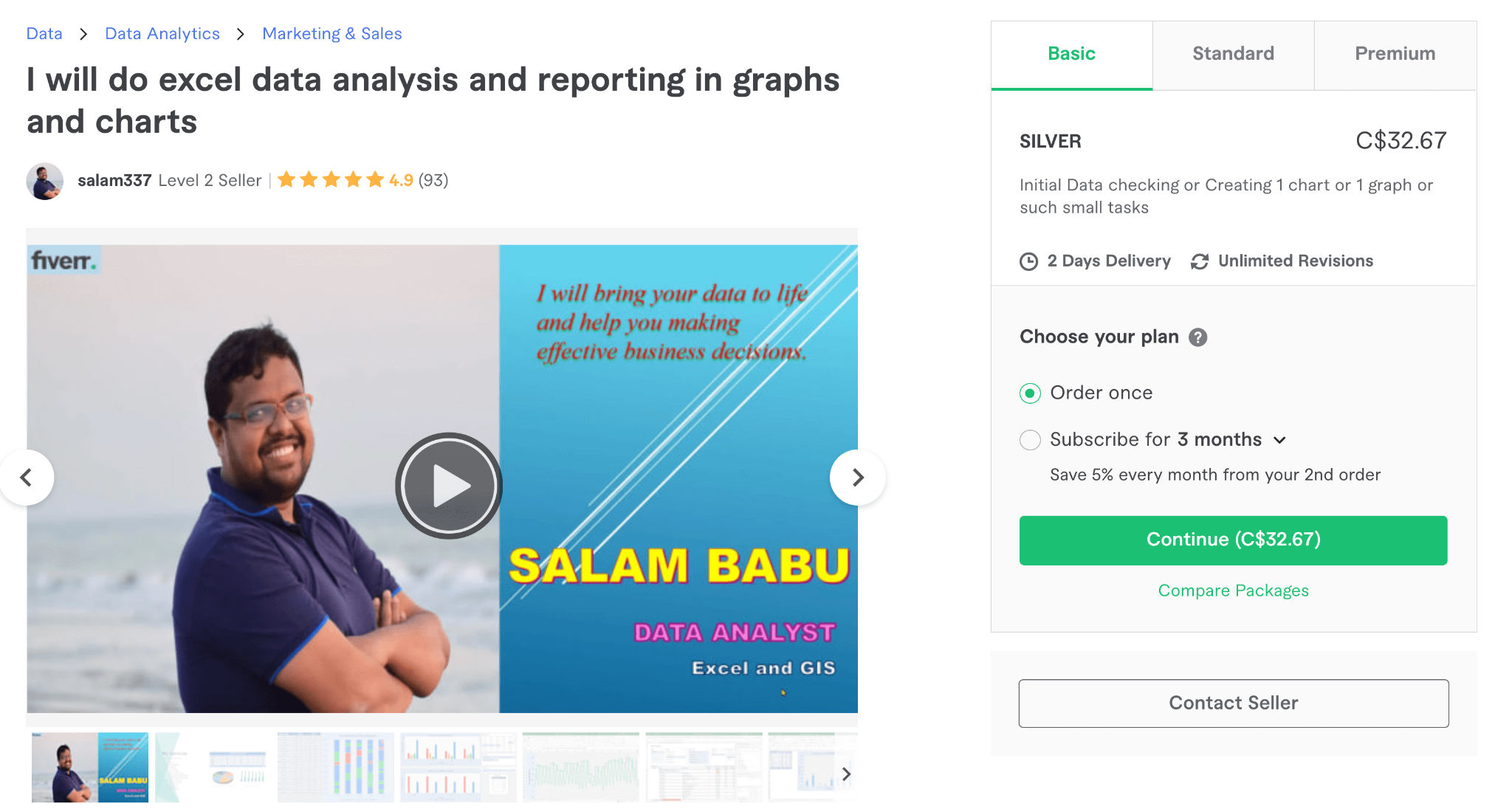 catalinpirva – He Treats Your Business and Data Like His Own
Catalin is a Romanian with 7+ years of experience in the world of finance, business analysis, and application integration. He has been a seller on Fiverr for almost 5 years, and has earned over 100 5-start reviews during that time.
It is obvious from his bio and customer reviews that he values his customers, and therefore treats their problems like they're his own.
Catalin's expertise in is the fields of web analytics, business insights, trends, prediction, probability, statistics, and sentiment analysis, all of which he uses to gather hidden insights from your data so that you can make better business decisions.
Some of the top-notch services you can expect from Catalin include collecting and analyzing large amounts of data, interpreting and analyzing that data using statistical techniques, creating interactive charts and dashboards, tracking KPIs reports to keep his clients up to speed, and much more.
Catalin offers one package for roughly USD $50, with which he promises to analyze and subsequently visualize your data and the resulting insights. Also included is a 30 minute live consultation call with Catalin, a project review, and a model audit.
Catalin clearly takes his business seriously, which means he in turn takes your business seriously. Here is a link to his Fiverr gig profile if you'd like to learn more!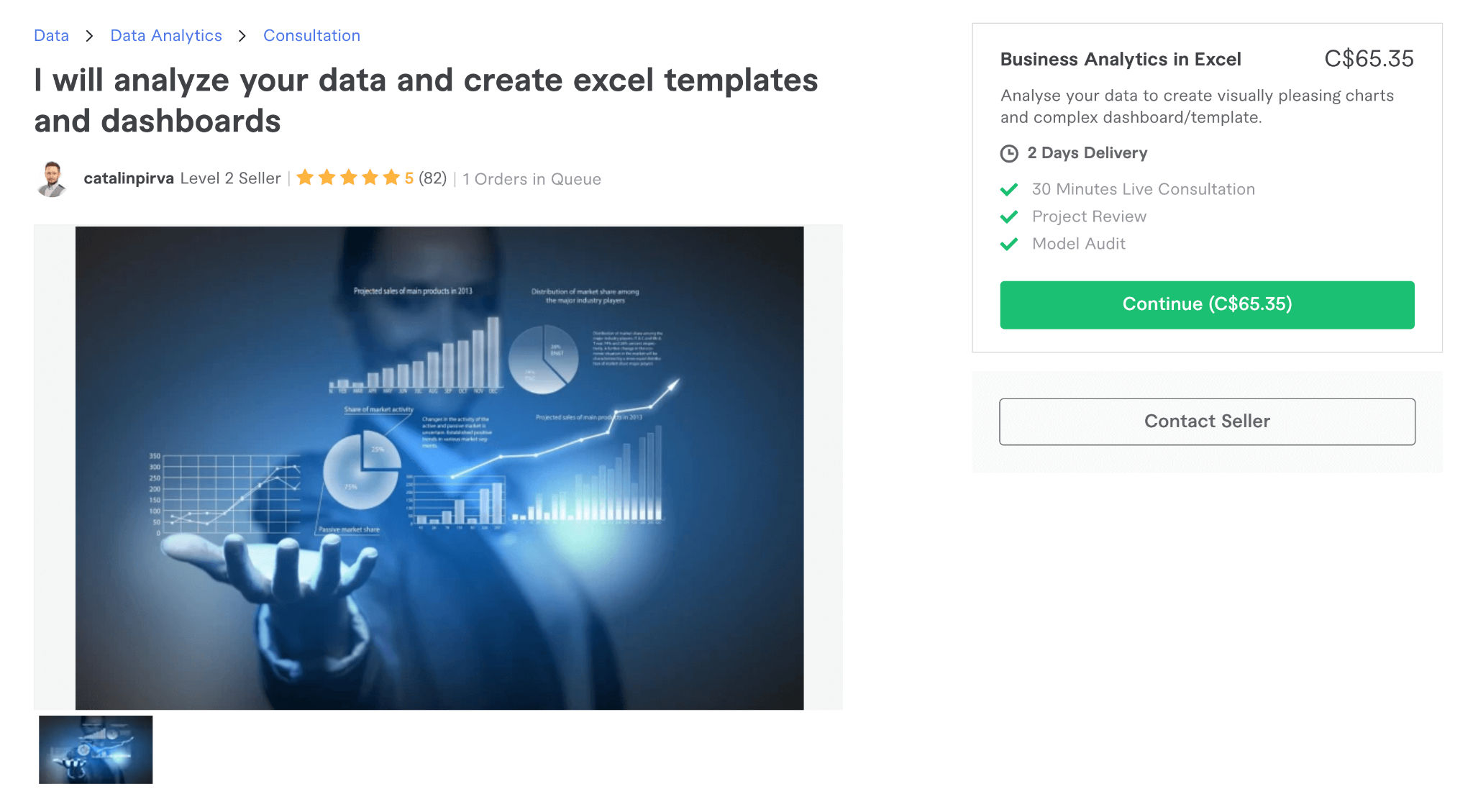 amir_limon – Excel Spreadsheets Aren't So Scary When You Have Amir
Amir is a so-called Bangladeshi rock-star excel expert. He is a long-time seller on Fiverr, since 2014, and has over 130 5-star ratings.
While he is an accountant by profession, his heart lies with excel spreadsheets. Thank God for people like Amir, because someone has to do it!
Amir guarantees to solve your problems, whatever they may be.. As long as they can be solved with a spreadsheet. He offers all kinds of formulas and formatting, data modelling, excel charts, graphs, and pivot charts, print-ready forms and reports, and more.
Amir considers himself your personal virtual assistant, and promises to be your best associate.
He offers packages which range from USD $16 for a single problem solution, to USD $262 for a comprehensive, professional excel dashboard. He also offers the additional service of a consultation starting at USD $52.
Don't waste your time worrying about excel spreadsheets. Amir can take care of it for you! Check out his Fiverr gig here.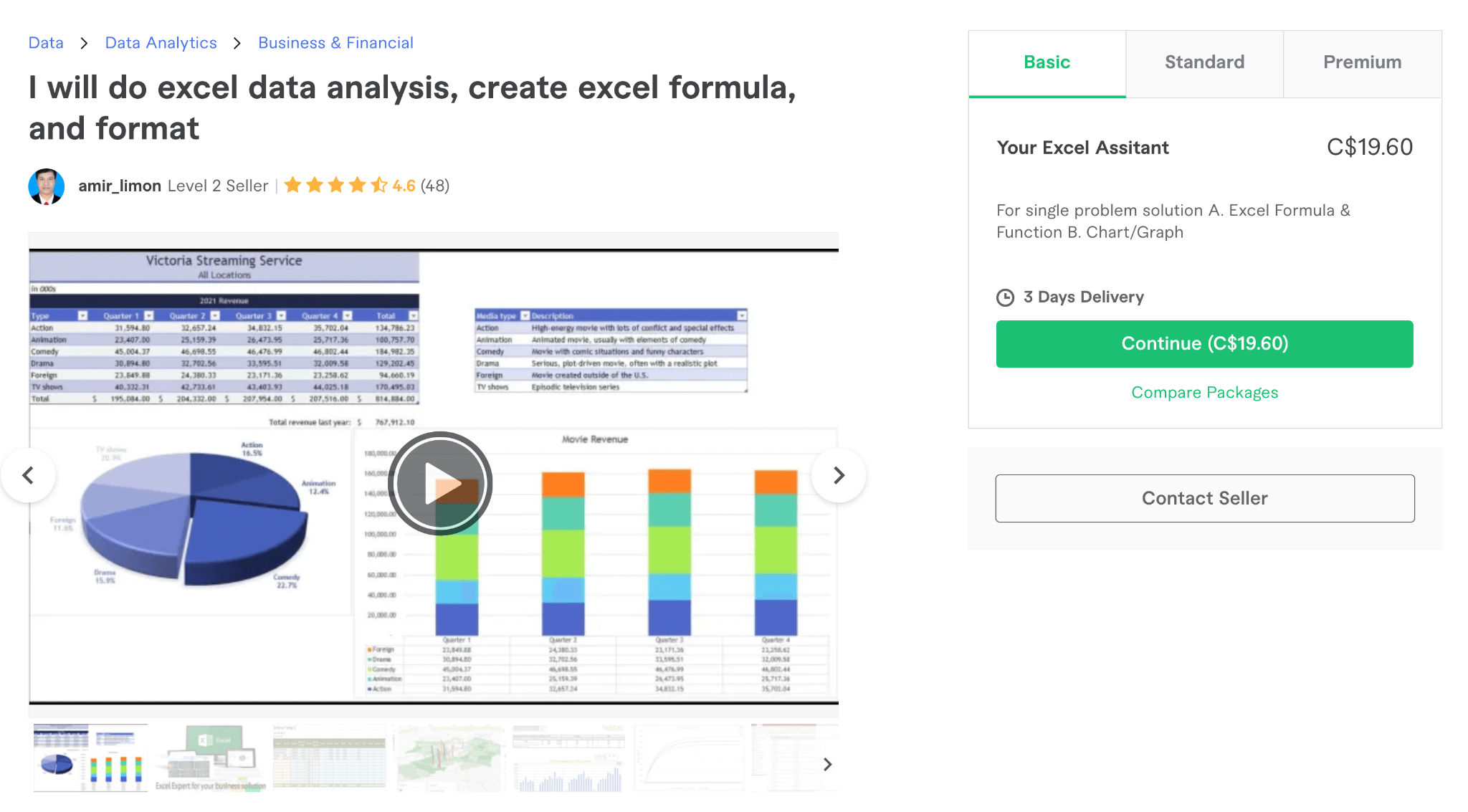 How much does it cost to analyze data?
The answer to this question, like many in life, is it depends. There is a wide range of data analysis services available to you, such as big consulting firms, outsourcing to India or China, or hiring a freelancer on Fiverr.
Obviously the cost of each will range as well.
You could pay in the neighbourhood of $3000/week for a consultant, and as little as $5/job on Fiverr. Of course, each option comes with its advantages and disadvantages which must be researched before making a decision.
What is the best company for data analytics?
Again, it really depends on your circumstances and your needs. The variety of business circumstances, analytical problems and requirements, and analytical solutions are virtually endless.
Finding the right match will be determined by your own analysis of each. With that being said, there are a plethora of data services offered on Fiverr, which makes finding one that fits your needs that much easier.
Regardless of circumstance, Fiverr is one of the best data analysis services, and I would recommend starting your search there.