Last Updated on July 26, 2022
The best data entry services offer numerous benefits that provide business owners with the highest return on their investment. Professional data entry, whether conducted in-house or by a third party, has become an integral part of every organization's day-to-day operations.
Whether it's cataloging items for sale online, entering customer records into database management software, or creating written documentation for future reference, any activity involving repetitive typing is ideally suited for outsourced data entry services.
What is the Best Online Data Entry Service?
If you're looking for professional data entry services online, be sure to explore all your options! Some sites may offer job boards, while some will allow you to choose a specific freelancer to work with based on their profile.
Although some tasks can be more expensive than others, you can find qualified virtual employees online who will work diligently to meet all of your expectations. Here's where you can find them!
1. Fiverr – Best Affordable Freelance Data Entry Services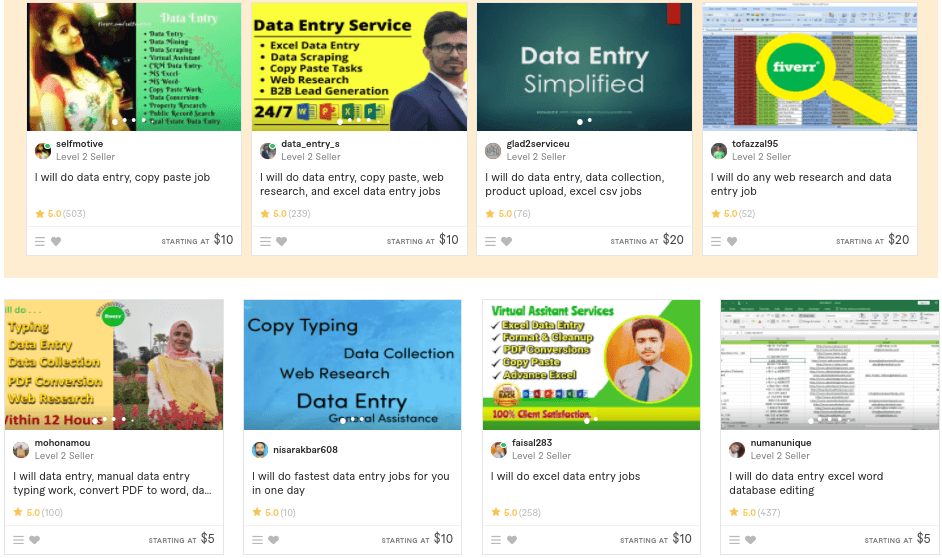 Data entry services on Fiverr are appropriate for all types of businesses, offering a vast range of services that can be delivered to you in just a few days – all at very competitive rates.
Freelance Data Entry services on Fiverr can help you in the following ways:
Increase your company's productivity with accurate data entry services done to industry standards.
Specific prices based on experience, allowing you to find affordable solutions.
Fiverr's payment system is secure and reliable
Ensure that all your data is entered into your organization's chosen system in an efficient and timely manner, allowing you to focus on more critical tasks.
Hire a trusted freelance Data Entry Specialist for the type of task you can't handle yourself or don't have time for. Freelance Data entry on Fiverr can range widely in cost from a few dollars to a few hundred depending on your needs and requirements. Check out your options now!
2. Upwork – Post Your Jobs for Freelance Data Entry Specialists on Upwork!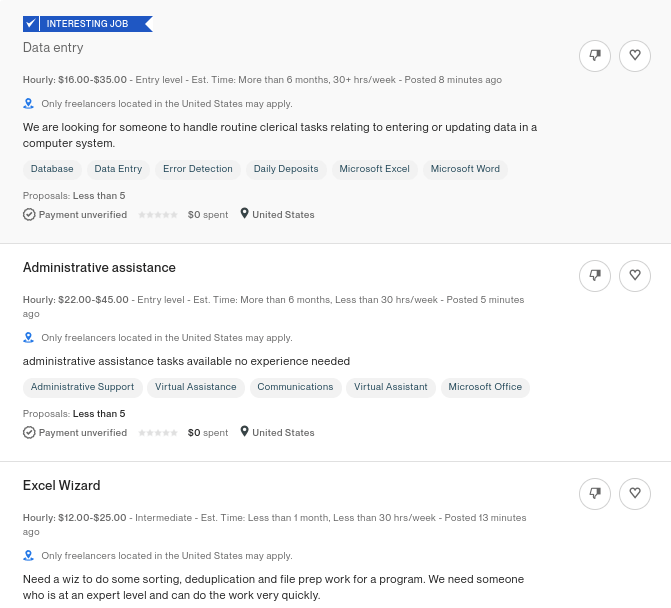 Many businesses find the best data entry services on Upwork, as it provides a central location where they can access talented freelancers from all over the world. The wide variety of skills and tools available make it very easy for business owners to hire exactly what they need to get projects done quickly and accurately.
Upwork differs from Fiverr and other job boards as it requires you to submit a job posting for freelancers to apply to. In some ways, this may be ideal for your business as it gives you the opportunity to negotiate pricing and agree on a set of specific requirements such as turnaround time, software used, etc.
There are many benefits to using Upwork for your hiring needs:
Hire the most talented Data Entry Specialists from all over the world. You can search by location or work experience to find exactly what you need!
Get matched with freelancers who have the required skills and provide excellent project references so you know they will do a fantastic job!
Have daily direct contact with your freelancer, allowing you to oversee progress and keep track of how things are going.
Save time and money by letting Upwork handle all billing processes on their end.
Outsourcing your data entry requirements via Upwork will ensure that it is completed by skilled professionals who are adept at working with the latest productivity tools and employ best practices for data security.
3. Virtualstaff.ph – Best Philippines-based outsourced data entry service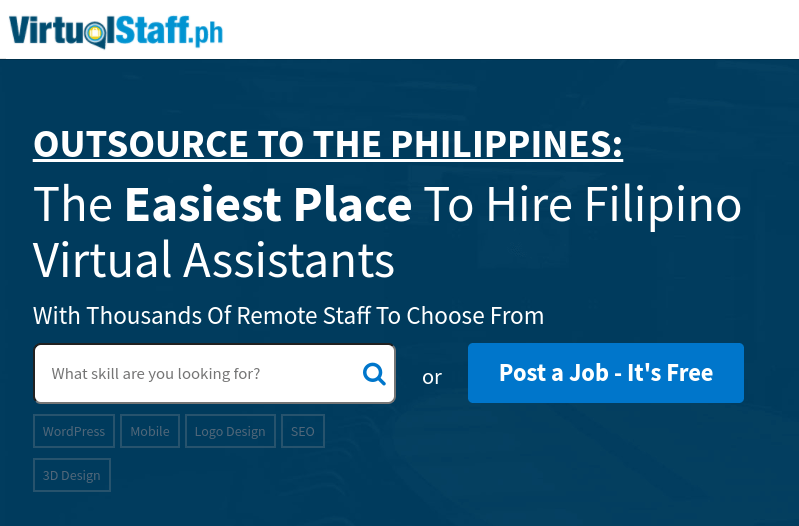 Virtualstaff.ph is the fastest growing platform for hiring virtual assistants and freelance data entry services from the Philippines. The Virtual Staff Finder feature on the website makes it easy to find talented individuals who can provide low-cost Data Entry Services customized to your requirements.
Virtualstaff.ph has many advantages. Here are some ways they help you get started immediately:
Large number of freelancers to choose from
24/7 online chat support available anytime
Complete confidentiality guaranteed
Customized service packages chosen specifically for clients' needs
Virtual staff Philippines gives fast delivery time, quality results every time. Their data entry services are best suited for individuals, small businesses, and large corporations.
Whether you need help with customer support or maintaining databases, their virtual staff will provide the reliable assistance that your business needs at an affordable price point.
4. Time Etc – A Top Global Freelancer Marketplace for Data Entry Specialists and More!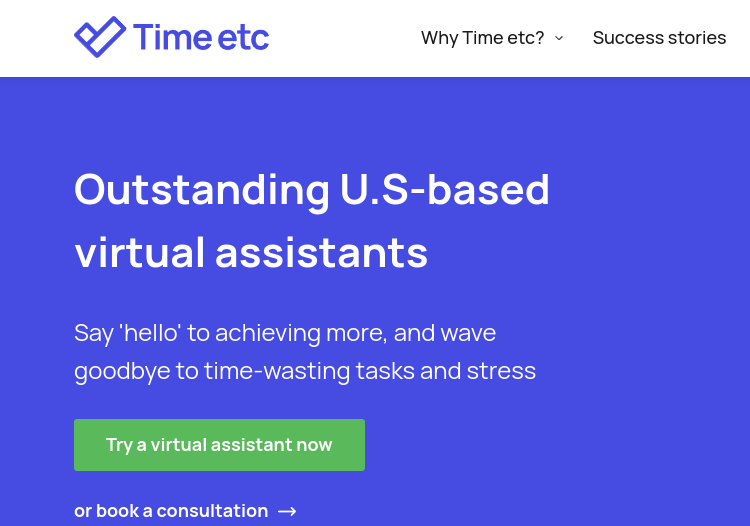 Time Etc is a top global Freelancer Marketplace where you can find the World's best virtual assistants. They provide data entry services that guarantee satisfaction and outstanding results. With thousands of members from all over the world, you will surely be able to find a virtual assistant who meets your expectations.
Time Etc has lots of advantages:
Fast and easy registration process
Variety of work categories and skills chosen by freelancers themselves!
Applying for jobs is quick and easy – no need to wait for companies to contact you first!
Guaranteed confidentiality throughout the hiring process-you won't have to worry about identity theft or other such problems with Time Etc as clients can hire employees anonymously.
Finding good talent on Time etc is easy when you know what to look for. Whether it's typing documents, data entry, articles/blog posts, website content, product descriptions, etc., companies offering excellent services are just a click away. You can quickly browse portfolios of freelancers offering their services and choose the one that applies to your job description.
5. SupportNinja – Optimizing Operations by Outsourcing Data Entry and Customer Support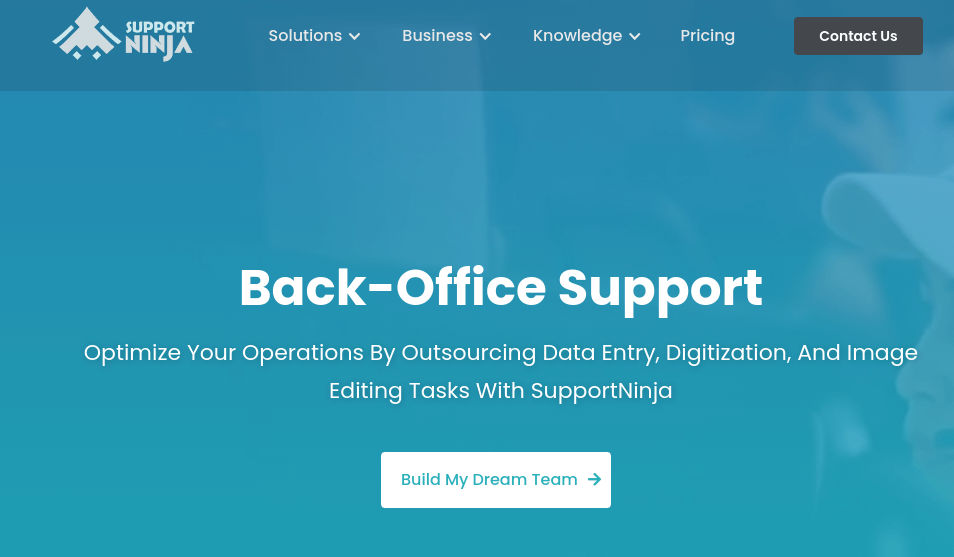 SupportNinja is a leading virtual assistant company that provides outsourced customer support and data entry services. They are constantly expanding their workforce by hiring talented individuals who are not only dependable but also have what it takes to help busy entrepreneurs achieve success in their business operations.
Here's why SupportNinja is the right choice:
Data entry and other administrative tasks for clients or companies at a reasonable price!
Email, Phone, and Chat support available 24/7 every day of the year
A wide range of freelance data entry skills and expertise to choose from
Get matched with remote workers offering low-cost, high-quality support today!
Taking advantage of remote outsourcing can be very beneficial because you will get full personal care without having to deal with recruiters and other such distractions. There aren't any long-term contracts to sign with SupportNinja, and you're free to hire freelancers at your own pace and discretion.
How Much Do Data Entry Services Cost on Average?
The average rate for data entry services is $20-$100 per hour, but it can be more expensive depending on your requirements.
If you're looking to get someone who can provide administrative assistance in terms of processing email messages and similar tasks, then expect to pay an hourly rate of about $15-25 per hour. This will depend on the freelancer's qualifications and other factors as well.
Why Should I Outsource Data Entry?
By outsourcing data entry services, you may save time, effort, and money. It also implies that the resources you would have spent on data entry work may be used in your company's primary activities instead.