Last Updated on December 26, 2022
Hiring an app designer might be the hardest part of creating an app.
With over 5 million apps on the Apple App Store and more than 2.2 million on Google Play, you might feel intimidated by the competition. Take heart that you are not alone – many companies struggle to hire one or even a team of designers too!
Whether you need a full-time app designer, someone to work on an hourly basis, or simply want to hire app developers, these sites will help you find exactly what you need.
Where to Hire a Mobile App Designer?
Before you hire your designer, it's essential to define the scope of work and share as much information as possible about your app concept. You can even outsource wireframing or bring someone on board for a flat fee as well – there are plenty of options available.
To help you narrow down your choices, we have handpicked these sites based on their popularity and features:
1. Fiverr – Hire a Freelance App Designer With Experience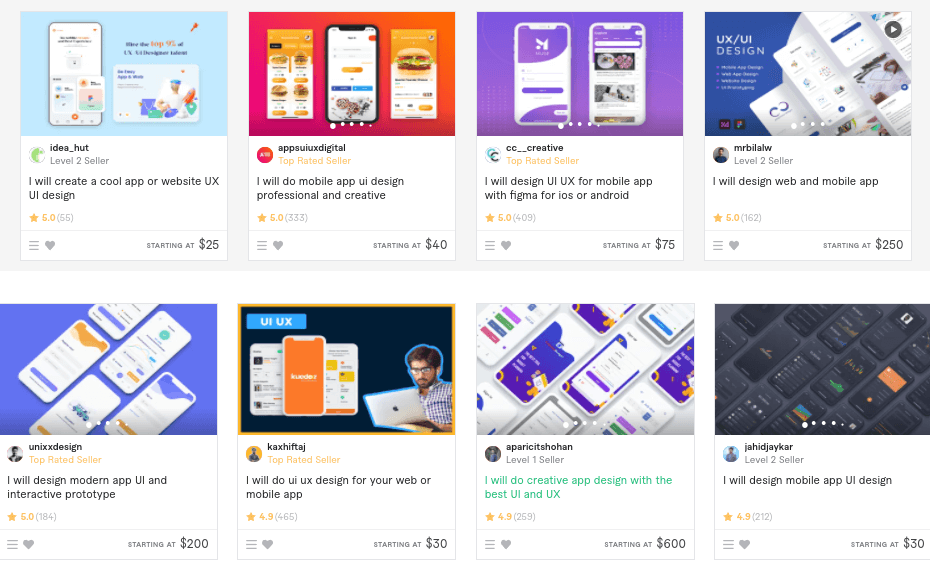 Fiverr is great if you're looking for someone to fix small bugs in existing designs or just some simple design modifications. There are also freelancers on Fiverr who can help with the design of new apps.
Freelancers on Fiverr offer a wide range of experience. You can choose to hire a new app designer for a more reasonable price or take advantage of Fiverr pro, and receive the help of a pre-vetted professional.
Key Points
Freelancers on Fiverr can provide their services for as little as 5 USD, but keep in mind that the more specific your requirements are, the more you will have to pay.
Fiverr offers a wide range of experienced Freelancers
Fiverr Pro has an extensive vetting process that leaves you with only the best-skilled freelancers.
2. Upwork – Post Your Job and Select a Qualified App Designer Interested in You!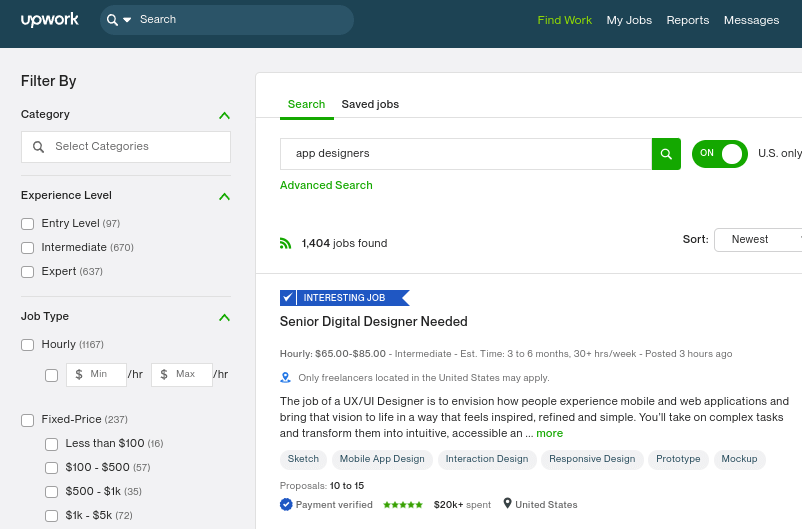 If you're looking for someone to build your app from scratch, then Upwork is a great place to start. You will find thousands of talented designers, ensuring that you'll be able to find the perfect match for your project.
Upwork allows you to post your job and choose from a list of the best freelancers in the world. Interested freelancers will apply to your job posting and you can vet them yourself!
Key Points
Upwork allows you to post a job to your specifics
You can also check freelancer profiles and portfolios for previous work before making your choice.
3. 99designs – Hire an App Designer to Make Your App Idea Come to Life!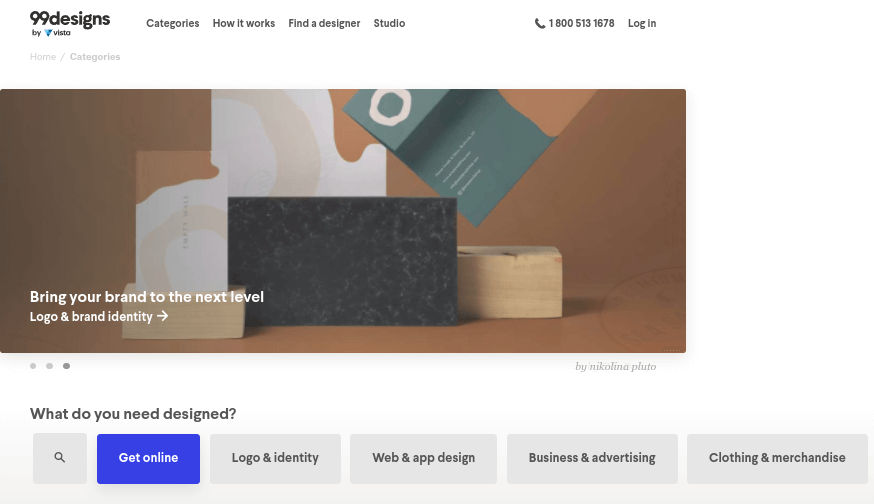 99designs is a crowdsource design platform where thousands of designers compete against each other to give you the best designs in just 48 hours. The designs are submitted by online graphic designers worldwide, ensuring that you get the top talent every time you post a job on this site.
Many companies like Dropbox use 99designs when they need great design work done quickly at an affordable price. The originality of design ensures that there's something fresh for everyone.
Key Points
99designs is a crowdsource design platform that allows you to post your project, get dozens of designs from designers around the world, and choose the best ones for your next app.
This site has over 990,000 freelancers in its network, so you are guaranteed to find someone suited up for your project.
Its easy-to-use interface tells you exactly what each freelancer can do with just a click of a button so hiring app designers becomes simple.
4. Freelancer – Hire an Exclusive Freelance App Designer for One-Time Projects or Ongoing Support!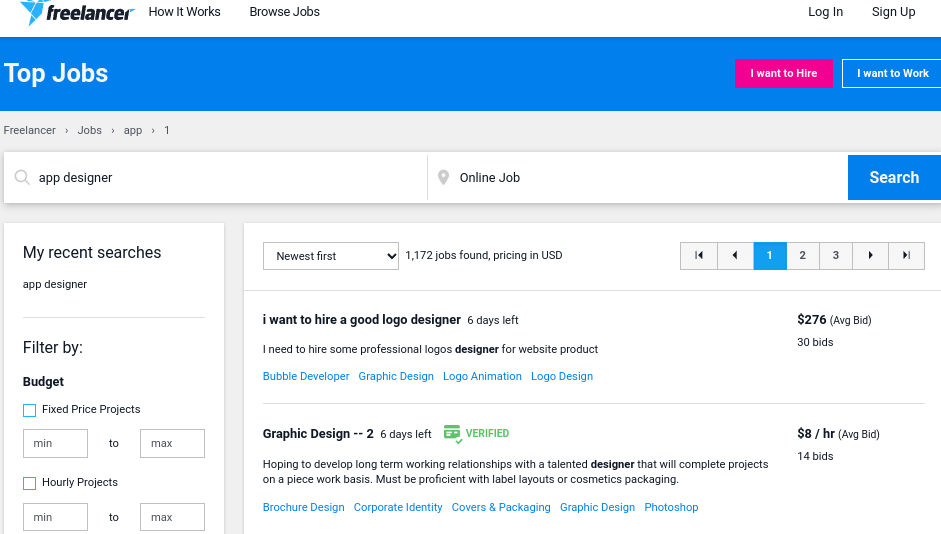 Freelancer is another excellent platform that allows you to find qualified designers around you but also has plenty of app designers with experience that can help build your next mobile application.
Freelancer uses an escrow service when hiring an app designer for the first time. This allows you to only pay when your project is complete and will save you a lot if anything goes wrong during or after payment (e.g., not completing the required work).
Key Points
Freelancer connects freelancers with businesses looking to hire them on a project basis only.
It's easy to post brief projects and contests so app designers can compete against one another for your business
5. Toptal – Hire an iPhone App Developer or Android App Developer for Your Project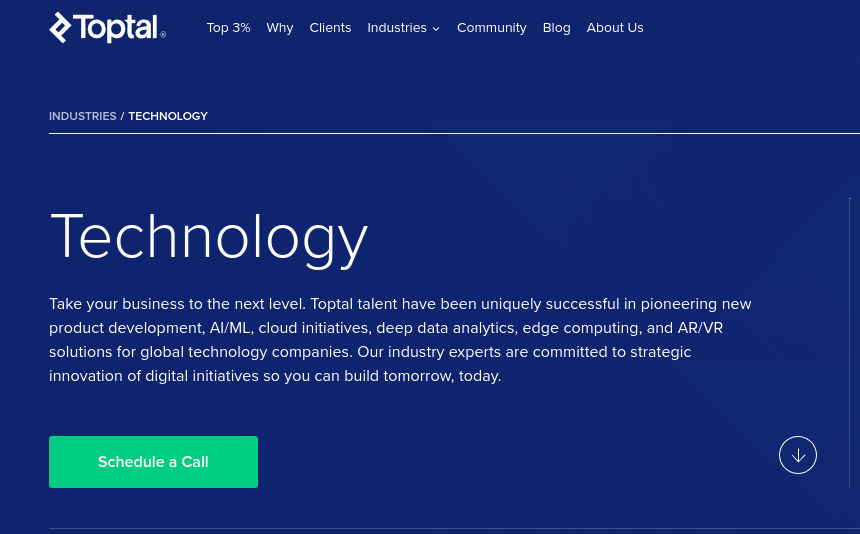 If you are looking for a team to design, build, and manage your app, then look no further than Toptal! This freelance marketplace has hundreds of experts across the world that you can hire for your project, with expertise in topics such as PHP, Python, and WordPress.
While being vetted thoroughly during the signup process, their network of freelancers has proven themselves by delivering excellent results every time they work on projects.
Key Points
Toptal is the best place to find freelance designers and developers specializing in any part of the design process, from brainstorming and organizing ideas to implementing and troubleshooting applications.
Toptal boasts an impressive roster of top app designers with experience in all types of mobile platforms, including iOS, Android, Windows Phone, HTML5/CSS3 responsive apps, etc.
6. DesignCrowd – Hire a Mobile App Designer With Experience Today!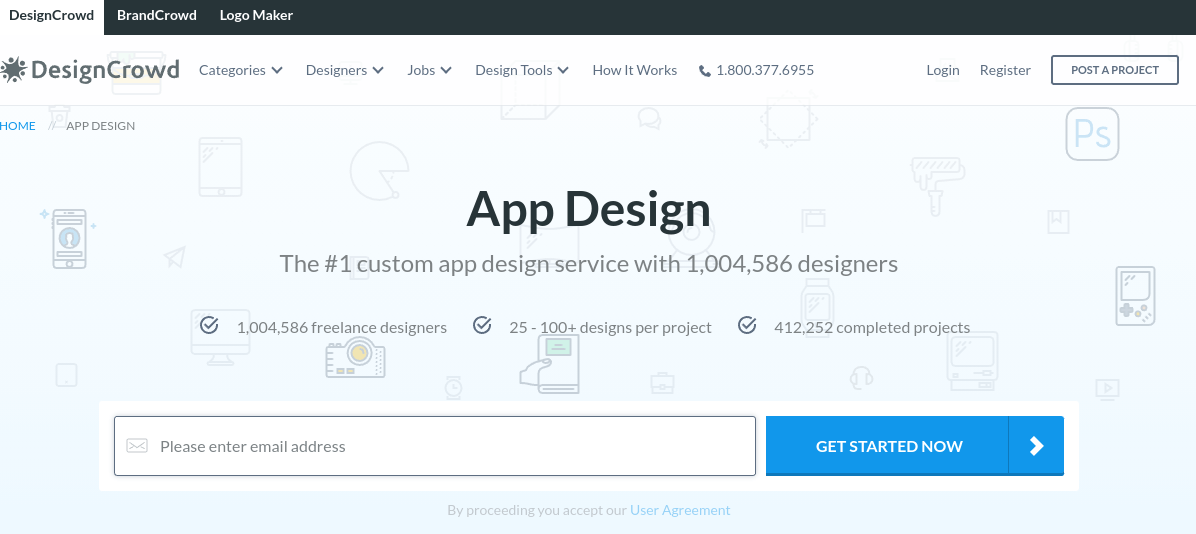 DesignCrowd is another great place to find app designers for your project. They even offer 100% money back if you aren't satisfied with the designs you receive from their talented community of UI and graphic design specialists.
DesignCrowd offers a ton of custom designs with over one million designers available on the platform!
Key Points
DesignCrowd has a talented community of graphic designers from around the world that you can choose from.
It's as simple as providing clear details about what you need and then sitting back while they give you great designs to consider.
Their 100% money-back guarantee ensures that you have nothing to lose, so sign up today!
7. Designhill – Hire a Mobile App Designer With Experience Starting at Just $199!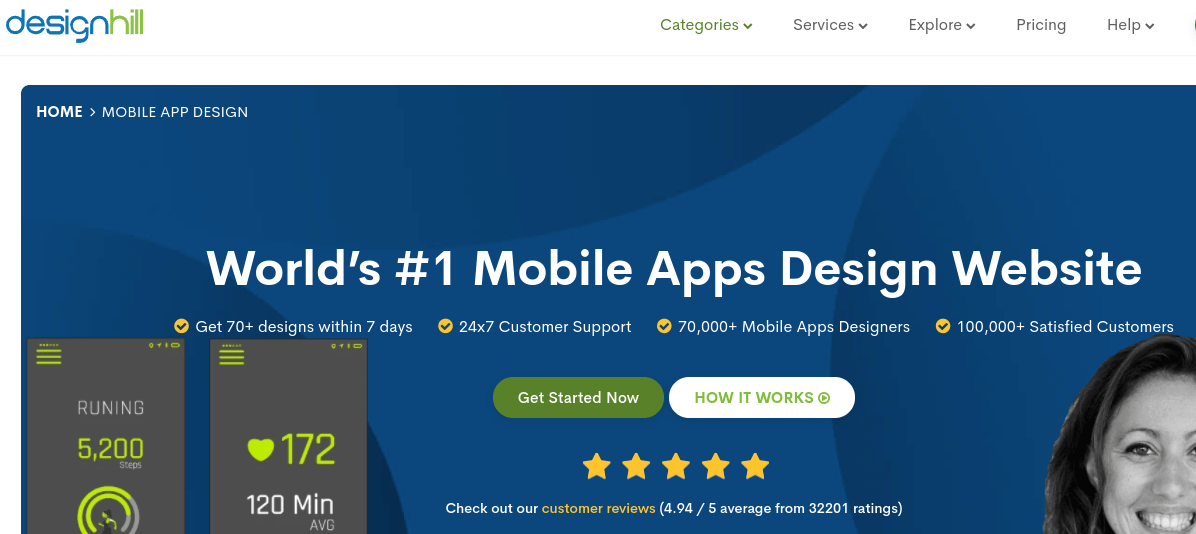 If you are looking for a crowdsource platform similar to 99designs but with outstanding customer service, then look no further than Designhill!
They offer customers not only great design work starting at just $199 but also a fantastic customer support team who will go above and beyond to make sure your project is finished on time and within your budget.
Key Points
Designhill provides clients with thousands of high-quality, creative design options to choose from.
Their talented designers are hand-picked and well-versed in all aspects of logo design and graphic design for mobile application development, so you can be assured that they will deliver great designs regardless of your project needs.