Last Updated on December 26, 2022
PHP developers are in such high demand. They can pretty much write their own job ticket.
Therefore it's critical for companies to look toward the future and consider the top sites that will allow them to hire PHP developers this year.
We have put together a list of some great freelance sites that are currently supporting PHP developers in coming up with some cool PHP projects. If you're looking for a freelance PHP developer, look no further than sites like Upwork and Fiverr!
Are you looking to hire PHP developers for your next project? Take a look at these top 7 sites and services freelancers on these platforms offer.
Where to Hire PHP Developers
Hiring a freelance PHP developer is a smart move for companies that may not want to bring on a full-time PHP developer. Freelance PHP developers are also available for various one-on-one projects.
The following list of sites can help you find the right freelance PHP developer for your company:
1. Fiverr – Hire PHP Developers With Experience at Any Price Point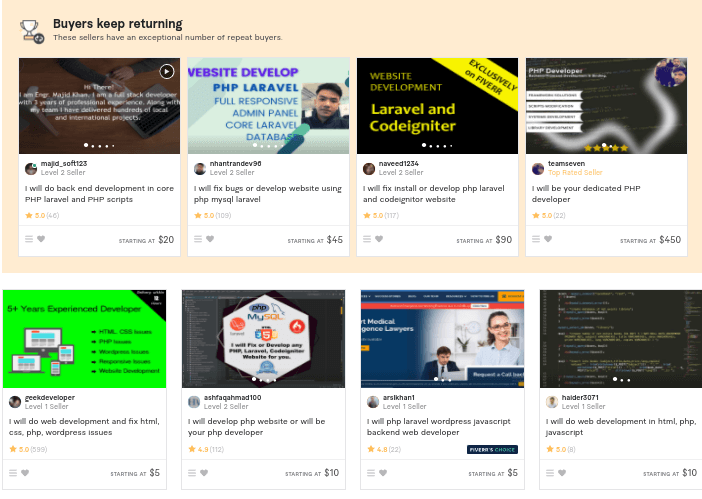 Fiverr is a freelance site where you can buy and sell just about anything. When it comes to hiring PHP developers, Fiverr can be a great option if you or your company is looking to hire a freelancer at a low price.
Fiverr allows freelancers to post an instant job that can be seen all around the world. Fiverr has hundreds of developers that are willing to work with your company for low prices. In addition, Fiverr Pro offers pre-vetted and highly experienced PHP developers if you're in need of an extremely experienced candidate.
Fiverr also offers a 100% money-back guarantee in most cases. Plus, Fiverr can tailor packages to fit your needs and budget.
2. Upwork – Post a Job Listing and Allow PHP Developers to Apply!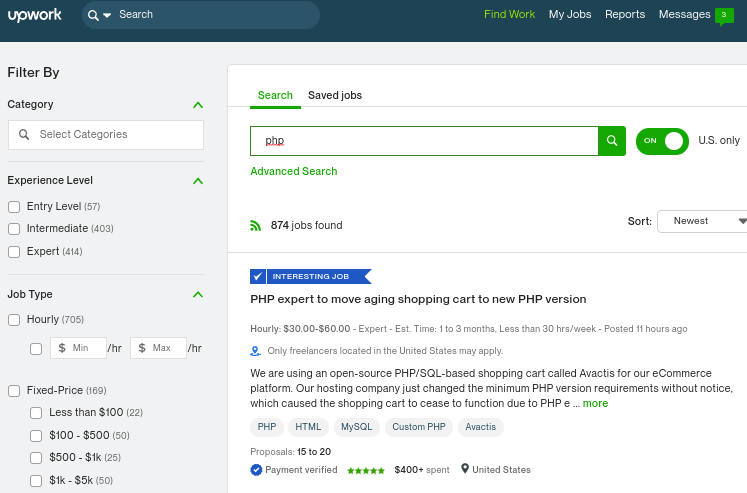 Another great place to hire PHP developers is on Upwork, which has millions of freelancers with varying levels of expertise. Like Fiverr, it allows you to select your price range and location when posting a job, so your project is shown only to suitable candidates, but unlike Fiverr, Upwork allows you to post your job and have freelancers apply.
With over 15 million freelancers using its platform, Upwork is another excellent place to find the best candidates within your price range. In addition, Upwork offers an escrow service that protects both clients and freelancers from any disputes.
3. Upstack.co – Vetted Candidates Makes Hiring PHP Developers Smoother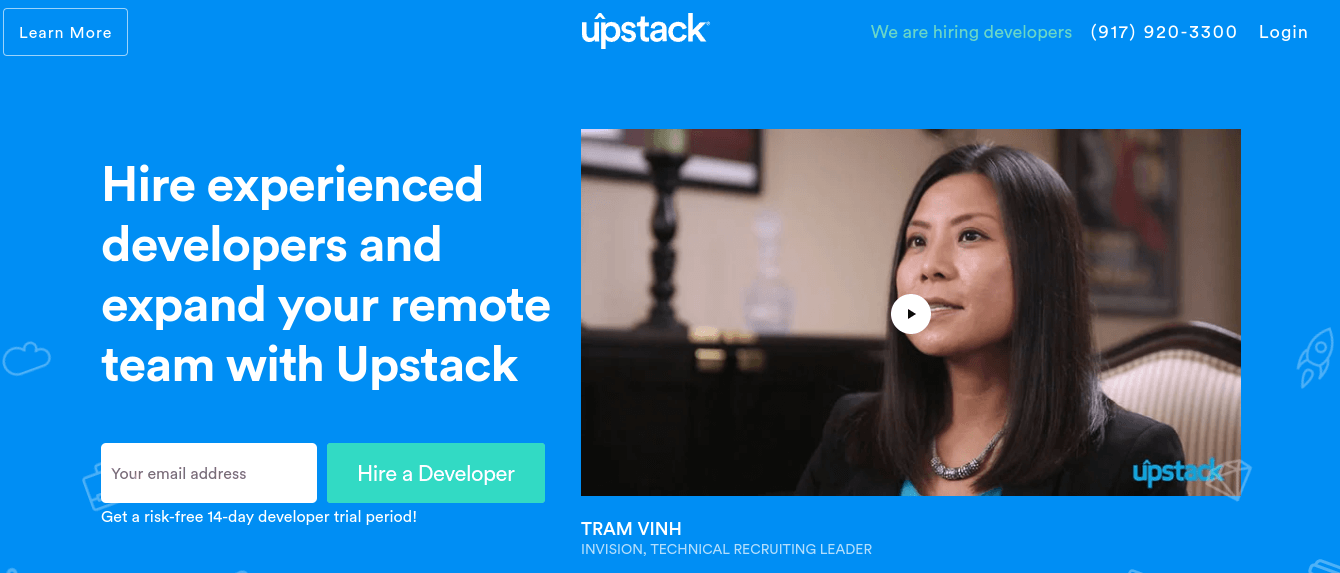 Upstack lets companies hire a full-time remote team that solves problems and builds software together. Once the project is complete, clients only have to pay for the hours they use from Upstack.
In addition, it allows you to find freelance developers interested in part-time development work and hire a company or freelancer on a per-hour basis.
Paid ongoing projects using technology such as blockchain being written in PHP. All the way up to enterprise-level applications being developed for corporate companies looking to have an internal CRM system created for them. There is a freelancer on Upstack capable of nearly any PHP development task!
4. People Per Hour – Find the Best Freelance PHP Developers to Deliver Your Projects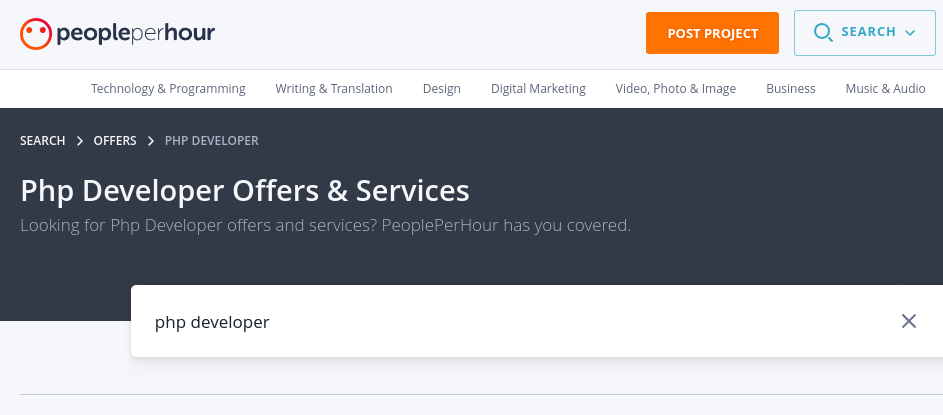 People per Hour is also another freelance site where you can hire PHP, Python and even WordPress developers at competitive prices. The benefit here is that you can choose from hundreds of pre-screened developers based on their skills and experience.
Like Upwork, People per Hour enables employers to post jobs for and wait for suitable candidates to apply.
Peopleperhour is an excellent site that specializes in providing companies with the ability to find top talent at an affordable price. This allows many small businesses to hire a full-time developer without going over budget. People Per Hour will also enable you to filter based on location and price range, allowing companies to find the perfect candidate easily.
5. Authentic Jobs – The Leading Job Board for Designers, Developers, and Creative pros

Authentic Jobs is another site that allows you to post jobs for free and get in touch with talented developers looking to build their careers.
Authentic Jobs specializes in connecting companies with high-quality talent, helping them find a developer that fits their needs and budget. But unlike other freelance sites, it does not have a bidding system or requires employers to pay a commission on top of the agreed-upon salary.
Authentic Jobs allows freelancers to find companies that are looking for their expertise and get paid a fair price for their work. Authentic Jobs also provides full-time, part-time, and freelance jobs to make finding the right developer for your company easier than ever.
6. Stack Overflow – Serves 100 Million People Every Month – Find the PHP Developer for Your Project!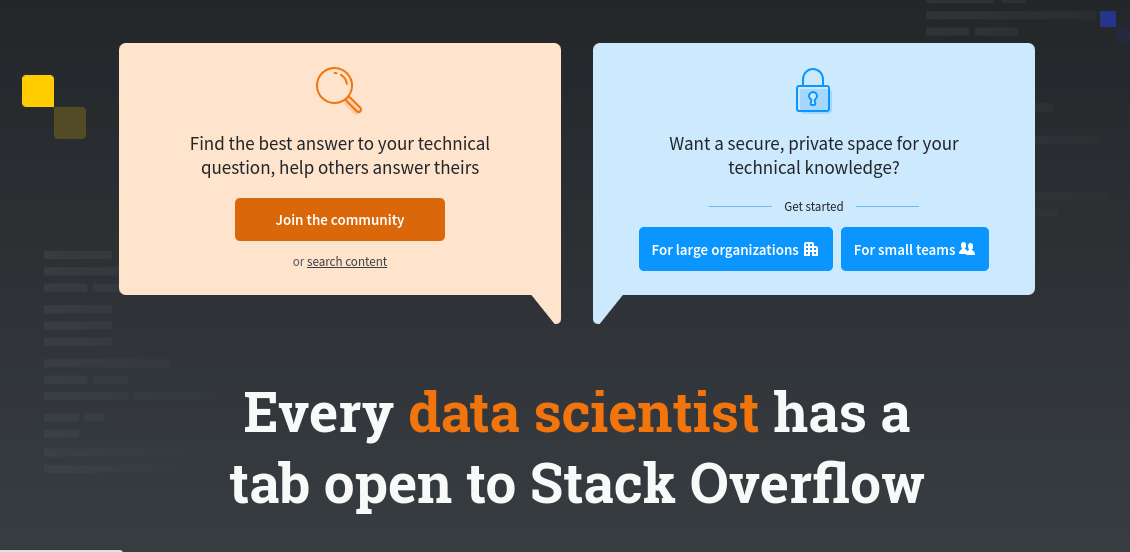 On Stack Overflow, you can hire a PHP developer via an interview process that guarantees quality and commitment. On Stack Overflow Careers, no complicated application process or mysterious algorithms are used to match candidates to employers – just relevant, high-quality talent ready to build amazing things together.
Companies that are hiring on Stack Overflow Careers include companies such as Mutual Mobile and Instacart.
In addition to their main jobs board, they also have a Jobs API, which is where the biggest tech employers in the world post their developer jobs – it's got all of our current jobs plus thousands more from some of the best-known companies in tech, including Google, Facebook, Dropbox, Pinterest, and others.
Stack Overflow Careers works with leading employers worldwide who handpick only the most talented developers in our community – allowing you to skip over all of that noise and find a great match in no time.
7. Guru – Hire Expert, Pre-Vetted PHP Developers Today!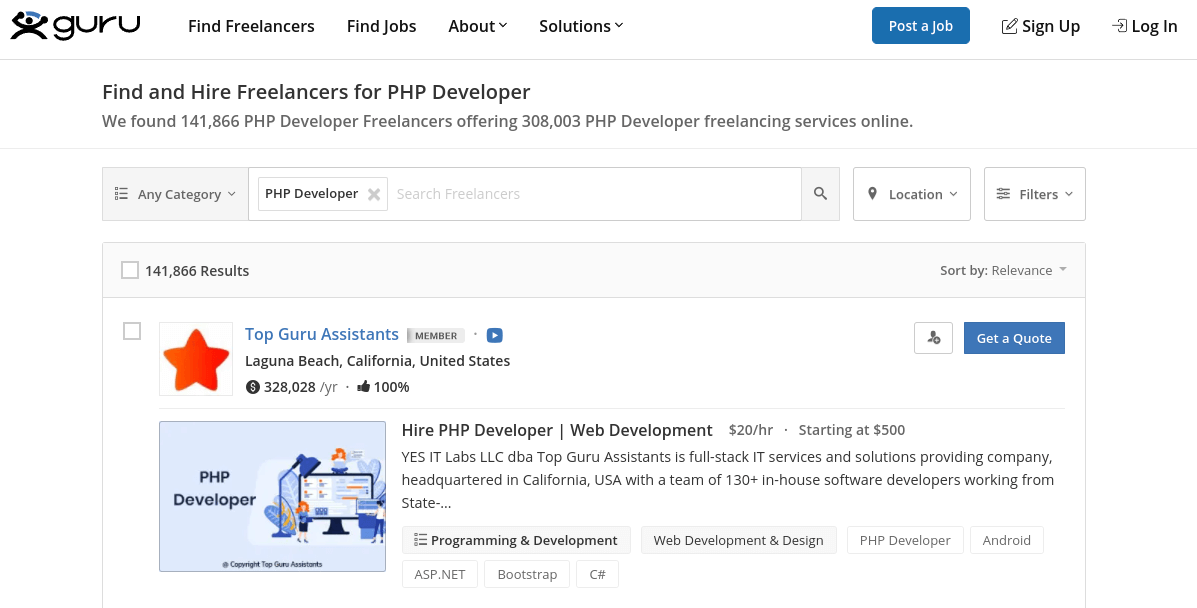 Guru is yet another place to hire a PHP developer via an interview process that guarantees quality and commitment. On Guru, they hand-screen every freelancer before accepting them into our community, and we only accept developers with proven track records.
Like Authentic Jobs, Guru also has full-time, part-time, and freelance jobs available for employers looking to find their next excellent developer hire. Guru currently maintains a network of over 1M+ active freelancers across 120 countries worldwide, thanks largely to its commitment to quality.
Guru is a site where you can find top talent from over 120 countries across the world – from developers who have worked on Facebook to NASA and everything in-between. This means that no matter what type of developer you're looking for, Guru has got your back!