Last Updated on December 27, 2022
There are many aspects of web design such as appearance, layout, and content. This work require many skills, depending on the web design task at hand. Sometimes, it can make sense to use an external hire to fill this gap.
Hiring a web designer will depend entirely on your particular circumstances.
In this article we will check out some of the top websites to find a web designer for hire.
Where to Find Web Designers For Hire?
Below you'd find our list of the best freelancing sites for hiring web designers to work on your project:
1.Fiverr – Find A Web Designer No Matter Your Budget Or Schedule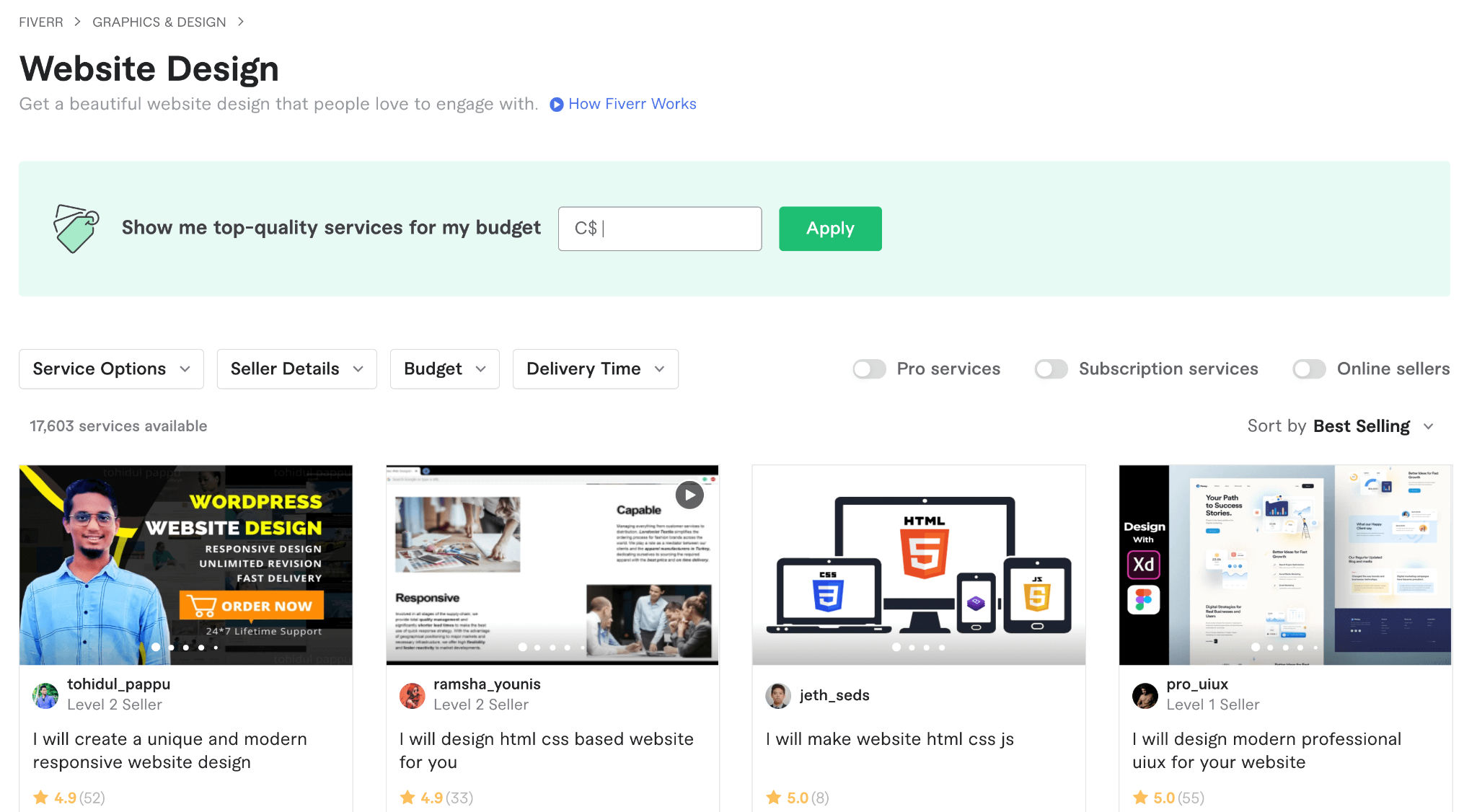 Fiverr originated as a freelance market place where one could go to hire a freelancer, primarily to write a college paper, for $5. It has since blossomed into a true marketplace, where buyers can avail of a plethora of services, and sellers can make a real living by offering their talents.
Again, when you hire a web designer, it will depend entirely on your circumstance, needs, and preferences. This is not a one size fits all situation. Thankfully, there are over 17,000 web designers to choose from on Fiverr, and there are many ways to narrow down your search.
You can filter by your budget, the type of website that you have or want, the tool that you may want to be used to build your website, and additional services that you require. You can also filter by seller details, such as their experience level or native language, to further refine your search and find the best web designer for you.
2.Upwork – Let Them Find The Best Web Designer For You
Upwork is a freelancing platform founded in 2015 as a merger between two companies, formerly Elance and oDesk. The platform supports a variety of different freelance services, with web design being one of them.
With Upwork, you post a job, for free, and then you'll receive qualified proposals within 24 hours of your posting. You'll have the opportunity to meet the candidates, and then hire the web design freelancer that you deem to be the best fit, and at your convenience.
Upwork also provides a service they call Talent Scout, which will have one of their recruiters do the searching for you, and provide you with a curated shortlist of candidates that have the skills best suited to your job.
You can check work samples and client reviews of any of the candidate freelancers, you'll have 24/7 hour support from Upwork, and you don't pay until you've approved the completed work.
3. Dribbble – The Heart Of The Designer Community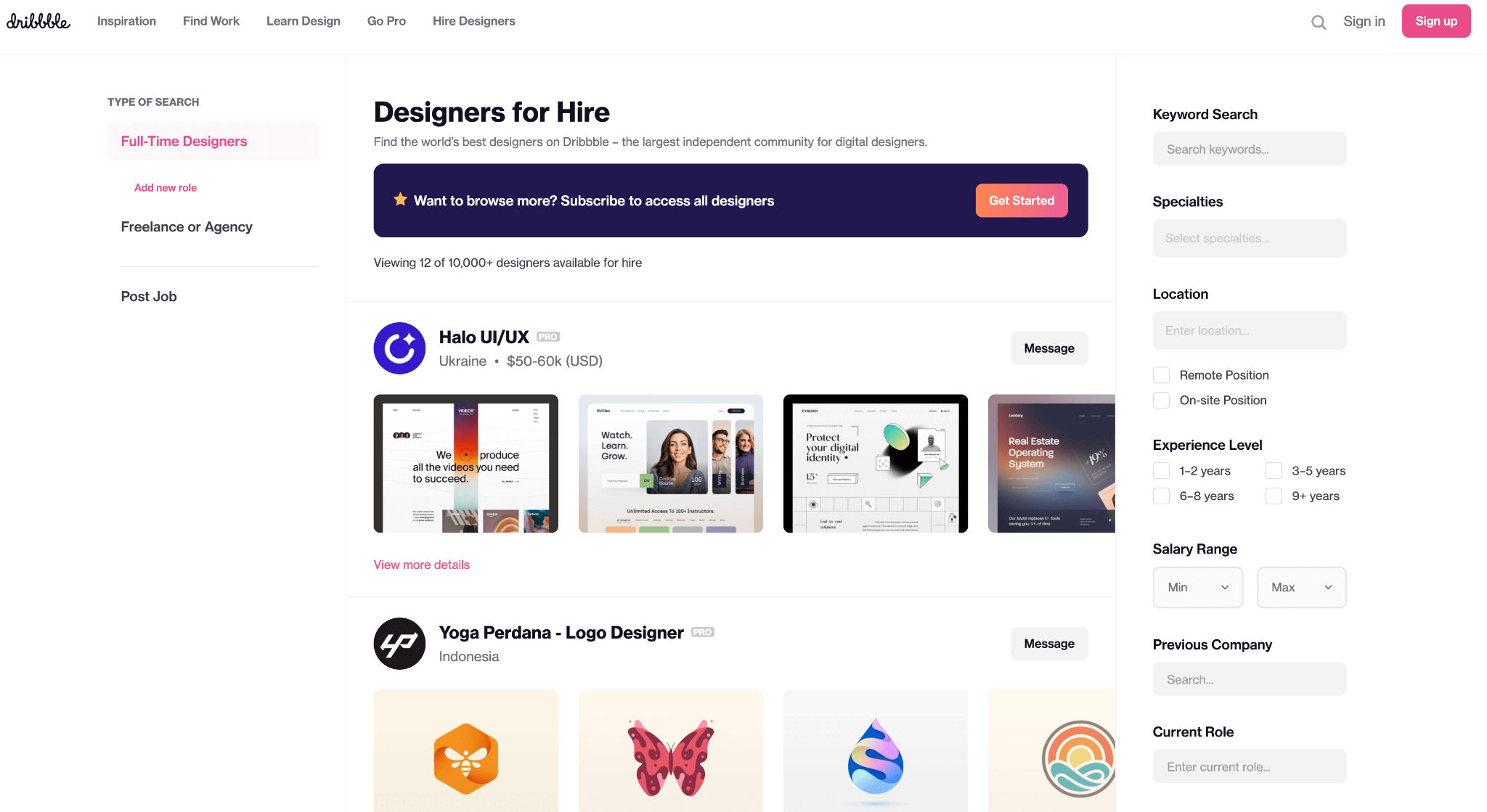 Dribbble is a self-promotion and social networking platform for digital designers and creators. It has proclaimed itself to be the heart of the designer community. It allows creators to build a portfolio of design work to showcase and share with other like-minds, and also employers.
Those looking for a web designer for hire are also accommodated by the site. You can search for designers by filtering by keywords, specialties, location, experience level, salary range, and more. Or, you can post a job opening or project so that the designer community can come to you and apply. This is a great option to find a designer specifically good for you as Dribbble's job board is one of the, if not the, most popular job boards in the design world.
Unlike the freelance marketplace model, Dribbble charges their buyers a subscription fee per month. If you want to post a job or project on their job board, you pay a minimum of USD $299/month for this access. If you want to use their designer search functionality, they also charge USD $299/month.
4. Toptal – An Exclusive Network Of The World's Top Freelancers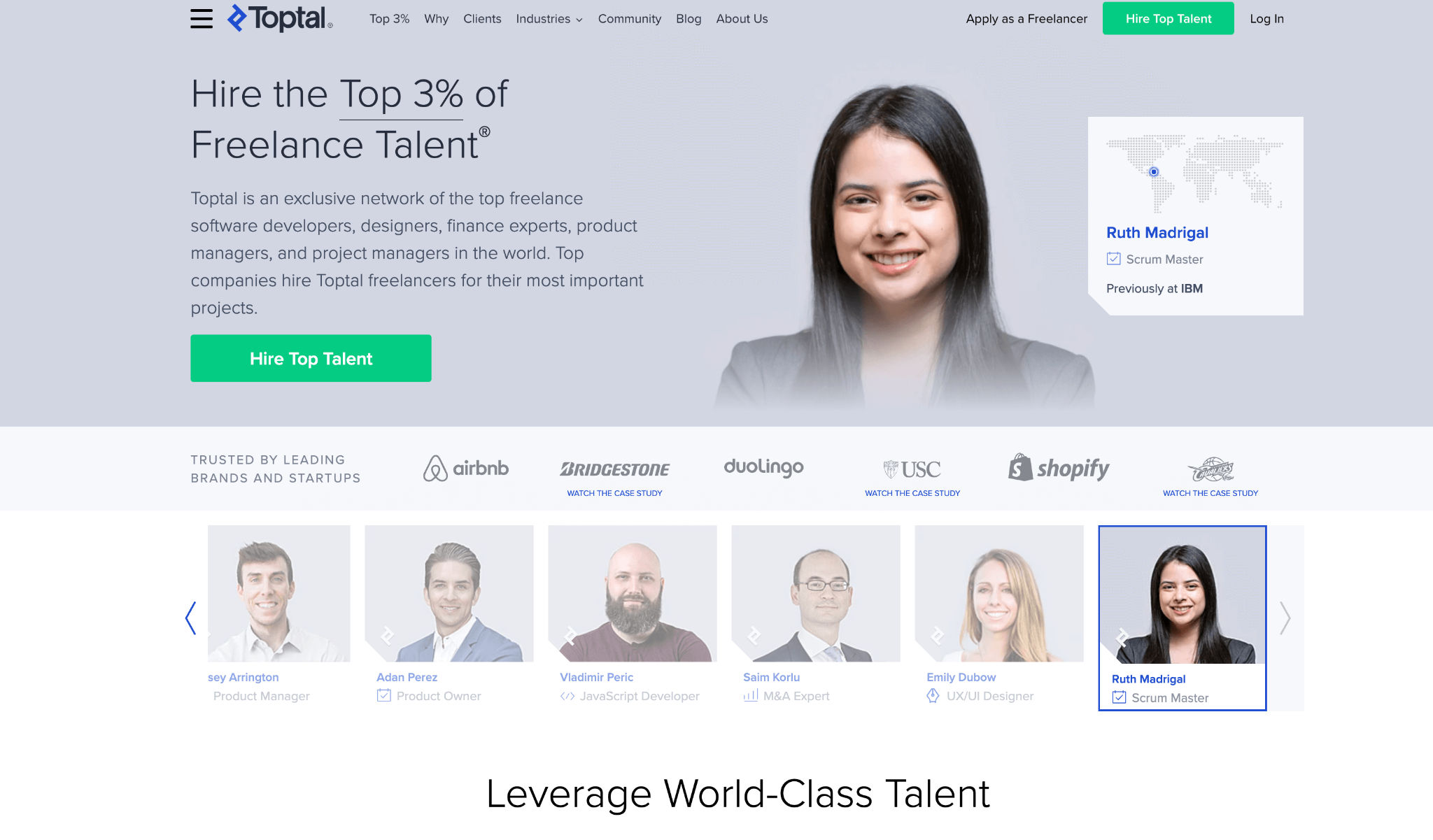 Toptal is a global, exclusive network of the top freelance experts in the world. The primary categories of freelance work supported on Toptal are software developers, Python experts, talented animators, product managers, and project managers.
The name of the company is derived from Top Talent, implying that they only work with the best of the best. Thousands of freelancer applicants are evaluated each month based on language and personality, skills, live screening from relevant experts, and test projects, and from that only about 3% are selected for the privilege of offering their talent using the platform.
From there, Toptal matches you with a web designer for hire based on your needs, meaning you can spend less time and energy sifting through profiles to find the exact right fit.
5. Design Crowd – Let the Designers Come To You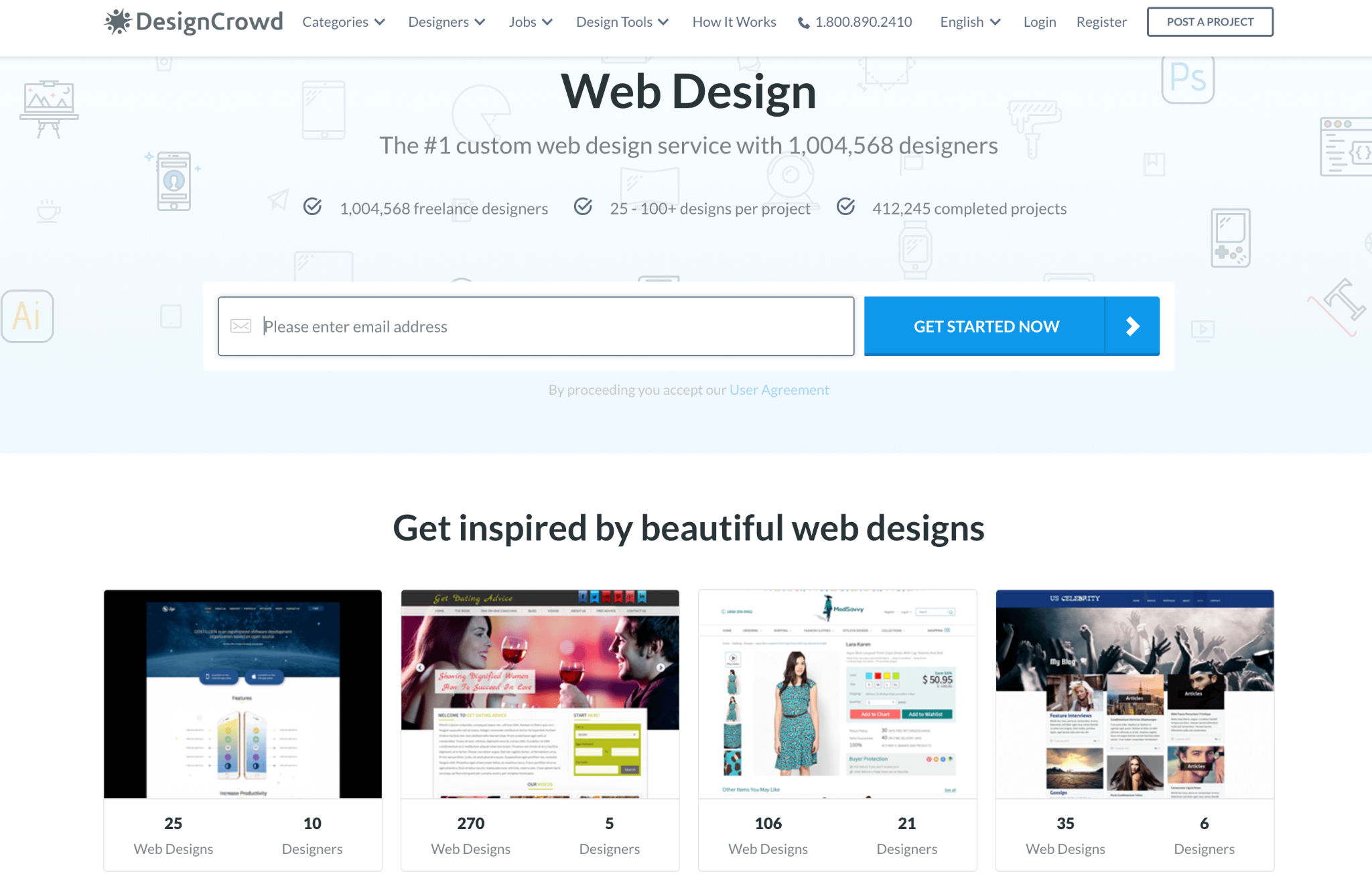 Design Crowd is a crowdsourcing marketplace where individuals or businesses can go to hire creatives specifically for design related creations. The primary categories on Design Crowd are web design, logo design, and graphic design. They employ over 1 million freelance designers, and proclaim themselves to be the world's #1 custom design marketplace.
Rather than defining all of your search criteria and then sifting through a sea of designer profiles to find the right match, Design Crowd allows you to input your design requirements and open a competition for their designers to compete for your business. From there you can select how many designs you want to receive from their global network of designers, which will determine the price of your package. Choose the winning design from the submissions, and pay accordingly.
How much do web design services cost on average?
The answer to this question depends on the quality of work and service that you are expecting.
You can find freelance designers willing to take on a web design project for just $5, and you can find consulting companies that charge in the tens of thousands range.
With that being said, the average web designer charges about $75/hour, and the average website costs about $6,500 to build.
What is the best web design service?
An honest answer to this question really depends on your specific needs.
With that being said, I believe a great starting place to begin your search is Fiverr. There are thousands of eager designers ready to leverage their talent for your benefit, and you will be able to find someone no matter your budget or schedule.