Last Updated on December 28, 2022
Fantasy map makers provide you with ready-to-use images, shapes, and textures.
They are created by professional artists that you can use to create your own map for free or at a price.
Some of them come as Photoshop brushes, while some others provide custom art pieces that suit the needs of fantasy game designers like you.
We searched all over the internet and found these amazing and best fantasy map makers that will fit your needs.
What are the best fantasy map makers?
After looking at Fiverr, and some additional sites for fantasy map making, we've come up with some of the best map commission artists out there!
Here are the best fantasy map makers you can use in your next project:
1. Chaimholtjer – Top-Rated Fiverr Fantasy Map Maker With 175+ Five-Star Reviews!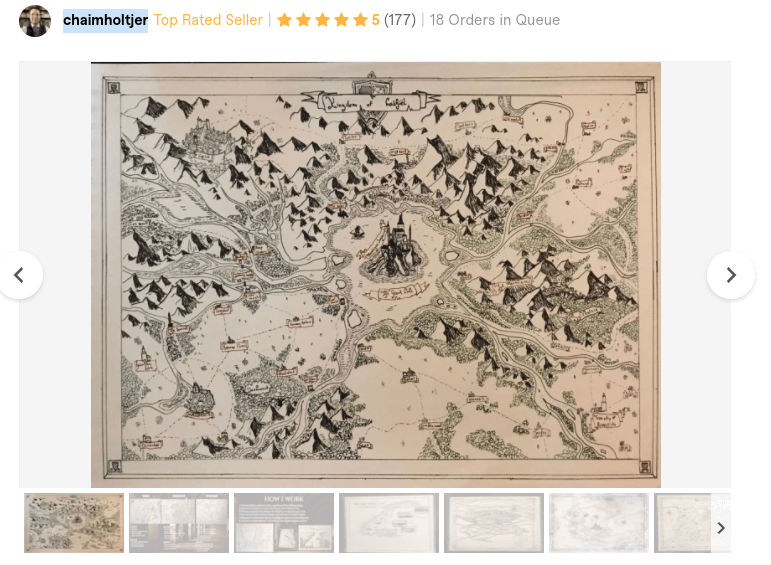 Chaimholtjer is a unique artist and Fiverr seller based in the Netherlands. They create highly detailed fantasy maps for each client. These are all detailed, black and white fantasy maps, the premium being in color.
This seller boasts ALL 4 and 5-star reviews and over 170 five-star reviews. All of their orders are hand-drawn by this seller, using pencils, fine liners, and in the case of colorized requests, techniques to stain the paper and color the various details of the maps, making this one of the most personalized and unique gigs on Fiverr today!
Chaimholtjer offers three tiers starting at $50, including:
A Basic Package- Black and white map on A4 format, ideal for regional maps.
A Standard Package- Black and white map on A3 format with lots of detail.
A Premium Package- Black and white or colored map on A3 format.
With delivery between ten and twenty days, these fantasy maps are extremely high-quality, and Chaimholtjer offers a unique extra: Orders are scanned in and sent digitally as either a pdf or picture file, with an option to ship the original drawing. Check out this and other gigs from Chaimholtjer here!
2. onedaygm – A Top-Rated Digital Fantasy Map Maker With ALL Five-Star Reviews!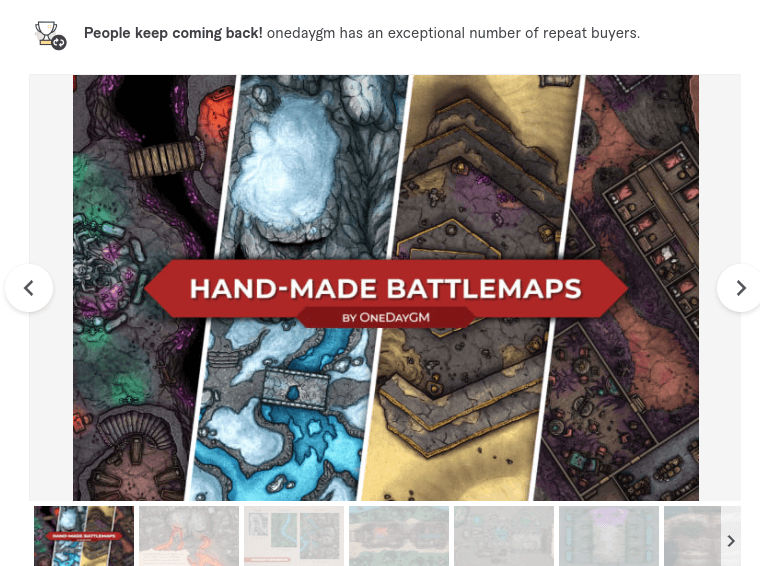 Onedaygm is a pro graphic designer and a full-time freelancer artist with 8+ years of experience. If you've had experience selling or buying on Fiverr, you know how important the review process is. This seller clearly goes above and beyond with EVERY review they've received being a completely five-star review!
Onedaygm includes unique instructions for ordering, so if you're considering placing an order, Onedaygm has some details of the process, such as:
Send your description of the location or/and a sketch (outlining important areas and rooms)
The seller makes a quick draft of the layout
After your approval and feedback, they polish it up into a clean b&w map
With a process this detailed and exact, it isn't surprising that this seller receives so many five-star reviews. If you're looking for an experience that is centered around customer services and getting the fantasy map you've always wanted, this is the seller for you!
Onedaygm offers three different sizes of maps starting at $30, including:
Small map- 15×20 squares map (gridded and gridless version + b&w variant).
Medium map- 20×30 squares map (gridded and gridless version + b&w variant)
Large map- 30×40 squares map (gridded and gridless version + b&w variant).
This seller includes some specific samples of maps and their quality at DriveThruRPG.com ( https://bit.ly/3BdfZ4c ). You can also check out this Fiverr gig and some others from onedaygm here!
3. Tilde.co – Best Online Fantasy Map Making Tool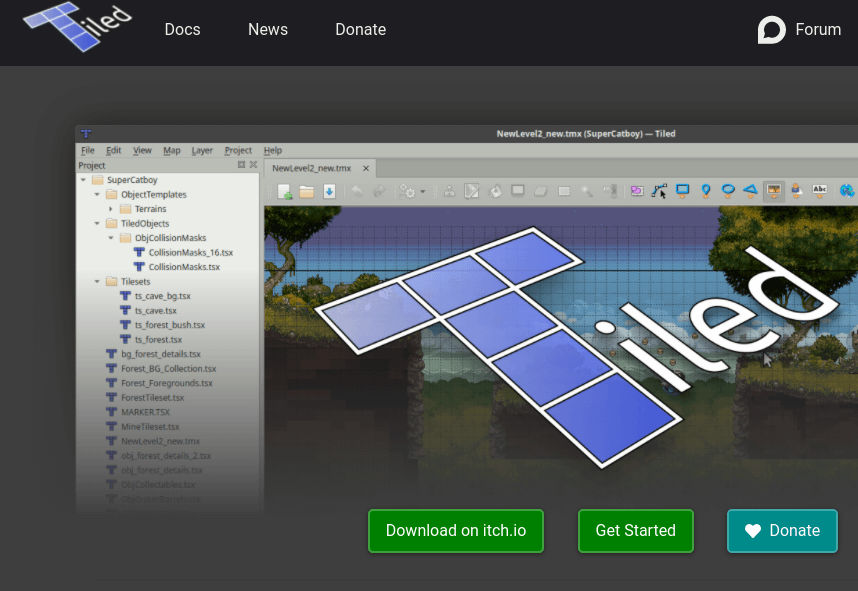 A powerful tool for creating maps, Tiled is an open-source editor with a straightforward user interface. You can create levels in-game easily using this map creator, which you can freely use without any limitations or restrictions both offline and online.
It also comes with features such as:
Supporting multiple layers
Tile animations
Panning & zooming tools
World collision detection, and many more!
This free version has no time limit to its usage but only supports the .tmx files created by it.
A paid version called "Tiled Pro" is available on their website if you want to unlock advanced capabilities like saving your tileset images separately, creating your own tilesets, having more layers to work with, and using the map editor for both commercial & personal projects.
This fantasy map-making tool supports features like smooth editing tools, tile animation, panning/zooming abilities, and world collision detection, among other things. Using this free web application, you can easily create levels in-game without any offline or online limitations.
Visit Tiled. co for more details on creating the fantasy map of your dreams
4. Donjon – Best Free Online Fantasy Map Maker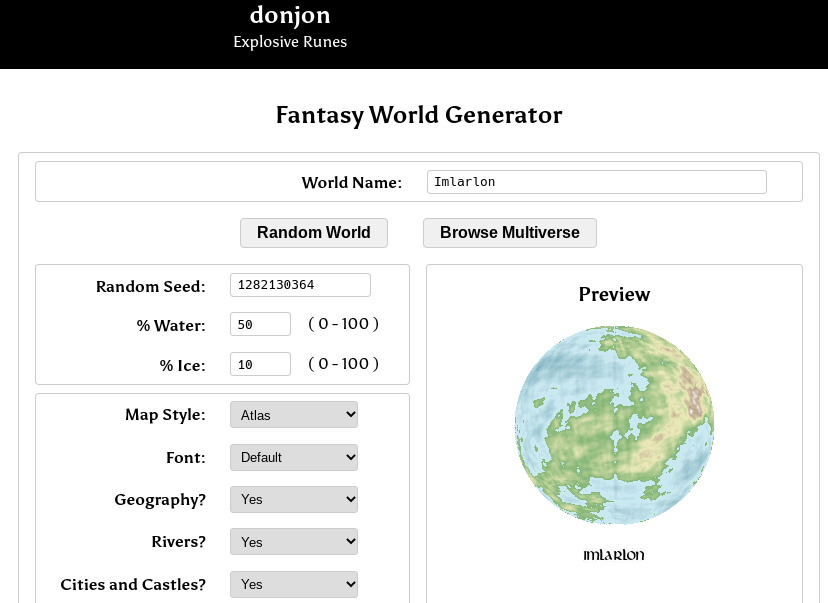 Donjon is a beneficial site when it comes to world-building. The Fractal World Generator is one of my favorites from this site. Using this map generator, Dungeon Masters can modify the map's shape, the quantity of water, and ice.
The map creation process takes some time to complete, but the result looks great! Fantasy maps are infinite, and you can customize them how you like with smooth editing tools. You can even change up things such as weather, sky color, cloud density/height, water level/etc.
The site also contains a fantasy name generator, calendar generator, and secondary world generator that incorporates tools from the Fractal World Generator and places names and hex grids on top of the maps it generates. Even more, utilities are available, such as the random dungeon generator, inn generator, and town creator.
In all, this website features a lot of world-creation elements. You can try out this one for yourself by using the link: https://donjon.bin.sh/world/
What is the best D&D Map Maker?
Inkarnate and Donjon are the best D&D Map Makers. They are both free to use and can be accessed online. In addition, they have a high level of detail which allows you to create the perfect map for your D&D campaign!
They are easy to use and can be accessed through your browser. Inkarnate is known for its detailed features that provide you with the perfect map for almost any situation! Donjon also provides a high level of detail in their maps, making them excellent resources for D&D players looking to create custom adventures.