Last Updated on January 2, 2023
As a business owner, you know the importance of having a professional and cohesive brand.
You want your customers to remember what they saw on every outlet from your storefront to your email signature. But how do you accomplish this? One way is by using graphic design services that offer unlimited designs!
In this blog post, we will explore some of the best unlimited graphic design services so that you can find one that is perfect for your needs.
What is the Best Unlimited Graphic Design Service?
Digital marketing is now the most common tool to use as part of an advertising strategy. But, if your business is not making lots of profit yet, then you probably won't be able to afford an in-house designer for your advertising needs.
In the olden days, people would probably hire a freelancer they can use when needed. But, nowadays, you can hire unlimited graphic design services for a fixed monthly price.
This service is also popular with bigger firms and marketing agencies. These graphic design companies will employ experienced designers, so you are in capable hands when acquiring their services!
The top unlimited graphic design services include Kimp, Penji, DotYeti, Manypixels, Designjoy, Fiverr and Designpickle.
They all have different pros and cons, and some offer different plans with different benefits.
Below is a detailed review of these 8 providers to help you make your decision: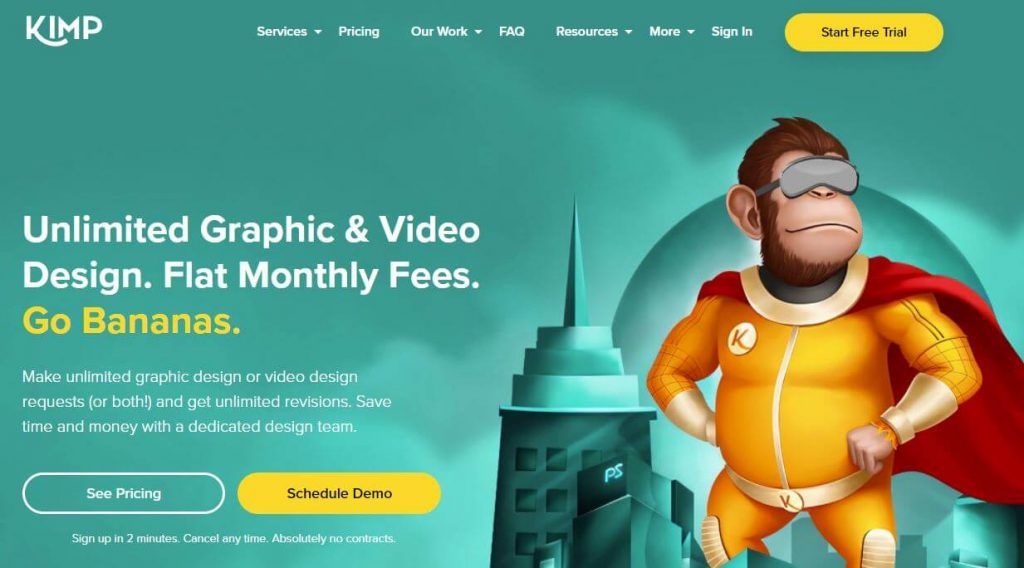 Kimp.io is our top choice for the best unlimited graphic design service. Their main advantage over all the other design services is that they can handle 2 design tasks at the same time, while the rest offer to work on only one design at a time.
Kimp offers one package for Graphic Design. This package offers unlimited graphic design services. It includes all of your graphic design needs, and you don't need to pay anything extra for premium services. They can offer anything from print to digital designs for your basic marketing needs.
Additionally, they can also offer custom illustrations, landing pages, and even GIFs. Whatever marketing needs you have, they got you covered!
Kimp Graphics include many different services, for example:
Amazon Graphics
Background Removal
Booklets
Brochures
Business Cards
Display Ads
Ebook Covers
Flyers
Logos
Packaging
Signage
Web Ads
Kimp is a top-rated design service. The designs Kimp creates are detailed and impressive. Their designers put a lot of effort into their work, and they handle every client professionally. Kimp supports many clients all over the world and they are dedicated to helping clients reach their audiences.
Kimp costs $389 per month for the Graphics package. This fixed-rate comes with a dedicated 3 person team, including a manager. Most designers are not located in Canada at the headquarters, but Kimp's support team is.
Kimp doesn't lock you into a contract, and you can cancel your plan at any time. Generally, you are able to request up to 3 designs every business day. The package also comes with unlimited revisions, so if any changes need to be made, you won't have to pay extra for it.
The three designers assigned to you will all specialize in a graphic design style, such as illustration, print, or digital. This way, you will have an arsenal of different styles at your service. Kimp uses Trello to establish communication between you and your designers.
Pros
Designers will work on multiple tasks at once. Usually, it is two at one time, doubling the output for you
The pricing is straight-forward and there are no hidden costs
Even though designers are based all around the world, they usually try to overlap their hours with the time zone you are located in.
Their customer support is outstanding.
Cons
Kimp would not be suitable for anyone who won't have a consistent need for graphic designers. If you only need a few one-off designs, Kimp won't be worth it for you
The custom illustration will take longer than basic designs
Kimp deals with many big companies, such as York University, Harley Davidson, Decathlon, and Universal Music. People often like to judge companies by looking at their clients, and I must say Kimp's list is impressive.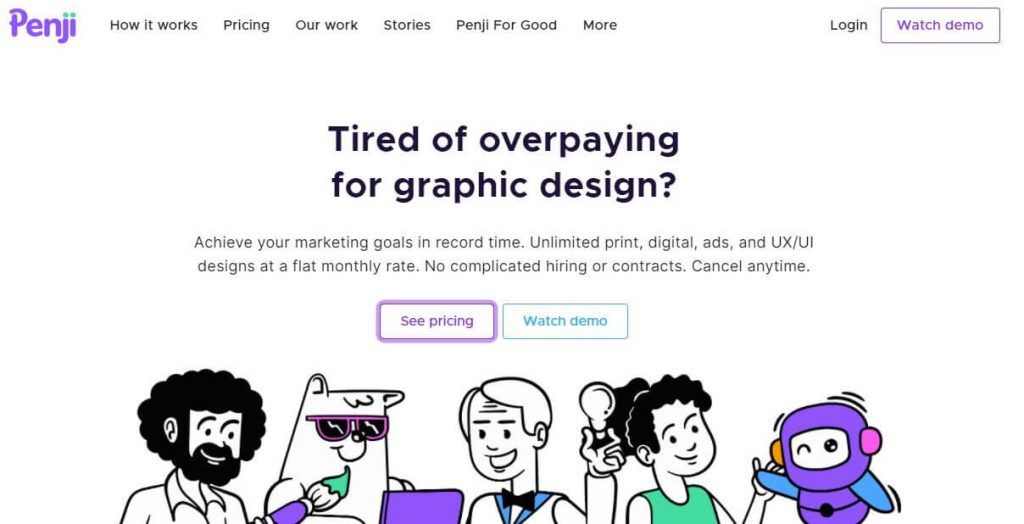 Penji's fee is $399 per month for Graphic Design only. This price will give you unlimited projects. Once one design is finished, the company will start on the next one on the same day. They don't do multiple designs at one time.
There are 3 different packages you can choose from: the Pro, the Team, and the Agency plan. Each of them has different pros and cons, which I detailed below:
Penji: Pros
Pro – Price: $399/month
Unlimited designs and revisions
You can add up to 2 users to the account
Team – Price: $499/month
Same as Pro with added extras
Custom illustrations included
Infographics are included
Website and App design included
You can add up to 5 users to your account
Agency Price: $899/month
Same as Team
You get 2 designers
Prioritized support
You can add up to 10 users to your account
Penji: Cons
Pro plan
Custom illustrations are not included in the Pro subscription
Only one designer per client
Website designs and infographics are not included
Team plan
Agency plan
Extremely expensive if you are just a start-up.
Penji's designers are extremely nice, and they go through a strict testing process before being hired. You get assigned one designer if you are on the Pro or Team plan, but if you are not happy with the style of the design you get, you can easily have someone else assigned to you.
Most requests are dealt with and completed within 48 hours of you sending them. You are not committed to a contract, and you can cancel anytime. They also offer a 15-day money-back guarantee. So, if you are not happy with the services, you have an option to get your money back.
Another thing Penji lets you do is if you have a lot of work coming in for a month, you can upgrade your plan to Agency for just a month to benefit from an extra designer, then downgrade the following month.
You can make a profile for each of your brands on Penji, where you can upload existing logos, your brand logos, and fonts, etc, which serves as a brand guideline for your designer. You just choose which brand the request is for, and the designer will follow those guidelines.
The downside to Penji is that you are not able to talk to your designer on the phone. All communication has to be written via email or the Penji dashboard. But, you can still talk to your project manager via phone. They are always more than happy to pass any details along to the designers.
Some big brands that use Penji include Express, Reebok, Lyft, and the University of Pennsylvania.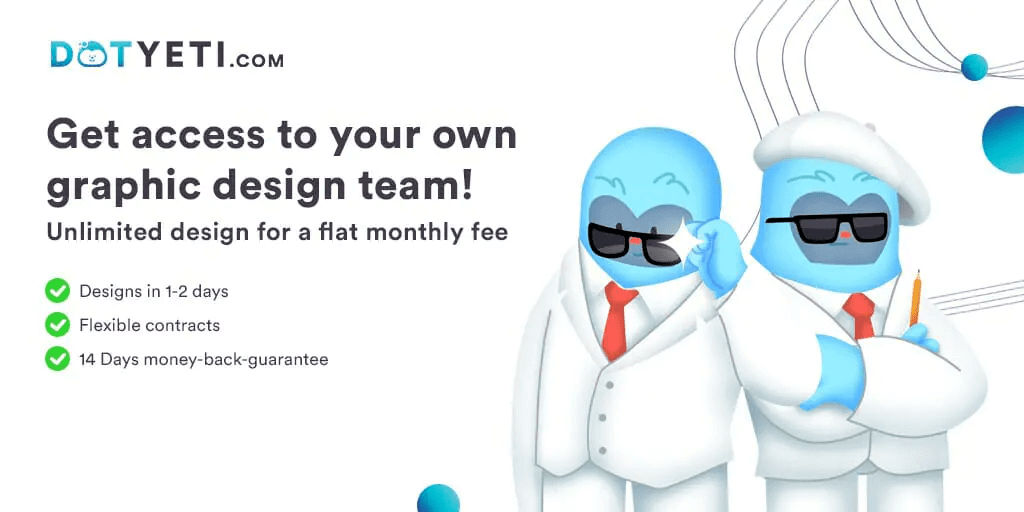 Dot Yeti is a global creative services company, providing thousands of businesses with unlimited, high-quality design work at an incredibly low monthly fee.
Their services include multiple different types of designs, such as: logo, infographics, T-shirts, packing, social media, Email banners and blog visuals.
Pros:
High-quality graphics design work.

Affordable pricing with no hidden charges.

Dedicated designers team.

They offer unlimited revisions on all the design work.
Cons:
They are not offering 3D render design services at the moment.
Pricing:
DotYeti are offering 3 different paid tiers to their clients:
Basic plan for $399 per month – Allowing you to assign 1 design task at a time.
Premium plan for $995 per month – Allowing you to assign 2 design tasks at the same time.
Royal plan for $2195 per month – Giving you access to all lower tiers, as well exclusive video and motion design production.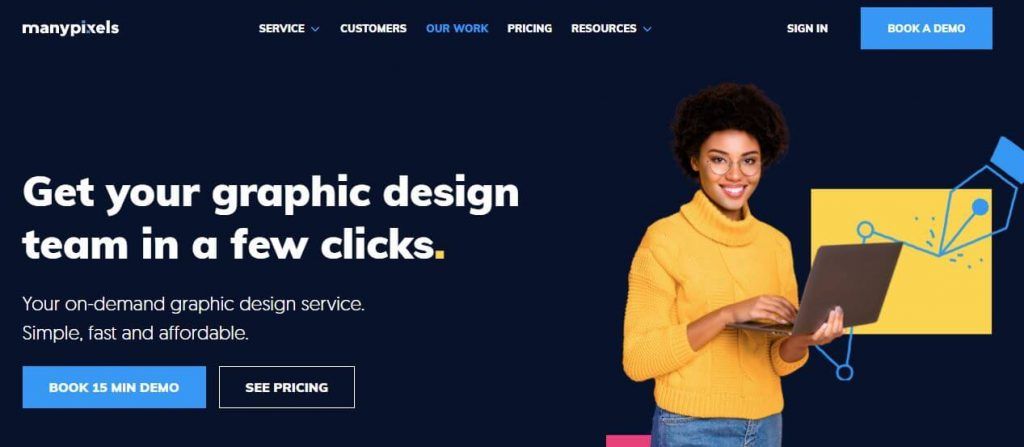 Manypixels can be great for start-ups. When you submit your first request, they will match you with one designer. They offer many different projects, such as:
Social Media graphics
Landing pages
Infographics
Logos
Branding
Icons
Stickers
Menu Design
But, what's included in your plan depends on how much you are willing to pay. Manypixels offer three different plans. The essential, the advanced, and the business plan. Each of them has different pros and cons.
Essential
Price: $449/mo
Pros
Includes unlimited requests
Includes unlimited revisions
Unlimited brands
Free stock assets
1 daily output
Cons
Doesn't include custom illustrations
They don't include services like Web Design
Doesn't include logos and branding
Advanced
Price: $549/mo
Pros
Includes logos and branding as well as anything the Essential plan has to offer
Includes Web Designs, GIFs, Custom Illustrations, and Google Slides Deck
Cons
Only 1 design per day
No prioritized support
Business
Price: $899/mo
Pros
Includes everything in Advanced plus prioritized support
You will receive 2 designs per day
You will have 2 designers working on your account
Cons
Manypixels offer a 14-day money-back guarantee. So if you are not very keen on the designs you receive, you have a way of getting your money back. The platform they use is straightforward. You can access your design history and your source files.
You can also create brand profiles, just like on Penji to set the designer brand guidelines. The design work produced is high-quality, which is expected. To be a graphic designer at Manypixels, you need a proven track record and extensive experience in the field to be considered.
Custom illustrations take longer than your typical design needs. Designers are scattered throughout the world, so depending on who is assigned to you, they may be in a different time zone than you. It is highly recommended that you test Manypixels out for a couple of weeks.
They assign you a designer, but if you don't feel a vibe with your designer, you can easily request a new one. Some designers have a certain style, which might not fit into your aesthetics. These things happen.
Some brands that use Manypixels are Beam, Decathlon, Gartner, and Sleek. If you would like to see their work, they have a great portfolio of customer case studies available on their website. They explain how their services have helped some of their clients grow.
Even though the basic plans only come with one or two designers, Manypixels can offer you, extra designers, if needed, at a price. You can scale up and down, depending on your business needs.
Designjoy offers one package for Deign services. You are not tied into a contract, so you can cancel at any time. The current price is set at $1999 per month, but they are running a promotion at the time of writing this. They are offering 20% off of the monthly price for life ($1599).
This is by far the most expensive service out of the 7 reviewed. Delivery times can take up to a few days on average. But this only includes business days! They are also flexible, so if you need to scale up or down, you can do so.
The package includes services such as presentations, logos, banner ads, social media ads, and even branding. They also offer unlimited revisions and a service called 'Slack Collaboration'. This costs $249/month and allows you to chat with your designer during the day.
Canceling your account with Designjoy is easy. You can just log into your account and cancel on there. Designjoy also doesn't offer complex illustrations, and designers will only work on 1 design at a time.
If you submit more than one request, it will just add it to your design queue. Once one design is completed, the designer will move onto the next. Brands that use Designjoy include Flipreach, Parolled, and Cometchat.
6. Fiverr
Fiverr is a platform for freelancers to offer their services. Graphic Design services are a major part of Fiverr. Prices start at $15 per design. Some freelancers offer several revisions, while some will charge for extra if revisions are needed.
Anyone can sign up to Fiverr, but you can filter your search results by 'Pro services'. This means Fiverr has verified the freelancer for their quality of service. Pro services will start at around $100 per project.
With Fiverr, instead of paying a monthly price for unlimited services, you will pay whatever the freelancer set. Some illustrators charge $500 just for one book cover design. And, some charge nearly $1000 for a logo design.
Most freelancers offer a week turnaround for projects, which is definitely longer than any other services we have mentioned. They do offer a quicker turnaround time for an extra price.
The downside to Fiverr is that if you don't see eye to eye with the designs you get from your freelancer, you will not get your money back (well most of the time) and you will have to pay for a different freelancer instead of being able to just change designers at no extra cost.
7. Design pickle
Design pickle offers two different plans; Essential and Pro. They can handle a lot of projects, such as logos, websites, business cards, infographics, illustrations, and social media ads.
Design Pickle's Essential plan comes with a dedicated team of designers, revisions and the turnaround time for completion is 1-2 business days. It comes with basic designs, like brochures, flyers, social media ads, and packaging. The price of Essential is $499 per month.
But if you are looking for landing pages, logos, and branding, or advanced infographics, you will need to go for the Pro plan. Pro also lets you select the preferred time zone of your graphic designers. You can also collaborate with your designers in real-time.
Pro also comes with a same-day turnaround and it also gives you a dedicated designer. The price of the Pro is $995 per month. It is quite pricy. On top of these prices, Design Pickle offers their illustration services at an extra cost.
If you're looking for custom illustrations and vectors, like portraits, book illustrations, or custom logos, you will need to pay an extra $499 per month for these services. So if you are looking for graphic design needs with custom illustration, it will cost you $1494 at Design Pickle.
What Does Unlimited Graphic Design Mean?
Unlimited graphic design means you can get as many designs as you want for a monthly subscription, in any style or format. This includes logos and banners to social media graphics. The only drawback is that most of those services would only work on 1 design at the same time.
Before committing to a service, you need to read the small print as well. Some of these agencies will only get round to doing probably one design per 2-3 days.
Which, honestly, kind of defeats the idea of an unlimited subscription. Other subscriptions would give you 1 design per day, and the best ones (Like Kimp) can do up to 2 designs per day.
How To Choose The Right Unlimited Design Service For You
Choosing the right service will come down to your specifications for the project, the price you are willing to pay, the plans these services offer, and your preference for designers. Work through each of the below criteria before making your decision.
Projects
You need to plan out how often you will need to use the services. Will it be weekly, daily, monthly, or just a few times a year? How quickly will you need the finished design? You will also need to figure out if your future projects are complicated and will they need some revision along the way?
If you don't need design services regularly, like weekly, then it may not be worth it for you to pay a monthly premium of over $400. You can choose freelancers on Fiverr for a one-off fixed price.
Cost
The cost of the services differs at each company. Value-wise, Kimp is the most affordable service that offers a long list of services. For example, you don't need to pay extra for custom illustrations or web design services.
If your company is using the service frequently, will it be more worth it to bring on a full-time, in-house designer? Or would a fixed-cost service be better for your organization at the moment? Answering these questions will help you determine which path you should take.
The base cost for unlimited graphic design services is about $400 a month.
Plans
Do you have many team members in your business who needs access to these services? Some of the above services include several users in their basic plans, but if you have more than 2-3 users, you might have to pay extra for that.
You also need to consider how many projects you might have at one time. Services like Kimp offer to work on 2-3 designs at one time, but most services only allow one at a time.
Preferences
Your preference for work is just as important as the cost and plans. Do you like to talk to designers directly? Do you prefer to communicate over the phone or via email? Are you comfortable with remotely working designers or would you prefer someone being in your office at all times?
All of the above are important to making a decision. For example, if you don't like talking to designers via email, you will not want to choose Penji. If you like to have constant access to your designer, where they can dedicate a lot of time to your projects, you might want to consider in-house designers.
Lastly, check out their portfolio in depth. This will give you a taste of the designer's styles, which can help you in your decision-making process.
Is Unlimited Graphic Design Really Worth the Money?
This really depends on your needs. Unlimited Graphic Design is an affordable solution when you cannot afford to pay over $66,000 per year to an in-house designer. You will be less stressed, as you won't have to look for another employee or contractor and you get experienced designers working on your projects.
With the fixed monthly prices, it is easier for you to budget your expenses, it takes the guesswork out of how much your project will cost you. These services are flexible, and all designers are dedicated to their projects.
All of these companies allow you to switch designers, which is useful when you don't click with the style of your dedicated designer. This is a major pro. You wouldn't be able to just switch if you were to hire someone in-house.
The downside to these services is the communication issues. If you like to explain your projects verbally, this may not be possible through one of the above services.