Last Updated on December 27, 2022
In today's world, graphic design is an essential part of any modern day business' marketing efforts.
Consider the way in which Apple unveils the new iPhone, or the catchy and memorable intro to your favorite YouTuber's videos, or the book that you bought simply because you were irresistibly attracted to the cover. This is all possible because of the existence of graphic design.
It should be said that behind every great work of graphic design is a great graphic design service.
In this article, we'll take a look at a few of the best graphic design services for small business.
What are the best graphic design services?
Below you'd find our top picks for the best graphic design services this year:
1. Fiverr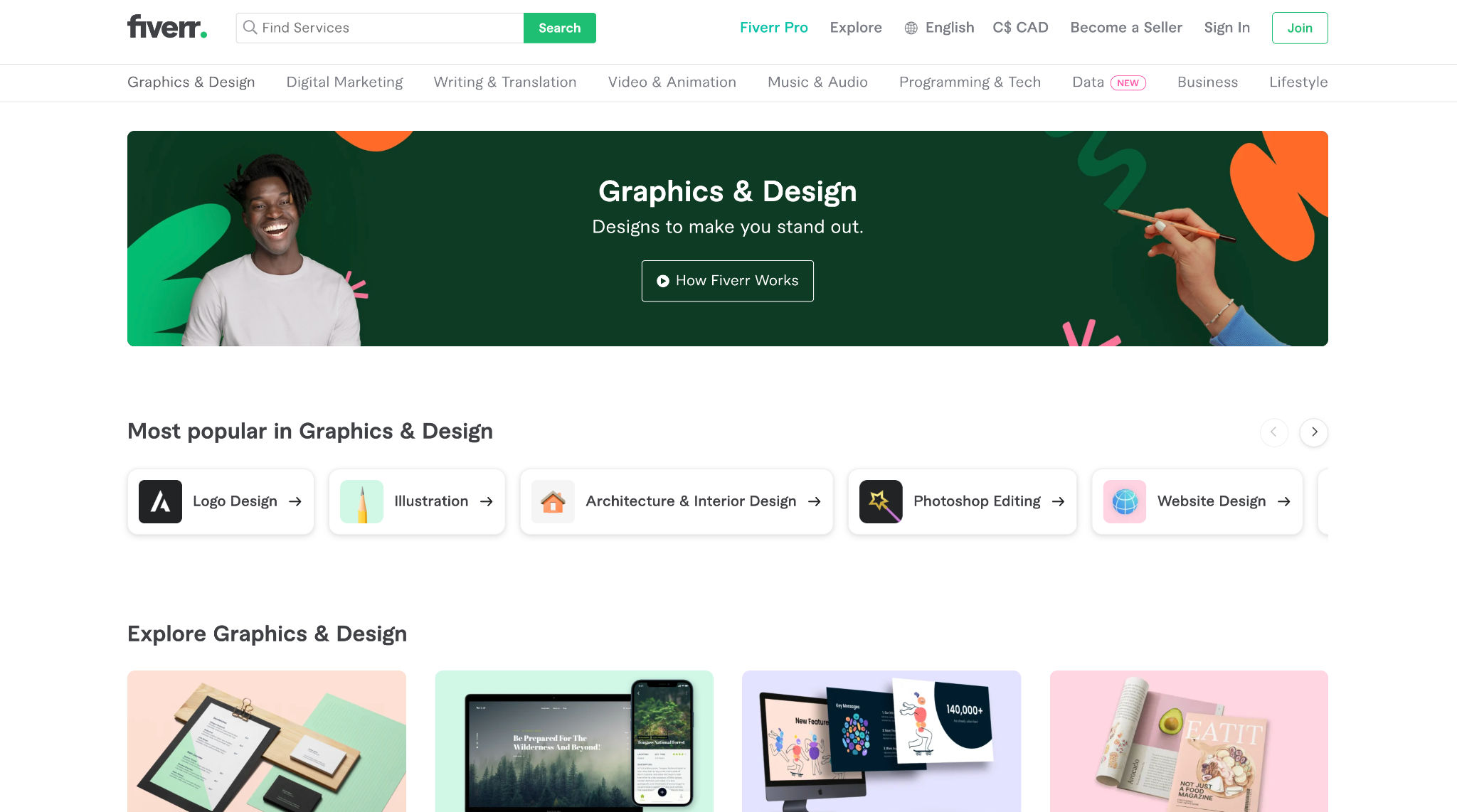 Coming in as one of the undisputed best graphic design services on the market today is Fiverr.
Fiverr is an online marketplace for freelance services. Customers, including small businesses, can go to Fiverr, research the abundance of freelance creators to choose from, discover the creator that best suits their needs, collaborate on and explain their vision, negotiate a price, and eventually end up with the finished product that they need.
There are a multitude of services provided through Fiverr, but one of the most popular is graphic design. Because Fiverr opens its doors to any creator around the world who follows their terms of services, there is inevitably an endless list of services at your disposal.
Logo design, brand style guides, illustration, packaging and label design, flyer design, podcast cover art, social media design, landing page design, email design, cartoons & comics, photoshop editing, infographic design, storyboards, car wraps, menu design. And the list goes on.
Let's look closer at website design as an example. At the start of my search, before I narrow anything down with filters, I see that there are over 17,000 website design services available. By default, the best selling results appear front and center.
From there I can refine my search based on website options such as website type and services included, seller details such as seller level and country of origin, budget, and timeline. I can select a particular seller profile and get even more information. I'll see examples of the seller's previous work, the tiers of packages offered, what's included and for how much, and even first hand buyer reviews. This may be the most important aspect to consider as you will get to read the stories and experience of those who have worked with this seller before.
No matter your needs, you are bound to find someone on Fiverr with a bucket full of 5 star reviews who are ready and eager to work. You will surely find someone who can simplify your to-do list, no matter your budget, and to get the work done based on your timeline and deadlines.
Fiverr really is a special tool for small businesses looking for graphic design services. They have a leg up on traditional graphic design agencies and services as there are so many options for buyers to choose from that they are sure to find someone that perfectly suits their needs.
2. Kimp
Kimp is a fully remote, cloud-based graphic design company dedicated to helping their clients design better and scale faster with a flexible, affordable unlimited design service.
This is a company that has recently evolved by innovating and developing a subscription-based design service so that they could serve and have an impact on more businesses.
Now, they are an industry leader in the design space and help organizations around the world, from startups and small-and-medium sized businesses (SMBs), to nonprofits and marketing agencies.
It's a breath of fresh air for their clients to realize the simplicity that Kimp promises to introduce into their working life. From their communication and collaboration, to the wide array of services they provide, and the straightforward, comprehensible pricing model, it's obvious that working with Kimp is smooth-sailing.
Kimp offers three simple subscriptions: Kimp Graphics, Kimp Video, and Kimp Graphics + Video.
Kimp Graphics is their "power-packed" graphic design subscription. This package aims to cover all of your day-to-day marketing needs, from print and digital designs, to custom illustrations , landing page designs and even custom GIFS for unique campaigns. Features of this plan include, but not limited to: unlimited requests and revisions, dedicated design team, unlimited team members, access to source files, projects management, and more.
The pricing for this subscription is simple, too. Simply pay $299.40 for your first month, but take 40% off that month because you are a new client, and then $499 for each month after that.
The Kimp Video subscription will make you privy to improvements upon your existing video footage and images, or a full production from scratch, and it will run you for $359.40 for your first month, plus a 40% new client discount, and then $599 for each month after that.
The Graphics + Video plan is simply a combination of those two plans, running you $537 per month + the 40% new client discount, and then $895 per month afterwards.
Kimp is efficient, effective, and enjoyable for clients all around the world. Their products are simple, and so is their pricing model. They're an industry leader for a reason.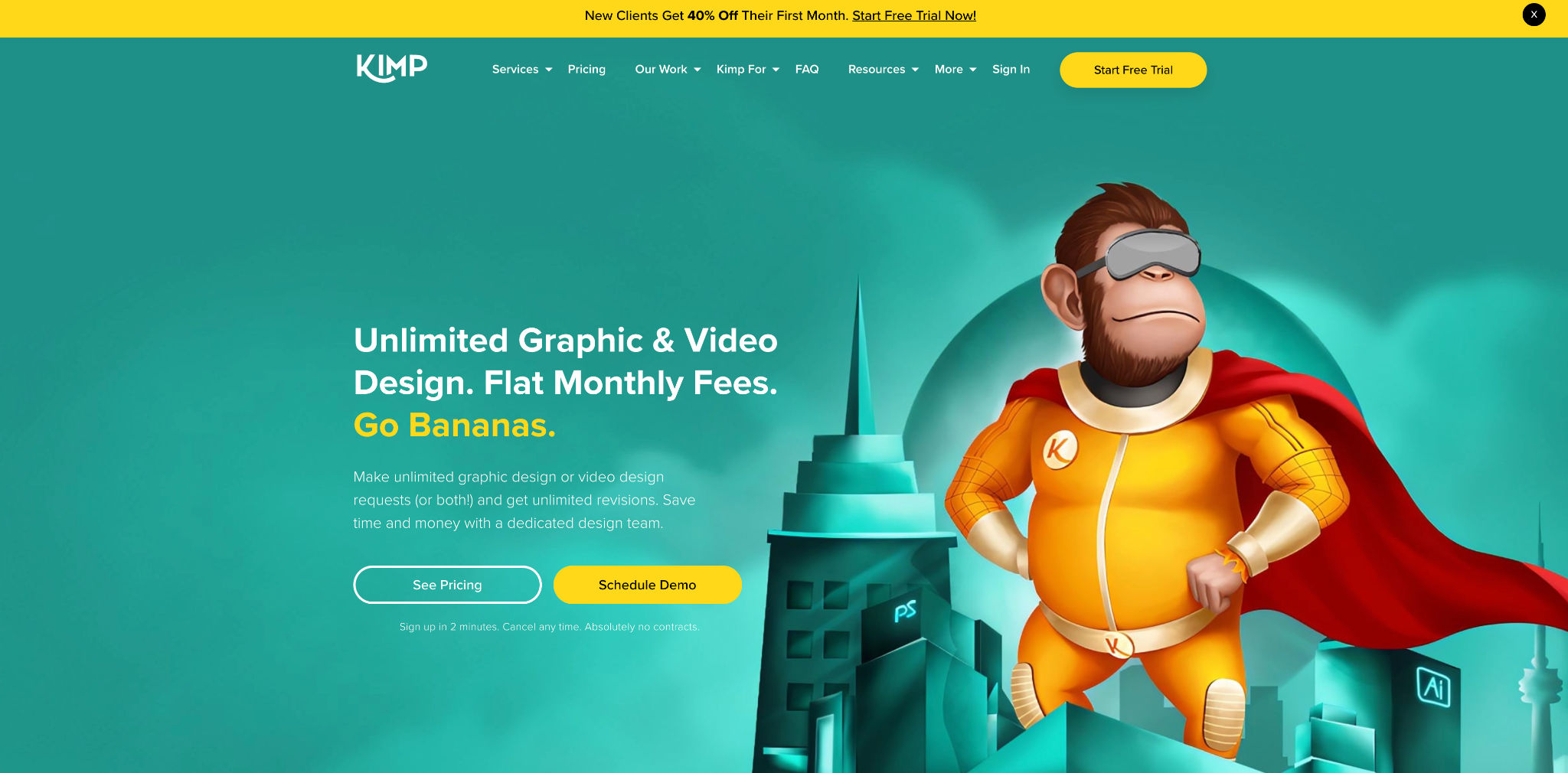 3. Design Pickle
Design Pickle is a global creative services company providing thousands of businesses with unlimited, high-quality design and illustration work at a flat rate. They aim to deliver reliable, affordable, and scalable creative content to any business.
They have over 700 team members, have completed over 1 million requests, and are #748 on Inc. 5000 Fastest Growing Companies. They're clearly doing something right!
One of the clear advantages of using Design Pickle is that they offer unlimited requests for one flat rate. They call it on-demand graphic design services. For $499 monthly, you will be privy to services such as logo design, social media graphics, email graphics, packaging and labels, promo item graphics and more, with 1-2 day turnaround, unlimited requests, revisions, and brand profiles.
Their Pro plan is slightly more expensive at $995 monthly, for the same features, but also includes same-day turnaround, slack communication, and time zone selection.
Design Pickle offers flexible and dynamic graphic design services and, depending on your budget, may make the most sense for your business.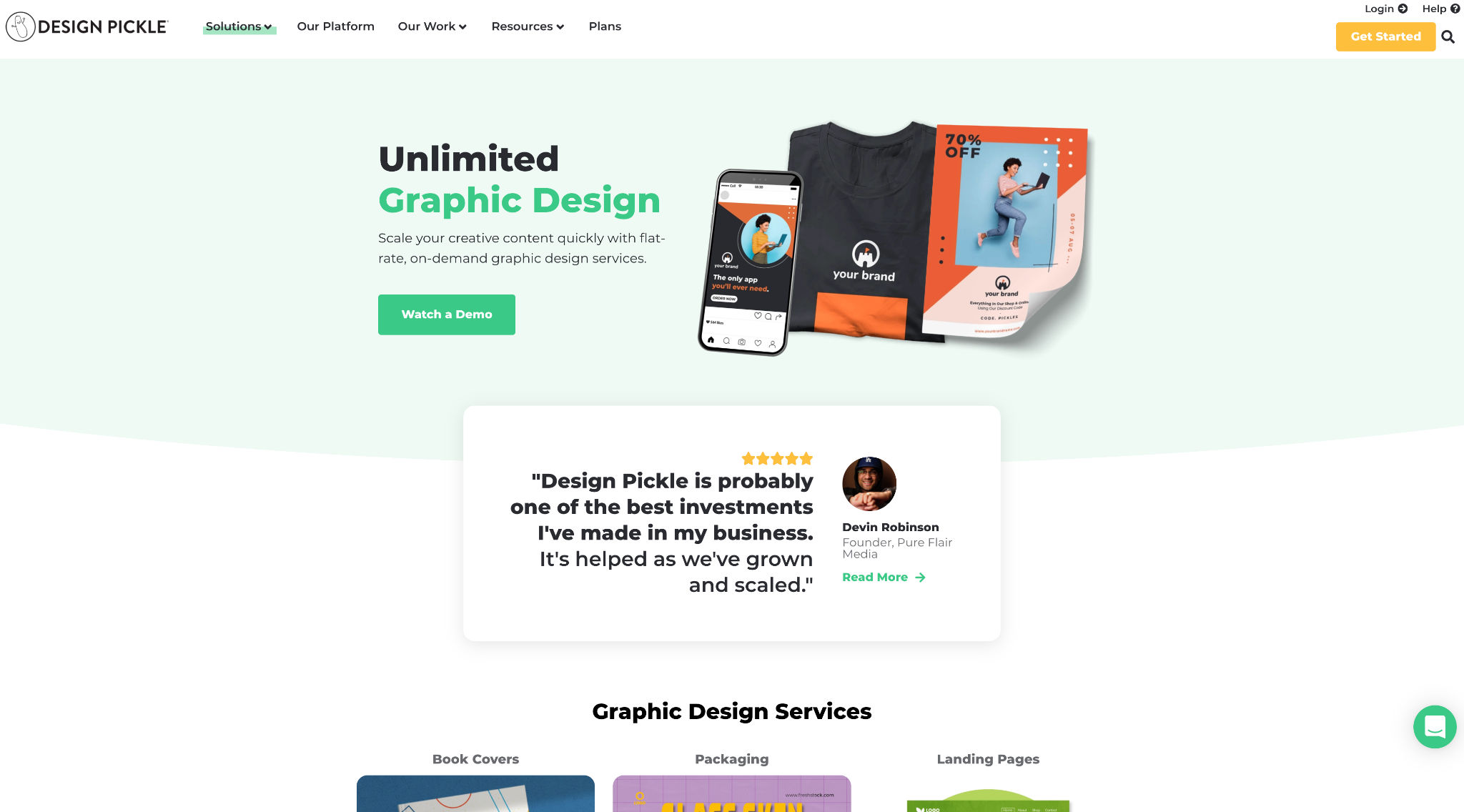 4. Penji
Penji's is to make graphic design fast, simple, and affordable. The way it should be. They are an unlimited graphic design platform that collaborates with thousands of brands worldwide including the likes of Reebok, Uber, Best Buy, and UPS.
Penji offers 3 subscription plans to choose from. The first, their Pro plan, is graphic design specific. It's a subscription model at $399 per month, and for that you get unlimited design projects for unlimited brands, 1 designer, and unlimited users.
The Team plan costs $499 per month, you receive everything from Pro, plus website and app design, custom illustration, and infographics.
The Agency plan includes everything from Pro and Team for $899 a month, plus you get 2 more designers and prioritized support.
Penji offers some of the best graphic design services in the world, and are trusted by some of the biggest brands in the world. If you're looking for a reliable service with a great reputation, Penji may be the one for your small business.