Last Updated on December 28, 2022
Do you know more than $2 billion was spent on NFTs in the first quarter of 2021 with twice as many buyers as sellers?
NFTs are the new thing, the future of art, digitals, and crypto. Even though they haven't been around for very long, some have already sold for millions of dollars.
This is your chance to hop on the trend! But the question is if you can make such art and keep up with the market trends or commission a talented artist.
Well, you're in luck. This article will introduce you to the top 7 recommended NFT artists from the best marketplace, their services, and their costs.
Who is the best NFT artist for hire?
Below you'd find our list of the best NFT artists most suited to handle your projects based on our experience:
1. Smartypaints – Cryptopunk NFT art expert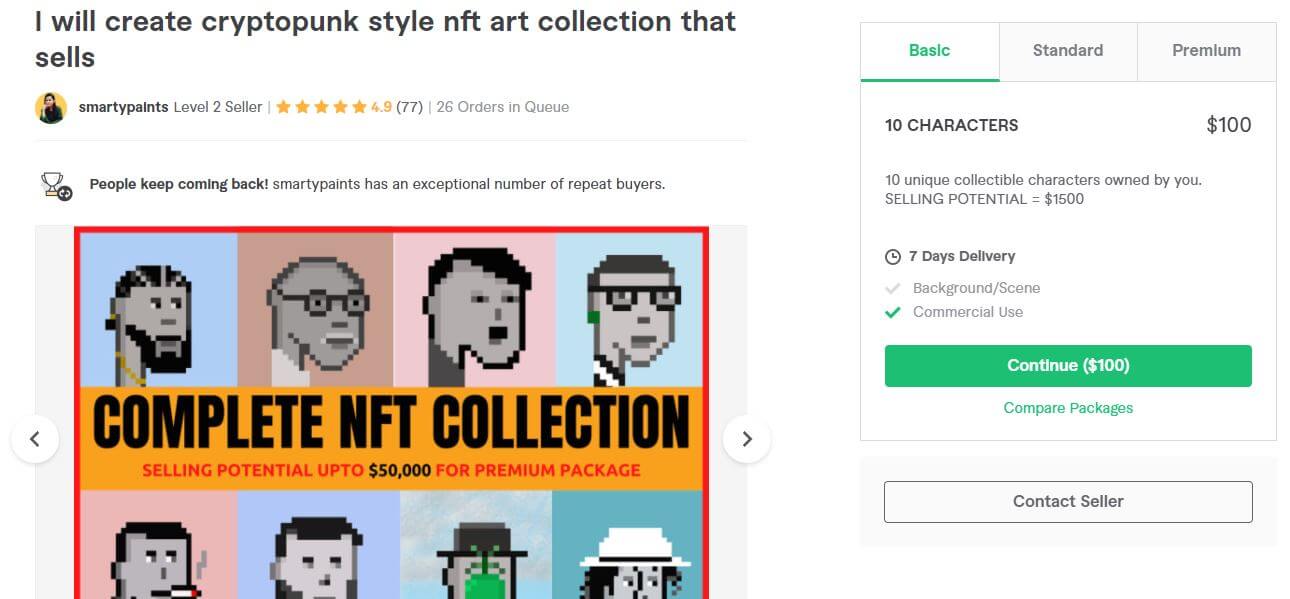 Pixel art (Cryptopunk) has become very popular in various NFT markets due to its great selling potential.
If you're looking for a one-of-a-kind pixel art that sells, then Smartypaints is your go-to pro artist.
Out of her numerous talents, Smartypaints is an art enthusiast, a painter, and a digital artist who specializes in pixel art. She'll make unique pixel art characters based on your ideas. These punks, like the original Cryptopunks and CryptoKitties, are procedurally generated.
Her price ranges from $100 to $1500 depending on the package, where she offers to deliver 10 to 500 distinct collectible characters with selling potential up to $50,000 in 7 to 14 days. In case you only want to commission one piece of cryptopunk art or less than ten, you can write her a note and ask for a custom offer
Looking for a professional pixel art expert? Send smartypaints a message.
2. Viralvfx – A top-rated, NFT 3D digital card expert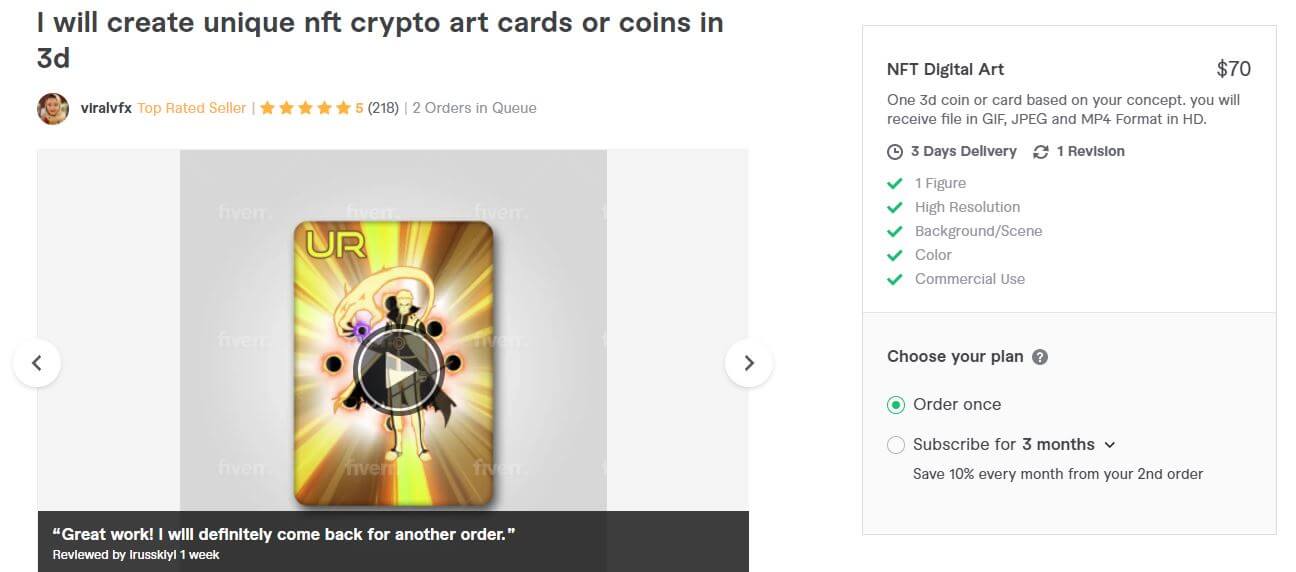 The 3D trading card and coins are other popular collectibles on the market, and no other seller on the platform compares to Viralvfx.
Viralvfx is a top-rated graphic designer with extensive experience in 3D models and 2D animation. Her 200+ favorable ratings proves that she is more than capable of handling your projects.
For just $70, she offers to create a 3D trading card or coin based on your concept, and guarantees to deliver in 3 days (using GIF, JPEG, and MP4 Format) with a single revision.
Looking for the best NFT card commission? Send viralvfx a message.
3. Donikudjo – An experienced NFT cartoon illustrator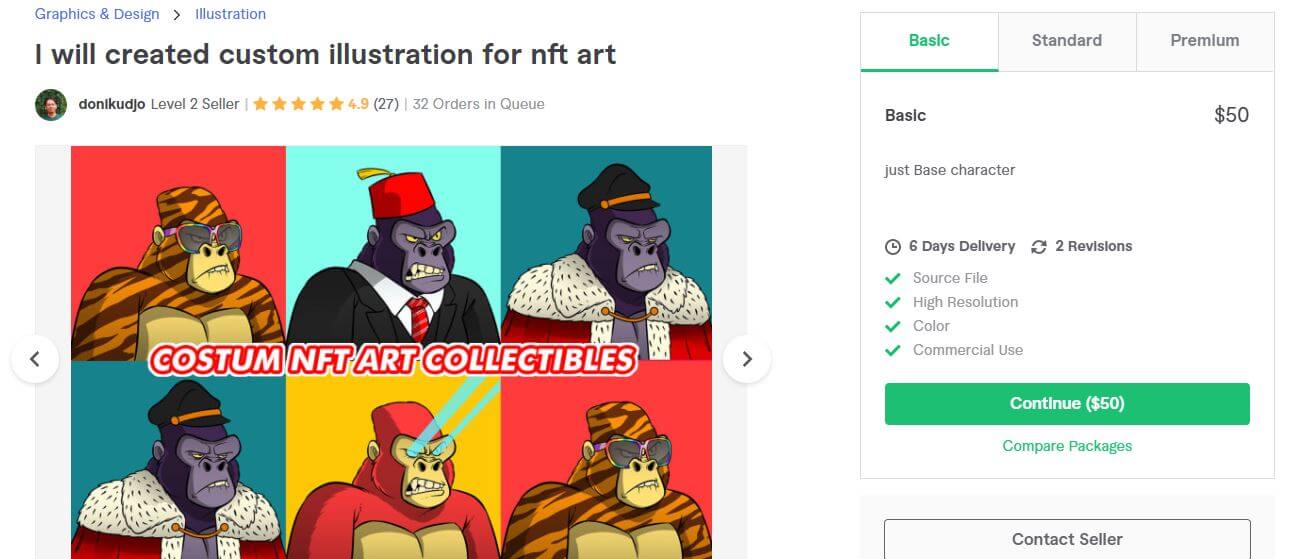 Do you want to create exceptional NFT art in cartoon style? An Illustration worth selling? Look no more, Donikudjo is your go-to pro.
Donikudjo is an accomplished digital artist with more than three years of expertise. His ability to create one-of-a-kind works of art sets him apart from the many other artists on the platform. Your project is also highly discreet because he does not include it in his portfolio, giving you complete ownership of the artwork.
His fees are reasonable, ranging from $50 to $150, and he guarantees to deliver within 6 to 14 days with three rounds of revisions. The entire package includes a base character as well as a variety of items and accessories for that character.
Get in touch with Donikudjo on Fiverr to start your dream NFT project.
4. Leandroelle – An all-round, budget-friendly NFT artist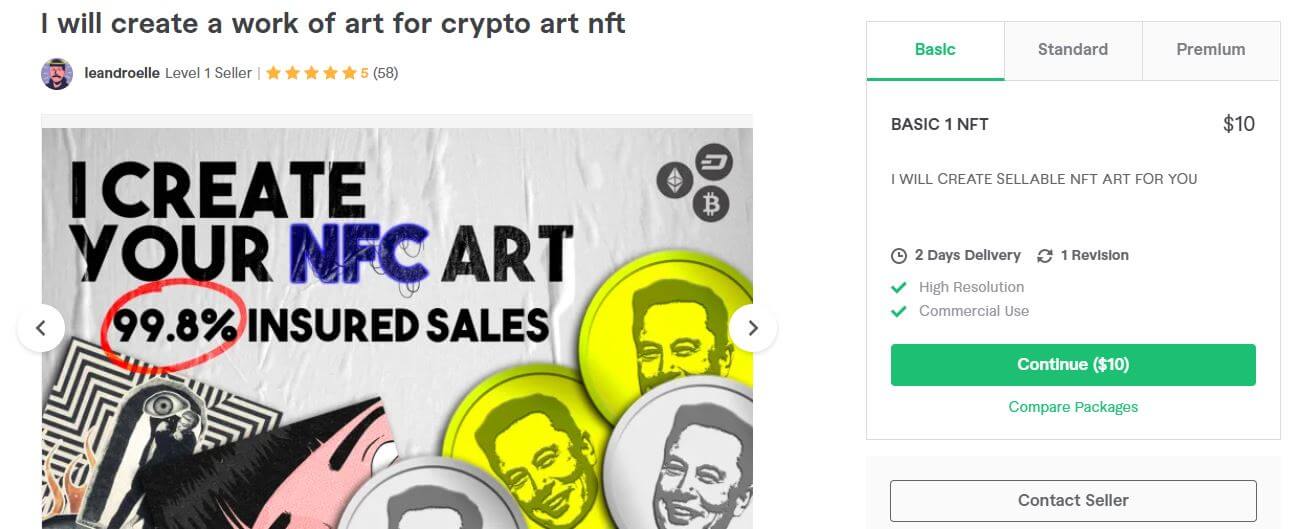 Leandroelle is a talented graphic designer who creates resellable NFT art at a low cost. All you have to do is express your thoughts and watch him bring them to life. The sky is the limit with this artist.
He simply deals with the creation of graphic art and nothing else. His prices range from $10 to $30, and he offers a three-day turnaround time with a single revision.
Looking for an artist to handle your NFT graphics creation? Send Leandroelle a message.
5. Brilliant_brush – Retro style NFT art commission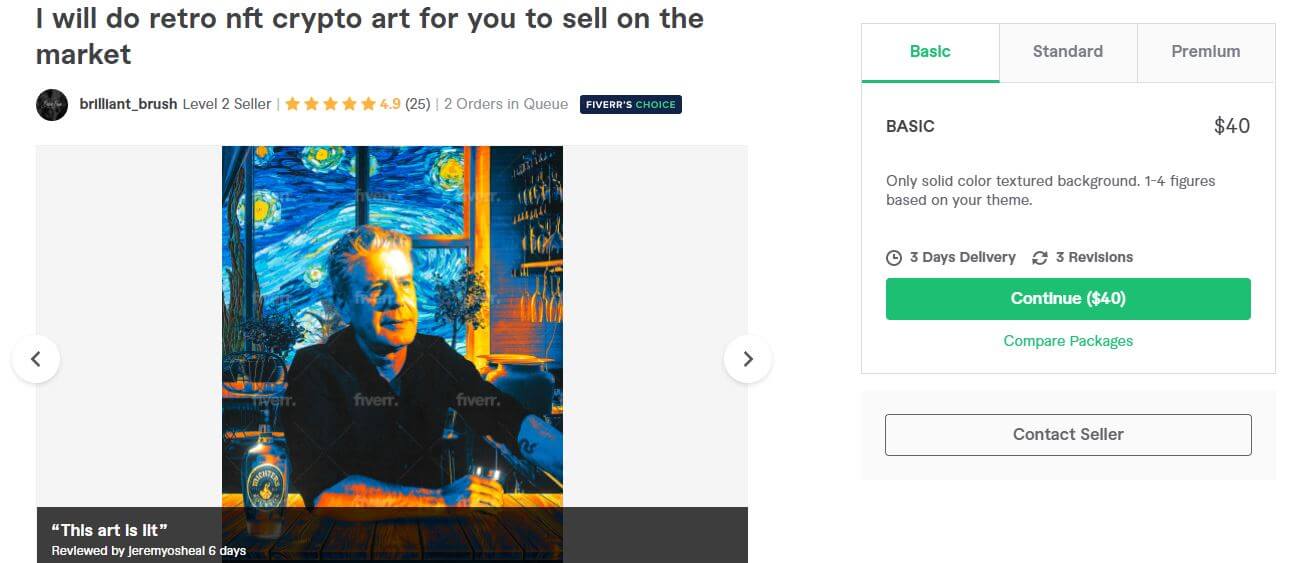 Brilliant_brush is a Fiverr favorite and a highly-rated seller with over 20+ positive reviews. His ability to hold two of the platform's top positions demonstrates that he is more than capable of handling your project.
He's a talented graphic designer who makes NFTs in DnD, surreal, atheistic, retro, and vintage style. This style stands out among the many other sellers and has a good probability of being resold for a high price.
His prices range from $40 to $70, and he guarantees delivery in 3 to 5 days with a few rounds of revisions.
Looking for a distinct art style for your NFT? Check out brilliant_brush's gig on Fiverr.
6. Valiantgraphic – Fiverr's choice for best NFT art
There are currently over 500 artists selling NFT art services on Fiverr alone, and from that huge pool of sellers – Edrian and his team are the one with Fiverr's choice badge.
This badge indicates that the Fiverr editorial team trusted them with a quality certification that is awarded only to the top 1% of Fiverr sellers.
That's some high praise, and there's clearly a reason behind it. Their designs are fantastic and stand out from the usual NFT designs.
7. hoangnhu13 – 10K NFT art collection
If you are serious about NFT's, you might be looking to design a whole custom NFT collection you could list on one of the more popular marketplaces.
For this type of job, you must find a talented artist that can handle such a big task.
Our recommendation? check out Kim Z and what he's got to offer.
He is a talented and experienced NFT designer from Vietnam, with over 1600 satisfied customers all around the world.
At the time of writing, his NFT collection gig on Fiverr got 29 orders in queue. People are clearly interested in his service, and that's all thanks to his creative designs and quick deliveries.
How much does custom NFT art cost?
The cost of NFT art starts at $20 per design, and can go all the way up to $10,000 for huge NFT collections.
The exact pricing depends on the number of designs you are looking for, what traits you are looking to add for them and the level of experience of the NFT artist.