Last Updated on September 15, 2023
3D models play a significant role in modern projects as they can increase efficiency and ease of work.
Do you need a custom 3D model for 3D printing, concept art, illustration, video game, or any other project but don't have any 3D design experience?
You've come to the right place. Here is my personal top list of 3D model designers:
How to create your own 3D models?
An artist manipulates points in virtual space with specific software to create a mesh: a collection of vertices that make up an object.
Isn't that kind of a biggie? You don't want to waste time learning about vertices through tutorials.
You could do so if you want, but hiring a professional 3D model artist to handle the heavy lifting is better as you're paying for their experience and years of perfecting that skill, not simply their services and time.
You might learn the basics on your own, but what you need is an artist to take your idea to the next level.
Moreover, 3D modeling necessitates the usage of a specific type of computer with specific specifications in order to access the software needed to create projects, which may not be available to you.
So, why don't you hire a skilled artist to bring your concept to life?
There's no better place to look for one than Fiverr. At one point or another, you should have heard or used this platform.

If you're unfamiliar with Fiverr, it's a freelancing website where creatives of all kinds sell their services for as low as $5. There are dozens of outstanding artists who offer design packages at or near this cheap price threshold.
Even better, by simply searching, you can easily find designers there who specialize in 3D modelling.
To do that, you begin by going to the Fiverr homepage and searching for "3D modelling" in the search field. All of the artists who offer 3D modelling services will appear in your search result. Scroll through the results, glance through several portfolios and pick a designer whose style you prefer.
What are the best custom 3D model commission services?
Nothing is more frustrating than investing time and money into hiring someone only to have the final output fall short of your expectations. Entrusting your project's design to an artist is a huge step in the development process.
While there are several 3D modelers offering their creative services on the platform, we've combed through to find five of the finest for hire based on our experience. Each with their own style and niche, Packages to meet a variety of budgets and delivery limits.
You won't have to compromise quality for cost when you work with these professionals:
1. Zhoso_designs – Best 3D Model Commissions for 3D Printing Projects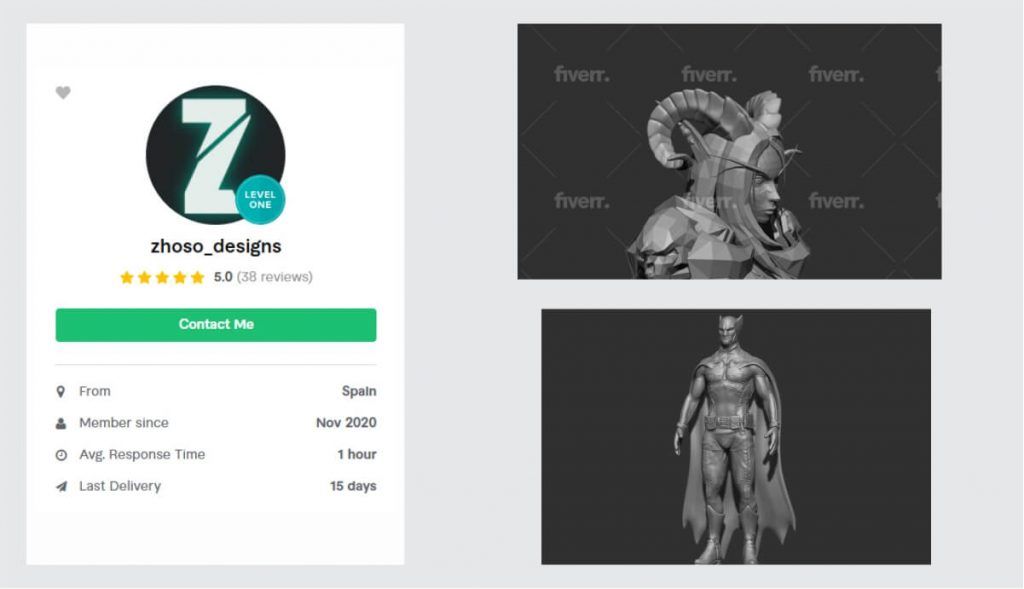 Do you require 3D modeling of characters or products for 3D printing? Miguel is the best candidate for the job.
Miguel is a rising talent artist that is just getting started on the platform and has already risen to the top of the rankings with 40 5-star reviews. He's a seasoned 3D designer with extensive experience in product design, manufacturing, 3D modeling, rendering, and 3D printing.
He does not have a set pricing as it varies depending on the complexity of the project. As a result, you must first contact him to discuss your order before he can access and draft your custom offer.
You can expect a response within an hour, as it is his average response time.
2. hamzapervez91 – Top Rated Seller with Academic Credentials
Hamza is a top-rated seller as well as a Fiverr choice, holding two important roles as a proficient seller on Fiverr.
They essentially provide 3D cad modeling and product design on the platform using SolidWorks CAD software, and they guarantee to give all important CAD files that will be required, all of which can be simply opened on other CAD software.
With prices ranging from $75 to $500, you can get a fantastic 3d model of your ideas in 7-14 days. T
hey also prefer to talk about the project with you before you place an order. Send Hamza a message to talk about your concept, and you'll hear back within an hour.
3. Latuarifian – A Seasoned 3D Character Generalist & 2D illustrator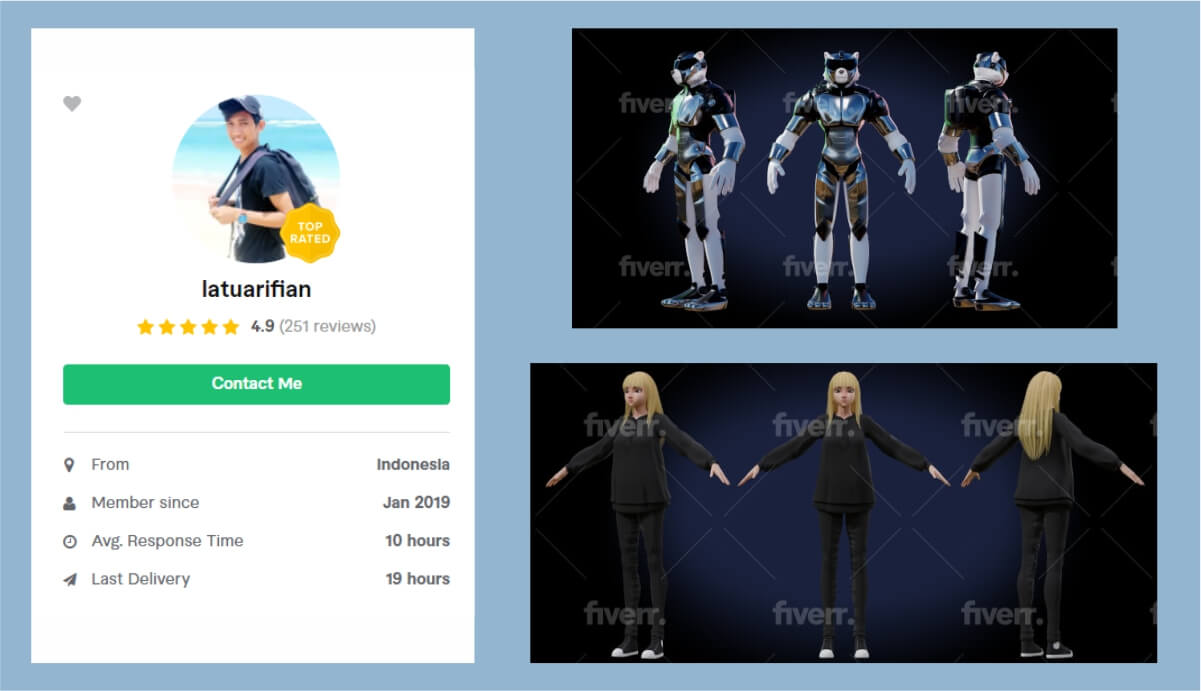 Latu is a top-rated seller with over 200 positive feedbacks, he specializes in 3D character design, film animation, game assets, 3D printing, and other related services. Using the blender software and assuring that the finished project will be supported on other software's.
With a pricing range of $80-$300, you can expect a low-poly to high-poly 3d modeling in 3-4 days, with two revisions. If needed, he also provides 2D services.
4. Khaledreese – 3D Product Render Expert with Premium Pricing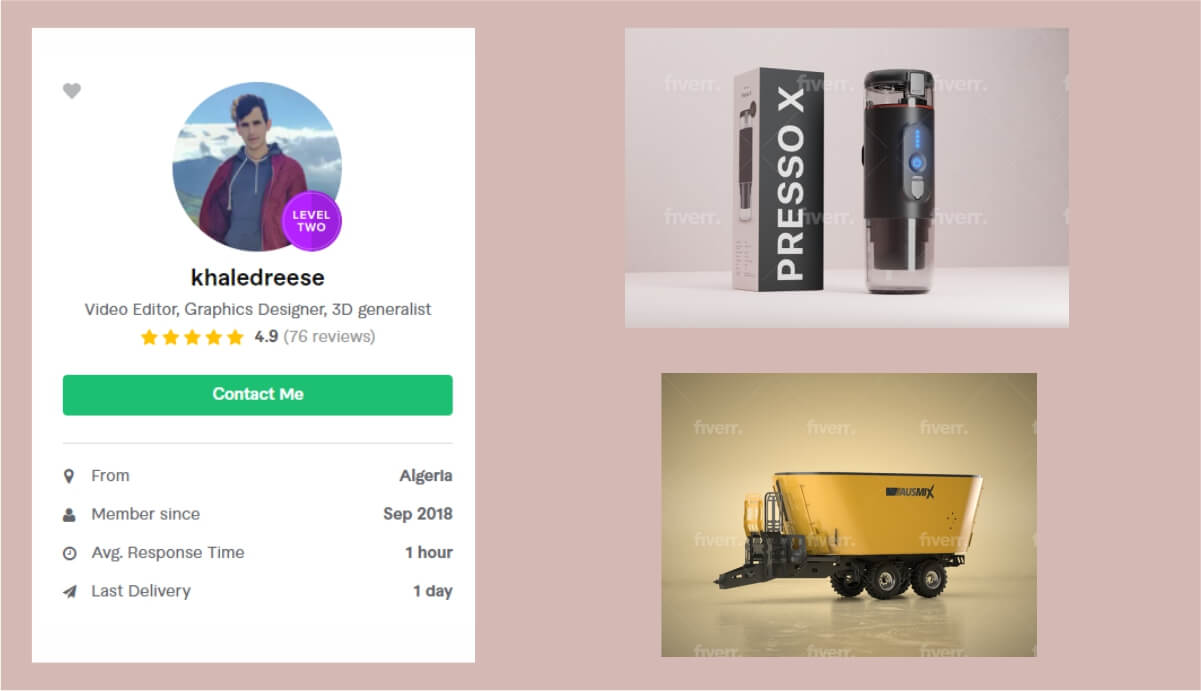 Khaled is an expert in 3D product rendering, if you're looking to start a Kickstarter campaign, realistic renders. He's the ideal guy for the job. if requested, he also offers 360° and custom freestyle videos to the renders.
He's a level two seller with outstanding positive feedback, as evidenced by the sellers' extensive reviews commending his work and recommending him. Only a pleased customer will do so, which implies Khaled makes his clients happy with his services.
Although his prices are a little on the high side, ranging from $500 to $700, the end results, however, are well worth it.
This is a good option if you have a higher budget and want a high-quality 3D product rendering. In addition, he stated in his gig description that the pricing varies depending on the complexity of the project.
So, drop him a message to discuss your project, and you might not end up having to pay $500, you'll get a response within an hour.
5. myslim47 – An Experienced Architectural based 3D artist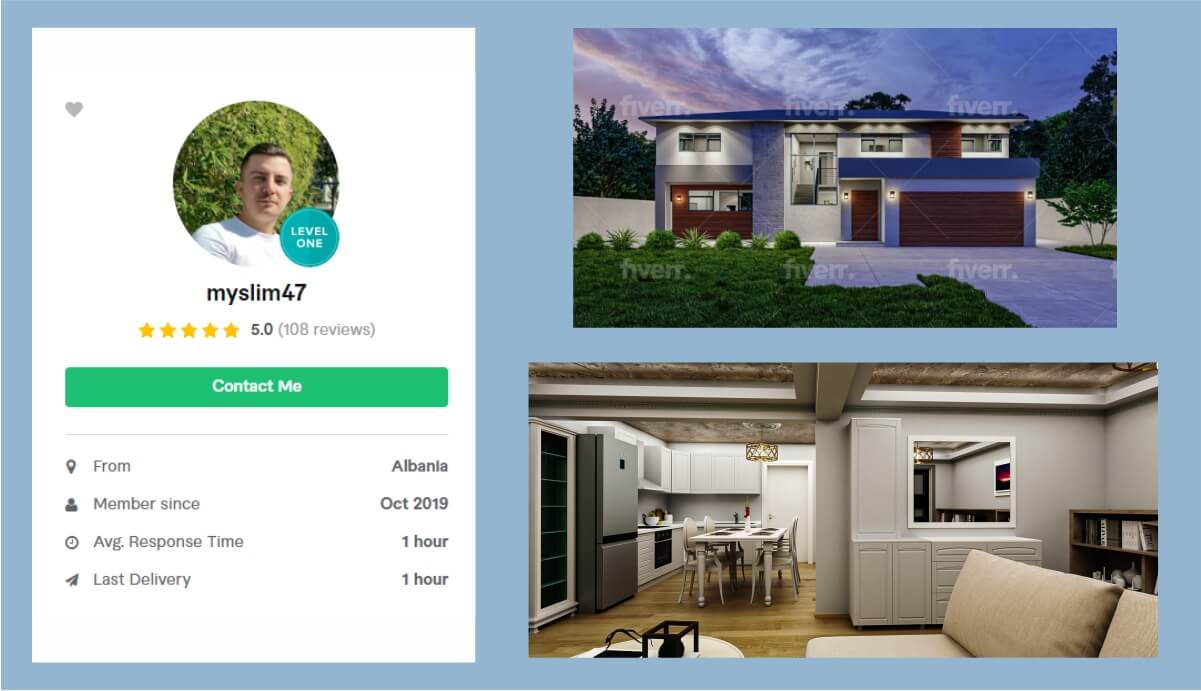 myslim47 is a licensed architect who specializes in architectural services ranging from 2D plan drafting to 3D modeling and realistic rendering on the platform.
With prices ranging from $30 to $140, you will get a detailed rendering of a building or apartment in 5 to 14 days, with revisions.
Get in touch with myslim47 if you need architectural related service and you'll receive a response within an hour.
What is the cost of 3D model commissions?
A 3D model commission can cost anywhere from $20 for cheap models made by new designers, up to $10,000 per model from experienced 3D modelers for very advanced designs.
The exact pricing depends on factors such as the complexity of the model, the number of details the artists needs to create and the delivery length.
All of the artists we have mentioned above fit this price range, and I wouldn't advise you to deviate from those prices. The quality you'd get from any of those artists is more than enough, based on my experience.