Last Updated on December 31, 2022
Do you know It isn't just about the number of followers you have when vast majority of them are ghost followers that aren't contributing anything to your brand?
Are you also aware that every inactive Instagram followers significantly reduces the visibility of your posts?
When an inactive or bot account views your content without engaging, Instagram's algorithm deems that it isn't worthy of interaction, reducing the number of people that can see it.
In this post, we'll go over everything you need to know about ghost followers, including how to safely remove them from your Instagram account.
What is a Ghost Follower?
Ghost followers are users on social media platforms who remain inactive or do not engage in any activity whatsoever. No liking, commenting, messaging or posting, Nothing!
They're basically lurkers, made by real people who don't use their accounts for whatever reason. However, they're frequently social bots that don't have any real users behind them.
At some point, every account will attract a certain number of ghost followers. Hence, why you need to get rid of them to increase engagement and grow your account organically.
How To Remove Ghost Followers on Instagram?
Follow the methods mentioned below to identify and learn how to get rid of ghost followers on Instagram in 2023:
Without providing any login details, you can hire a professional to safely remove ALL of your Instagram ghost followers.
I personally use the Fiverr marketplace, and I'll be sharing the freelancer that handles my ghost removal projects.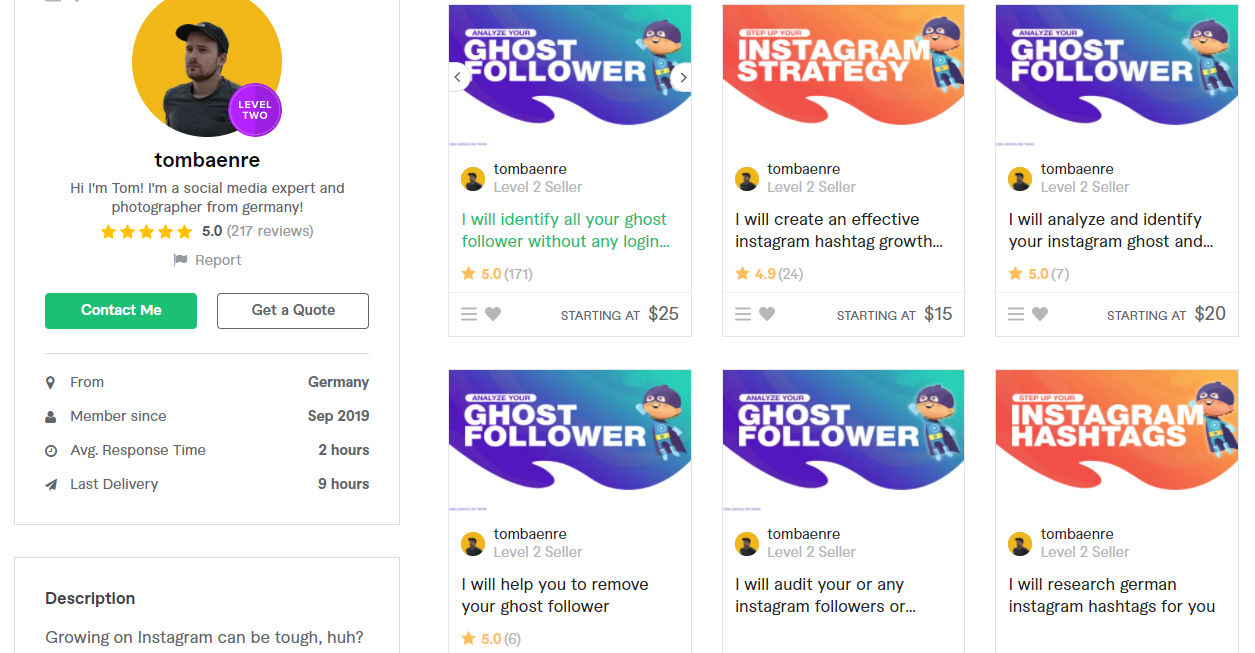 Tom is a social media expert and content creator with over 200 positive reviews. He is a level two seller with a team that specializes in creating valuable and industry-leading insights based on public data, which eliminates the need for login information and ensures that his services are completely safe and thorough.
His gig includes a detailed report on ghost followers that aren't engaging with your account without requiring any login information; all that is required is your Instagram username.
After placing an order for one of the packages, they'll use their self-developed algorithm that is 100% safe for your account to analyze all of your followers and show up every user who hasn't interacted with at least one of your recent 40 posts.
Upon completion, you will receive a detailed datasheet with all the data needed to manually remove within your account.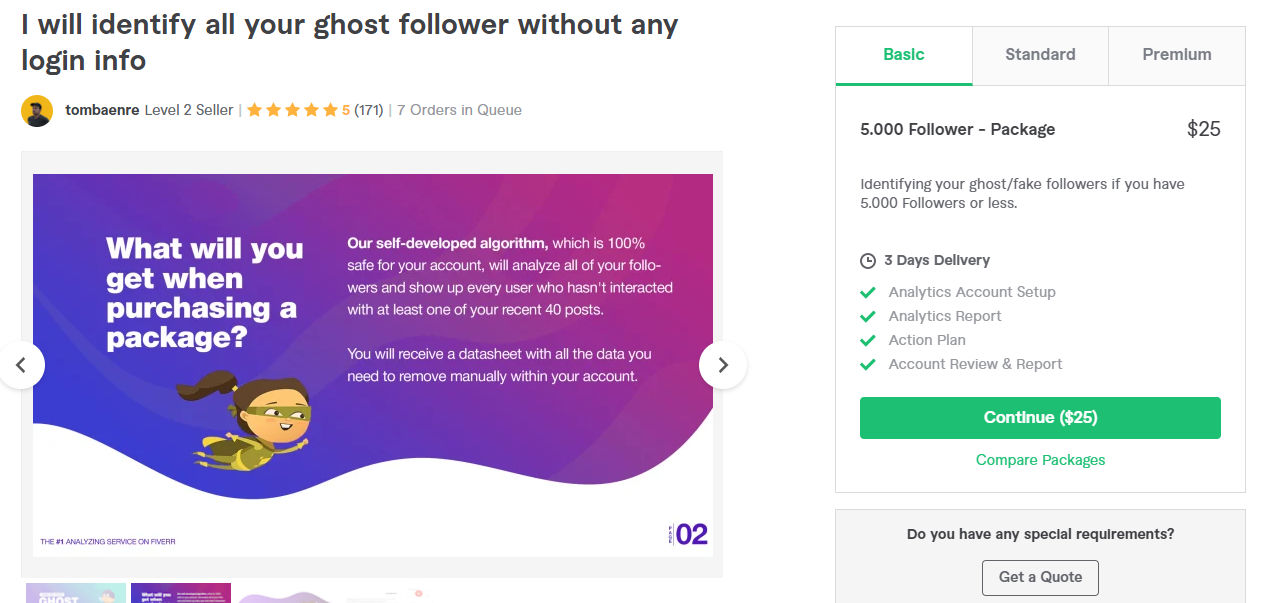 His prices are quite budget-friendly, ranging from $25 to $70, and delivery takes anywhere from 3 to 7 days, depending on the number of followers on the account, which ranges from 2,000 to 20,000.
Also, he's willing to work on accounts with more than 20k followers, so get in touch with him for a custom offer. His services are 100% safe as I've used them countless times.
Tom stands out from his competitors as he provides manual pure list while other services usually advocate for bots or some type of automation that would require you to hand over your login information, which isn't SAFE!
Contact Tom today to order his service.
2. Do it yourself
This might sound difficult, especially if you have thousands of Instagram followers, but the best way to safely delete Instagram ghost followers if you're not looking to a hire a professional is to browse through your followers list one by one and unfollow anyone who appears suspicious.
It's also ideal to limit yourself to no more than 30 forced unfollows per hour (in order to avoid triggering the app's sensitive algorithm for suspicious activity).
The Instagram algorithm is getting tougher by the year. You can also skim through your followers to see who hasn't liked or commented on any of your photographs and unfollow them.
Removing over 20,000 followers one by one?! Isn't there an app or anything for that? Yes, indeed, however, we DON'T recommend it.
Avoid ghost follower apps at all cost! While they claim to detect and remove ghost followers, linking your account to that type of software may result in you being prohibited from certain actions or worse, your account being banned, which you don't want.
Be aware that Instagram despises third-party apps that aren't verified.
How to Avoid Instagram Ghost Followers?
Setting your profile to private, which requires you to accept each new follower request, is the only way to entirely prevent bots and fakes from following your Instagram account.
If you don't feel comfortable doing this, probably because you run a business or something. There are other steps you can take (or avoid) to limit the number of ghostly followers on your account:
1) Stay clear from buying / using an Instagram account with pre-existing followers
Although there are agencies that sell Instagram accounts with followers, buying an existing account will not give you a head start. All of those followers are most likely bot-created identities, which you want to avoid.
2) Avoid paying for followers
As I made mention in the beginning of the article "It isn't just about the overall number of followers you have".
Paying for followers is essentially buying inactive Instagram followers, so resist the urge and focus on organically growing your account.
3) Don't pay for engagement
Some users choose to buy likes, comments, and Instagram Story views in order to increase their engagement rate. While this may temporarily improve your KPIs, it is not a long-term strategy, and you will soon find yourself back where you began.
Does Removing Ghost Followers Help?
Yes, removing ghost followers can help in multiple ways. Any increase in your organic engagement (that goes down the more inactive and bot accounts you have following you), would result in growth and fast expansion of your account's audience reach.
Brands and businesses that are focused on producing authentic engagement and gaining actual followers must solve their ghost follower issue in order to improve their outcomes.
How Ghost Followers Affect Influencers?
Ultimately, brands partner with influencers to reach an audience that is interested in their product and, hopefully, willing to buy it.
Having a large number of followers may first attract different types partners. Reputable brands, on the other hand, will definitely notice the difference in engagement rate to followers count.
If an influencer's numbers appear to be polluted by ghost activity, they may lose out on partnership opportunities.
As a result, if you're just getting started as an influencer, it's best to grow your account organically in order to secure lucrative partnership offers.