Last Updated on April 29, 2023
YouTube is an ever-changing and evolving platform. Topics and categories that worked a year ago may not work at all today.
To stay on top of your game as a content creator, you need to find the hottest trending niches that are doing the best on YouTube right now.
If you are looking for a fresh list of hot YouTube topics, keep reading!
What Niches Are Trending On YouTube?
We have analyzed hundreds of YouTube channels for our CPM research, and we are going to use this opportunity to share with you the fastest-growing niches on YouTube:
1. Among Us (Gaming)
One of the hottest trends for the last couple of months is a game called "Among Us".
This little party and deception game, developed by a company called InnerSloth, got released in 2018 but gain extreme amount of traction lately in a very short period of time.
It is currently one of the most popular games in terms of viewership on Twitch, the gaming streaming platform.
Its quick rise to glory is attributed mostly to big gaming Youtubers and streamer personalities such as Disguised Toast, Pokimane and Pewdiepie.
They all play the game consistently, with their videos becoming bigger and bigger hits as the time goes by.
For example: looking at Disguised Toast's channel, he uploaded his first YouTube video playing Among Us on August 8th and it reached just a little bit over 2 million views.
For comparison, one of his recent videos from September 13th have over 5,800,000 views:
Looking at his channel stats from Socialblade portrays the popularity of this trend even better: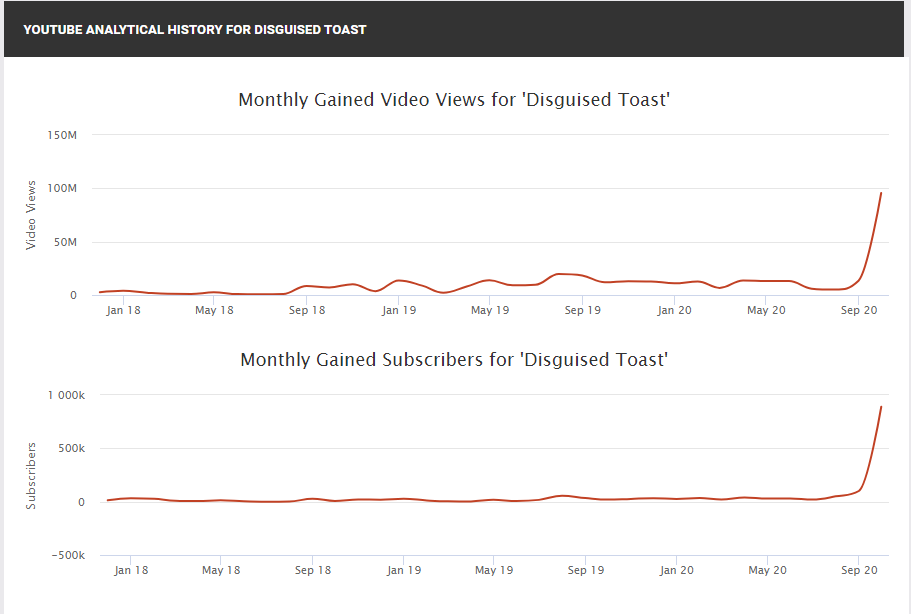 For the whole month of September his total video views count is 95 million (!), compared to 13 million in the month prior to that.
His monthly gained subscribers flew up from 100,000 in August to 850,000 in September.
Those stats are just crazy, and indicate this trend is still going strong.
2. How To Make Money Online
With Covid-19 affecting the lives of millions of people worldwide, more and more are looking for extra income online.
And with video being one of the easiest ways to pass on knowledge, hundreds of different channels on the make money online niche are growing extremely fast right now.
The cool thing about this niche in particular is that there are so many different topics you can create content about:
How to start a blog
How to start and grow a Youtube channel
Work from home jobs
Freelancing advice
Starting a drop shipping store
Key example from the niche: Cathrin Manning's channel is all about growing your online presence using YouTube.
Since the pandemic have started, she experienced a huge growth in terms of both viewers and subscribers, as you can see in the graph below: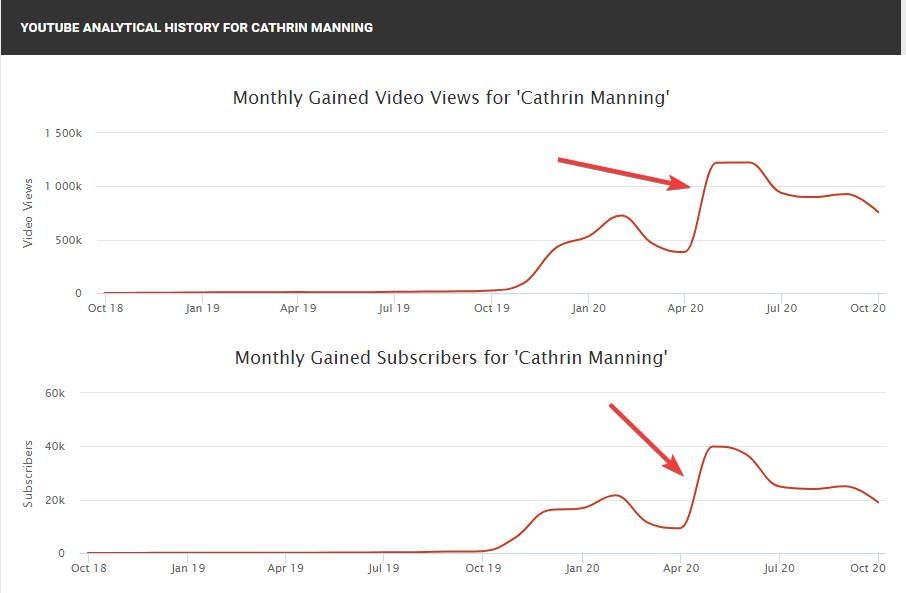 3. Reaction Videos
It seems like new reaction channels are popping out of nowhere every single day on YouTube, and there's a clear reason behind it.
Reaction videos just work.
They are a relatively easy type of content to produce, with a well known format that most big channels use.
There are two important strategies to use if you plan to start a reaction channel on your own:
1) Focus on a specific topic –
when starting out with a reaction channel, you do not have a big enough following to branch out to multiple different topics.
Therefore, you have to focus on a specific topic to ensure you stand out.
It can be music, anime, motivation, etc. Just choose a specific niche and stick to it, at least for the first few months of your channel.
2) React to established videos that already had a viral reaction video –
this strategy requires a bit of an explanation so I'd use an example to showcase exactly what I mean.
Let's assume you have a channel about reacting to music videos.
To find suitable reaction videos that would get you good number of views, you go to YouTube and search for popular reaction videos: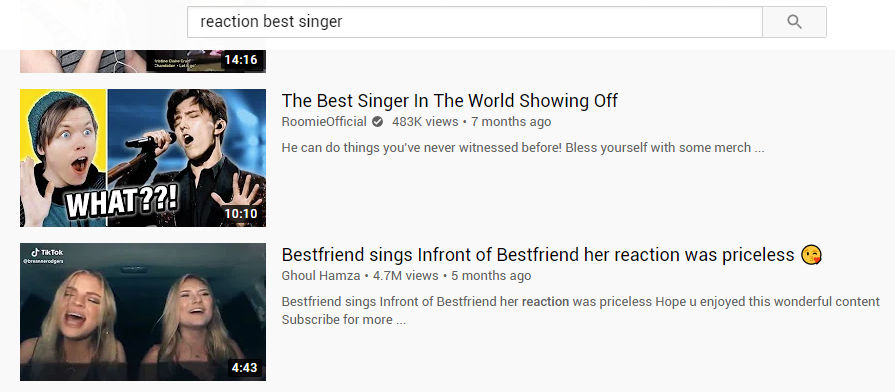 As you can see, we found a reaction video to the so-called "Best singer in the world". A bit of research and we find his name – Dimash Kudaibergen.
Searching his name on YouTube show up several viral reactions with millions of views: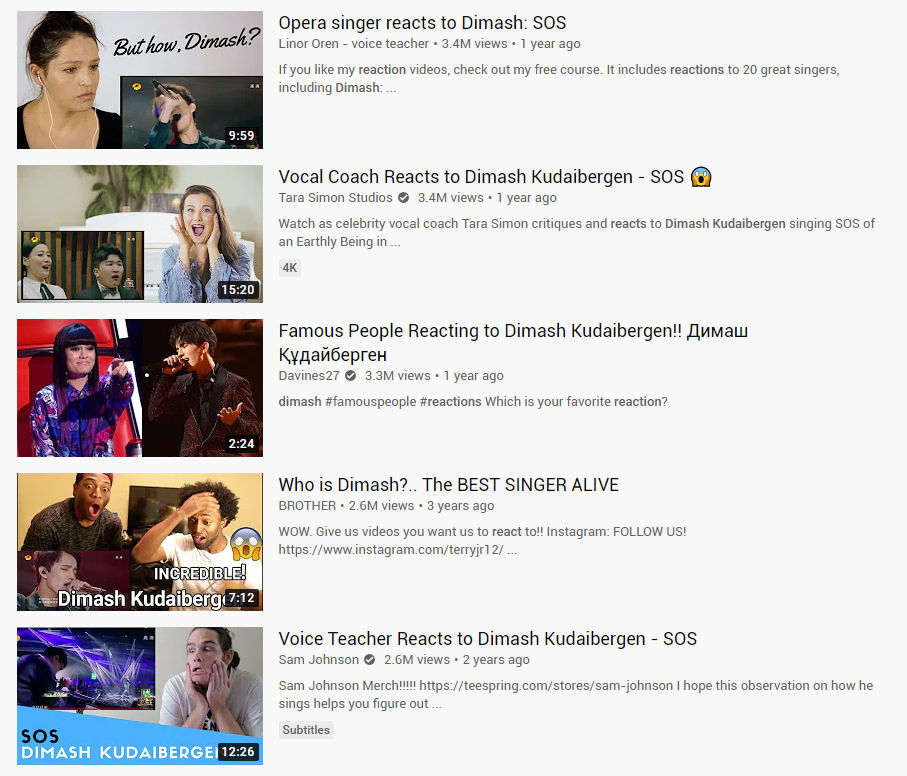 Now comes the interesting part of the strategy. click on one of those viral videos and look at the "up next" sidebar on the right side of the page: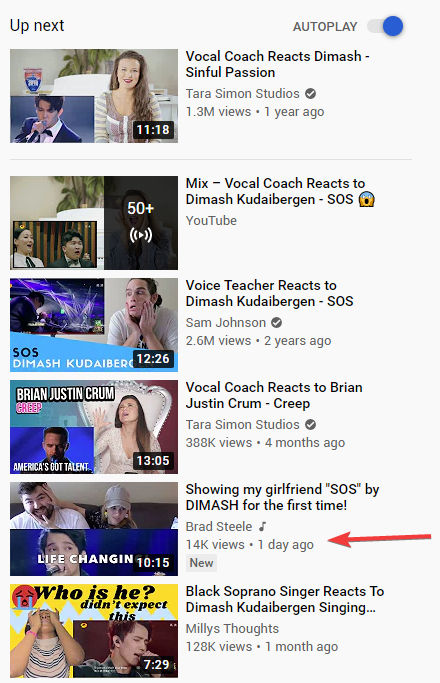 As you can see, one of the suggested videos showing up there got only 14K views, compared to the other much bigger videos.
This is the secret to success as a reaction channel – making sure your video is getting suggested on other related videos of bigger channels.
And the way to do it?
Consistently produce reaction videos that follow exactly what the top channels on your niche do, and eventually your videos would show up there as well.
4. Bardcore (Music)
It may be my own personal preference, but I had to throw this niche into the mix.
Bardcore (sometimes referred to as "tavernwave") is a new emerging genre of music.
It mainly features medieval inspired covers of popular modern pop songs.
Those type of covers blew up on Youtube this year and now you can find hundreds of channels featuring them.
The origin of bardcore is associated mostly with a Youtuber called "Cornelius Link".
On 20 April 2020, he released a medieval cover to the song "Astronomia" (originally by Tony Igy). This cover version currently have over 3.2 million views:
5. I Hired On Fiverr Videos
This trend blew up originally in 2019, but from the numbers I have gathered it seems like Fiverr videos are still going strong on Youtube this year.
Regardless of your specific niche, the Fiverr marketplace just fits extremely well with content creators:
Key example in the niche:
Shelby Church, a big youtuber in the content creation niche, recently published a video showing how you can use Fiverr to improve your video creation process.