Last Updated on September 4, 2022
If you have any experience in producing your own tracks, you are probably aware of how hard and taxing job it is.
It requires investing countless hours editing every single line, and frankly speaking – if you are not a professional the end result is usually not that good.
Getting the mixing and mastering of your track done by a professional can be an awesome experience, but how can you find the right freelancer?
In this guide, we have researched and ranked the best mixing and mastering service providers to help you pick the best one for you and your genre, while saving you the most amount of money.
Lets get started!
What Are The Best Mixing And Mastering Services Online?
Here are our top picks for the best mixing and mastering services to use this year:
1.

Kingsview Sound

– Best overall mixing service ($100)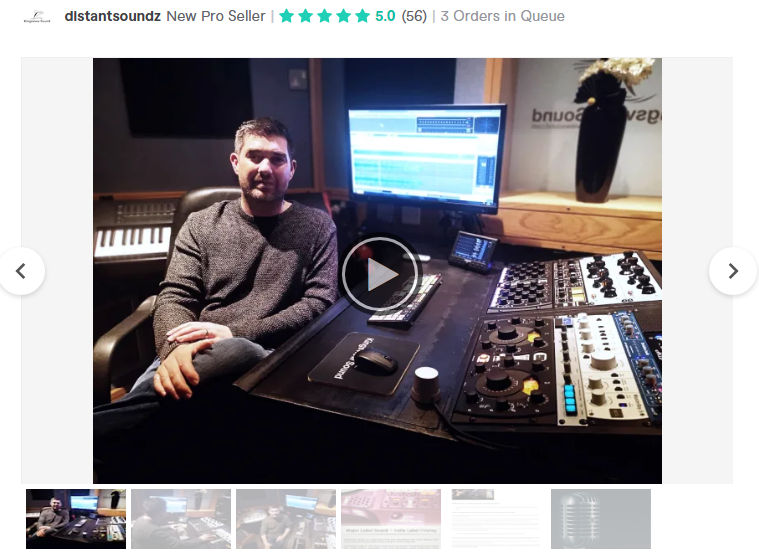 Kingsview Sound (Also called "Distantsoundz) is a professional studio based in Essex in the UK. The studio is excellent with state of the art equipment for Mixing and Mastering the right sound for you.  
They have previously worked on projects that have been heard on various public channels like MTV and the UK national radio. In 2020, they worked with some wonderful artists like Lenny Fontana, Rozalla, and Chris Willis to Mix and Master some of their great music.
They have also Mixed and Mastered for some of the business's biggest companies like Warner Music and Sony. Having an excellent base in their studio, they now offer the same services directly on Fiverr.
Key Features:
Fiverr Pro Verified Mixing and Mastering Service

Loyal, high-profile client base

Mixing and Mastering in state of the art studio with high-end equipment
Pros:
Polite and Communicative service

Great quality

Clear, powerful sound

Price packages to suit your needs
Pricing:
They offer Mixing and Mastering services that are priced at a single song. These come in 3 packages. The first one is the basic plan that offers 4 Stem Max Mixing and Mastering Services. This is priced at $100. They offer Mixing, Mastering, HQ Audio File, and Analog Gear and is delivered in 5 days.
The same services are offered in 8 Stem Max Standard plan that takes 7 days for delivery. It is priced at $150. Both of these offer 1 revision. There is also the Premium service offered at 20 Stem Max. This is delivered in 10 days and is priced at $250. This also includes 2 revisions.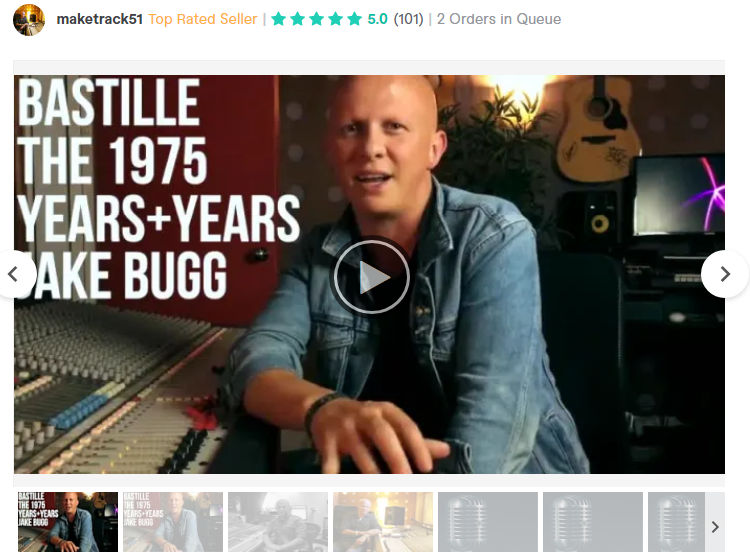 If you have been looking for a superior Mixing and Mastering Service, maketrack51 is a wonderful option. Here's what you should know about him.
Going by the name maketrack51, he is a professional freelancing engineer who can deliver industry-standard tracks for you. He works at various studios across the UK and knows just how to deliver a superior mix for your needs.
For this engineer, music is his profession and hobby, and all his tracks reflect just this. Having worked with industry names like Bastille, 1975, and Years and Years, you can only expect the best from maketrack51.
If you know that your song is great, the right processing can make all the difference. This service understands just this and is invested in bringing your vocals to the right level and ensuring that the bass sits well on the groove.
With great equipment like the SSL 500series Bus Compressor and Neve 1073 PreAmps, you can expect well-mixed tracks for all your songs.
Key Features:
Fiverr pro approved in Mixing and Mastering Services

Mixing and Mastering for HQ audio file

Analog service with great equipment

Digital Plugins for awesome sound
Pros:
Quick response within 3 hours on an average

Responds to all queries on email

Great final products

A good number of revisions for price

Good feedback
Pricing:
With maketrack51, you can choose from three different plans. He provides the basic plan with 6 stems digital mixing for $140. With this, you can expect Mixing and Mastering Services for one song and an HQ audio file in 4 days. There are also 2 revisions available.
You can opt for the standard package of $295 that offers 16 stem analog mixing delivered in 5 days. Mixing and Mastering Services are offered for 1 song with HQ audio file and analog gear. Also on offer are 3 revisions.
Finally, there is the premium package at $495. The services offered are the same as the standard package with an additional project file and unlimited stems. This also comes with 5 revisions. You can opt for a package that is suited to your needs.
3.

erafoos

– Most Affordable High Quality Mastering Service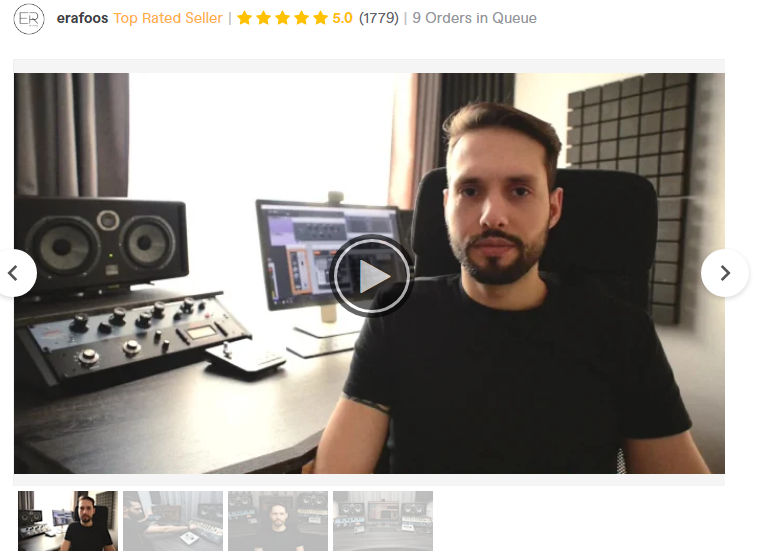 If you're looking for Mixing and Mastering Service with a good label backing them, Roman (Erafoos) can be your ideal option. Read ahead to know more about is services.
Overview
Roman is a Mixing, and Mastering engineer signed at Universal Music Poland. Since 2007, he has been mixing some great music across genres. Whether you're looking to mix pop, folk, rock, or reggae, Roman can be your go-to Mixing and Mastering Service.
You can approach Roman even if you are a singer-songwriter and want Mixing and Mastering Services to polish your music for you. In addition to Mixing and Mastering Services, you can also expect vocal timing correction, mastering for vinyl, music promotion and other services for an additional charge.
He is your one-stop service for all your audio needs. With equipment like Reaper 6, Pro Tools 12 HD, and UAD Apollo Twin Duo, you are bound to get quality audio from his service.
Key Features:
Provides additional mastering for vinyl

Signed with Universal Music Poland

Great studio equipment

Provides additional mastering for iTunes and YouTube
Pros:
Quick response time of averaging at an hour

Versatile services

Cost-effective

A good number of revisions
Pricing:
Roman offers three packages with additional special packages for specific needs. Opt for the basic package for tracks up to 3 stems. This is offered at $100 with 3 revisions and is delivered in 3 days. He offers Mixing and Mastering Services with an HQ audio file and analog gear.
You can also opt for the standard package that offers the same services for up to 15 stems and is delivered in 4 days with 4 revisions. The premium package comes at $180 for up to 40 stems for a track. It is delivered in 5 days with 5 revisions.
For all of your versatile Mixing and Mastering needs, kevincarafa can be your go-to service. Here's why you should opt for him:
This engineer has more than 18 years of mixing experience to his name. He offers you versatile services and will tailor that package to suit your specific needs. You won't be charged for anything more than exactly what you need.
He offers services across all genres and offers you unlimited revisions. You won't have to worry about the length of your track or the number of songs either. You can opt for advanced mastering services, FX, and vocal pitch correction at additional costs. His check-list system is designed to keep your needs at the forefront.
Hailing from Portland in Oregon, with Fiverr, kevincarafa is accessible across the world.
Key Features:
Offers extra-quick delivery at additional cost

Good communication

Great for novice singer-songwriters

Skilled and professional service
Pros:
Extremely cost-effective

Unlimited revisions

Customized service

Good customer service
Pricing:
With this Mixing and Mastering Service, the basic package begins a $5. With this, you will get a level adjustment, EQ, and compression. He also offers unlimited revisions, and the package takes 7 days to deliver. However, there are many upgrades available, and this range to finish at about $60.
You can include advanced mastering, automation, vocal pitch correction, and tape. You can also ask for a rush service that will deliver within 3 days. This comes at an additional cost of $30. With several other check-list services, you can get just the service you want.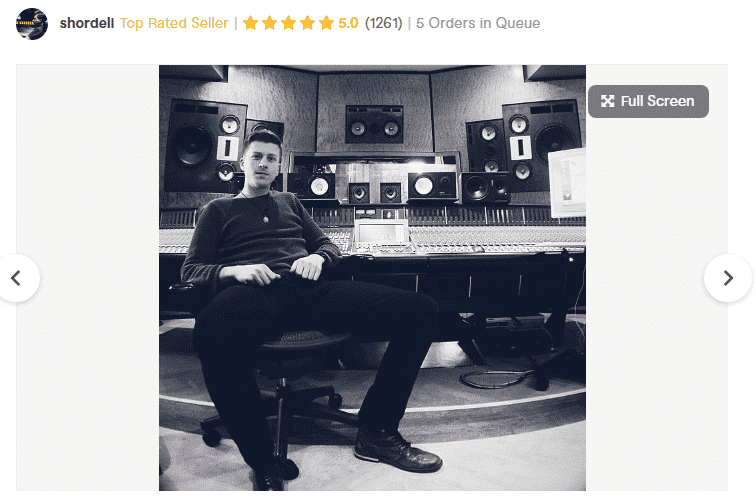 If you're looking for a great Mixing and Mastering Service to deliver your work quickly, shordell may be just right for you. Read ahead to find out what he offers.
Overview
If you're getting your track mixed by Shordell, you should know that your track is in the hands of an ardent music lover. This means that your track will be improved manifold when it is returned to you.
He's been on the industry and the artist's side and knows just how to bridge both to give you the best quality tracks. His work has largely been with independent artists and has taken their work up several notches.
Every song will get individual attention, and no presents are used here. Further, he uses gear that is worth thousands of dollars so that your song gets the best quality treatment. With great pricing options, your songs will be Mixed and Mastered to stand out.
Key Features:
In-depth industry experience

Competitive volumes

World-class digital and analog gear

Professional and skilled service

Music optimized for Apple Music
Pros:
Quick responses

Quick delivery

Unlimited revisions

Individual attention to each track

Great with short songs
Pricing:
Shordell offers three competitive packages with great pricing options. You can opt for the basic package, which includes Mixing and Mastering services for 1 song of 5 stems and is delivered in the HQ audio file. It is delivered in 2 days and uses analog gear.
With the standard package, you get the same services with a delivery time of 4 days. The price is $125, with unlimited revisions for up to 20 stems. You can also opt for the premium package with a 4-day delivery period and is priced at $150 for up to 40 stems.
All of these have an unlimited delivery period. You can get great tracks processed at a good price.
Scott Horton, or shortonpro, is a virtual mix engineer who offers to bring the music on your head into your track. Read ahead to know exactly why you should opt for his Mixing and Mastering Services.
Overview
Scott Horton is at work to give you just the music you want. All of his services will be tailored to fit your needs. With great technical engineering skills and intuition for the best in music, your music will be in good hands.
By coupling these, he merges the science and the art to create some premium sounds. If you're wondering about his qualifications, he is an alumnus of the prestigious Berklee College of Music in Boston.
He has also worked with several artists from across the world to create some wonderful music across genres. Whether it is Pop or EDM, his music resonates differently and uniquely. With services like vocal tuning and sweetening, special effects, and mastering, he will create the kind of music you noticed.
Key Features:
Provides stereo enhancement and special effects

Add emotion and impact to your music

Fiverr Pro verified Mixing and Mastering Services

Music for your singles, band, or films
Pros:
Unique content

Quick response time of 1 hour on average

Great vision

Great portfolio with previous tracks made even for TV series
Pricing:
All of his price packages offer Mixing and Mastering Services of one song in an HQ audio file. You can pick the Mini Mix where 1 or 2 vocal tracks are worked over a pre-mixed beat. It is delivered in 5 days. This is priced at $150.
You can also opt for the Classic Mix for $300. This includes mixing, vocal tuning, and mastering up to 20 tracks with a 6-day delivery time. You can also opt for his Premium Mix for $495 that is delivered in 7 days.
You can get unlimited tracks mixed here, and he will also offer his expertise on alternate versions. In all, his packages are a great option if you want to create a unique set-up.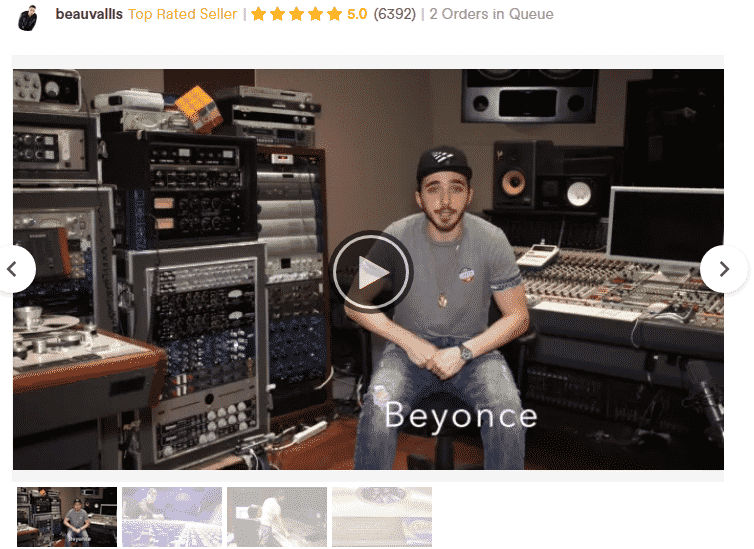 If you are looking for a Mixing and Mastering Service with excellent credentials, Beauvallis is just right for you. Here is what you should know about his services.
Overview
If you haven't heard yet, Beauvallis is a Grammy-nominated Mixer. He is also a songwriter and producer and has worked with artists like Pharrell, Lil Wayne, and Kelly Rowland. These are some of the industry's best names, and he has made excellent music with them.
When you opt for him, he can bring the same mastery to your tracks. Before you order, make sure to reach out to him first. He will look at your files and the genre you are working for and approve them for you.
There is no bias in his work. He will use the best of his gear that he also uses with his high profile clients with the same attention given to your music. Do make sure that your songs are under 4 minutes and 20 seconds.
He will also auto-tune your music and correct time and pitch.
Key Features:
Special attention to each gig

Excellent clientele list

Mastering full mix files

Wonderful work in Jazz, Hip-hop, and Rock
Pros:
Great quality records

24/7 customer service for your track

Free Mastering

Great value for money
Pricing:
Beauvallis offers three excellent, competitive packages for you. It begins with the Gold Package that is priced at $25 with 3 deliveries and 3 revisions. This includes Mixing and Mastering Services for 1 song in HQ audio file for 4 stems max.
There is the Platinum Package for 10 stems pack with the same services with 3-day delivery and 3 revisions. This is offered at $50.
Finally, there is the Diamond Package with unlimited stems and unlimited delivery time at $195 stems. With Beauvallis, you may just get a record deal.
Now that we've given you an overview of our 7 best Mixing and Mastering Services, here is what you should know about the service itself. Read ahead to find out.
Is Mixing the Same as Mastering?
Mixing and Mastering are different services each. With mixing, several multi-track individual files are taken and blended. These include snares, guitar, and vocals, among others. This is an initial process after you have recorded your song and can take up some time.
With Mixing, individual instruments are separately balanced. You will be taking multiple elements and bringing them together so that they make sense.
On the other hand, Mastering takes care of the final touches on your track. It makes the song itself sound great and can even bring cohesiveness between songs.
It is the final stage of the music production service. Here, a single audio file that is already mixed is worked on to fine-tune your track so that it is ready to be consumed. Together, both can make a world of difference to your music.
How To Choose The Best Mixing and Mastering Service For Your Song?
When you pick the best Mixing and Mastering Services for you, there are a few things that you will have to consider. One of the most important factors is pricing. Some engineers will offer you very low prices of about $5 but are highly selective about their clientele.
Others offer packages that even reach $600. It is best to note your budget down first.
Once you've done this, take a look at the genres they work in. Some engineers, like Beauvallis, suggest that they are not very well-versed with genres like EDM. If your track is EDM, you can pick another engineer that knows your genre best.
Beauvallis does great work with Hip-hop and pop, and so do other engineers like kevincarafa. Speak to them once before you submit your track. You will also want to keep track of the delivery time. If you want your track Mixed and Mastered quickly, look for engineers who offer faster delivery at additional costs.
Another factor to keep in mind is the music platform you intend to use for your songs. SoundCloud, for example, might require a different set of mixing than Spotify.
Also, take note of the customer service of each engineer. Shorter response time means that your communication will be great.