Last Updated on December 19, 2021
Are you looking to drastically improve the quality of your images? Looking for someone to edit your photos and give them the final touch they deserve?
If you have answered yes to the questions above, then you definitely need a photo retouching service.
The only problem is that there are hundreds of photo retouching services available online, so how can you pick the best one?
Well, we did all of the hard work for you. We have reviewed over 20 different photo retouching services over the last few months.
In this guide, we have ranked the best photo retouching service providers in order to help you pick the best one for your needs, while saving you the most amount of money.
What Are the Best Photo Retouching Services?
Listed below is a detailed review of the best photo retouching services and the best photo retouching companies, based on our experience:
1. Teodor Sirbu – Best High-End Photo Retouching Service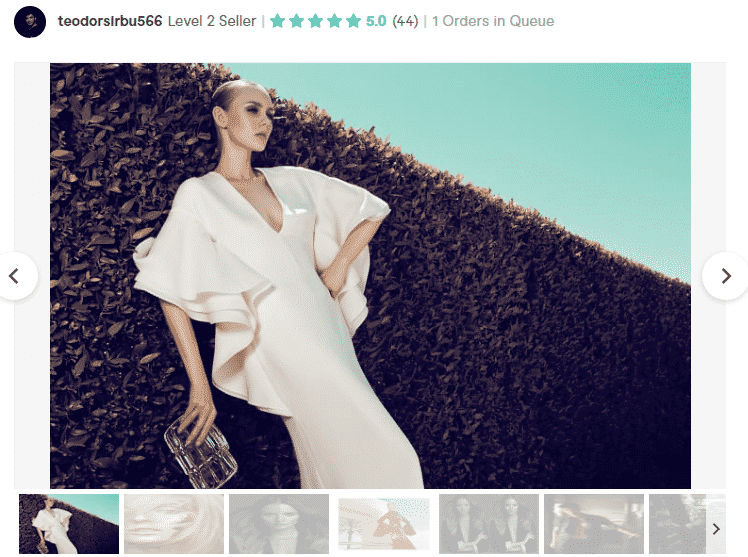 If you're looking for a professional magazine quality retouching service, Theodor Sirbu would definitely meet your needs. This twenty-seven-year-old Romanian professional retoucher will take an image and turn it into a glamorous product. 
Teodor Sirbu is a Fiverr Pro-verified for Photoshop editing. His clients universally appreciate his image enhancement and retouching. He takes RAW images, and with his experienced ability, creates natural and beautiful imagery. The quality and mood of the photos are exceptionally retained in the process. 
He uses the best techniques to rework his clients' photos and brings them to life. He recognizes that the best results are moot if they are not in accordance with the client's vision of the final product. Resultingly, he prefers discussing with the client about their expectations of the reworked and final image. This helps the service provider and the client be on the same page.  
Teodor has a vast experience in the photography domain of fashion and beauty. His work has gained his recognition from capital magazines like Velvel, Elle, L'Officiel, Marie Claire, and Adama&Eve.  His portfolio also registers eminent fashion brands like D&G, Kenzo, Cartier, Gucci, and Burberry. 
Key Features:
Professional fashion and beauty photography retouching and enhancing

Excellent color correction and color grading

Magazine grade skin retouching

Communication about result expectation
Pros:
Professional magazine-quality retouching

Recognized by major fashion magazines and brands

Highly experienced professional retoucher

Retains the quality and mood of photos

Pro-verified for Photoshop editing

Communication with the client to provide the best results

Confidentiality
Pricing:
The basic package costs $100, which includes retouching of 1 image with 2 revisions. The final image is provided in high resolution and can be used for commercial purposes. The standard delivery time of this package is 3 days. 
Sirbu's standard package costs $270, which includes retouching of 3 images with 3 revisions. The final product will be in high resolution and can be used for commercial purposes. The standard delivery time of this package is 5 days. 
The premium package costs $480, which includes retouching of 6 images with 5 revisions. The final product will be in high resolution and can be used for commercial purposes, and the source file will be provided. The standard delivery time of this package is 6 days.
2. Aric C. Hoek – Best Portrait Retouching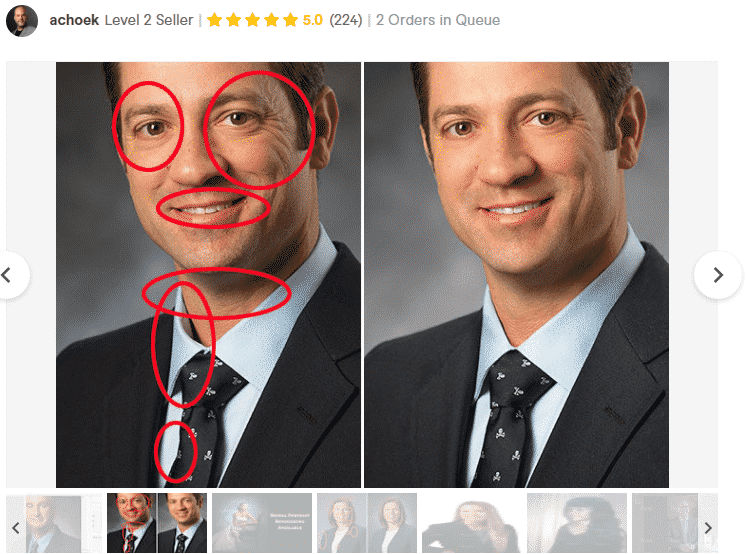 If you're looking forward to looking spectacular in your resume, Aric C. Hoek is the person for you. Aric is a Business and Executive headshot portrait specialist from the United States. Do not worry about lacking the professional aesthetic in your professional profile if you're getting your portrait shots retouched by Aric.
Aric holds a bachelor's degree in Fine Arts and has vast experience in retouching business portraits. He is a high-end specialist, recognized thrice as Houston's Photographer of the Year. Since 1986, he has earned great respect and name in the world of professional photography. 
Aric creates and delivers enhanced and retouched business headshots to top executives in Houston. Even though he specializes in business headshot retouching, he can bring life to all kinds of headshots. 
With his professional editing tools, Aric will make your portraits brighter and will make them shine. The result will be digitally retouched without changing the subject's appearance. The resultant picture will not make you look like a different person, and nobody would tell the difference. However, you will still look more radiant and professional.
Key Features:
Professional business headshot photography retouching and enhancement 

Wonderful skin retouching and smoothening

Executive degree portrait enhancement
Pros:
Price adjustability for bulk order

Professional executive grade retouching

Retains picture quality and subject personality

Extremely experienced

Price at par with results
Pricing:
Aric's basic package costs $25 for one picture. It includes light facial retouching, hair smoothening along with skin, eye, and teeth enhancements. The result will be in high resolution and can be of commercial use. The average delivery time is 2 days and allows 2 revisions.  
The standard package costs $35 for one picture. It includes detailed hair and skin enhancements along with basic Pkg. It will also buy you 3D eye effects and an option to get smile adjustments. The result will be in high resolution and can be used for commercial purposes. The standard delivery time is 2 days and allows 2 revisions.
The premium package costs $60 for one picture. It includes standard pkg, slimming, glass glare, 5 o'clock shadow, and adjustment in clothes. This will also buy you a correction of lazy eye and double chin. Goes without saying, the result will be in high resolution and will be suitable for commercial use. The standard delivery time is 1 day and allows 3 revisions. 
3. Ammar Munshi – Most Affordable Photo Retouching Service
It is not necessary to dig a hole in your pocket to get a professional-grade enhancement done. Ammar Munshi, an Indian photoshop artist, proves that professional photo enhancement does not have to be an expensive ordeal. 
With exceptional skills in photoshop editing, Ammar Munshi will satisfy your photo retouching and enhancement needs. His range is extremely versatile. He can enhance any kind of photo, provided it is given to him in a high resolution. 
This photo retouching service provider is very open to communication and will ensure that you get the result you had envisioned. He also makes sure that the picture you receive is high resolution since the image quality will not drop in the editing process.
Correction of facial elements and other bodily features is his expertise. He can also add or remove people or objects in the picture background. He does so in a way that the extra background or the added object does not look out of place. 
Key Features:
Professional-grade skin smoothening without any loss to the texture of the skin.

Facial enhancements, including makeup enhancement and color adjustment.

Seamless additions or removals from the background of the image.

Complete body enhancement and retouching
Pros:
Extremely pocket friendly

Excellent communication

Unlimited revisions

Quick delivery period 

Abundant customer satisfaction
Pricing:
Ammar provides wonderful photo retouching services at the most affordable price possible. He provides basic professional retouching on 1 photo for $10. His basic package includes basic body retouch and basic edits to the background of the photo.
For $15, his standard package includes advanced background and body retouch along with basic color correction on one image. His premium package provides magazine quality results. The $20 package will buy you a detailed body retouch along with color correction from Adobe Lightroom. You will have to provide Ammar with a RAW image for this quality of the result. 
4. Alexander (gudlmov) – Fantasy Retouching Service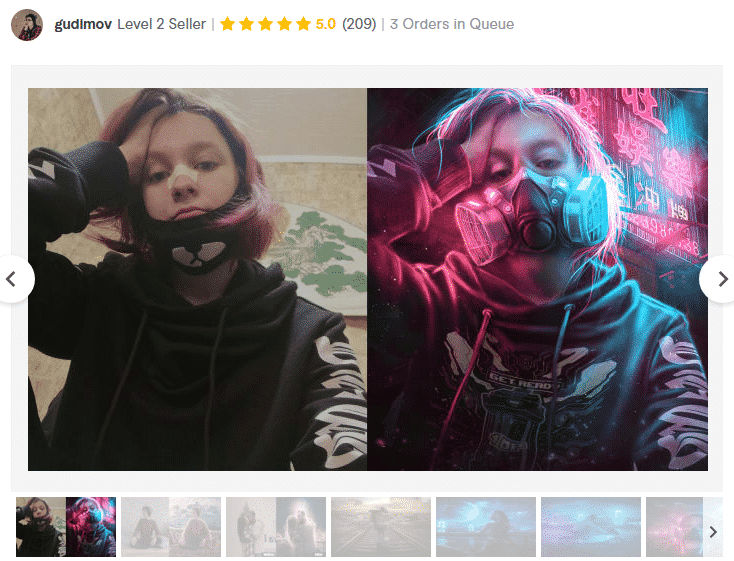 If you are a fan of fantasy art and fiction, you would have, at some point, wanted to look like you belong to a fantasy world. If so, you can make that happen by hiring Alexander's services. 
This professional photo retouching provider will take your simple photo and revamp it into something fanciful. His result picture will look out worldly and will gain you extra attention and glamour. 
Alexander used strong tools to retouch pictures. With his services, be assured that you will not lose your pictures' resolution and will retain subject recognizability. High-end skin retouching and professional photo manipulation is his expertise.
Along with photo manipulation services, Alexander also designs logos and professional banners, which increase your image's professionalism.
It is strongly recommended to contact the service provider before placing an order in order to communicate your vision. He caters to your needs and doesn't hesitate to give his professional opinion and suggestions.
Key Features:
High-end fantasy retouch

A creative envisioning of pictures

Excellent color correction along with background revisiting

Professional photo manipulation
Pros:
Highly creative and unique retouching 

Quick delivery in consideration with the amount of work put into fantasy retouching

Clear and open communication 

Awesome results 

Recurring clientele 
Pricing:
For just $40, you will receive a basic fantasy retouch to your picture, which can be in any theme of your choice. You will receive one revision, and the final high-resolution product will be delivered to you in 5 days. 
His standard package costs $60. This package includes advanced fantasy photo retouch along with 3 revisions. The high-resolution product will be delivered in 4 days along with the source file. $120 will buy you his premium package, which includes a master fantasy retouch along with 4 revisions. The final product will be delivered to you in 3 days, along with 4 revisions, and the source file will also be provided.
FixThePhoto is one of the best photo retouching companies out there. It is a one-stop solution to all kinds of photo retouching and enhancements that you mind need. 
Their versatility knows no bounds. They enhance wedding, executive, landscape, portrait, baby, e-commerce, real estate pictures, among others. This service is perfect for busy professional photographers as well as beginner photographers who want an edge over competitors.
With highly affordable prices and their result images' quality, they are inarguably one of the best photo retouching service providers. Skin smoothening, color correction, jewelry retouching, photo manipulation, restoration – you name it, they'll do it.
Their testimonials include photographers who have been relying on their services for career and product enhancements for over a decade. They provide the results keeping in mind what you've communicated to them and will always satisfy you.
Their photo enhancement follows the unique style that you might want. They provide a dedicated retoucher to every client, who will revise edits till you're satisfied. 
Key Features:
Versatile service

Personal attention to every client

Professional color correction and detail enhancement

Clothes and wrinkle adjustment

Photo restoration
Pros:
Extremely affordable

Highly communicative

Unlimited revisions 

Quick delivery 

Confidentiality 
Pricing:
FixThePhoto is an extremely affordable service providing company. Their retouching prices start with only $2 per image. The price is adjustable according to what you desire to be done. 
6. Retinka
If you're looking for an affordable portrait retouching service that also retouches body features, you might want to consider Retinka. 
Retinka provides high-resolution and high-end conceptual portrait retouching for executive and fashion photographers. All you need to do is submit a RAW image, and retouch experts at Retinka will edit, manipulate, and retouch your picture for you. 
With prices being on the expensive side, Retinka does wonders for all images submitted to them. The conceptual retouching is worth the price paid. 
A plethora of powerful tools go into each Retinka retouch, and you'll be left in awe of the professional quality of the result. Open communication with the retouching experts will get you better results from this company.
Key Features:
Professional portrait and fashion retouch

Conceptual retouches according to client's expectations 

High-resolution, commercial-grade results
Pros:
Credit-based payment system

Variety of price packages to choose from

Unlimited revisions
Pricing:
Retinka works on a credit system, which is effective to retain happy clients. A credit of $12 will let you submit one photo. That photo will be retouched, beatified, and color temperature corrected. 
Other more professional and detailed retouches can cost you anything between $115 and $1079. The quality of each retouch, however, is worth the price.
Food and commercial products need retouching as well. The better the product images, the better the sales and reputation of the company. Resultingly, OMS Photo is a photo retouch studio that enhances and retouches product photos. 
OMS Photo also caters to travel photographers and headshot photographers, but product photography remains their specialty. OMS Photo has been providing capital photography services since 1989. They have learned how to become one of the best photo retouching companies in the market through their immense experience.  
OMS Photo have credentials with renowned companies like Olay, Gillette, and Hershey's. They provide a great experience to anyone willing to take their photography results to the next level.
Key Features:
Product photography retouching and enhancement

Variety of price packages to choose from

Revolutionized and professional photo retouches

Highly acclaimed 
Pros:
Vast experience

Associated with renowned companies

Healthy cost-to-product balance
Pricing:
OMS Photo's price range varies between $50 and $450, depending on the kind of editing and retouching required. The results are always top-notch and justified in their price range. 
What is Photo Retouching?
Photo retouching is the delicate process of giving the final touches to a RAW or pre-edited image. In essence, it is the final polishing of a picture before it is presented to an audience. Usually done after global editing such as color correction and gradient correction, photo retouching is the final step that focuses on localized, minute adjustments. 
Photo retouching requires detailing and detailed enhancements that don't make any noticeable changes to an image. However, the changes make a huge difference in terms of the presentability and professionalism of the photo. 
Basic retouching comprises minor fixing such as blemish and wrinkle removal, skin and hair smoothening, background adjustments, and body retouches such as slimming. Expert retouching keeps the picture intact. It makes the pictures look unretouched but increases the aesthetic value of pictures.
What is the Difference Between Photo Editing and Photo Retouching? 
The basic difference between photo editing and photo retouching is simple. While photo editing is a global process, photo retouching is a local process. This means that any edit will change the entire photo, while any retouch will make changes to specific areas in the photo. 
In most cases, every picture needs some basic editing before the retouching process begins. A basic edit includes brightness adjustment, temperature correction, and color gradient adjustments. Cropping of images, perspective adjustment, manipulation of white balance, and contrast also fall under the category of photo editing. 
A basic photo retouch includes things like red-eye correction, smile adjustment, and skin smoothening. Retouching also includes things like fixing of stray hair, teeth whitening and adjustments, and clothing adjustments. 
Photo manipulation, while being an independent specialty, also falls under the category of photo retouching. It includes things like object removal from the background, the addition of secondary objects, etc.
Retouched pictures are generally high-resolution, commercial-grade images. Most fashion magazines, executive portraits, real estate banners are retouched pictures. On the other hand, most pictures posted on social media are edited pictures.
What is High End Retouching?
Basic retouching can overlook the delicate intricacies and texture of an image. High-end retouching keeps the texture and details intact so that the result is as natural looking as possible. 
The entire goal of high-end retouching is to make sure that the image is as refined as possible. This requires a lot of patience and skill. 
Poor quality high-end retouching can make the photo look distorted or over-smoothened which takes away the naturality from the retouching process. 
Retouching is all about bringing out the best features and the best possibility out of the objects in the photo. It requires the shapes, colors and skin to be as realistic but refined as possible. 
What is the Best Photo Retouching App?
In case you'd want to get the best phone portraits as possible, you'd want a retouching app to help you. One of the best photo retouching free apps to be found on the major app stores is Photoshop Fix. 
This app consists of a wide spectrum of photo retouching tools such as The Lighten and The Healing Brush. 
The app requires a little time to get used to and learn, but the time invested in it is worth it.