Last Updated on September 4, 2022
The way you maintain a positive cash flow in your business's initial years can make a difference. However, organizing and keeping track of your finances as a small business or freelancer can get overwhelming very quickly.
One convenient way to plan your finances is with the help of an invoicing software and accounts payable software. This is especially beneficial for those who don't come from an accounting background. Plus, it is very cost-effective and an highly streamlined way to organize your funds. 
Thanks to technological advancements, some of the best invoicing software for small businesses are now available to you with just a click online. 
While this gives you plenty of options to pick from, choosing the best invoicing software for you and your business can get very confusing. That is why we have compiled this list of the most efficient, effective, and user-friendly invoice software. 
Let's get started!
What is the Best Invoice Software?
Here are our top picks for the best invoice software to use this year: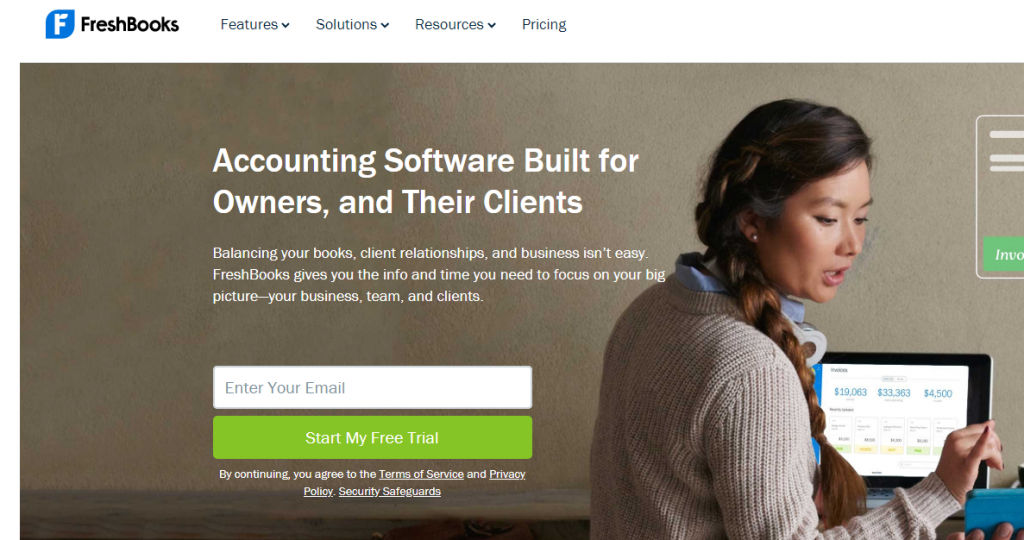 FreshBooks is an adaptable billing and invoicing software that is suitable for multiple requirements. Whether you are freelancing on your own or a small business with a decent number of employees, FreshBooks can help you tremendously.
This software can speed up and execute your billing every month without complications. Additionally, FreshBooks is a great tool for making estimates and drawing up proposals. Any interior designers, contract workers, and those who need to itemize can optimize their work with this software. 
Key Features:
FreshBooks is one of the best invoicing software, given its multiple convenient features. Users can make as many customizable invoices for their clients as they want. They can create automatic and recurrent client billing setups as well. In case of late payments, these will be automatically added to client billing. 
As and when clients receive their invoices and make payments, FreshBooks sends you a notification. Moreover, all these processes are made easier thanks to their mobile application. 
FreshBooks lets you request deposits through invoices and notes expenses, and time worked on the invoice itself. If you're looking to expand your horizons, you can even send invoices in different languages and accept payments in various currencies.  
Pros:
Customize invoices for clients

Send invoices in various languages 

Automatic billing setups

Stay notified about receiving and payment of invoices 

Pay in multiple currencies 

Use the mobile app for convenience 
Pricing: 
FreshBooks is a reasonably priced software given its quality. You can choose the Lite pack, the Plus pack, or the Premium pack. With FreshBooks Lite, you have to pay $15 per month for 5 billable clients. FreshBooks Plus will cost you $25 per month for 50 billable clients. FreshBooks Premium is $50 per month and lets you bill up to 500 clients. 
Additionally, as a new customer, you are liable to get up to 50% off for three months. This will let you avail the software for as little at $7.50 per month.  
The one drawback of this system is that billing more than 5 clients automatically puts you on FreshBooks Plus. Small businesses with only a dozen clients might find this feature to be unfavourable.

AND.CO is more than just an invoicing software. It is a software that covers every possible area a freelancer or entrepreneur would have to worry about. AND.CO provides tools that are meant to make task management simpler and help your businesses grow. 
It is one of the best invoicing software for small businesses because it is built to be user-friendly. By utilizing multiple tools, you can completely streamline every function without any hassles.
Key Features:
AND.CO allows you to make payment transfers using credit cards or bank wire. The payments are always quick, secure, and available in multiple currencies. ACH and PayPal are also accepted modes compatible with this software.
Thanks to its reliability, you won't have to worry about finances' mishandling; additionally, what puts AND.CO in the list of best invoicing software is the fact that you can track payments. Even those payments made to your account can be tracked directly, and your finances will always be under your supervision. 
Recurring payments can be made automatically without any issues. Your workflow is completely automated, and you can make all your operations smarter and faster.
This software also comes with a catalog of standard contracts for freelancers new to the field. Those who are working alone can make use of the compiled industry insights and build their systems accordingly.
Pros:
Compatible with multiple payment options

Tracks payments

Secure and quick payments

Options for payment in multiple currencies 

Settings for automatic recurring payments 

Completely encrypted transactions 

Software stores no credit card data
Pricing:
AND.CO costs just $18 for unlimited clients per month. This is part of AND.CO PRO account, which allows you to remove the AND.CO branding from the invoices. Your contracts will be editable, and PRO customers will be given priority support. 
The free version of the AND.CO account will allow you to bill 1 client with AND.CO branding on the invoice. You can make use of standard contracts with the free account. 
If you're unsatisfied with your experience and cancel your PRO membership within 30 days, you will get a full refund. 
Hiveage is one of the best invoicing software with the most diverse online payment options. This is great for expanding businesses looking to increase the avenues through which they get paid. 
The other advantageous feature is its unlimited list of billable clients. Whichever plan you pick, you can create unlimited invoices, bills, and estimates. 
Key Features:
Hiveage is compatible with numerous online payment platforms like Stripe, Braintree, PayPal, Authorize.Net, etc. They are so diverse that they even accept Bitcoin via Coinbase, in addition to other currencies.  
The other convenient feature of this software is that you can set up teams. This helps to efficiently share invoices all at once with your employees. 
Hiveage is the best invoicing software for small businesses thanks to its profitable plans. This software's free plan is beneficial in itself, with up to 5 billable clients and unlimited invoices. Moreover, for those entrepreneurs going solo, Hiveage charges you as per the number of clients. 
Recurring payments and subscriptions can be charged through auto-billing, automatic, and manual invoices for your convenience. Moreover, reports will let you track all your expenses so that nothing goes awry.
Pros:
Compatible with diverse payment platforms

Compatible with multiple currencies, including digital currencies 

Online software doesn't require installation 

Accessible from any web-enabled device

Multiple options for streamlining recurring payments 
Pricing:
Hiveage has 4 different plans for differing and customized needs. Apart from the free plan, you can avail of the cheapest plan for $16 per month for 50 clients. This plan has unlimited invoices and other benefits. The $25 plan allows you to bill 250 clients per month, while the $42 plan allows 1000 clients. Each advanced plan has some added benefits. 
Each plan also has a free trial for you to try out before you make up your mind.
Square Invoice has no monthly fee payments and isn't associated with any other task management tools. As a stand-along invoicing and billing software, it is easy to use for small businesses with fewer clients. It is also cost-effective since users aren't charged every month. 
Key Features:
Square Invoice is perfect for those who don't need to send too many invoices or send invoices at a lower frequency. 
To begin with, processing invoices comes with a standard payment fee. If users go through the Square Point of Sale app, or a Square Terminal for in-person payments, fees are lower. Additionally, estimates are free to send and can be easily converted to invoices. Contract templates are also free to be used along with invoices. 
Square Invoices also has an easy-to-use mobile application that can be used from anywhere. Any form of payment is compatible with this software, making it one of the best invoicing software. Since the software integrates with the Square Point of Sale app, making use of Square's mobile credit card reader is convenient. 
One downside to this software is that it is incompatible with ACH payments. Depending on the kind of payments you need to accept, this can become an issue. 
Square Invoices also allows you to track your expenses with both paid and unpaid invoices. You can send reminders as well to clients with pending payments. For auto-billing, cards can be saved, and information can be easily stored and organized. Thus, you can manage all your cash flow in one place.
Being a small business or freelancer, you can expect to make your operations completely seamless with this software.
Pros:
Cost-effective for smaller business 

Easy to store payment information for recurring payments 

Easy to integrate with Square Point of Sale app

Track expenses without hassles 

Compatible with multiple payment options 
Pricing:
Square Invoices allows you to send unlimited invoices as well as estimates without any payment. The payment is required for processing payments that you accept. Check, and cash payments are free, while debit or credit card payments will be processed for a fee.
Processing payments costs 3.5% + 15¢ per card on file payment, and 2.6% + 10¢ per in-person payment.
5. Zoho Invoice 
Zoho Has a hoard of tools to give you efficient accounting, project management, and easy invoicing. Small businesses with up to 50 clients can use this software for as cheap at $9. Not to mention, it is free for only 5 billable clients. This is what makes it the best invoicing software for small businesses to start with. 
Key Features:
First off, Zoho Invoice is one of the more budget-friendly software. It has different plans to help you save according to your requirements. Each plan also has unlimited invoices, finance tracking, estimates, and time tracking. 
Every plan also comes with 5 to 10 automated workflows to simplify your routine business operations. Whether it involves raising sales orders, negotiating deals, or regular invoicing, Zoho is equipped to handle it. You can directly calculate GST on invoices, file tax returns, and find tax liability thanks to GST compliance features. 
With the expansion of your business, you can continue adding other Zoho apps. These will guarantee better management and accountability in every field. 
Pros:
Invoices can be quickly and easily made

Reminders can be sent without any hassles

Clients have the option to pay online 

Link with multiple other Zoho apps

Automate mundane business operations

GST compliant calculations 
Pricing:
Zoho is free for up to 5 billable clients. Other than that, it has many different pricing packages with countless additional features. 
What Is A Billing And Invoicing Software?
You can use billing and invoicing software to deal with your accounting work and financial management. These are systems that can handle a variety of tasks according to their programs.
Single-entry programs are the simplest billing software that conducts bookkeeping and check-writing tasks. At the same time, smarter double-entry applications offer a wider array of features.  
Up and coming businesses can greatly benefit from this novel technology. Billing and invoicing software helps execute your regular monetary task and automates them for higher efficiency. This reduces manual work like data entries, and your accounting can't ever go wrong because of miscalculations. 
By picking out the best invoicing software for your businesses, you can be sure to enhance your operations. 
What Is The Best Program To Create Invoices? 
The best program to create invoices needs to be easy to use and reliable. FreshBooks ticks both boxes and is a popular program as a result.
FreshBooks is intuitive software with a highly beneficial auto-pilot mode for sending invoices. This means that you can focus your energy and efforts on your business's more demanding areas instead.
Requesting clients' payment is simple, and FreshBooks lets you calculate taxes and see if clients have viewed the invoice. These are helpful features that increase its value as an invoice creating program.
With FreshBooks, you won't have to worry about a thing because every feature and update will be explained to you. The interface is both user-friendly and optimized for giving your business the edge it needs. 
What Is The Easiest Accounting Software Small Business Can Use? 
Small businesses need to be able to focus on their client relationships and expansion policies. This means that mundane and routine procedures should be easy to execute.
The best invoicing software for small businesses for this purpose is AND.CO. This software is highly effective thanks to their speedy online invoices sent with just a click. The app is also suitable for automating your invoices and alerting you when they are viewed or paid. The automated invoices are created as per your contracts. 
Keeping track of every aspect of your finances is easier with AND.CO. Not to mention, as a small business, your finances cannot have any missing links. For this reason, every payment on AND.CO is secure, simple, and compatible with multiple platforms. You can accept payment from credit cards as well as ACH online payments directly from your invoices. 
Another feature to make your work easier is through a notification system for late payments. Clients are reminded of their payment in such cases without you having to worry. Moreover, you can access payment alerts on platforms like Slack, your mobile, and your desktop. 
Since AND.CO has a user-friendly app; invoicing is easier than ever. All your devices are also easy to sync, and cashflow is efficiently managed. There are plenty of other features like adding files to invoices, customization options, etc. that you can benefit from.
What Is The Best Free Invoice Software?
While many invoice software only charges for processing and is free, otherwise, Qvalia is completely free. Any additional features you may be interested in can be additionally purchased, but are not necessarily required. 
With Qvalia, you can automate your finances and make easy transactions. Receiving payments is simple, and the management of cash flow is easier. You will also be able to track and control every part of these processes through the software. 
This software freely provides you with transactional analysis and data to streamline your financial operations. As a small business, you can monitor your growth with the help of this invoicing software. Any possible complications or business risks can be easily identified, thanks to the accuracy of the analysis.
Included in this software are features for automatically validating an invoice, 24-hour monitoring of clients, and so on. Since it can be used on any device, you can access it on the go from your mobile as well.
Invoice management is fully digital, as is invoice scanning, given the automated processes. Thus, there are no extra costs, and e-invoices are sent to clients. Not to mention, any non-verified invoices are returned to the sender by Qvalia if the software detects suspicious activity. 
Summing It Up
This list of best invoicing software for small businesses is by no means exhaustive. However, the 5 listed here are the top applications to make your work easier.
You can also make use of the additional free software we mentioned if you're looking to experiment and save. Frugal management of monetary resources is the foundation of any good business.
Thus, relying on a program for this purpose is the most modern and trusted option.