Last Updated on August 31, 2022
Any artist can design a logo for a brand, while a true artist can capture and convey the brand's essence into a simple minimal logo – That's where Weperfectionist (San) comes in.
Who is WePerfectionist?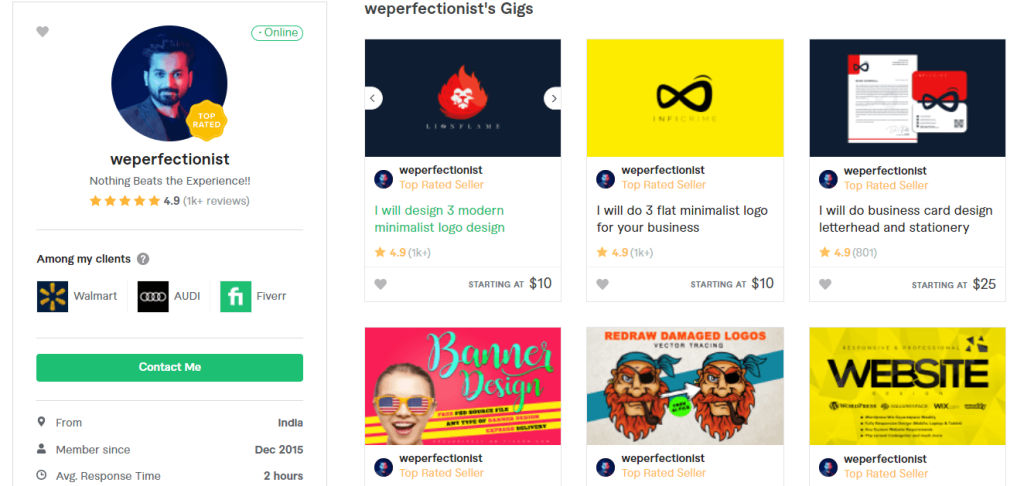 San is an enthusiastic and creative graphic artist based in Rajkot, India, passionate about Logo and Banner Design. He is a top-rated seller who has provided his services on Fiverr for the past seven years.
Along with being a seller on the marketplace, San is also a logo designer for logo maker – Fiverr's self-service experience that allows buyers to customize their Logo while still incorporating handmade designs from Fiverr sellers.
San has also worked with other renowned companies like Audi and Walmart, providing them with digital solutions. He has worked with more than a thousand clients while still maintaining a 4.9 rating out of 5.
He is a true Photoshop and Illustrator expert, with numerous certifications to prove it. Like he says in his Bio, "Nothing Beats the Experience!!" You just can't go wrong with this seller!
What services does WePerfectionist offer?
Now, let's take a look at his different services.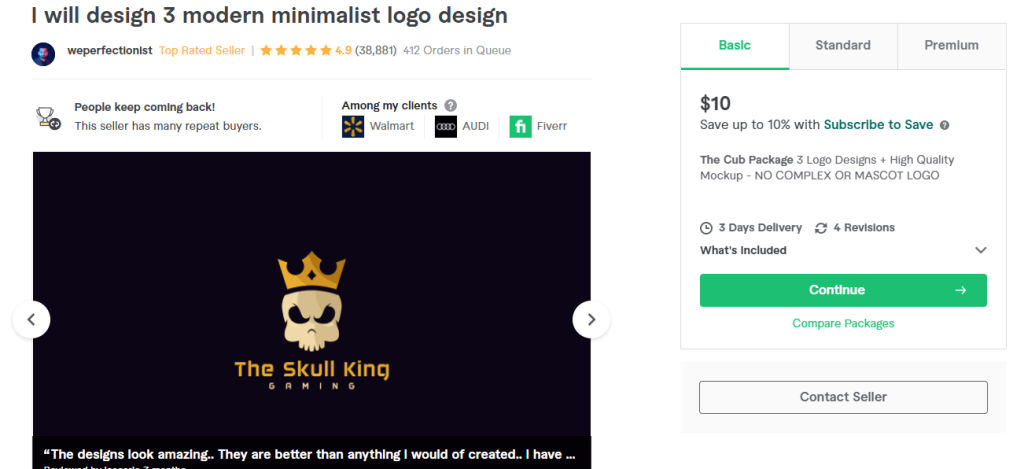 San offers to create a modern minimalist logo design that clearly reflects the brand's message in this gig.
Minimal Logo, Modern, Professional, Flat, Luxury, Text, Vintage, Badge, Feminine, Signature, and Custom Design Logo are some of his styles. However, he doesn't create Cartoon/Mascot Logos.
San has received over 38,000 reviews for this gig alone while maintaining a 4.9 rating. That alone demonstrates his competence and professionalism.
He has almost 400 orders in queue as of this writing. Not to worry, you can still place your order and have it delivered on time since he has a team of specialists, including himself, who will assist you turn your idea into reality and won't stop until you're satisfied.
His BASIC plan costs $10, including 3 Logo Designs + High-Quality Mockup. His STANDARD plan costs $75, including 4 HQ UltraQuality Logos + AI EPS Vector Source File + 3D Mockup + VIP Support + 5 Social Media Covers. His $155 premium package includes 5 ULTIMATE Logos, AI – EPS PDF JPG PNG File, 3D Mock-up, 5 Social Media Covers, and Stationery Design.
He recommends his STANDARD or PREMIUM pack for best results, similar to his portfolio. Except on Sundays, he works all day and guarantees delivery in three days with unlimited revisions. You can't go wrong with this gig.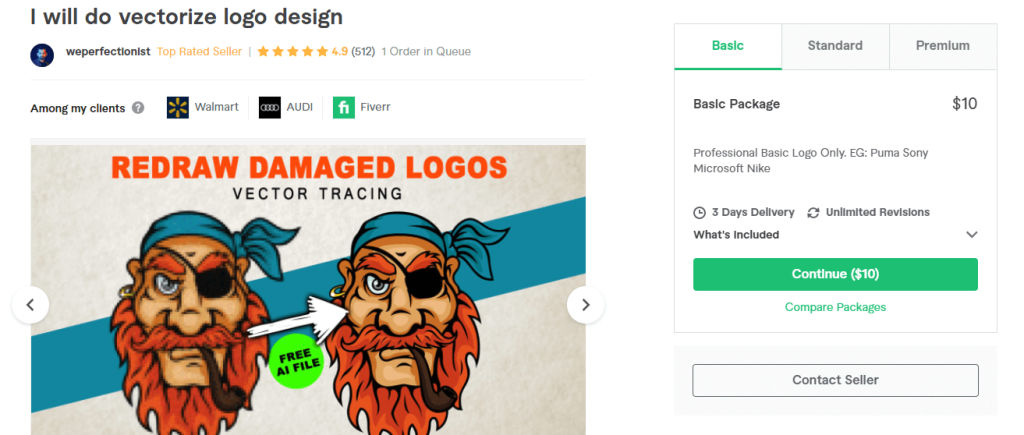 Does your Logo get Pixelated when enlarged? Are you looking to transform your low-quality Logo or Complex Graphic design into a Vector? Then this gig is just right for you.
San will professionally VECTORIZE, RETRACE and REDRAW your Logo or Graphic with unmatched Quality and Fast turnaround time. He knows every tiny bit of technique in creating professional and ultra-sharp Vectors.
His price ranges from $10 to $50, depending on the complexity of the art. He guarantees delivery in 3days with an unlimited revision. San is the best choice to help bring your Logo back to life.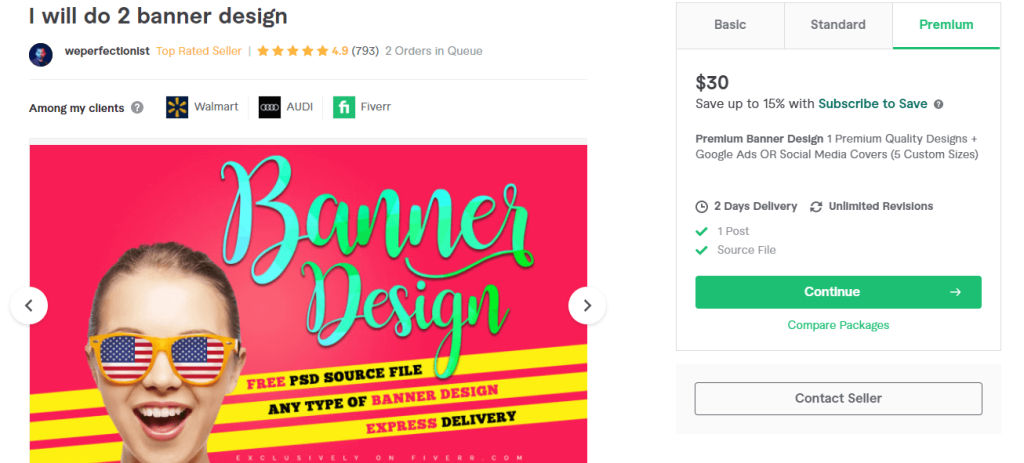 In this gig, San designs captivating and engaging banners that can be used for Google Ads, Web Headers, Web Ads, Web Banners, Web Sliders, Facebook, Twitter, YouTube Headers, Social Media Cover Design, Email Ads, and more.
His price ranges from $10 to $30, depending on the package selected. He guarantees delivery in 2days with an unlimited revision. You can't go wrong with San.
San isn't just a graphics artist; he also uses his artistic insights to design responsive websites. At a flat rate of $295, you get a Static 4-6-page responsive website design in 7days alongside five revisions.
This package comes with a Fully Responsive – Mobile compatible design, Fresh Contemporary Design, Static and Dynamic (with admin panel), CMS integrated, and an E-commerce website.
It should be noted that San is only responsible for the website's design, excluding the content that goes into it.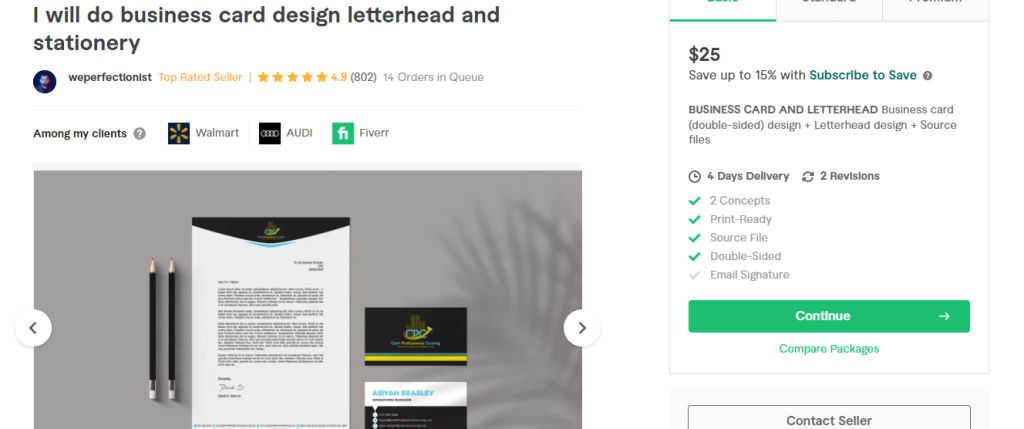 A stationery design reflects your brand's first impression, transforming your brand image into solid value! You definitely want a good first impression of your brand.
San guarantees to elevate your brand to the next level with a stunning and custom stationery design, unlike your competition. He'll create a brand identity that suits you personally, helping you build a recognizable image and connect with your customers.
The basic package, which costs $25, includes a business card and letterhead design. In contrast, the standard package costs $55, including a Full Stationery Design (Business card + Letterhead & Envelope design + Email signature + Source files). However, the premium package costs $105 and includes Logo+ Full Stationery Design + source files.
The premium package is recommended if you don't yet have a logo and want complete branding.
In Conclusion
San is your go-to guy for logo design, banner design, stationery design, website design, and overall branding. You won't be disappointed!