Last Updated on December 31, 2022
Building a Spotify following from scratch is a challenging process.
From publishing discography, developing your brand, and building a loving fan base, new artists and musicians know generating organic streams on Spotify takes dedication and patience.
Fortunately, various Fiverr professionals specialize in music promotion and specifically – Spotify promotion services.
These experts help rising talent improve their Spotify following by offering unique and highly-reviewed approaches to Spotify promotions.
With their help, curators and musicians can reach their goal of driving organic streams to their music much quicker (while still supporting the long-term development of their brand).
What Are The Best Spotify Promotion Services?
Here are the top 5 Spotify promotion services on Fiverr you should use to fit your needs:
1. groovehubagency – Best Overall Spotify Promotion Service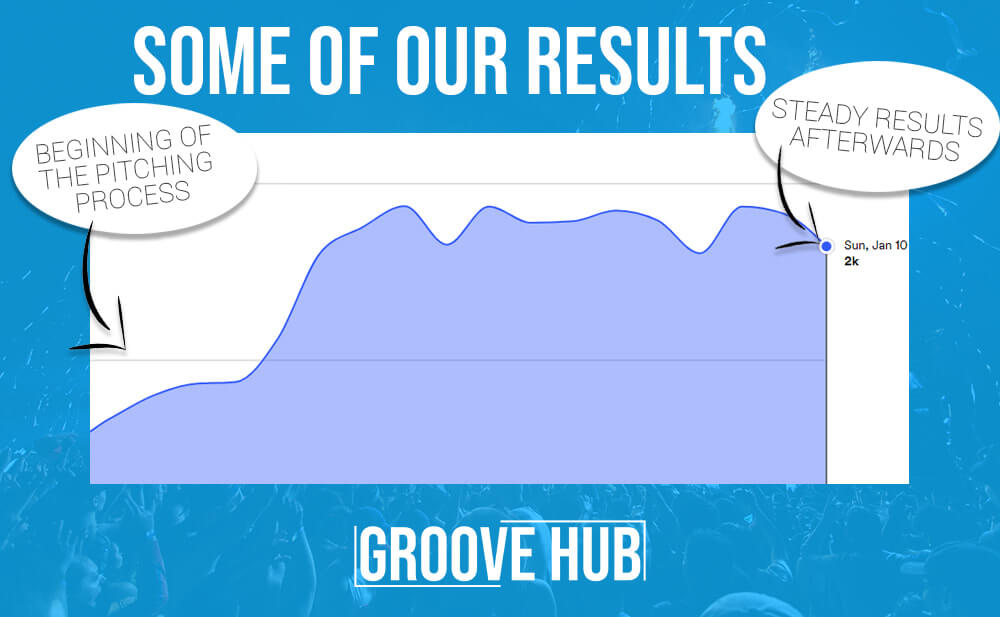 With over 1,527 favorable reviews, Groove Hub is the best-selling Spotify promotion service on Fiverr – for great reasons too. Groove Hub offers several different service types to fit the needs of new curators and musicians looking to build their Spotify following.
Groove Hub's packages range from promotion of one song for $25 to promotion of three songs for $80. Each package is also available as a subscription service for up to 3-6 months, allowing artists to integrate Groove Hub as a marketing cornerstone for their brand.
Groove Hub generates organic streams for its customers by relying on its playlist and curator network. By using an email campaign and drawing on direct connections, Groove Hub ensures its customer's songs are placed on a range of exclusive curator playlists with large amounts of monthly listeners.
Using this deep network of other curators guarantees no bots are used to generate streams, which goes against Spotify's and Fiverr's terms and conditions.
Past customers have experienced exponential streaming growth after using this service, with songs reaching thousands of streams after a relatively short promotion period.
Based on the quality of service, the reviews of previous buyers, the various service options, and the pricing of each package, Groove Hub offers an absolute bargain for the best overall Spotify promotion service available on Fiverr. For the highest quality service at the most cost-competitive rate, look no further than this service.
As a Level 2 Seller with over 340 highly positive reviews, musicboster has the best pricing of Spotify promotion services on Fiverr without sacrificing any quality of service.
Unlike other cheaply-priced Fiverr gigs, musicboster offers organic Spotify promotion 100% compliant with Spotify and Fiverr terms and conditions.
This service relies on promoting Spotify tracks to a wide network of curators, other musicians, and avid listeners. The size of the network the track is promoted to varies with each package, which range from promotion up to 100,000 listeners for $10 to promotion up to 1.5 million listeners for $120.
In addition to its affordable packages, musicboster guarantees delivery and results, or the money paid for the service will be returned to the customer. Results begin appearing in the first 24-72 hours.
Given the quality of service provided for each content-rich package, musicboster is the best Spotify promotion service on Fiverr for a tight budget. Customers can expect organic streams and reliable service for competitive, low, and affordable prices.
3. advertstudio – Best for Organic Reach
An active Fiverr seller focusing on organic exposure, advertstudio provides the best Spotify promotion service in terms of organic reach.
With a network of curators, producers, and even music labels, advertstudio can promote Spotify and SoundCloud tracks to at least 600,000 individual listeners.
In addition to curators, this seller's network also includes 150 popular Spotify playlists, along with record labels and radio stations.
As past customers have experienced, the various outlets advertstudio promotes tracks to increases streaming growth almost immediately. The value of this organic network is expressed in the continuous increased streaming customers experience – even after the promotion period has concluded.
The trial package for this seller begins at $35 for the promotion of one track to a portion of their network. Larger portions of advertstudio's network can be reached in higher-priced packages.
By utilizing an AI marketing strategy and remaining transparent with the customer through each step of the promotion process, advertstudio generates the exact type of exposure new curators and musicians need to build Spotify followings.
Given the reach of their organic network and the direct exposure tracks receive to major labels and radio stations, advertstudio offers the best Spotify promotion service available on Fiverr in terms of organic reach.
4. acepen – Best for Web 2.0 promotions
With over 10 years of experience navigating the "stormy waters" of the music industry, acepen knows the power of Web 2.0 in marketing music.
Web blogs, forums, and other social sites host incredible potential for promoting tracks to hungry audiences based on shared interests. This seller specializes in using the impactful power of search engine optimization (SEO) and Web 2.0 backlinking to reach these audiences.
By backlinking and embedding, acepen has developed a tried-and-tested method of track promotion proven to garner your track new streams. For new artists trying to reach avid listeners and avoid any bots, relying on Web 2.0 promotion means real people will be following backlinks and checking out your discography.
Offering packages ranging from $15-$120, acepen has several options to determine how much backlinking and embedding to undertake.
Along with guest blog posting and an email campaign, acepen offers the best Spotify promotion service for Web 2.0 utilization.
5. musicfxz – Best Rising Talent
For artists looking for a seller to work with repeatedly for future promotions, musicfxz is the best choice.
As a rising talent in Spotify promotion services, this seller has quickly garnered a 5-star review on Fiverr and Level 2 Seller status in a short period.
Rising talents are often seeking to build their portfolio of return clients. Offering packages from $20-$115 with subscription options, interested buyers can easily incorporate musicfxz into ongoing promotion campaigns for Spotify, SoundCloud and Apple Music tracks.
The high number of 5-star reviews captured in a short period is a testament to the quality of promotion services provided by musicfxz.
By relying on blog posts, social media advertising, backlinking, and an organic network of listeners, musicfxz could become a critical component of any music marketing campaign over a subscription basis.
For customer confidence, this seller provides a 100% money back and 100% customer satisfaction guarantee. Seeing as this seller has nothing less of a 5-star review, this guarantee has certainly remained true.
Based on their incredible quality of work and propensity to plug into long-term promotion campaigns, musicfxz is the best rising talent on Fiverr offering Spotify promotion services.