Last Updated on September 4, 2022
Are you an up and coming streamer looking to attract the right kind of audience to your Twitch channel?
Gaining popularity on Twitch can be a constant concern for new streamers. Since it is one of the most popular streaming platforms, users often have to compete for attention.
A great way to get ahead of the game and the overall streaming competition is by making your Twitch stream visually pop with the right overlay!
What is A Twitch Overlay?
Twitch stream overlay is a special graphic that your viewers can see above your game capture window. It can either be a border around the streamer's camera or a full-length graphic that take the whole frame with additional features.
The right twitch overlay can give your channel a brand, an identity, and a richer personality. So that when you stream, audiences can't help but be in awe!
With custom designs and a personalized overlay, even beginner streamers can give themselves an edge.
But paying through the nose for custom twitch overlay makers can be a real downer.
This guide will give you some simple and affordable solutions for creating the most stunning overlays possible!
How do I make a custom Twitch overlay?
There are multiple ways in which you can create your own custom Twitch overlay. This will help in giving your brand a special identity and something for your follower base to remember your brand by.
With a number of tools that allow customized designs, should you be going for creating one yourself? Even though you will be able to save money if you create your own Twitch overlay, it is not the ideal solution.
Creating your custom Twitch overlay can be a challenging and time consuming task. So, when there are professionals who can help you with the same, why go for a mediocre output?
Fiverr.com is the top platform where you can look for the ideal customized Twitch overlay. There are overlay artists there who have years of knowledge and design experience. So, you can expect a quality product without beating your head around it.
All you need to do is to tell you requirements clearly. You will be able to find some of the top Twitch overlay designers to give your brand a unique identity.
Who are the best Twitch overlay makers?
To make your task simpler, we have come up with a list of the top Twitch overlay designers. Not only you can expect a quick delivery but also an end product which will suit your brand perfectly.
Here are some of the best Twitch overlay designers on Fiverr:
1. Best overall Twitch custom overlay maker – castarkana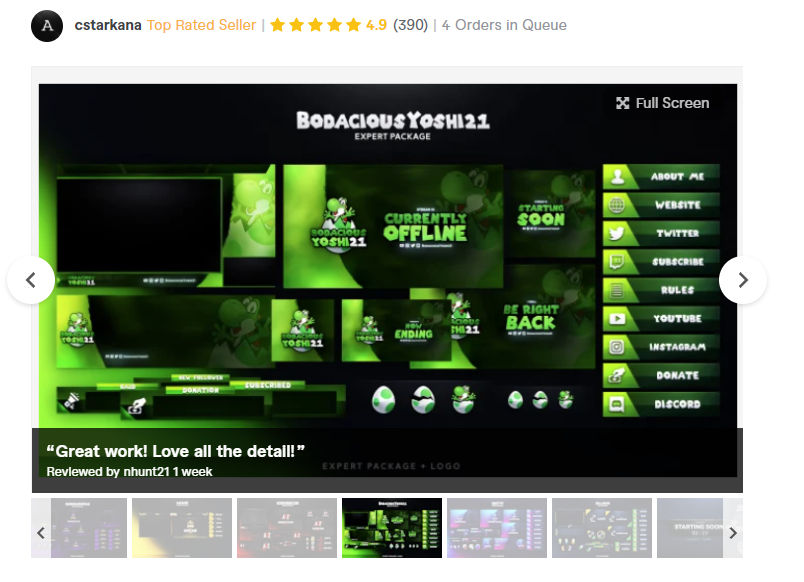 Castarkana is one of the top sellers on Fiverr for customized Twitch overlay designs. In fact, using his service you will get an overlay design which matches your requirements perfectly and also provided a unique identity to your brand.
Tailored to your needs, you can get a smooth overlay design in a quick time. With more than 390 reviews and an overall rating of 4.9, castarkana is amongst the best options that you can find on Fiverr.
You will have three different packages to choose from. The starter package which is priced at $100 will get you 5 panels, Facecam, offline screen, and overlay. Professional package at $150 will get you 10+ panels instead of 5, stream starting soon screen, and also a profile picture and banner.
To get the ultimate deal, there is an expert package which is priced at $200. The package will get you all the inclusions of the professional package and 3 sub badges, BRB screen, and also Twitch static alerts.
2. Best complete Twitch graphics package – moncrath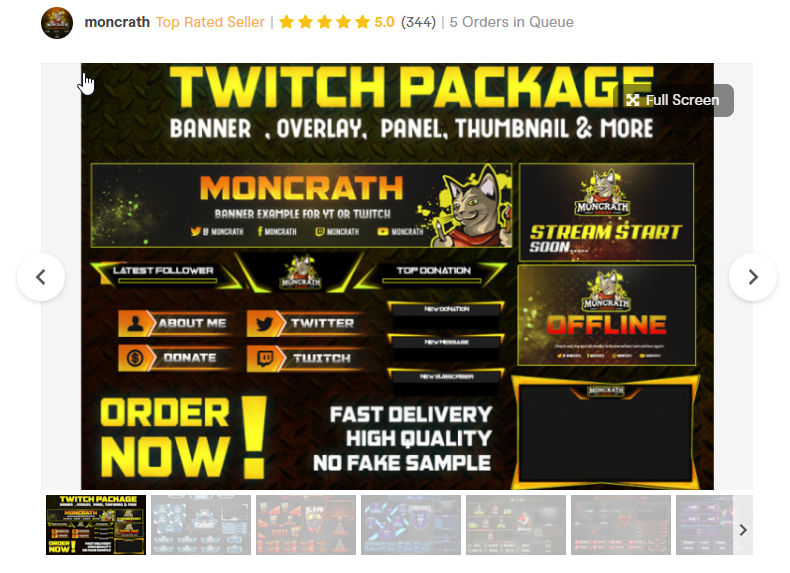 If you are looking for an amazing Twitch overlay design and logo for your channel, moncrath is definitely one the sellers you should check out on Fiverr. This amazing designer will provide a unique design within 9 days along with four revisions, if needed.
Not only will you get timely deliveries but the end product will be totally worth it. If you are a streamer, getting the perfect Twitch overlay design made by moncrath would be a great option.
The designer offers three different packages. The Villager Package will get you an offline screen and amazing panels or buttons. To get the ideal overlay design, you should be looking at the Warrior Package. This will get you alerts, panels and buttons, starting and ending screens, BRB screen, and overlay inclusive of facecam.
The top package, which is the King Package will get you your customized logo as well!
3. Most affordable overlay designer – Techyapaul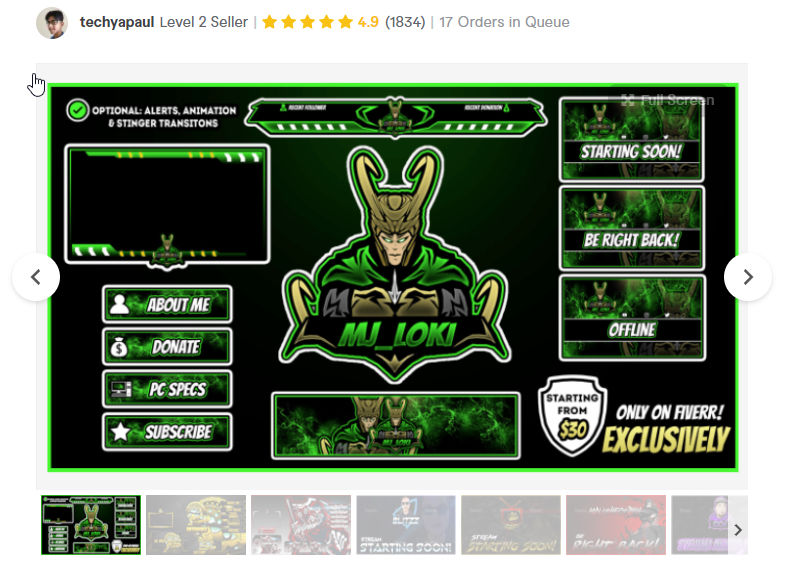 If you are looking for a top overlay design for your profile, check out Techyapaul on Fiverr. This amazing designer for streamers, has over 1000 reviews with an overall rating of 4.9.
The three different packages available are Standard, Intermediate, and Premium. The Standard Package by Techyapaul will get you a Twitch banner, panel, BRB screen, starting soon and offline screen, and facecam and game overlays.
The Intermediate Package offers all the inclusions of the Standard Package plus a Twitch Logo. There are a number of additions as well that this designer offers.
How To Make A Twitch Overlay Yourself
Making your own twitch overlay has negligible downsides since it saves money and is highly convenient with the right tools.
Not only that, but it also lets you have full control over how your channel looks. As great as a paid designer may be, there is always a chance that they will misunderstand your branding instructions.
Where Can You Look For Affordable Twitch Overlay Makers?
There are dozens of free and paid twitch overlay makers online. Here are some of the best of the lot!
Free Twitch Overlay Makers
A completely free and high-quality twitch overlay maker. The editing can require some time and practice to use well, but it is worth the wait!
Player.me is a unique social media platform for gamers, where you can also access templates.
Many of these templates are professionally made and can be customized to give you the best look!
The overlay templates offered on this platform are some of the easiest to make! However, you may not be completely satisfied with the lower range of customization options.
This twitch overlay maker will give you convenient template options that are easy to work with.
You won't have to waste much time on a decent result, but customization ranges are relatively lower.
The quality of overlays on this design tool is exceptionally high. Coupled with the fact that it's totally free, this twitch overlay maker is a steal!
Paid Twitch Overlay Makers
Although a little bit more complex to use, it has some great customizable options.
You can access free templates as well as buy a $4.99 monthly subscription for the full range of features.
Despite being paid, this is a relatively affordable overlay maker that is also compatible with twitch.
Placeit. is easy to use and creates some great customized templates.
The price of each template is $2.95. You can access the overlay maker for free if you have subscription access to all the Placeit. designing tools. The monthly subscription is $14.95, and annually $89.69.
This is definitely one of the best twitch overlay makers even though it is paid.
It is recommended for those who already have access to a Placeit. account. Or in case you only require a few static templates, to avoid excess expenditure.
This twitch overlay maker is one of the simplest to use for complete beginners.
You can be assured of a quick and easy overlay making experience thanks to the uncluttered interface.
However, the simplicity it provides also compromises the complex customization that might make your overlay more unique.
Each overlay will cost you $5. So you can use Stream Maker for your first few overlays before moving on to bigger things!
How To Use A Twitch Overlay Maker?
You can create a twitch overlay in a few simple steps:
Step 1 – The Foundation
Start by downloading some templates from the internet or choosing some from a twitch overlay maker. This will be the foundation of your final overlay.
The advantage of using a twitch overlay maker is that you won't need to start working from scratch.
Go ahead and look at other designs by popular gamers for inspiration. Since the first few designs can be difficult to think up, it's always good to have reference material!
Step 2 – Make It Unique
Although some templates can be attractive on their own, it's undoubtedly a better idea to make yours unique. Use the personalization tools on the twitch overlay maker of your choice.
Here you can go wild with different graphics, logos, texts, colors, etc.
Step 3 – Add-ons And Special Features
These are offered by some twitch overlay makers to add a bit of extra zing to your designs.
You can include animations, stickers, or gifs to really make your overlay exceptional.
An additional feature on twitch overlay makers like Adobe Spark is a collaboration feature. You can directly work with others to make the designing process more entertaining and creative!
Step 4 – Find The Right Size
Resizing can be a hectic task if you are unfamiliar with graphic design. But this ordeal is done away with the right twitch overlay makers.
Twitch overlay makers are streamlined to allow you to adapt the size for any of your streaming channels and platforms.
Step 5 – Don't Forget To Save!
The final step to making your twitch overlay is remembering to save all your hard work.
Once you've taken care of this, most overlay makers have an easy share feature. Sharing your templates with other gamers in the community is a great way to show off your creativity!
Not to mention, sharing templates also help others get ideas for their templates. Ultimately, the more you share and create, the more attention you grab for your channel!
Twitch Overlay Makers and Designs – Wrapping it up
Twitch overlay makers can add oomph to your entire channel. Since they range from free to just a few dollars a month, you don't need to worry about excess spending.
You don't need to be a designer to make professional-looking templates either. Once you get the hang of it, your overlay will speak volumes about your content and branding as a gamer.
Go on and start customizing with these great twitch overlay makers to transform your streaming experience!