Last Updated on January 14, 2022
For new musicians and artists, promoting your own music across a variety of online streaming platforms is an effort that requires extensive time and attention. Given how saturated such platforms are today with new music, even high-quality tracks may have difficulty getting off the ground at first.
Thankfully, there are plenty of Fiverr experts providing an assortment of promotion services over several platforms. Partnering with a music promoter on Fiverr will allow artists to focus their efforts on other parts of their music, leaving the marketing to a seasoned professional who can be counted on to provide quality results.
By offering honest, responsible, and efficient services, musicians publishing on all platforms may rely on the true commitment and support of the following Fiverr professionals to develop their brand.
What are the Best Music Promotion Services?
See these top five music promotion services on Fiverr for your music marketing needs:
1. groovehubagency – Best Spotify Music Promotion Service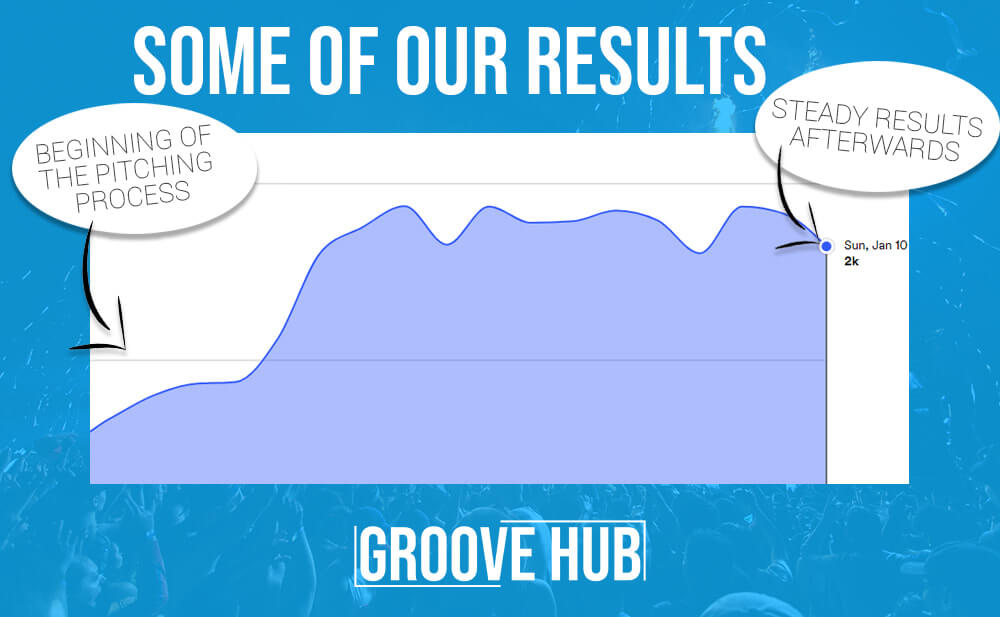 Groove Hub is the best-selling promotional service on Fiverr with more than 1,527 positive ratings — for excellent reasons too. Groove Hub offers a wide range of services to meet the demands of new curators and musicians that want to grow Spotify following.
The packages of Groove Hub vary from one song promotion for $25 to promotion of three songs for $80. Each package is accessible for up to 3-6 months as a subscription service, which allows artists to incorporate Groove Hub for their brand as a cornerstone of their Spotify marketing.
By using its playlist and curator network, Groove Hub drives organic streams to its customers' discographies. Groove Hub ensures that songs are featured on a variety of exclusive playlists with a great number of monthly listeners. Additional promotion is powered primarily by an email campaign and backlinking.
The extensive network of other curators Groove Hub markets to ensures that no streams are generated by bots, which breaks the Spotify and Fiverr terms of service agreements.
Groove Hub provides an incredible deal for the greatest overall promotional service offered on Fiverr based on the quality of their service, the feedback of previous customers, the various service options provided, and the competitive cost of each package.
2. edm_promotion – Best SoundCloud Music Promotion Service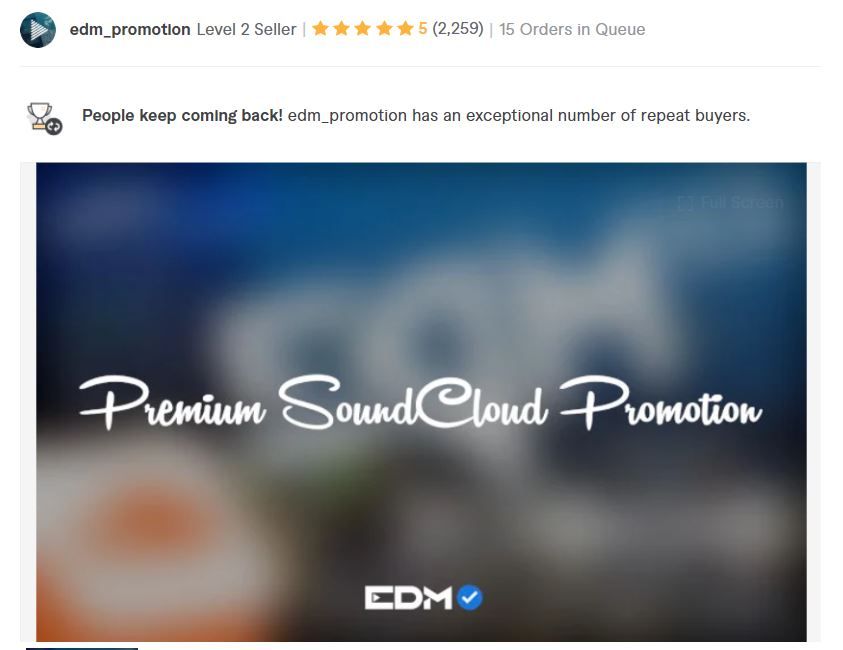 As a Level 2 Seller on Fiverr with over 2,000 5-star ratings, edm_promotion provides the greatest SoundCloud promotion services for anyone seeking to boost their organic SoundCloud streams.
This vendor only has one package available: a $40 premium SoundCloud marketing service. Purchasing this bundle allows the user to promote their tune to over 300,000 active curators, artists, and other listeners.
As countless past clients can confirm, this dependable network of listeners guarantees organic engagement. This seller ensures that the discography they promote receives the attention the customer paid for by bringing in other DJs and music producers to their vast network.
Along with SoundCloud, edm_promotion offers promotional services for Spotify, Apple Music, and Shazam at no additional charge to the customer. This service will also promote customers' music on Facebook and Twitter.
3. raquelmind – Best Apple Music Promotion Service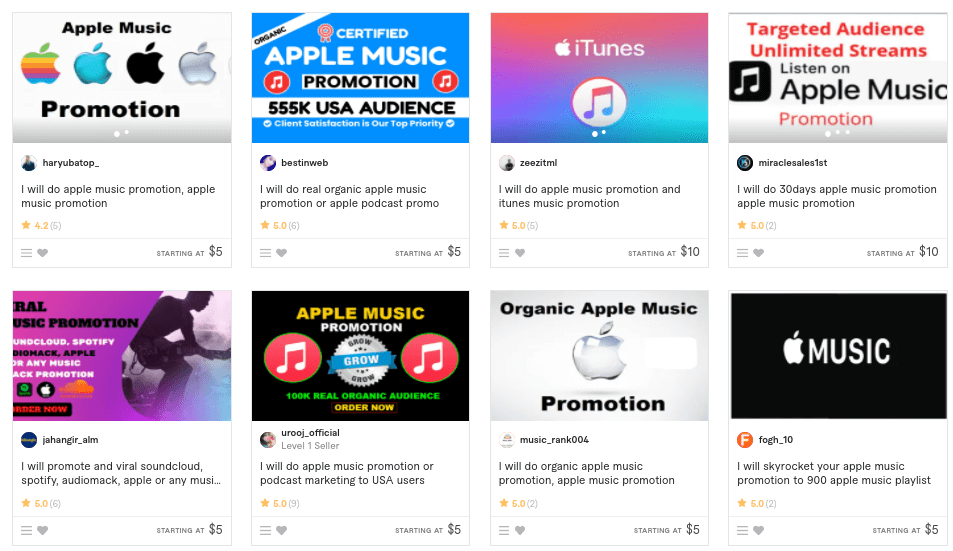 A seller on Fiverr noted for their frequent repeat buyers, raquelmind offers Apple Music promotion services ranging from $5 for the promotion of two songs to $15 for the promotion of four songs.
With raquelmind, customers can expect to have their songs listed on popular Apple Music playlists on one-month basis. These playlists are actively managed by the team behind raquelmind, ensuring all streams are organic and not generated by streaming bots.
Curators and artists partnering with raquelmind will also be able to work on additional promotional services to develop a tested marketing strategy for their music. These strategies are custom built and priced for each musician based on their music and target audiences.
Customers are consistently satisfied with the service provided by this seller, often noting the dedication and care which raquelmind puts into picking the best playlists for maximum exposure of each track.
For those looking to extend their promotion efforts to Apple Music, look no further than raquelmind.
4. againmilan – Best Music Promotion Service for TikTok
Viral music creators are turning to TikTok to market both new releases and older tunes.
Having garnered an impressive user base over the past three years, TikTok has become an excellent opportunity for curators and musicians to market their discography.
A Level 2 Seller with a massive organic fan base on TikTok, againmilan offers valuable promotional services through her platform.
Customers note that receiving over 100,000 views on promotional TikTok videos for their tracks is common when partnering with againmilan.
As a professional Creator with over 60 million views per month, againmilan is an excellent source for promoting tunes on TikTok.
This seller offers packages ranging from $55 to $225. Each package promotes a single song one or two times to againmilan's entire following. If againmilan is not satisfied with the number of views a promotional video received, she commits to promoting the song again free of charge.
With other rising music talents quickly realizing the promotional potential of TikTok, make sure to check out againmilan and her exceptional service based on her experience, pricing, and level of engagement.
5. musicgrowth – Best Music Promotion Service for YouTube
For artists seeking to grow their following through engaging YouTube content, musicgrowth offers the best promotion services on Fiverr for advertising to YouTube users.
With over 450 million lifetime views on their channel and driving an average of 600,000 views each day to their videos, musicgrowth is an excellent source to extend a promotion campaign into YouTube through.
Offering packages from $60-$120, each track is uploaded to their YouTube channel along with social and discography links. This seller also creates a visualizer to use as the thumbnail for the video, free of charge to the customer.
Customers cite a transparent process and heightened exposure through partnering with musicgrowth. Noted for their high number of repeat sellers, musicgrowth makes YouTube advertising easy by simply sending them your track and letting them handle the rest.
With musicgrowth, your promotional music video is not deleted from their YouTube channel after the promotion period has ended. This allows your music to continue generating views and clicks back to your other discography.