Last Updated on December 26, 2022
The fictional Gundam multiverse by Bandai is one of Japan's most popular fictional universes.
People love the characters, the vehicles, and much more. That is why Gunpla commissions are the best gift for people who love this fictional multiverse.
These commissions include paintings, 3D models, art, illustrations, and much more you can choose from.
So, if you are looking for the best Gunpla commissions artists, you are in the right place.
Who Is The Best Gunpla Commission Artist?
Here are my top five Gunpla commissions artists available online:
1. Kevmatamoros – Best Artist For Scale Gunpla Modeling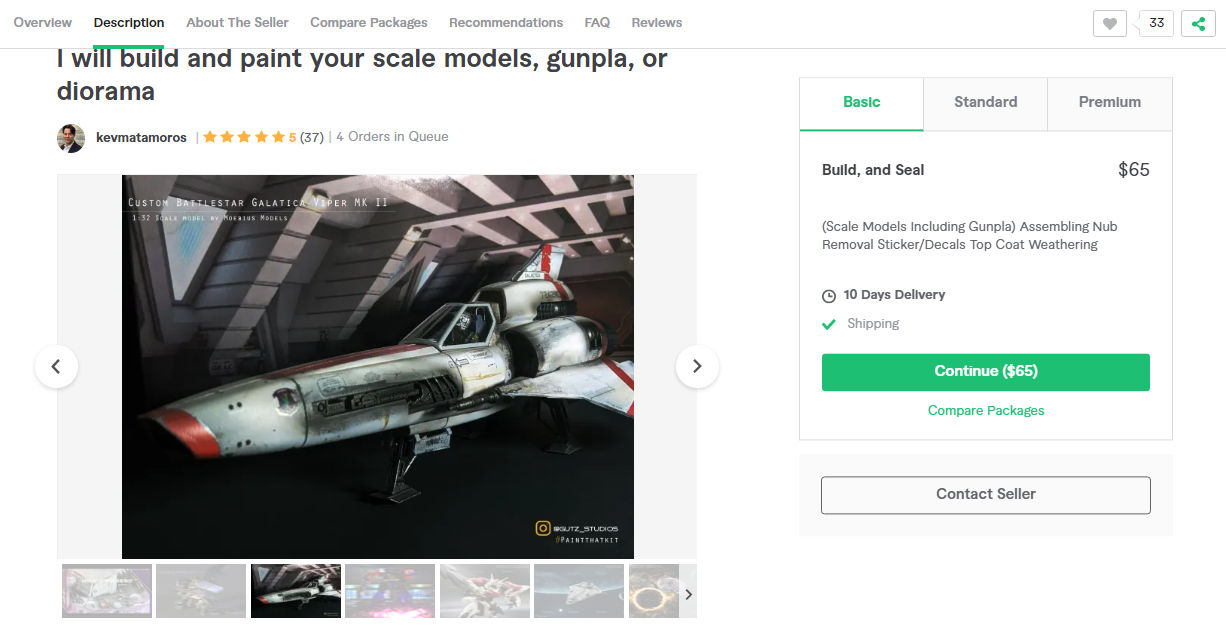 Are you looking for the best scale modeling artist who can create your Gunpla commissions?
If you are, you must not look further than Kevmatamoros who specializes in creating such art. The seller's name is Kevin, from the United States.
He paints all the 3D scale models and miniatures of the Gunpla characters, vehicles, and other things in various ways. He has almost 40 5-star reviews, and his basic gig starts at $65. Yes, he is expensive, but you get shipping for your art in ten days.
The mediums that Kevin uses include AK Interactive, Tamiya, Vajello, and many others. So, if you have always wanted a scale model of the Gundam multiverse or know someone who does, be sure to opt for Kevin's services. You will not be disappointed.
Are you looking for Gunpla commissions for scale modeling? Check out Kevmatamoros portfolio here.
2. Dizeen Studio – Best For Gunpla Robot Scribble Art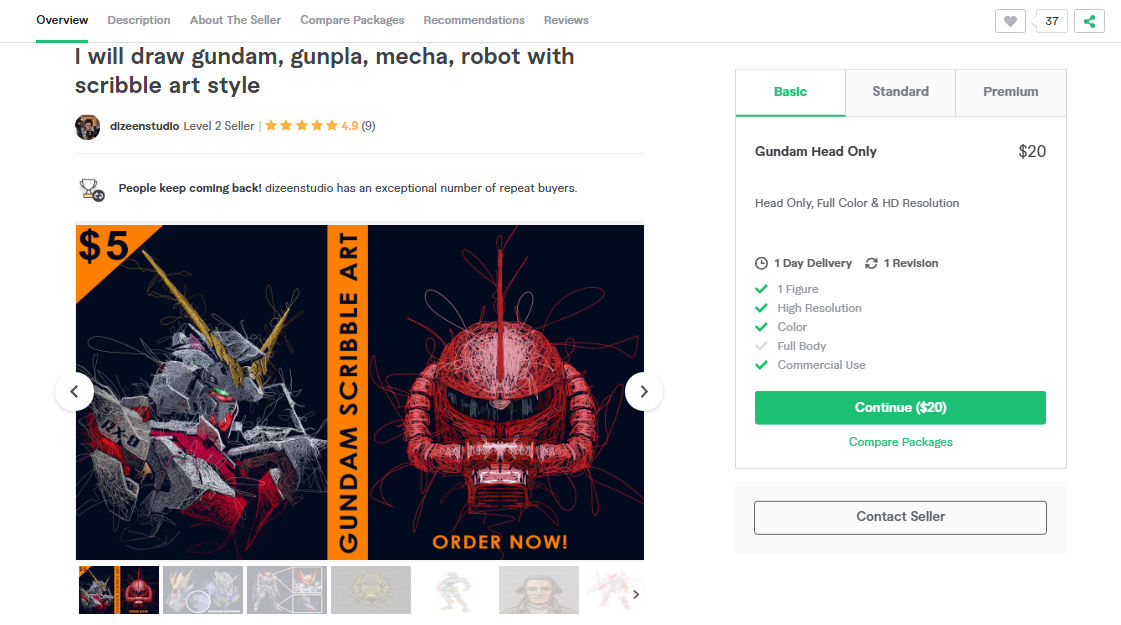 If you are looking for a Gunpla robot in scribble art style, make sure to check out Dizeen Studios and his Gunpla commissions.
The seller is an architect and graphic designer who is from Indonesia. He has almost ten 5-star reviews that have made him one of the best people for such services.
The sellers' basic gig starts at $20, but you will only get a Gundam head in that gig. Of course, you can also give a custom order depending on your needs. The seller illustrates these designs for Mecha commissions as well.
Are you looking for Gunpla commissions with scribble art style? Check out Dizeen Studio's portfolio here.
3. R_Creator – Best For Anime Style Gundam Commissions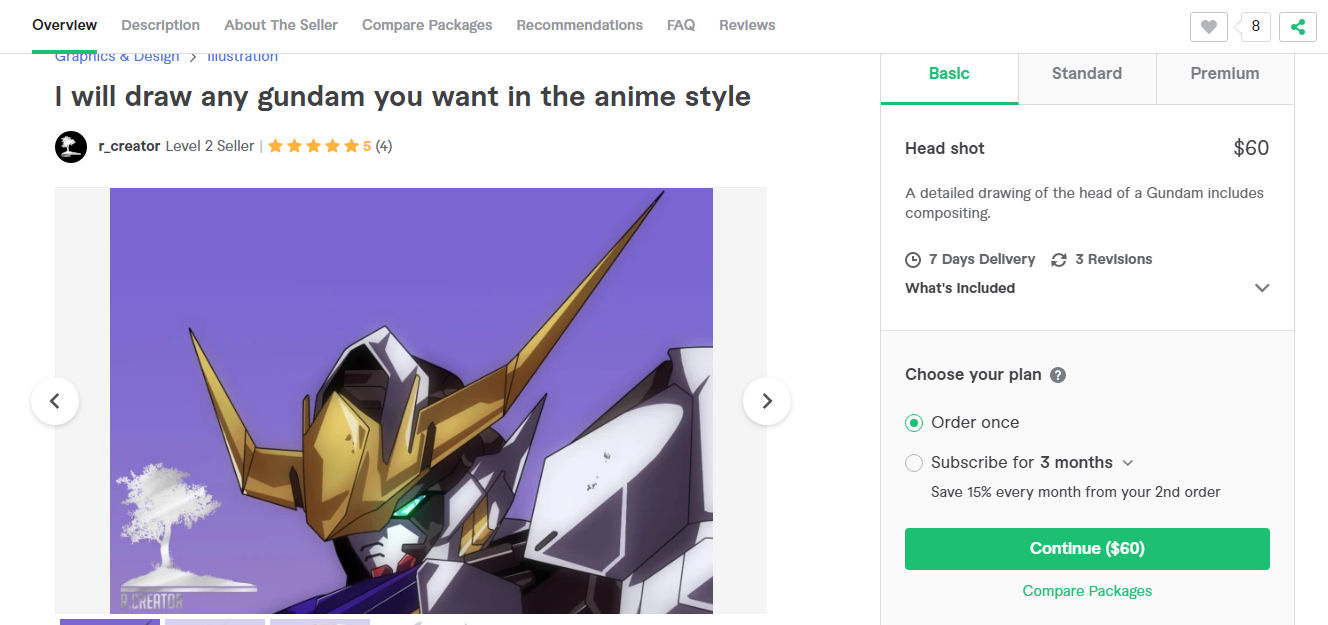 Are you looking for a detailed anime drawing of one of your favorite Gunpla robots? If you are, R_Creator is definitely one of the artists you should look at.
The seller is from Indonesia and creates the best digital anime-style art for all clients with Gundam and Gunpla needs.
Of course, the seller specializes in creating anime-style art that you will love. The seller has four 5-star reviews. And his basic gig starts at $60. People opting for the seller's services can also use the Gunpla commissions for commercial work.
Are you looking for the best anime-style Gunpla commission? Check out R_Creator's portfolio here.
4. Gunpla_Art – Best For Customized Gunpla Commissions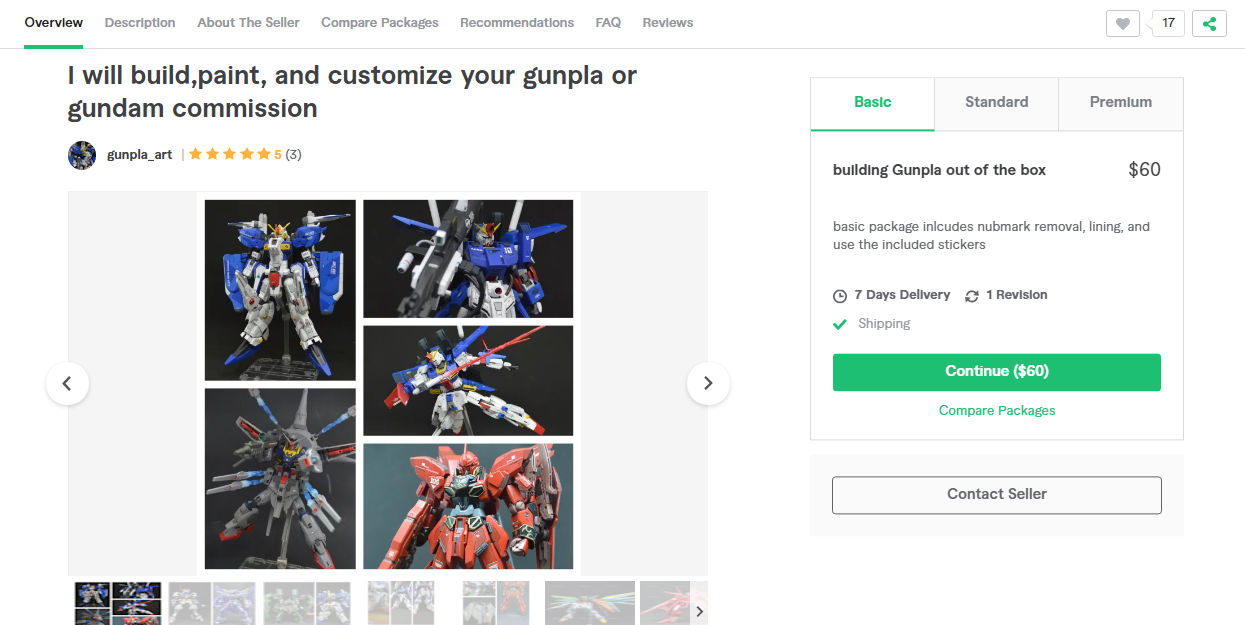 If you want a customized Gunpla commission, you must opt for Gunpla_Art on Fiverr.
The seller is from Indonesia with more than seven years of experience in creating Gunpla commisssions. They will build your Gunpla in any way you like as they have all the tools to finish the work.
The best part is that you will receive shipping of your customized Gunpla figure in no time. Keep in mind that the sellers' basic package starts at $60. Of course, if you want a customized order, you can send the seller a request for a custom package.
Are you looking for a customized Gunpla robot commission? Check out Gunpla_Arts portfolio here.
5. Moevil – Best For Affordable Gunpla Fan Art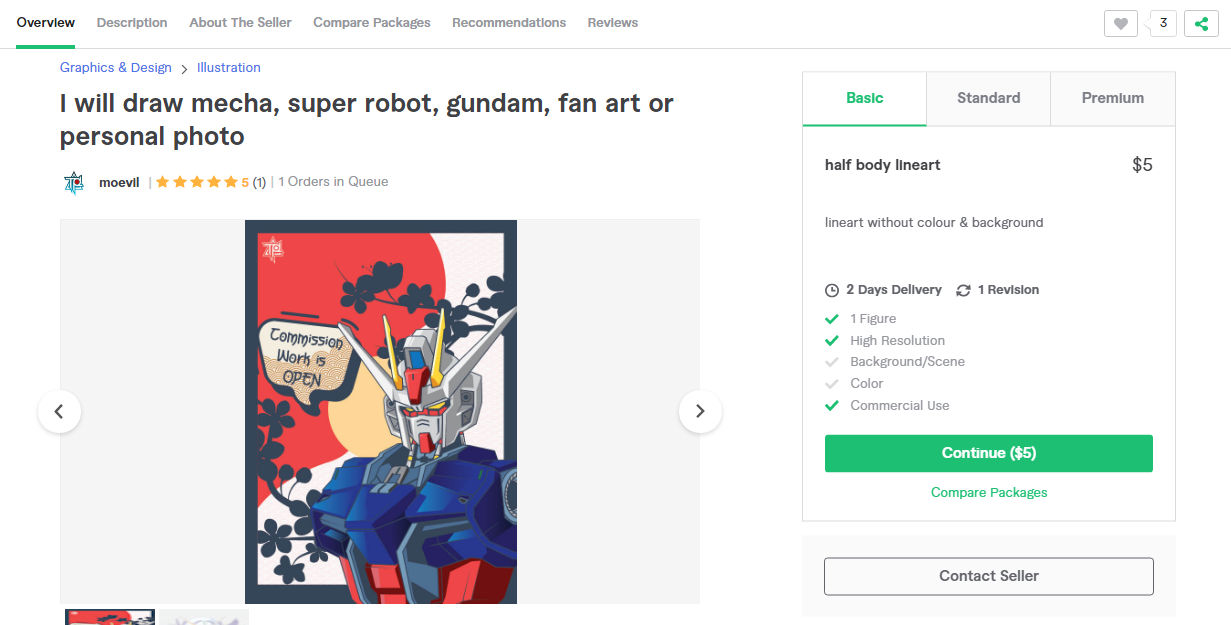 If you are on a budget, you can choose Moevil to create your Gunpla commissions in no time. The seller is from Indonesia and can draw whatever you wish. However, the seller specializes in creating vector art for clients.
All you have to do is give the reference, and the seller will draw it for $5. He has only one 5-star review for Gunpla fan art gigs. However, the work is exceptional, and you will love the fan art in no time.
Are you looking for affordable Gunpla commissions of fan art? Check out Moevils portfolio here.
How Much Does a Gunpla Commission Cost?
The average Gunpla commission price is between $20 to $250, depending on a few factors such as the experience of the seller, the type of art you are looking for and the level of details required (headshot vs full body).