Last Updated on December 26, 2022
Do you want to create your own avatar?
That's a question that more and more people ask themselves, and it is now possible with the help of online 3D avatar makers.
With just one photo, you can create an image that will look just like you – or any other person.
All you need to do is find an excellent online avatar maker and follow a few simple steps to create your very own three-dimensional image.
Today's leading 3D avatar makers are Fiverr and Ready Player Me, and in this tutorial I will teach you exactly how to use them.
So let's get started!
How to create a 3D avatar from photo – Step-by-step
Here are my two favorite methods to create 3D avatars:
Option 1: Fiverr – Turn your photo into a 3D avatar without any prior knowledge
Many different services can help you create an avatar of yourself, but Fiverr is one of the best resources out there.
You can hire people on Fiverr who will create a high-quality avatar for you based on just one photo.
This is an easy option for people who want to create an avatar but don't have the time to do it themselves.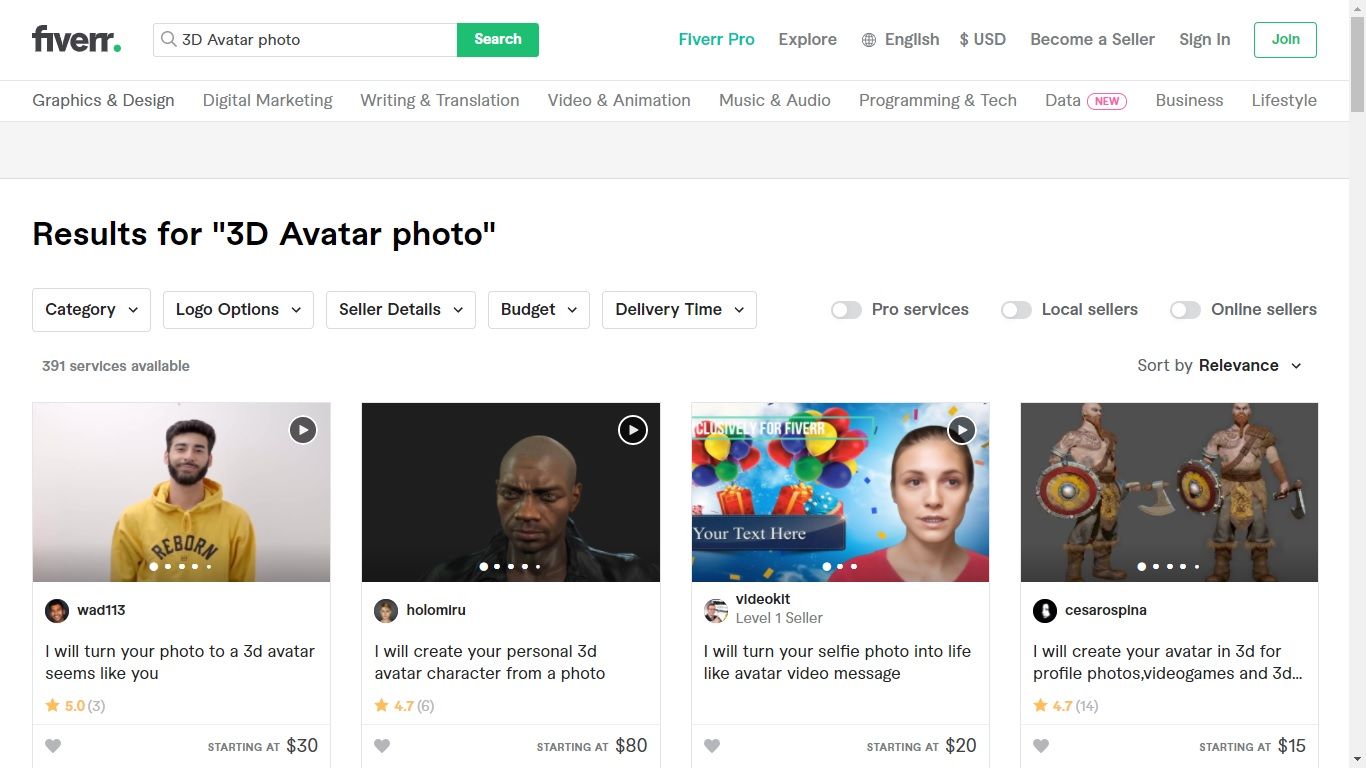 How to Create 3D Avatar from Photo using Fiverr in just four steps:
1. Browse through the graphic artists
Visit Fiverr.com and search for "3D Avatar Photo" to view the relevant results.
Currently, there are over 500 different artists offering avatar creation services, so take your time to find the right one. Make sure to look at their past work and reviews before deciding.
If you're looking for a specific style or want to have more control over the final product, find an artist who offers customization options.
On the other hand, if you're looking for a quick and easy solution, there are plenty of artists who can create a high-quality avatar for you based on just one photo.
2. Find the right gig based on your budget
Different artists on Fiverr have other price points, but you must find one that matches your budget. The price for a quality 3D avatar from a photo starts at $30 up to $80 for a realistic 3D avatar.
The price goes up depending on how complex you want your avatar to be, its intended use (Playing games on VRChat, joining the metaverse or even using it as a VTuber model) and the amount of customization available.
The more detail added, the higher the cost will usually be – but it also means a much better result for you at the end.
3. Place your order
Once you have found a graphic artist, contact them to give your desired specifications, and go from there. Make sure to provide a quality photo and any other details about what exactly you want from this service. Depending on your preference, you can also request the artist for a half body or a full body avatar.
Place your order, and the artist will begin work on your avatar immediately after payment. Keep in mind that the turnaround time for most artists is 24-48 hours, so you'll have your avatar pretty quickly.
4. Receive the work and enjoy your new avatar
Your avatar will be available for download after the artist finishes creating it. Simply save the file and you're ready to go.
Option 2: Ready Player Me
This is the most versatile and user-friendly online avatar maker on the market today.
Ready Player Me can create an incredibly detailed avatar from just one photo in only three steps – uploading the picture, adjusting their bodies, and choosing accessories.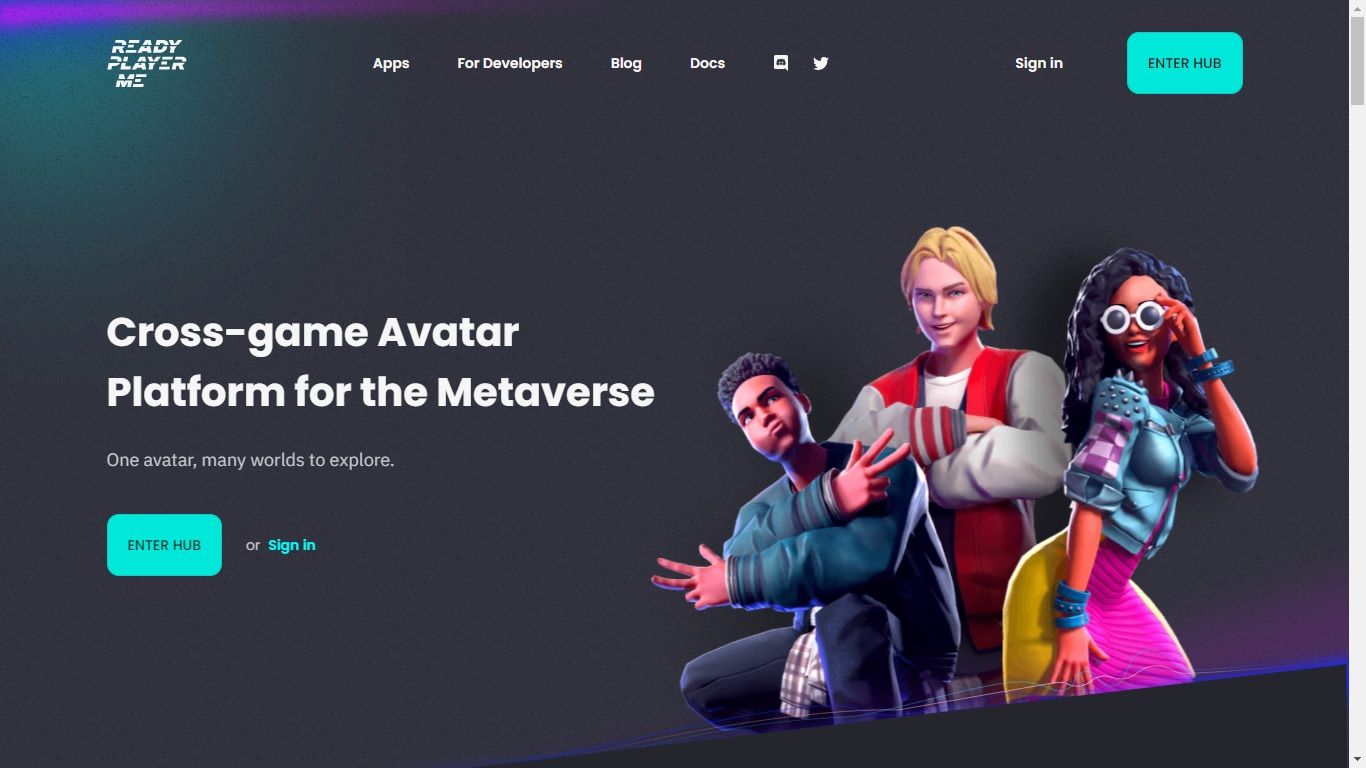 How to Create 3D Avatar from Photo using Ready Player Me in just three steps:
1. Prepare a good photo and visit the website
Ready Player Me can work with a wide variety of photos, but prepare for clear, well-lit shots beforehand to achieve detailed results of your avatar.
Then, visit readyplayer.me and click on "Create Avatar," and choose the body type to get started.
2. Upload or take a photo
Upload your photo, or you can snap a photo directly to proceed. The image needs to be frontal with no sunglasses, hats, or hair covering the face, and good resolution is recommended for the best results. There will be a 5 to 10 seconds loading screen to get started.
The photo is cropped to fit the avatar maker, so you may need to retake your photo if it's not a good close-up shot of just your face.
3. Customize your avatar
This is where Ready Player Me really excels – you can customize every single aspect of your avatar. Ready Player Me allows users to adjust their height, weight, clothing style, and color saturation for a truly personalized experience.
You have the ability to choose from hundreds of different options from the Ready Player Me catalog. You can create a half-body or full-body avatar, and they even offer a VRChat avatar maker. When you're finished, click on "Done," and your new avatar will be ready to use.
Your 3D avatar is good to go!
There are many different ways to create a high-quality 3D model of yourself, but the two methods discussed here are the best and most user-friendly. With just a few simple steps, you can be ready to enjoy your new avatar in all your favorite online activities.
Whether you're playing your favorite online game or just want to have a more personal profile picture, these methods will help you get the job done.
What is a full body avatar?
A full body avatar represents a human being in digital form. In short, it's a virtual version of you that's both recognizable and customized to your liking.
The sky is the limit when it comes to what you can do with an avatar of yourself. From games to business, there are a lot of different uses for avatars. However, the most common use for an avatar is probably in video games.
For many people, avatars are their favorite part of video games. Your avatar is your representative in the gaming world. It's the character that you control and that portrays you.
This is why many people choose to create their own 3D avatar from a photo – they want to have the most accurate and realistic representation possible in the game world.