Last Updated on December 29, 2022
Are you looking to create your own custom plushie or stuffed animal?
Do you need a talented artist, but you have no idea where to start and how much it would cost?
Well, you are in luck!
In this article, I will share my favorite sources for plush commissions, whether you're looking for animal characters, Anime, OC or something else!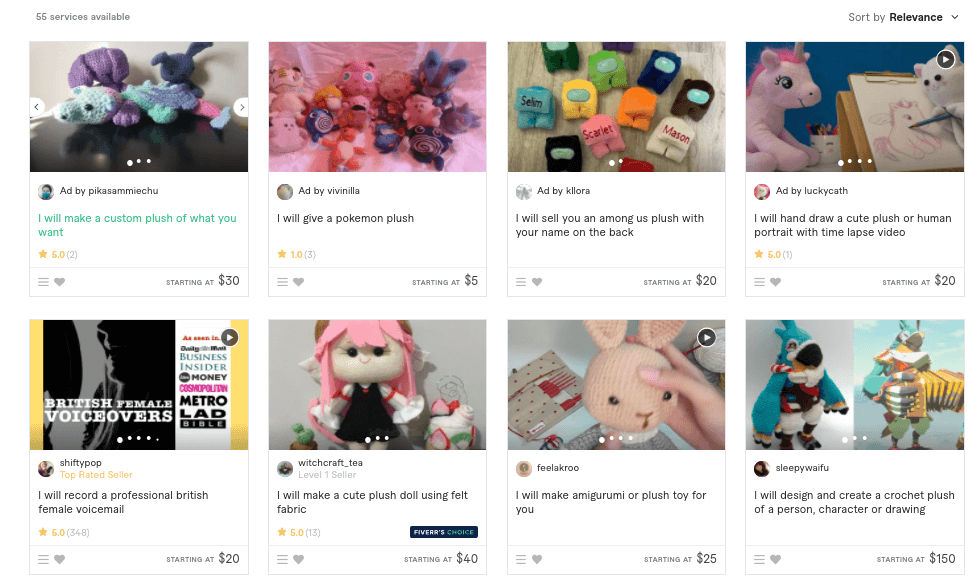 Fiverr and Esty are both great resources for those who want to buy custom plush.
Etsy is a bit more targeted towards those looking to sell their own plush, whereas Fiverr has a range of capabilities that cover both ends of the spectrum!
Who are the best plush commission artists?
The best plus commission artists are on Fiverr and Etsy. These two platforms offer the widest range of customizable plush commissions in the marketplace.
Here are some of the best plush commission artists on Etsy and Fiverr right now:
1. Witchcraft_tea – Top Anime Plush Maker With All Five-Star Reviews!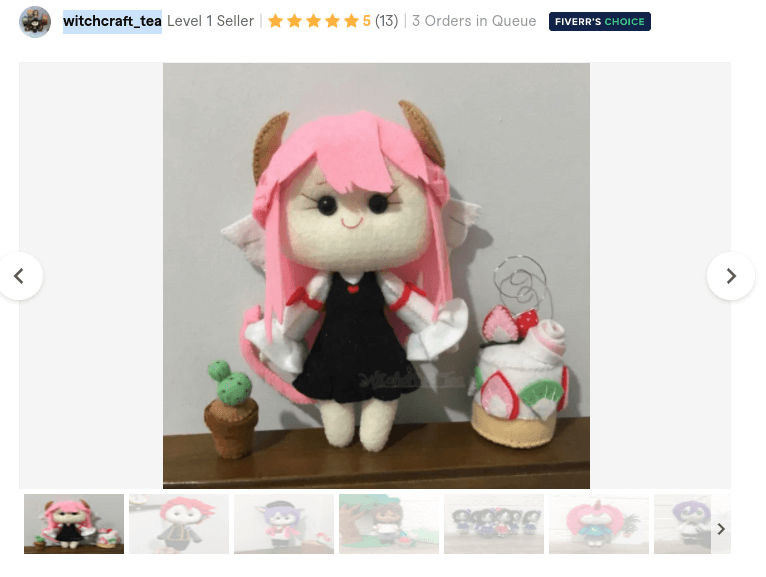 Witchcraft_tea is a crafter from Indonesia. They make customized plush felt dolls called "Podoll," which can range from:
Tv show characters
Video game characters; and
General objects, etc. The sizes are around 18 cm.
Witchcraft_tea is an experienced plush maker on Fiverr. They specialize in customizing your favorite game or cartoon character into a soft, huggable, and adorable plushie! This gig has 13 five-star reviews and offers a ton of examples in their Fiverr gallery! Their customer reviews back up this seller's commitment to customer satisfaction!
With all 5-star reviews, witchcraft_tea provides high-quality products that are hand-sewn and perfect for everyone. Witchcraft_tea provides three packages containing one, two, or five dolls for different prices and quick delivery! Check out more of their gigs here!
2. GrannyLuShop – Top Etsy Plush Maker With Over 155 Shop Reviews to Date!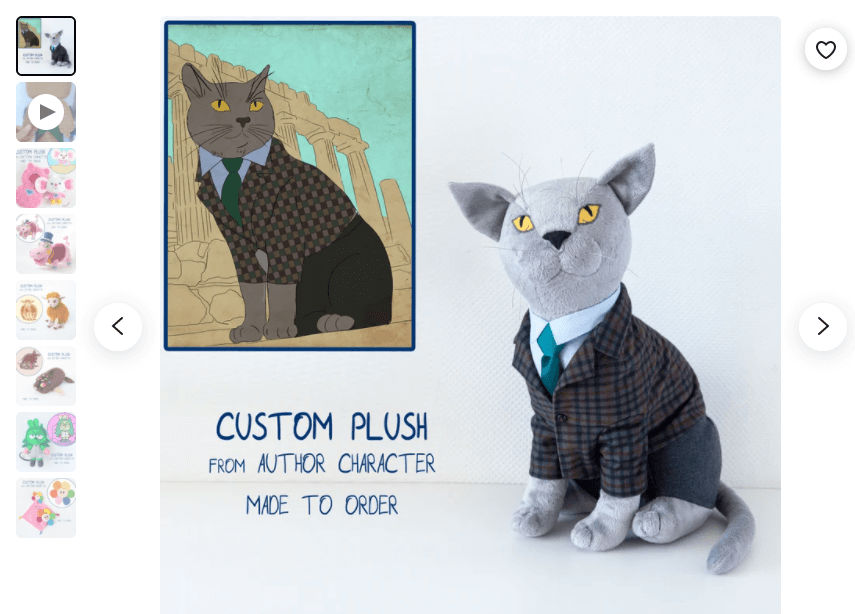 GrannyLuShop on Esty offers custom plush from your favorite author's character! Shipping comes from Ukraine and though it can take approximately 6-8 weeks, the end product has proven to be extremely high quality! GrannyLuShop can do it for an affordable price and with such fantastic quality!
GrannyLuShop has years' worth of experience in making these plush commissions, so customers are guaranteed to receive high-quality products.
Be sure to send this seller a message and attach a picture or screenshot of the cartoon character to discuss details and deadlines. Some details about the plush commissions from GrannyLuShops's Esty store include:
Prices may vary.
Select size:

S = 8 In (20 cm)
M = 12 In (30 cm)
L = 16 In (40 cm)
XL = 20 In (50 cm)
They use different types of fabrics for all toys, plushies, rag dolls, animals, cuddly creatures. All custom toys are extra high quality with great details. With over 150 5-star reviews, this seller has proven they offer quality products and services.
If custom plush characters intrigue you and you're looking for a dependable seller with proven success and quality products, then check out more of GrannyLuShop's listings on Etsy!
3. Scrimsy – Highest Reviewed Etsy Animal Plush Character Maker With 1200+ (Yes, 1200!) Customer Reviews!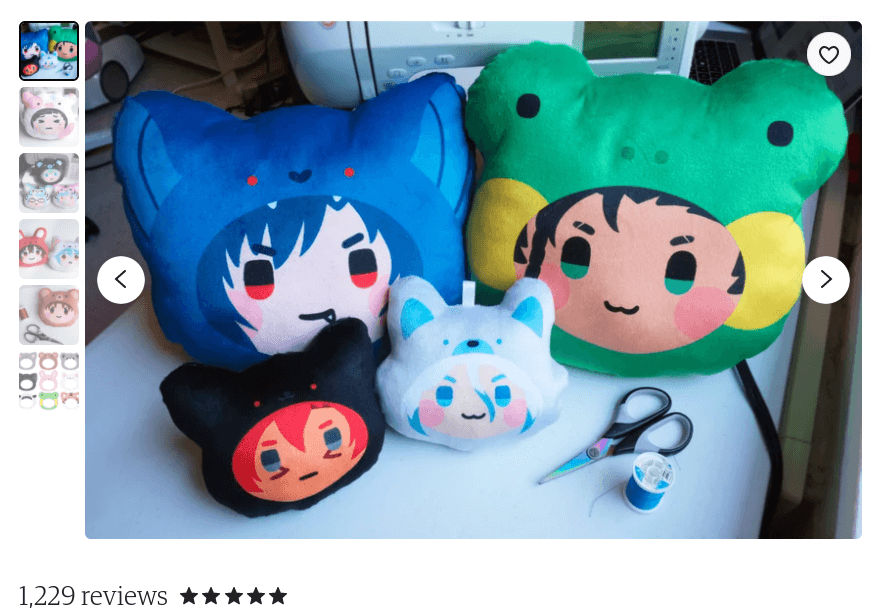 From New York, Srimsy offers an Etsy paged filled with Custom Animal Costume Character Pillows and more! They can design and sew it! Scrimsy has had over 4500 orders and over 1200 5-star reviews on Etsy, making them one of the most experienced and proven artists on the platform
Just send your ideas of a character or an animal costume, then pick a size. All pillows are handmade with soft fabric and washable, hypoallergenic polyester filling. The plush character's fabric is sublimation dyed, so the designs are crisp and can't peel off or fade. They can be machine washed on a delicate cycle with no fabric softener and tumble/air dry.
Scrimsy's orders generally take 1-2 months to fulfill, so be sure you order early in advance if you need it by a specific date. For a plush animal character of your own, visit scrimsy's Etsy store here!
How much does a plush commission cost?
Plush commissions typically cost $30+ depending on the size and complexity of design, plus shipping. Depending on the size, larger plush commissions can cost upwards of $100+.
The artist typically sets the cost of plush commissions depending on how complex/large your commission is. Please contact them if you are interested in a plush commission!