Last Updated on December 25, 2022
Mecha is a genre that features robots, cyborgs, androids, gunpla and space stations with robotic suits as can be seen in Japanese anime and manga.
Mechas are often seen as the ultimate form of strength and power, making them perfect to be used in battles or as a symbol of status. They also have an intimidating appearance that can strike fear into even the strongest opponents!
If you're looking for mecha art commissions, here are my favorite artists who you should consider hiring.
How to get custom Mecha art?
There are a few ways to get custom mecha art, but the convenient way would be to illustrate your mecha design, especially if you are artistically gifted. There are many programs out there that can help you create your mecha design, whether it's an anime-style robot or a more realistic mecha minature.
On the other hand, you can commission an artist to create one for you. There are many talented mecha artists out there, and it might be hard to decide which one to hire. However, narrowing down your choices by considering factors such as skillset, style, price range, and more should make the decision easier.
Online marketplaces like Fiverr offer the opportunity to those who want custom mecha art commissions.
The site's variety of artists means that you can find an artist with a style and price range suitable for your budget, as well as one whose preferred medium matches up with what you need.
Who is the best Mecha art commissions artist?
Many artists can create beautiful mecha art, but these five artists are some of the best in the industry.
1. Moevil – Best Overall Mecha Artist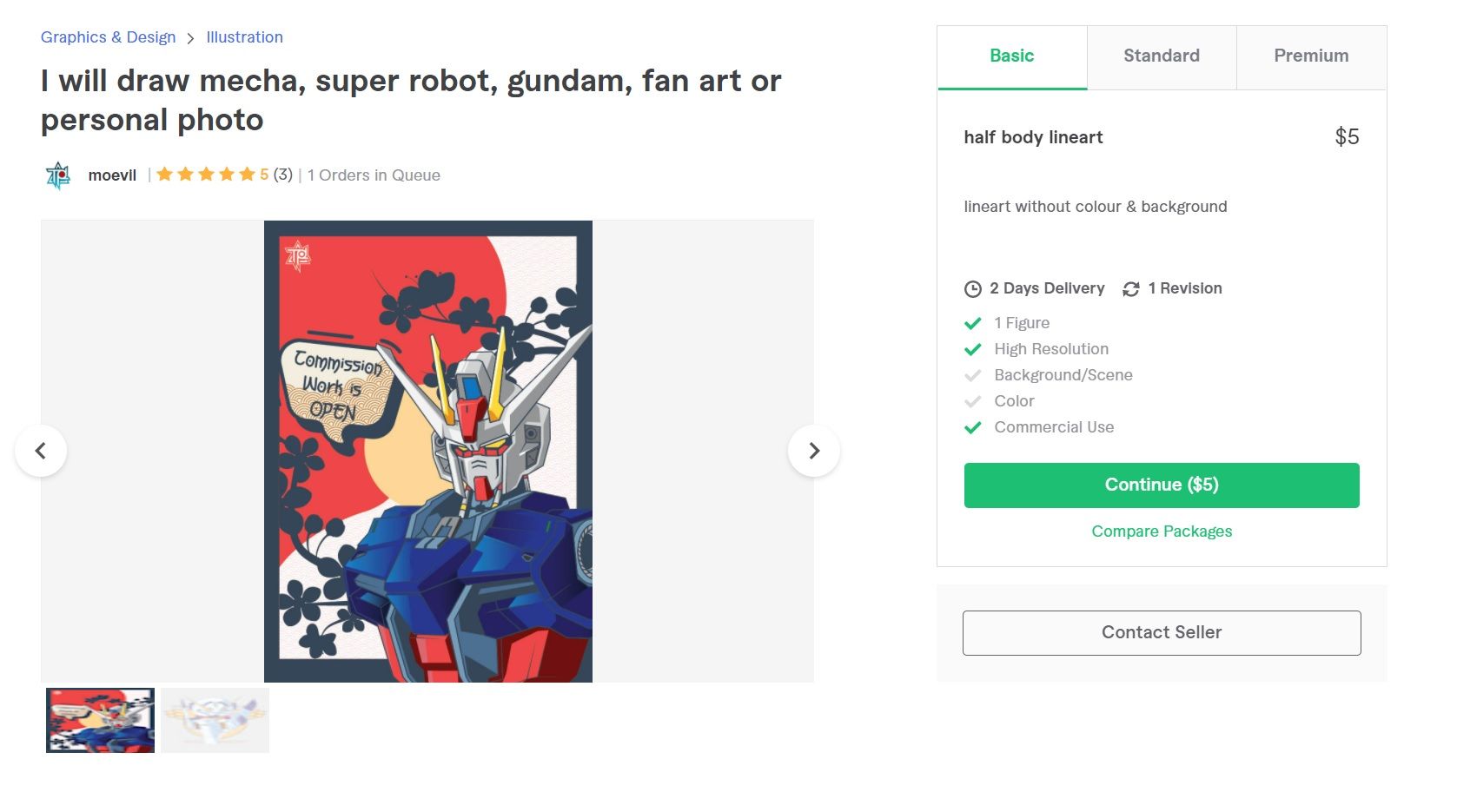 This Indonesian artist is a relative newcomer to the mecha art scene and creates a neat vector art style for as low as $5. He can also illustrate super robots, mecha, and even the famous Gundam mobile suit.
His style is very clean, and customers have praised his work for his ability to stay within the budget and deliver high-quality artwork on time. For half body and fully colored mecha art commissions, Moevil charges $25 only.
For affordable yet high-quality mecha art commissions, Moevil is a great artist to consider.
2. Tahta_benu – Detailed and Technical Mecha Illustrator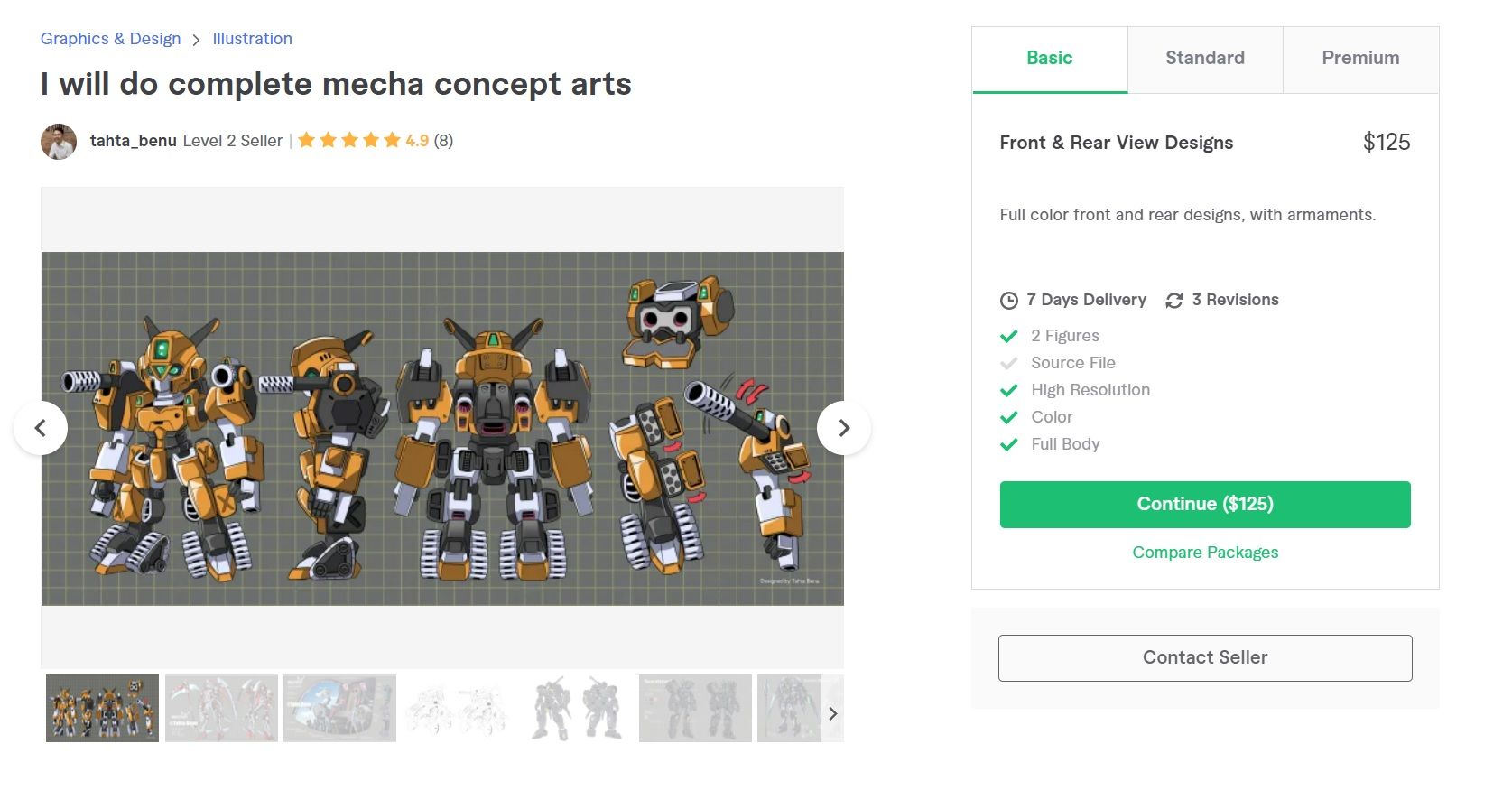 Another Indonesian mecha artist, Tahta_benu, is known for his Japanese style mecha art commissions. He is also talented enough to design the mecha concept designs and handle complex and detailed illustrations.
He seems to be a mecha fan, as seen from his details of cockpits, armaments, and other technical data. His prices range from $125 to $220 for colored mecha art commissions depending on the complexity and size of your order.
Looking for a talented and dedicated mecha artist? Tahta_benu is a great choice!
3. Eleazarion – Best in Isometric Style Mecha Art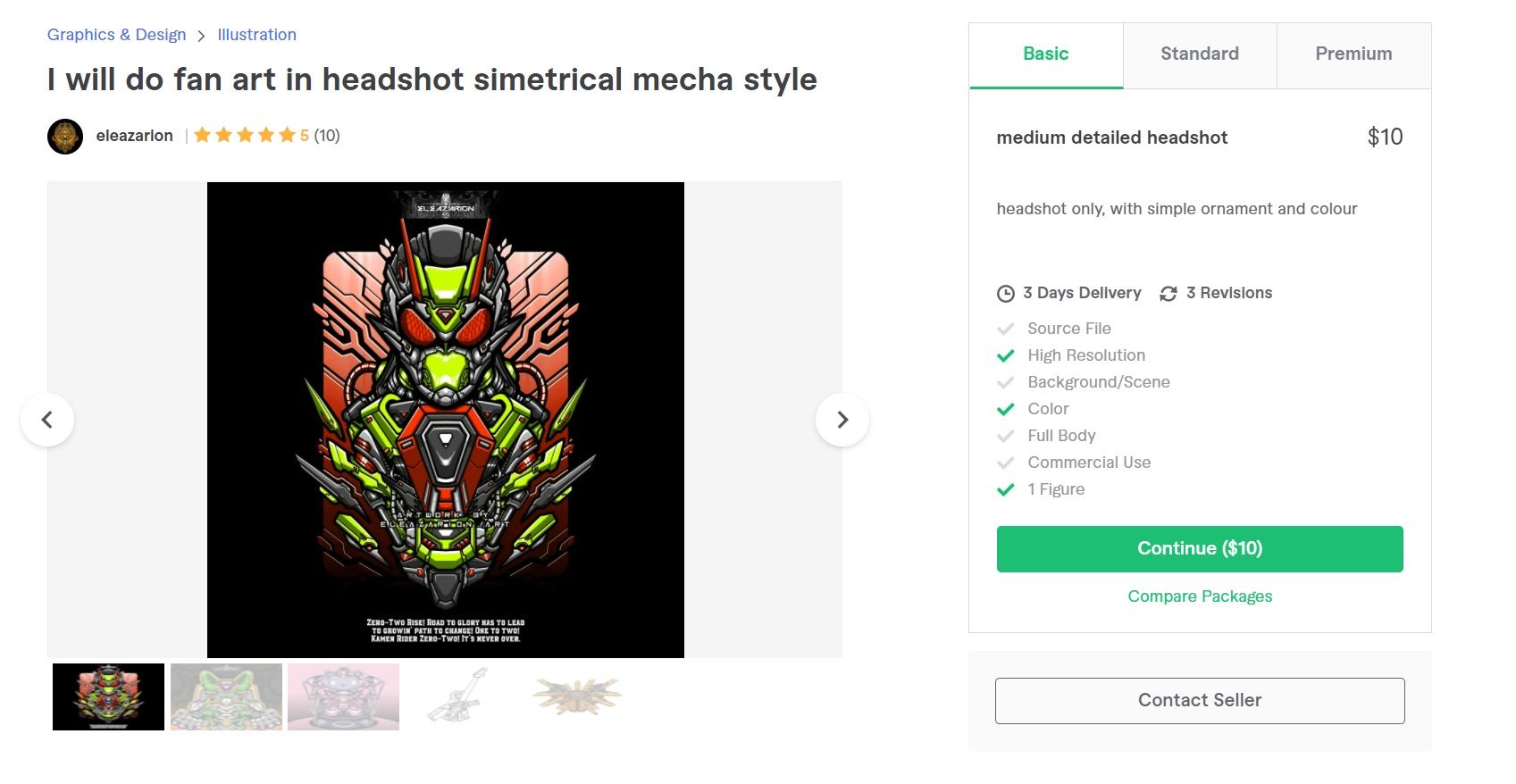 Isometric style mecha art commissions are hard to find, but Eleazarion knows how to create them. His work stands out more than other mecha artists' works because of its strong colors and keen attention to detail.
His portfolios are full of heavy and bulky mechas that look like they can really move. The colors and lighting in his work are also fantastic, catching everyone's attention.
A simple headshot commission costs $10, while a full-body, colored, and detailed art can cost up to $55.
If you're looking for an artist with stunning and unique mecha illustrations, Eleazarion should be your top choice.
4. Dizeenstudio – Scribble Art and Anime Style Mecha Art Commissions Artist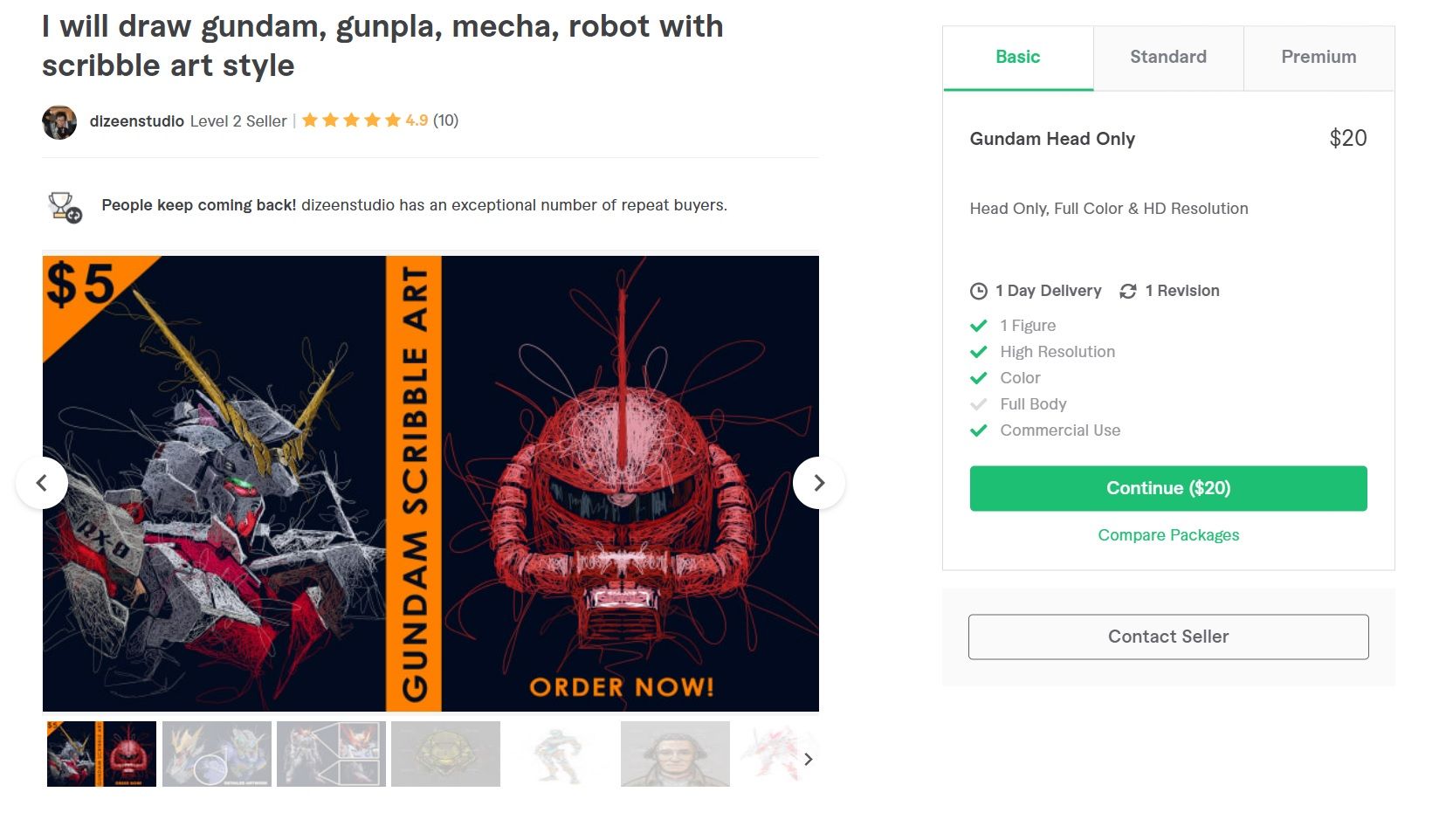 Who would have thought that scribbles could be so beautiful? With Dizeenstudio, they can. This artist is known for his anime and sketch style mecha illustrations which are often simple but very effective in conveying the design of the mechas.
Dizeenstudio can draw mecha, Gundam, Gunpla, and robot designs. Prices start at $20 for a colored headshot commission, while the full body and colored illustrations are priced at $40.
Looking for an artist with a wide range of skill sets? Dizeenstudio is the one to go to.
5. Dreegck – Fiverr's Choice Realistic Mecha Artist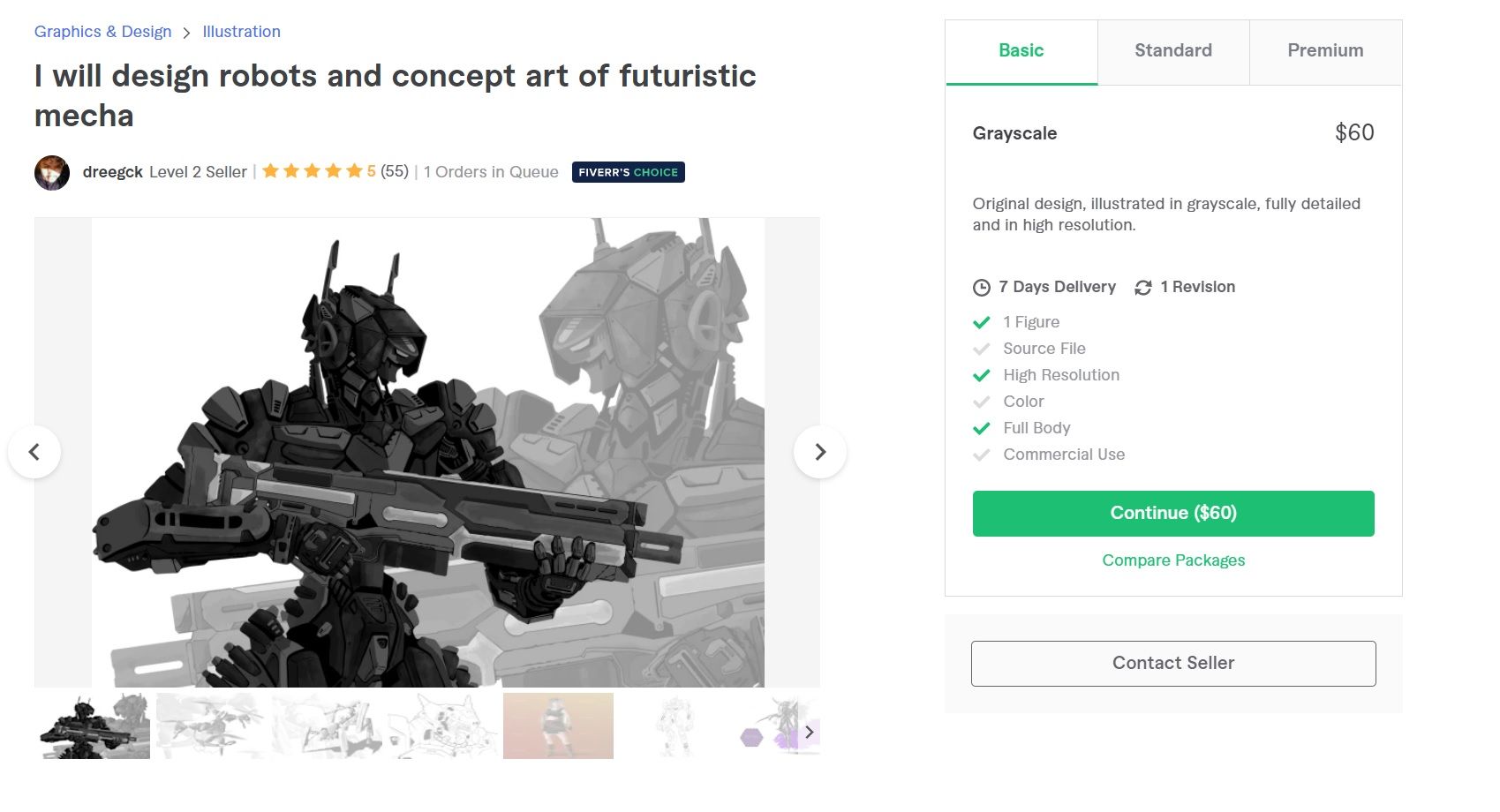 Dreegck has made a big splash with his talent in creating realistic mechas. His work has a very polished look, making it some of the best in the industry. With perfect 5-star ratings from 56 reviews, it's easy to see why this artist has been highly sought after.
You can get a fully colored and detailed commission for $100, while a grayscale full-body art is $60.
His artworks have been praised for their realism and attention to detail, making Dreegck one of the best mecha art commissions artists.
Looking for the best realistic mecha artist? Dreegck is a top choice!