Last Updated on September 4, 2022
If you are a fan of One Piece, of course, you want to create your own One Piece character who will be as cool as the characters in the anime.
Imagine having your face beautifully illustrated and edited into the famous Wanted background with the word "Wanted" and your bounty in flaming letters. That is how famous One Piece characters are.
They have left a mark in the world of anime, and they will live forever in the hearts of their fans.
In this post, we will guide you to find talented artists who can help you create your own One Piece character.
How to create your own One Piece character?
For those who are total fans and have a knack for artistic flair, you can always practice and hone your drawing skills to create your own One Piece Character.
However, commissioning a talented artist online is another option if you have a burning desire to create your own One Piece character.
Fiverr is the best platform for finding talented artists who have years of experience creating characters for different customers.
These artists are more than willing to help you create your own One Piece character for a small fee only.
Where to hire talented One Piece character artists?
With so many artists available online, it can be a daunting task to find an artist that suits your needs.
But fret not! We have listed a few talented artists who are the best in this field.
1. Unggulandi – Best Professional One Piece Artist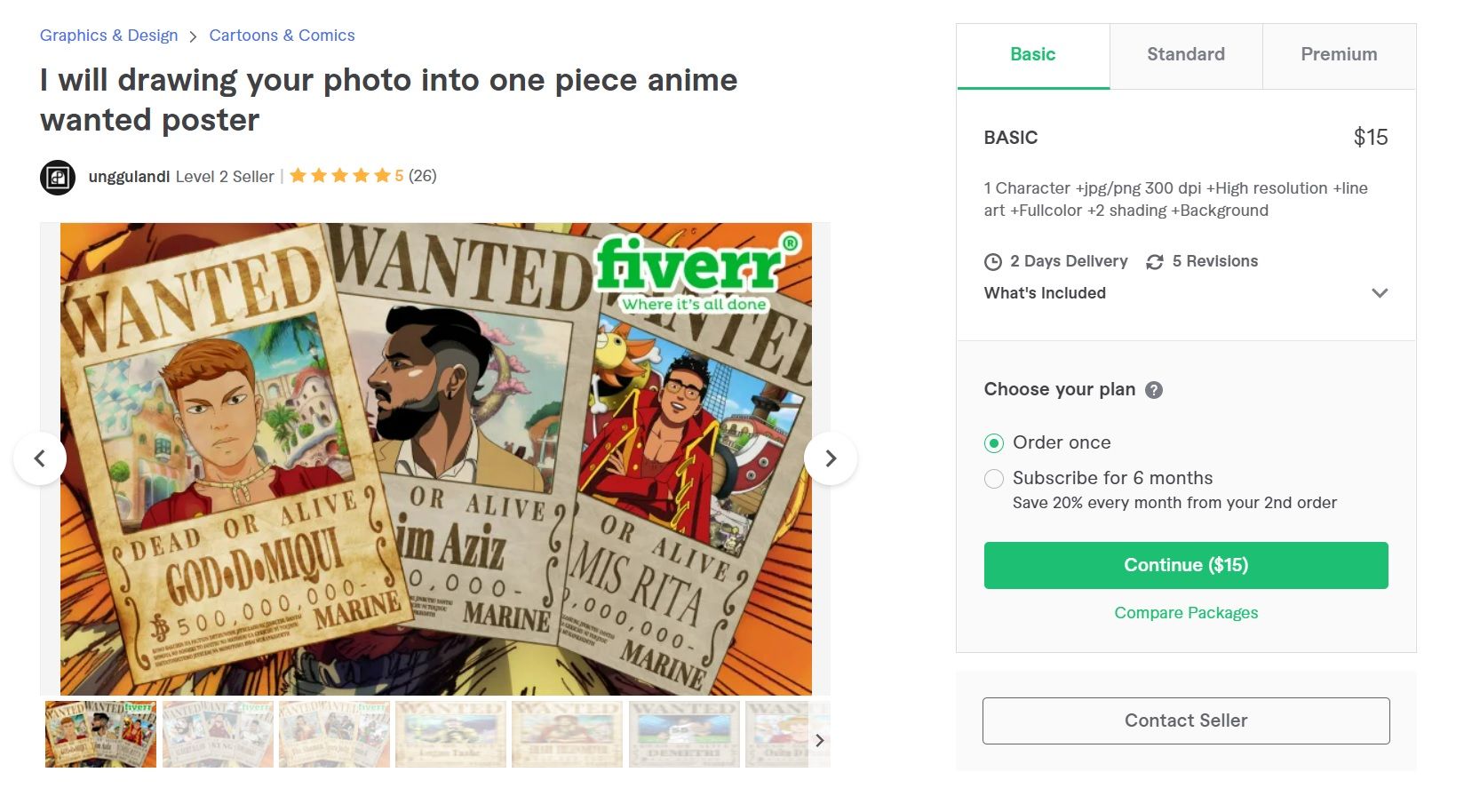 Talented in digital drawing, this Indonesian artist is a professional who will give you a fantastic illustration of your character.
Simply send your photo, character style, pose, and background, and he will create the perfect image for you. He got a perfect rating on Fiverr, so you can be assured of the quality of his work.
Unggulandi is currently available for full illustrations, character redesign, and colorization. You can get a digital image of yourself as a One Piece character in only two days for as low as $15.
Looking for a talented artist who can help create your own One Piece character? Then head on to Unggulandi 's Fiverr profile page now.
2. Overdosez – Terrific 2D One Piece Illustrator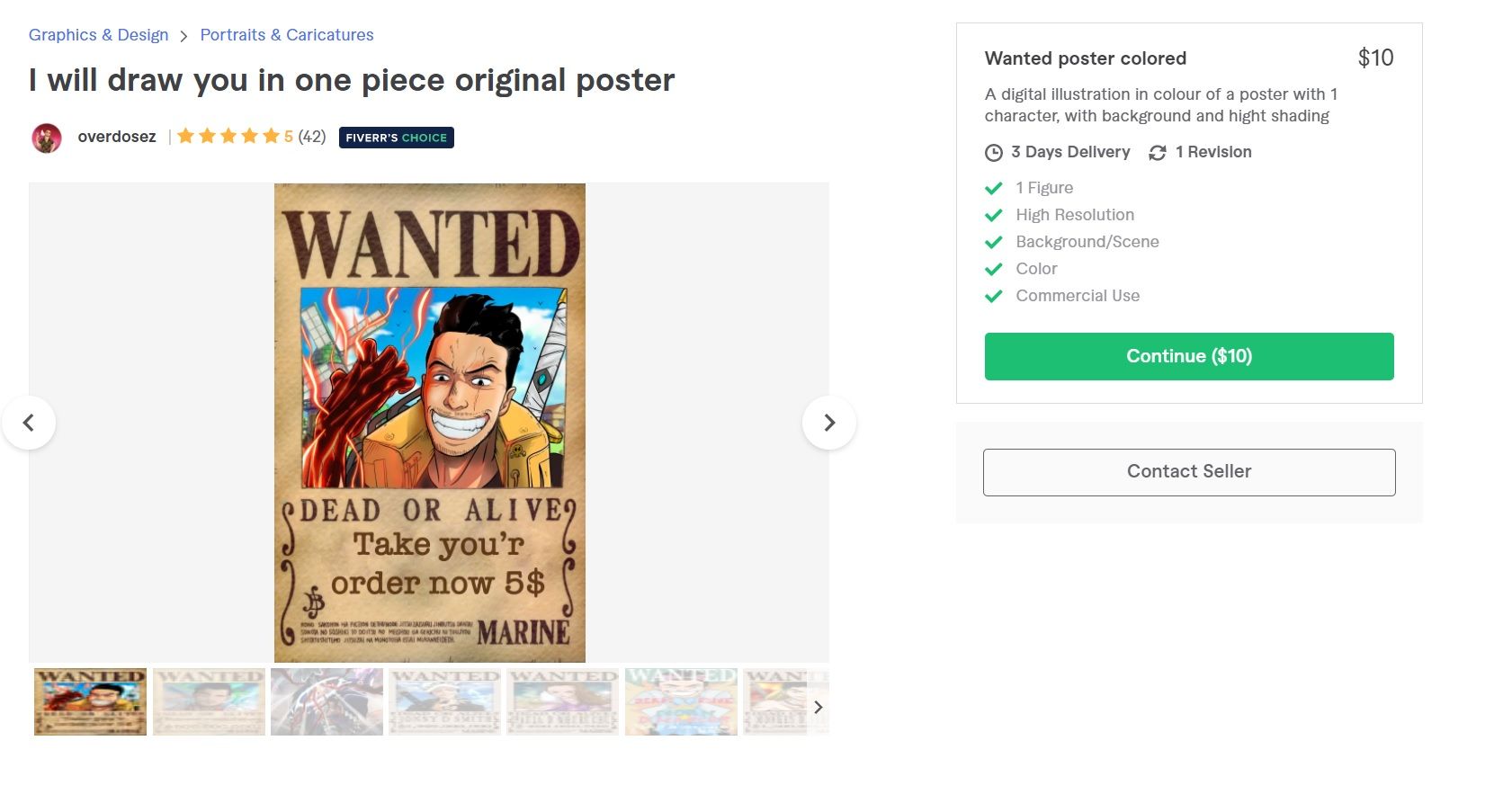 If you are looking for a unique gift as a One Piece fan, why not commission Overdosez to create your own One Piece character?
He is very talented in illustrating your ideas and will give you an awesome digital illustration of your One Piece character. His works are impressive, with five years of experience to his name. The Fiverr's Choice badge on his profile tells a lot about his talent and work.
You can get a digital illustration of yourself as a One Piece character in three days for only $10.
Looking to have your own One Piece character? Overdosez is the artist that you are looking for.
3. Maladraw – Fantastic Wanted Poster Digital Artist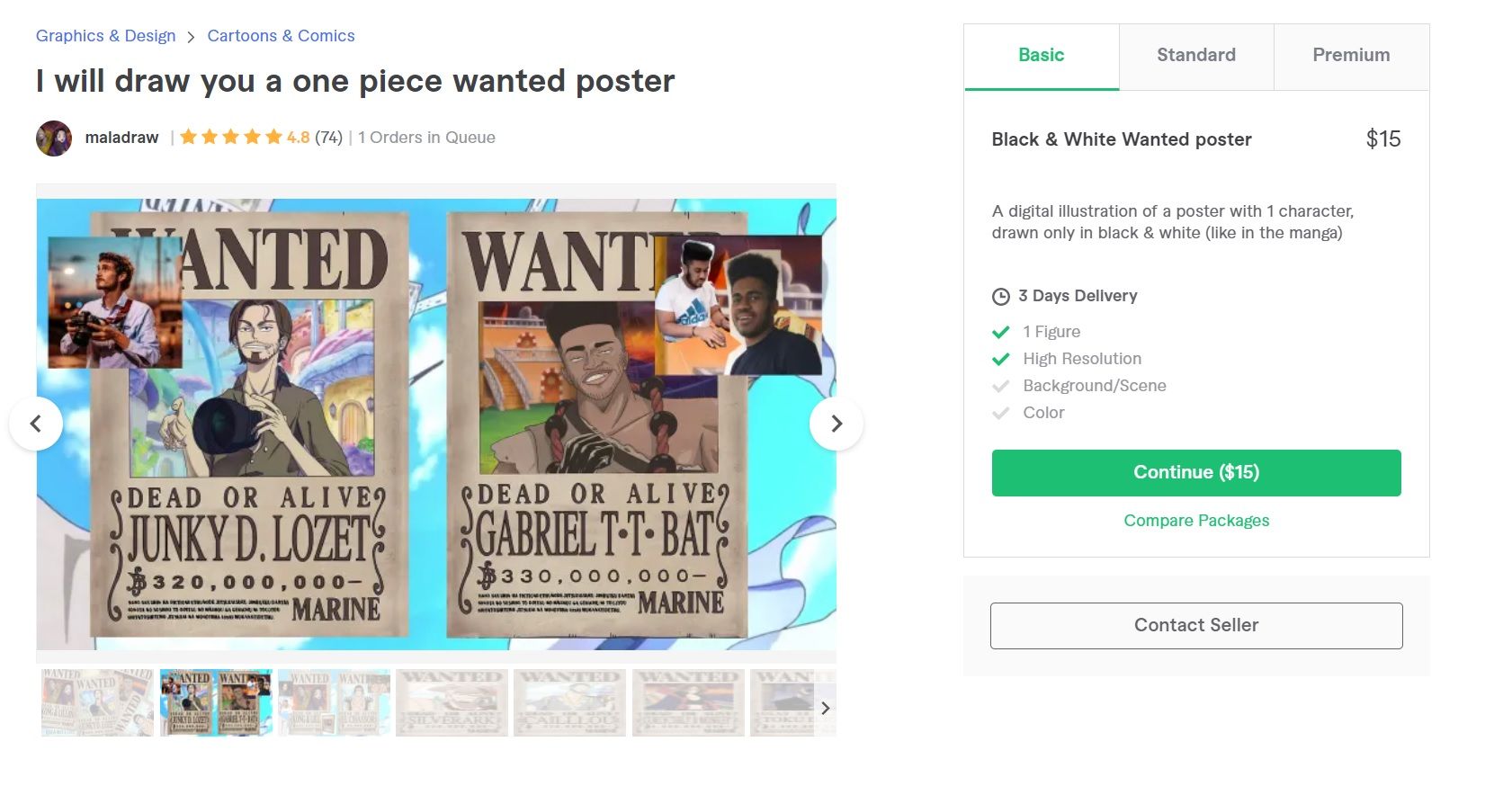 Another Fiverr artist who is highly sought after, Maladraw, is a freelance illustrator from Belgium who is very talented in conjuring up cool-looking characters.
She has an impressive portfolio to boast, including many original characters uniquely designed to suit your needs. She is also very flexible in creating different illustrations, whether it's a pirate character or a wanted poster.
Her basic package of a black and white Wanted poster digital illustration of your character will cost $15. She has excellent reviews from customers, so expect that she'll give you an outstanding piece of work.
Looking for a reputable artist who can create your own One Piece character? Then check out what Maladraw has to offer.
4. Trizara – True-to-Style One Piece Artist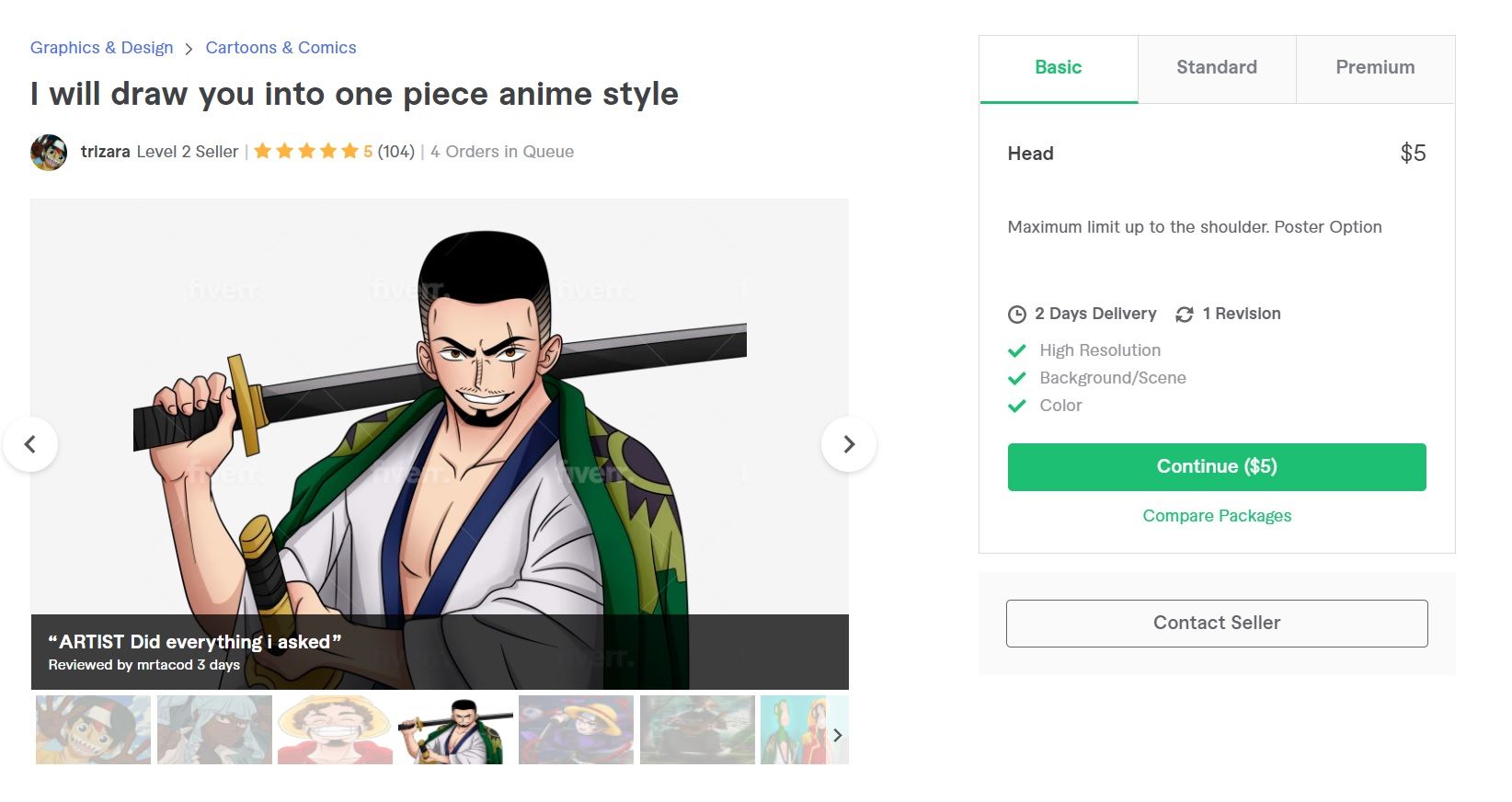 Renowned for her anime-style illustrations, Trizara will be able to help you create your own One Piece character. It will take you a second to realize that her drawings are not from the anime.
Her custom illustrations are so true-to-style that they look exactly like the actual manga characters themselves. With a few samples on her portfolio, you can be secured of the quality of her work and will add a breath of fresh air to your One Piece collection
She offers some pretty affordable packages starting at $5, so you can have your character illustration in no time.
Looking for an anime-style illustration of your own One Piece character to add to the collection? Trizara is here for you.
5. Inka_iskandar – Top Rated One Piece Character Artist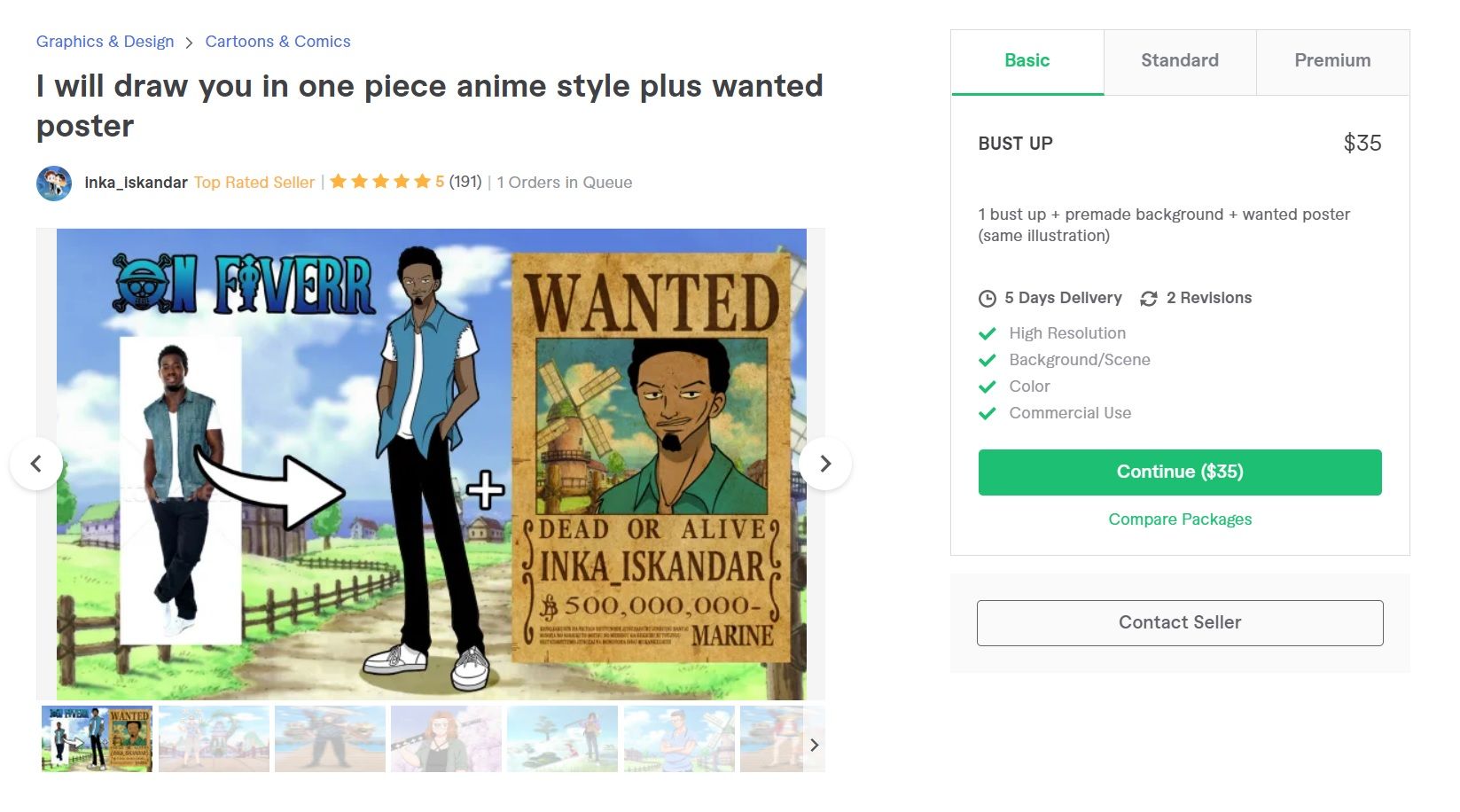 One of the most popular One Piece artists, this talented Indonesian digital artist is admired for her adorable and impressive character drawings.
Turning your vague concept into a finished piece of work, she will be able to create a fantasy-style illustration of your own One Piece character. Thanks to her mastery of drawing anime-style characters with beautiful color compositions, her works are a joy to look at.
She will be more than happy to illustrate your One Piece character for you for a fixed price of $35.
Looking for a skilled artist who can create your own One Piece character? Then you should look no further than Inka_iskandar