Last Updated on July 10, 2022
Looking for custom Telegram stickers? Want to create your own Telegram stickers for you and your friends, but don't have any artistic knowledge?
Well, we've got you covered!
In this article we would share with you our top recommended Telegram sticker artists, and how to commission their work.
Who are the best Telegram stickers artists?
Below you'd find our list of the best Telegram sticker commission artists for hire:
1. myselfrobiul – Best Overall Telegram sticker artist ($20-$40)
This artist is praised for their unique and professional-looking sticker design. The stickers can appear animated even when they're not due to how good the artist is with the expressions. Some of the packages are affordable enough to be a steal, and that too with excellent overall quality.
This seller from Bangladesh is the fan favorite Telegram sticker designer on Fiverr for all the good reasons. He's praised for being a very responsive service provider, and the reviews also admire his fast deliveries. His service stands at an average rating of solid 5 stars with 282 total ratings.
A Highlighted Review of the Gig:

Want to have excellently drawn and professional-looking Telegram stickers? Check out myselfrobiul's Telegram sticker art commission.
2. bondursofia – A highly rated and affordable Telegram stickers service ($5-$45)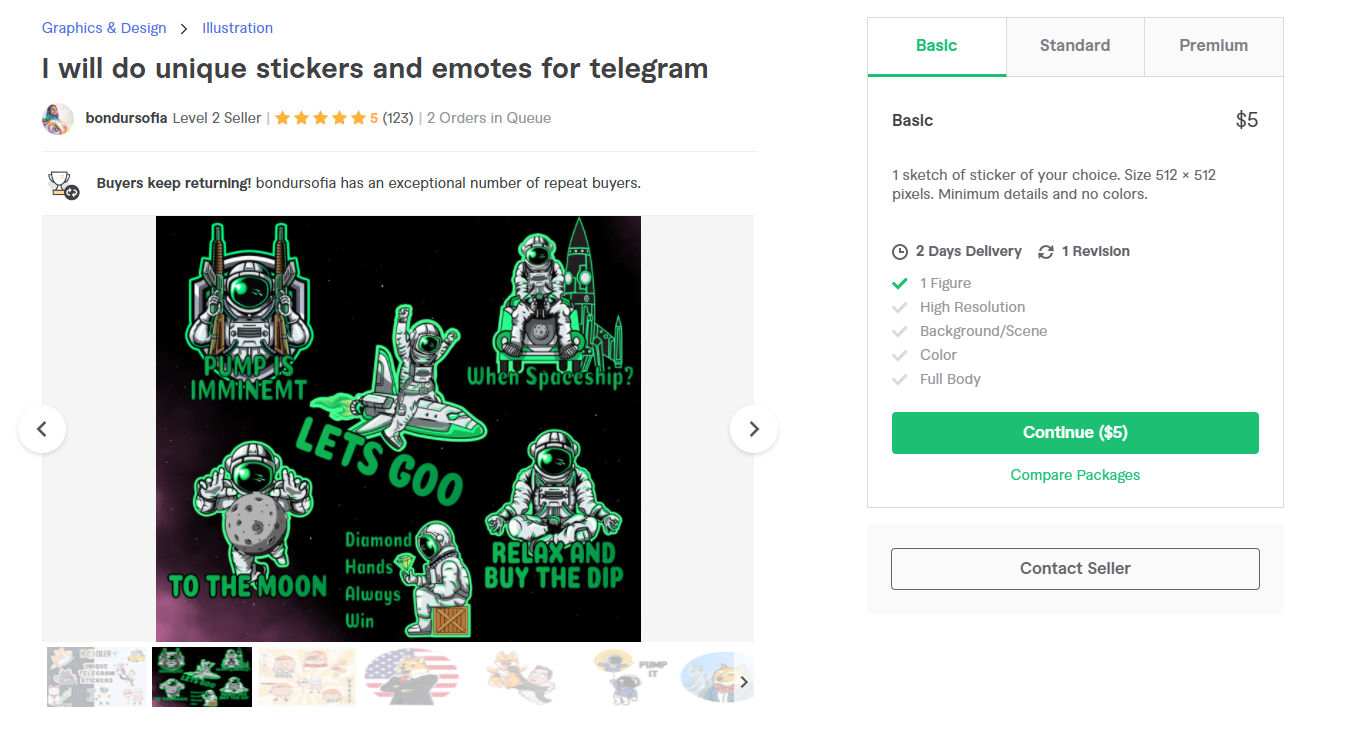 This telegram sticker artist from Ukraine is the best option for those seeking versatility at an extremely affordable rate. She makes some of the most creative stickers that I have seen on Fiverr, and is one of the most subtle users of colors.
She makes great stickers of any type with her trademark style, and it's a style that her customers keep wanting more of, due to which she's listed as an artist that has several regular customers. Her Telegram sticker service stands at a rating of solid 5 stars with 123 total ratings.
A Highlighted Review of the Gig:

Want your telegram stickers to be delightful at an affordable rate? Try bondursofia's gig.
3. nikolaaus – Top rated animated Telegram stickers (40-$320)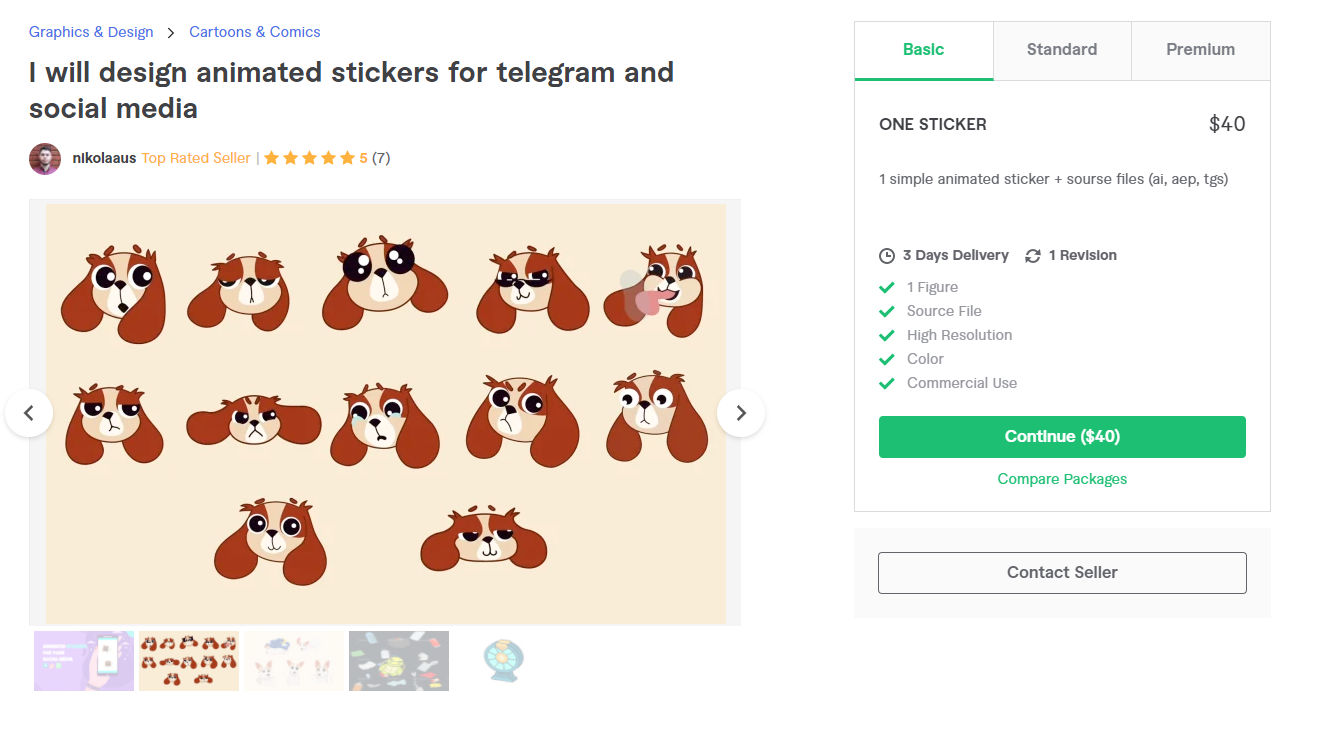 Nikola may be a rising Telegram sticker seller, but the customers already seem to be praising the quality of his animated stickers.
They are definitely worth the price due to how incredibly animated they are. The detail and creativity in the stickers make it understandable that he is listed among the top rated sellers of Fiverr.
The reviews praise this Ukrainian Telegram sticker artist for his attention to detail, responsiveness and the will to go beyond limits. The patient and attentive approach of nikolaaus have attained his gig an average rating of 5 stars with the 7 ratings so far.
A Highlighted Review of the Gig:

Want to have incredibly animated Telegram stickers made for yourself? The Telegram stickers commission of nikolaaus has you covered.
4. believer435 – Creative animated Telegram stickers and gifs ($20-$90)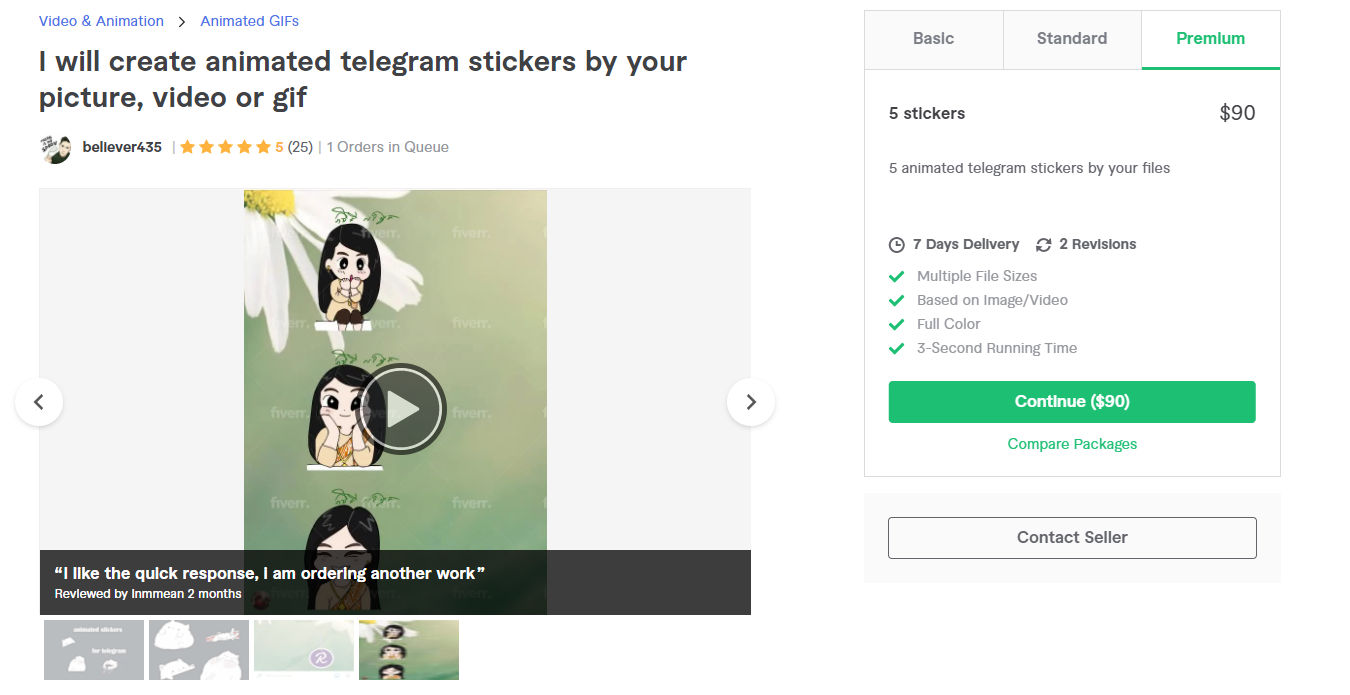 One of the most creative animated sticker creators on Fiverr. This Telegram sticker creator from Ukraine is praised for his responsiveness and uniquely animated sticker designs. The animations aren't basic, and can be as long as 3 seconds.
The thing that makes commissioning believer435 to make your animated Telegram stickers worth it is his accuracy to what the customer wants. His Telegram stickers service stands at an average rating of 5 stars with 25 total ratings.
A Highlighted Review of the Gig:

Want your Telegram stickers to be animated in high quality? Try believer435's service.
How much does it cost to commission Telegram stickers?
The price of Telegram sticker commissions can be as low as $5 and as high as $320.
The exact cost of telegram stickers highly depends on the kind of stickers that you want, as well as how many of them you want.
Artists can provide their own quantity in the packages, and the price can depend on that. The stickers being animated or not can have quite an effect on the overall cost too. 
A large pack of animated stickers can cost a great deal, whereas a single, unanimated sticker can cost about $5-$30.