Last Updated on December 31, 2022
Are you looking to commission a custom logo to represent your brand or business but don't know where to start?
If that's the case, then you've come to the right place.
In this article I would share with you my recommended logo artists that currently accept commissions from clients.
Those recommendations are based on my own personal experience, which includes ordering from over 20 (!) different designers during the last year.
How to commission a custom logo design?
whether you're a small business owner or not, a logo is a big part of your brand identity, and hiring an artist to create one for you is a step toward making your brand look professional and distinct.
True, there are numerous logo generators available out there, but they're of no good as they lack the intuition, skills, and expertise of a professional designer.
When hiring an artist, you're not just paying for their time. You're also paying for years of polished skills hence, ensuring a high-quality service, which is why having your Logo designed by a professional designer is preferred.
Finding qualified and affordable logo designers that are a good fit for your project can be a difficult task.
To take the pressure off, we've done the legwork and collected a list of exceptional designers that are best equipped to take on your projects, each with their own set of skills and distinctive style.
Each of these freelancers was found on Fiverr, my all-time favorite hiring platform, which features hundreds of thousands of skilled creatives from all over the world selling their services for as little as $5 or near that cheap price threshold.
Who are the best Logo commission artists?
In this article, we'll be reviewing the Top three (3) artists on Fiverr most suited to handle your projects based on our experience:
1. Shaon__khan – Best Overall Logo Designer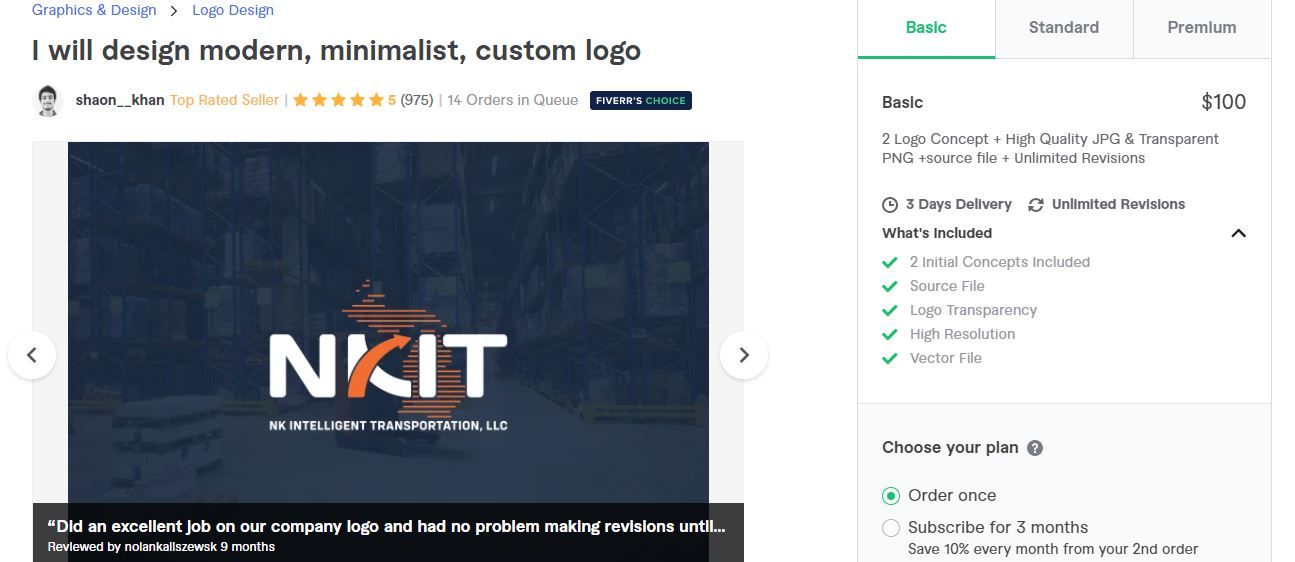 Shaon is a Fiverr favorite and a top-rated seller with over 900+ positive reviews. His ability to hold two of the platform's top positions demonstrates that he is more than capable of handling your project.
As the Design Director of a multi-disciplinary creative agency, he is able to create modern, Professional, Minimalist/ Flat, and Simple logos. He's your go-to pro to come up with a Logo that will perfectly identify and represent your brand.
His prices range from $100 to $200, and he assures delivery within 3 to 5 days with unlimited revisions, ensuring you're 100% satisfied with the design and getting great value for your money. Although his costs are a touch high, the final result is totally worth it. Shaon is the artist for you if you have a large budget and want high-quality work.
What are you waiting for? Send him a message today to discuss your project. His average response time is an hour, so you should receive a response within that time frame.
Looking for a professional to help bring your brand to life? Send Shaon a message.
2. Artrends – Budget-friendly with Lightning-Bolt Turn Around Time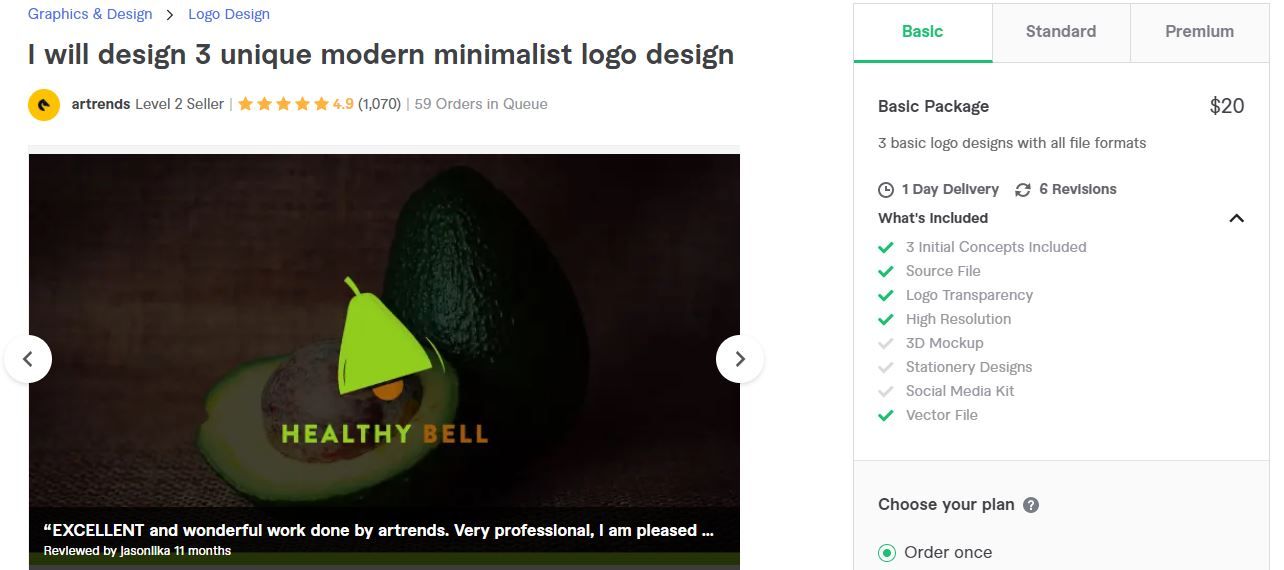 Artends is a skilled graphics designer with over 5+ years of expertise in logo design and branding. His 1,000 positive reviews prove that he is more than enough to handle your branding.
He can design logos in a variety of styles, including Minimalist, Typography, Professional, Modern, Vintage, and others. With this artist, the sky is the limit.
His prices range from $20 to $90 with a really fast turnaround of 24hours delivery time, with unlimited revisions. Can this deal get any better?! His average response time is an hour, so you should receive a response within that time frame.
Looking for an expert with Lightning-Bolt Turn Around Time? Send her Artrends a message.
3. Bleszen – Creative Animated Logo Commissions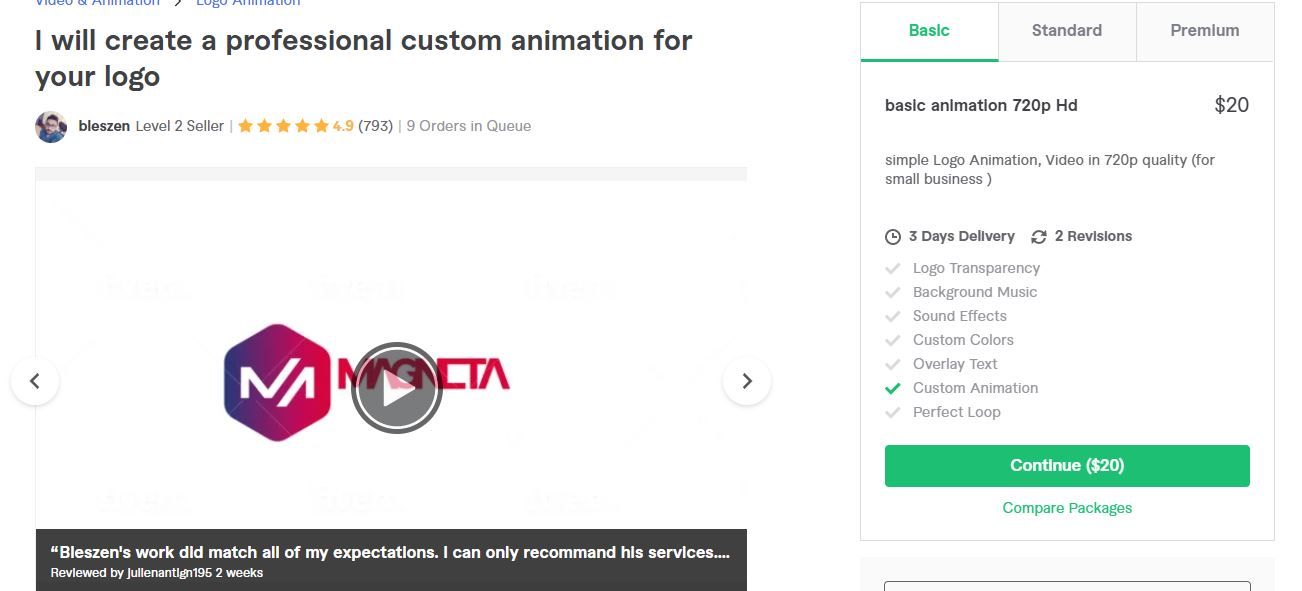 Bleszen is a skilles logo animator and intro video creator. This animation is suitable for use on a variety of platforms, including your website, YouTube, Vimeo, Facebook, Instagram, and others.
All you have to do is simply send him your logo (in .PNG, layered vector .EPS, or .AI format) If you don't have one available in these formats, he will redraw your JPG in vector format for an additional fee. You can also contact him if you don't have a logo and want to commission one.
His prices range from $20 to $50 and guarantees to deliver within 2 to 3 days with some rounds of revisions.
Looking for a perfectly syncing animation for your logo? Send Bleszen a message today.
How much does it cost to commission a logo?
An average logo design commission can cost anywhere between $10 to $250.
As with other criteria of hiring an artist online, price does not necessarily dictate the quality. My advice is to look through the artist's portfolio regardless of your budget to see exactly what they have to offer and if you'll appreciate that work of art.