Last Updated on August 31, 2022
Many people in this world indulge in making original character avatars and much more. The key thing to note is that the OC may be fan-made and inspired by other TV series characters. Besides that, it can be an entirely original design by you.
The top way you can make an OC is by creating the art yourself using editing software. This is because you can understand your needs the best way. Of course, you require tech and art skills to make digital drawings of your OC.
If you lack such skills, no need to worry. The perfect solution for you is to look for OC art commissions on Fiverr. This is a marketplace that can connect you to various sellers from all over the world.
Are you looking to learn more about OC art commissions?
If so, your search ends now. Here is what you need to know.
What Are The Best OC Art Commissions?
Fiverr is an excellent marketplace for OC art commissions. However, it is also an extensive platform with many sellers. This is why it can be difficult for you to find the right artist for your needs.
Fortunately, you don't have to worry about searching for OC art commissions. Here are the three best options you should consider when using Fiverr: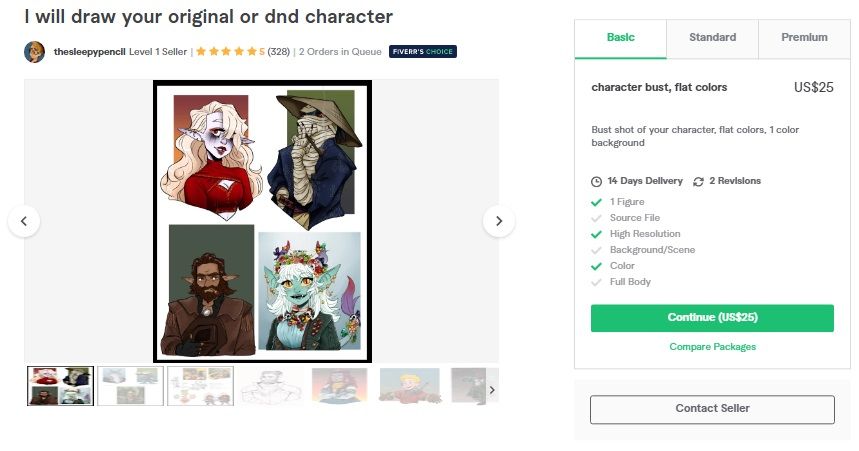 Thesleepypencil is a Fiverr account that Sarah manages from Canada.
She is a professional digital artist and character designer. Besides that, she does comic projects during her personal time. This is why she is the best person to create your OC.
Sarah has been offering her services on Fiverr since 2020. However, you should note that she has more industry experience. The top feature of her service is that she does not require a rough sketch for the art. She can make excellent drawings without needing a reference photo.
The best thing about Sarah is that she has more than 300 reviews with a five-star rating. So you can count on her to provide you with high-quality OC art. Another thing to remember is that Sarah offers two to three free revisions with each gig.
Looking for a flexible OC artist on the market? Check out Thesleepypencil's portfolio on Fiverr now.
Redmooni – Best For Anime-Style OC Drawings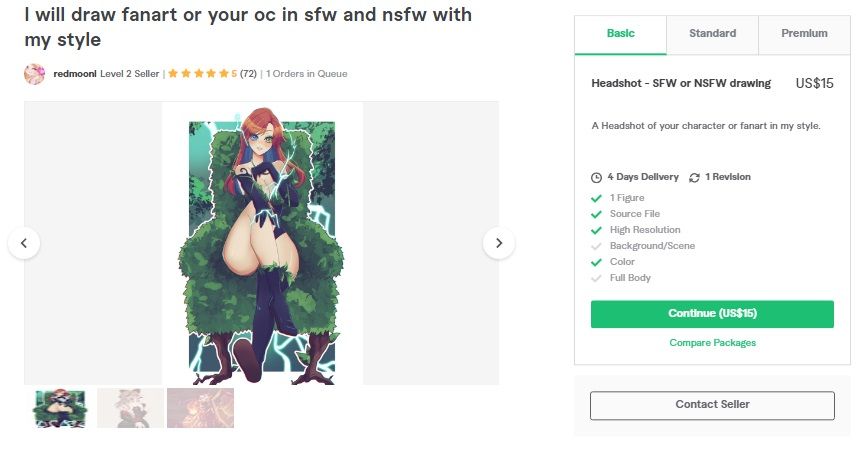 Redmooni is a freelance digital artist from Italy with more than one year of experience on Fiverr.
She has been drawing since primary school as a hobby. However, Mooni strives to become a professional artist soon. This is why she is attending Manga School Academy to improve her skills.
The best thing about Mooni is that she offers accurate results and uses a freehand technique for your OC drawing. A key feature of her service is that she makes designs that resemble anime and Chibi characters. So if you require cartoon-style OC drawings, Redmooni should be your top choice.
Besides that, Redmooni has 70 reviews with a five-star rating. She has also completed more than 50 orders on time. So be sure to connect with her on Fiverr for excellent OC art.
Looking for anime-style OC art commissions? Check out Redmooni's portfolio on Fiverr now.
Elara_7 – Best For High Graphics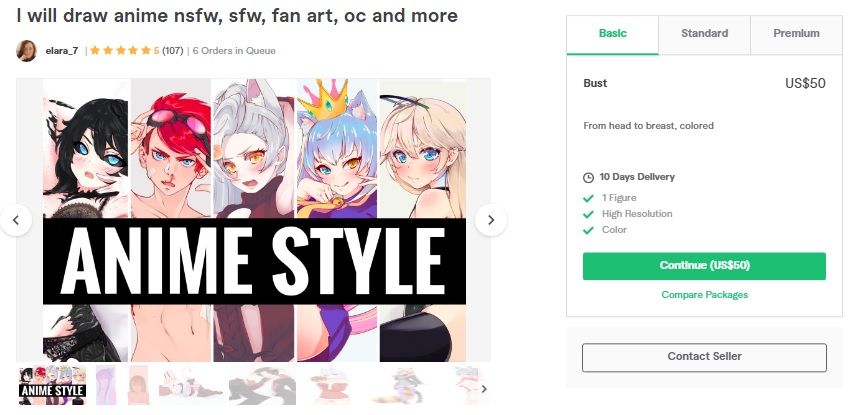 Elara_7 Elara is a 2D digital artist on Fiverr from Italy. Marta is the name of the seller who runs this account. She specializes in making fan art, OC art, and much more. Thus, you can rely on her to offer you the best drawing for your needs.
Marta specializes in mixing lining art and colors for creating the best OC drawing. She can also use your reference sketches to make the digital art of your character. The best part is that she can create half-body and full-body drawings for your personal or commercial needs.
Another key feature of Marta is that she has more than 100 reviews with a five-star rating. This is because of the high graphics that Marta offers with her drawings. Not only that, but she can make half-body and full-body OC art.
Looking for an experienced OC artist? Check out Elara_7's portfolio on Fiverr now.
How Can I Make An OC Myself?
To make an OC yourself, you need digital art tools such as a tablet, stylus, editing software, and much more. You can use your skills and techniques to make the drawings effortlessly. However, keep in mind that most editors come with learning.
Thus, the best way to get OC art is by hiring an artist from Fiverr. The seller can meet your needs perfectly by making an excellent drawing.