Last Updated on December 21, 2021
Every brand needs a logo that defines who they are. When we think of iconic logos, Apple's apple logo comes to mind with its simplistic yet professional logo. It demonstrates Apple's appeal, professional technology that is easy to use.
When it comes to designing your own logo, you need to find a designer who creates logos that people actually remember and that looks professional so that users take your brand seriously.
There are many logo designers on the internet, but only the best of the best are worth your time and consideration.
Who are the best logo designers on Fiverr?
Here are our top picks for logo design artists on Fiverr:
1. rigerspopa – The Best Hand Drawn Logos on Fiverr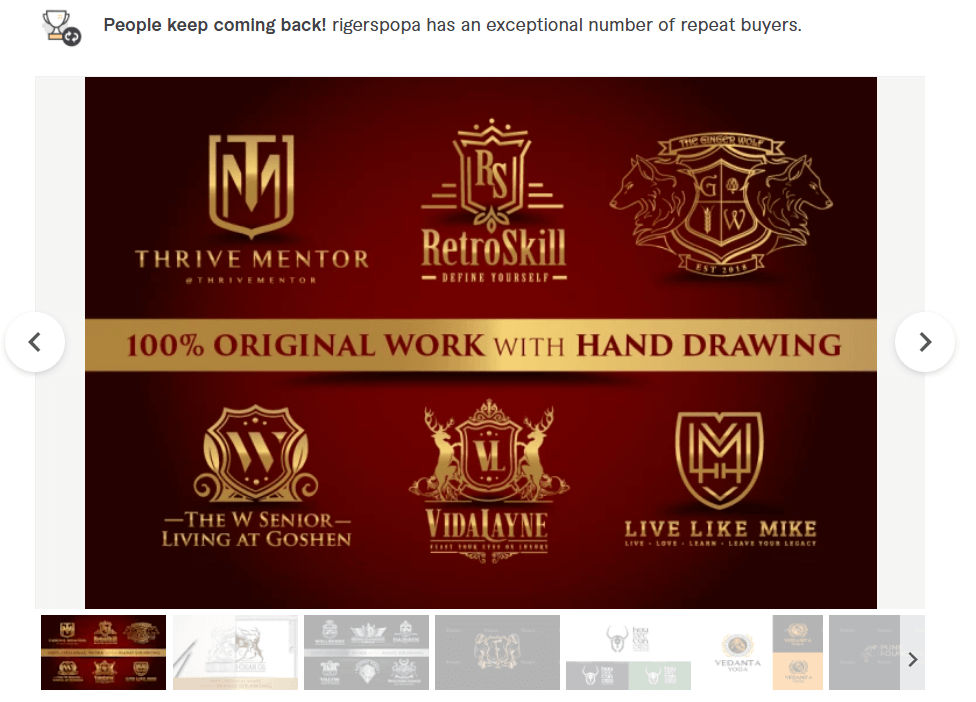 4,158 ratings, that's one of the first things I noticed when I reviewed Rigers Popa's Fiverr profile. That is an incredible amount of reviews and clearly shows he completes work that buyers want. In fact, he has an exceptional amount of repeat buyers. He puts a lot of effort into each design. He hand-draws each one and is a true artist.
Some of his featured drawings are incredible with the colors and design he uses. It really captures your attention and makes you want to find out more about the brands he has designed for.
He's been a Fiverr member since 2014 and has over 10 years of experience. His average response time is 1 hour, which shows he has consistent and quick communication with his clients.
If you want your logo to be original and stand out, send Rigers a message today.
2. shailene_george – The Best Business Logo Designer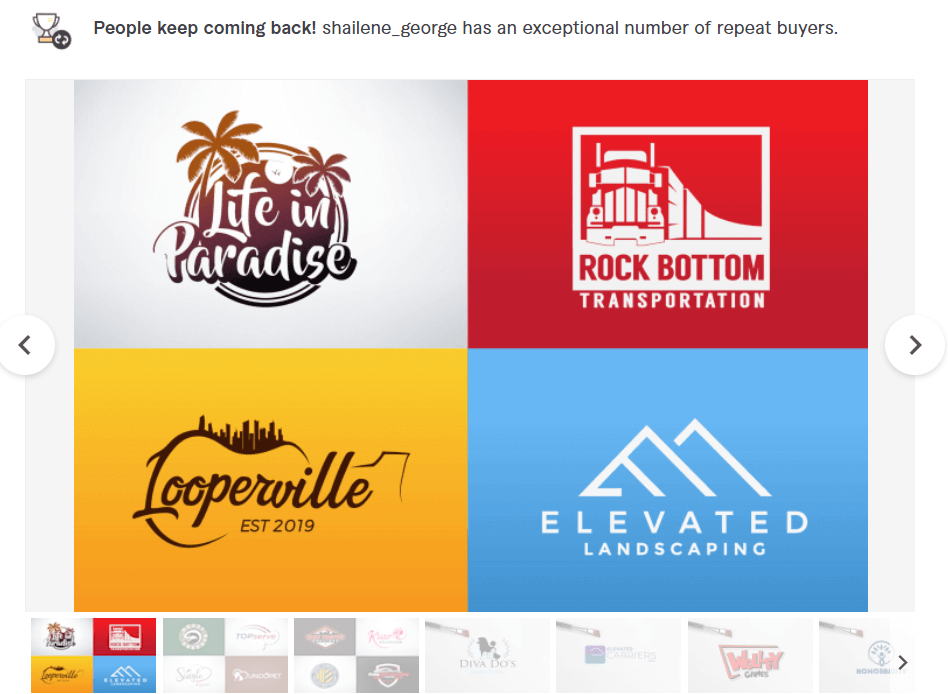 What really stands out about Shailene's logos are the colors they use. They often use white lettering with a more colored background that has subtle shading throughout. I really enjoy the "Elevated Landscaping" logo they designed which uses white mountains and white lettering with a blue background.
This minimalistic approach really captures your attention like a fine piece of artwork. Shailene is a graphic designer out of Pakistan and has been a member of Fiverr since June 2016. They have 8,630 reviews with an average score of 4.9 stars out of 5. They also have many repeat buyers which show customers love their work.
If you want to take your business to the next level, hire Shailene right now.
3. Graphic Empire – A Creative and Innovative Graphic Design Agency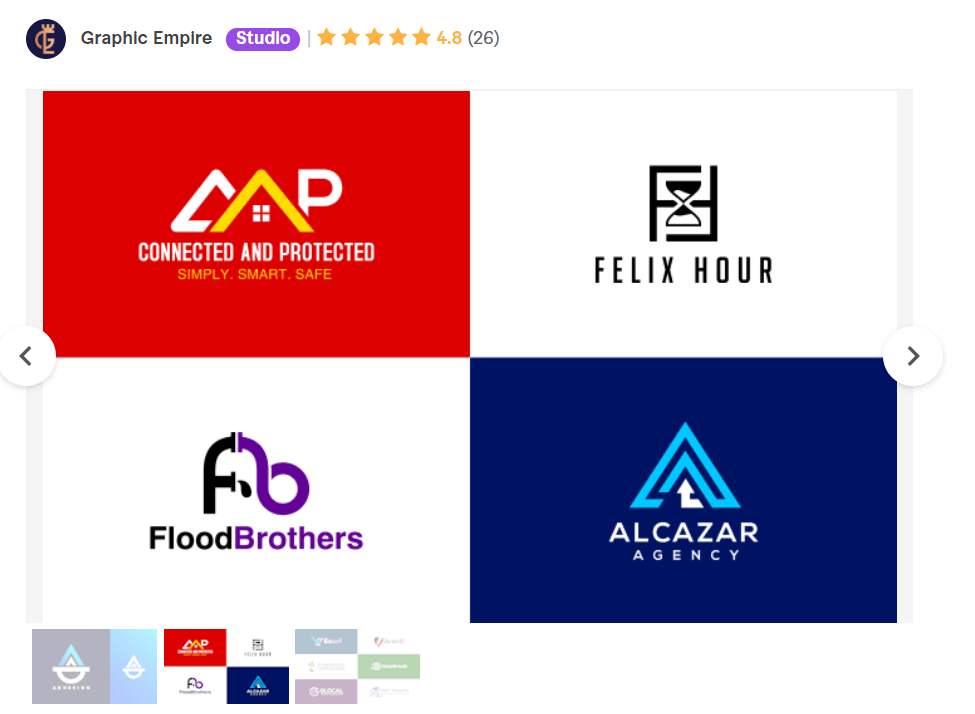 Working with an agency has many benefits. Having more than one person design a logo can bring in fresh perspectives to the vision you are trying to bring to light. The studio lead's name is Tanisha. One interesting thing about her is that she speakers 4 different languages. When learning a language, you also learn about a culture.
This skill set could be great if you run a multinational brand or are looking to target different markets. She will have knowledge about which colors appeal most to Spanish and Portuguese speakers and can apply them to your brand's logo. They have a portfolio of amazing logos they have designed in the past and is worth checking out yourself to see each one.
If you want a diverse set of minds to design your logo, send Graphic Empire a message today.
4. zera93 – A Top Rated Logo Designer from Serbia
Zera is a top-rated seller on Fiverr.
In order to receive this seller rank, you need to provide consistent and great work to clients regularly.
There is a reason people keep on coming back to Zera because his work is exceptional Not only does he offer logo design, but he offers branding solutions as well. One design that really stood out to me was his "Vicino Pizzeria" logo. It has a piece of pizza surrounded by a flame with the brand's name underneath.
Sometimes artists care too much about the art and not about the brand when they are drawing something for a company. This clearly isn't the case with Zera, he knows exactly how to design a logo that makes you remember the brand's name, not just the fancy drawing.
If you want to work with a reliable person, send Zera a message today.
5. sophie_devine – The Best 3D Logo Designer on Fiverr
Sophie's 3D logos really jump off the screen and grab your attention.
She uses very bright colors with dark backdrops that really sucked me in while viewing her work. A 3D logo can really give your brand personality and make the customer feel an emotional connection to what you're selling.
Another bonus about working with Sophie is her price. Her basic package starts off at just $15, so if you are working with a small budget, she is worth considering.
If you want a 3D design, contact this seller today.
How to Choose a Logo Designer on Fiverr?
The first thing you should do when choosing a designer on Fiverr is to come up with a budget. Knowing the price you can spend going in will help you filter through the designers immediately so you don't waste time looking at profiles you can't afford.
The next thing you should do is look at their reviews. If they have many repeat buyers this is a good sign, and it shows you can trust them. Finally, look at their profile of work. If they have designed logos that you could envision your logo to look like, then this designer will be a great fit for your brand's logo.
Why should you choose Fiverr for logo designs?
You should choose Fiverr for logo designs due to the number of sellers there are on this site and the price they usually sell for.
Although Fiverr is used for pretty much every freelance service today, it seems design work has the greatest amount of sellers.
You can filter sellers by price and experience level, and even opt for Fiverr pro service if you are willing to pay extra. They have a great rating system that is honest. Sometimes a seller's personal website can be filled with biased testimonials, but on Fiverr, you can read both the bad and good reviews which bring forth transparency.