Last Updated on December 29, 2022
You have a brilliant idea. A spark that you know is going to be a hit. Or perhaps you're struggling to find one.
Wouldn't it be wonderful if there was a professional service that could lift the weight of writing content, whilst still having the work attributed to you or your company?
Well, you're in luck.
A ghostwriter can do wonders, and in this article, we delve into what are the best ghostwriting services on Fiverr and provide a guide on where to find one and what it costs.
What are the best ghostwriting services?
Below you'd find our list of the best ghostwriting services and and companies you can hire to complete your work:
1. Sunpraiser – Best for professional fiction ghostwriting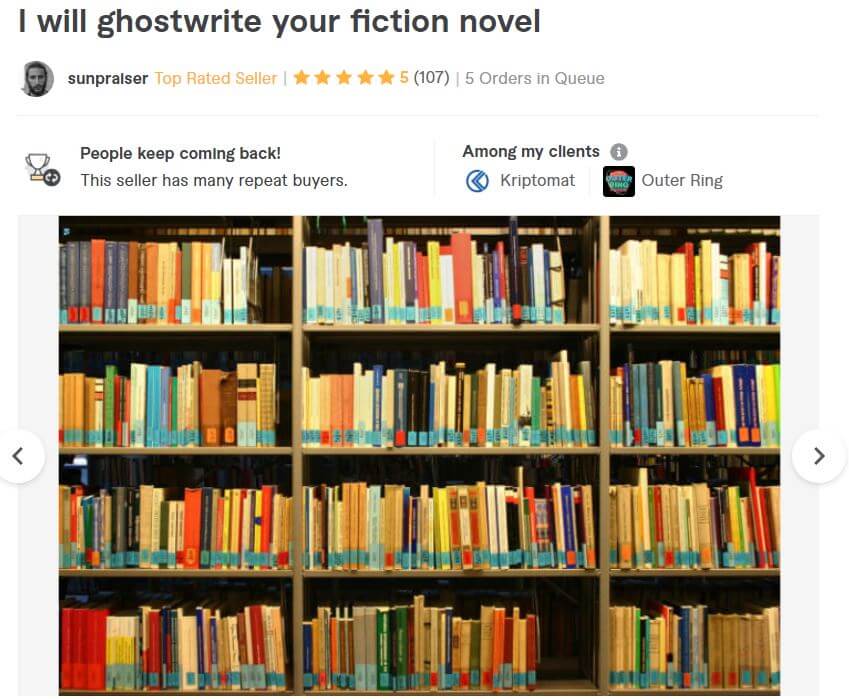 If you're looking to publish a story that's brilliantly fleshed out, with fresh and exciting characters, look no further than Alex's services.
He is a Fiverr top rated ghostwriter based in Greece, with extensive experience in writing and developing stories, with a particular talent for immersive fantasy and nail-biting horror stories.
His abilities as a fiction writer are supported by 100 positive reviews, all of which have received an impressive five stars. His services are offered in three packages – Short Story, Novella, and Novel.
So, what makes Alex the right choice for writing your big hit? It's simple, the quality of work, value for money and professionalism combined is unbeatable. In addition to providing fantastic writing, Alex is an expert communicator, with many reviews commending his eagerness to go above and beyond to ensure project requirements are completely met.
Unlike many fiction ghostwriters, who tend to specialise in one area, Sunpraiser is an expert in various fields, with experience in writing for an array of genres. He is also extremely flexible and open to tailoring his services to meet your needs and requirements.
Alex's prices range from $70 for short stories, all the way up to $4,500 for a 50,000-word novel. An incredible offering, considering most writers of this calibre easily charge five to six figures for the same work.
If you'd like to hire Alex or browse for reviews and services, head over to his profile on Fiverr.
2. Northsidenate – Most creative songwriter
Forget dry, boring lyrics that don't flow. Nate is a rap and hip-hop ghostwriter based in the United States, who delivers fresh lyrics that will help you stand out from other artists.
The selling point is that, unlike other ghostwriters, Nate is comfortable writing lyrics from various angles and styles. Ensuring that your work is always unique to you. He boasts of 569 five star reviews for his songwriting abilities and has a consistent stream of returning customers.
Note that Nate isn't just a wordsmith. He is also an accomplished rapper with over 16 years of experience. In other words – he knows what he's doing.
His prices range from $90 for an 8 bar hook to $200 for a full song. At this price point, you won't find another writer that offers this level of attention to detail, expertise and passion. This makes Nate the best all-around professional to deliver your song project.
If you'd like to collaborate with Nate check out his profile on Fiverr.
3. Hiremenow – Best for expertise in non-fiction and e-book writing
If writing 10,000 words of non-fiction sounds like a mountain too high to climb, rest easy. Antony is the right professional for you. He offers original, killer content in a range of topics, with a particular talent for health, weight loss, fashion and investing content.
Based in Kenya, Antony has over 300 fiver star reviews for his non-fiction writing gig, and an impressive list of returning customers. Unlike other non-fiction ghostwriters, Antony offers unlimited revisions with his 10,000-word package, ensuring that you receive the book you're looking for.
Antony also goes the extra mile by formatting the content for Kindle, whilst reviews frequently comment on his fantastic customer service. His work is trusted by clients from over 30 countries, with over 200 books ghostwritten to date. For that level of experience and value proposition, you won't find better.
Get in touch with Antony on Fiverr to start your dream non-fiction project.
4. Alexrigbybishop – Best value children's story ghostwriter
Looking for a successful children's story ghostwriter with proven experience? Look no further than Alexander. He is a professional based in Birmingham, United Kingdom, and the owner of The Stardust Experience writing studio.
His business is backed by a small team of writers, specialising in stories for children. One of his published works was even made into a major children's film! He is a top-rated seller on Fiverr, with 479 fiver star reviews. For an all-around service in writing children's books, there is no better ghostwriter.
In addition to the creative and exciting stories, Alexander provides accurate descriptions of illustrations, useful author bio's (which in this case would be you), and a boatload of experience that will ensure your story is told how you want it.
The best part? This can all be obtained at affordable prices, with the flexibility of adding extra words if you need them. So, don't wait any longer. Get in touch with Alexander on Fiverr to make your children's story a reality.
5. Mbarichard – Most affordable novel ghostwriter
Richard is a top rated seller based in Nigeria, offering the best value for money when it comes to ghostwriting novels. He is experienced in writing for a variety of genres, including horror, fantasy, children's stories, romance and comedy, and is open to custom offers to meet your needs.
In addition to his abilities as a writer, which are evidenced by 58 five star reviews, Richard is an expert proofreader and editor. The best part is that you get all of that experience at incredible prices. His offering starts at $300 for 15,000 words and $900 for a whopping 60,000 words!
Your dream of publishing a novel is only a click away. Get in touch with Richard and his team on Fiverr.
How much does a good ghostwriter cost?
Hiring a ghostwriter through independent companies can cost anywhere from $15,000 to $100,000.
It all depends on the project size and quality of the ghostwriter. Of course, for smaller projects, such as blog posts and articles, you'll be looking at fees between $500 and $2000.
This is what makes our list of professionals incredible. You can get the same level of professionalism and care for your project at a fraction of the price.
How do I find a good ghostwriter?
It can be challenging to find a good ghostwriter. There's a certain level of trust that needs to be established since you're handing over a prized project to someone you've never met. Firstly, our useful guide should provide you with a good all-round range of services to meet your needs.
Fiverr is a fantastic place to find some of the best ghostwriting services. Like we did with our list, ensure that you check the seller is experienced, has a good amount of reviews and is a good communicator. If possible, ask for samples of work they've written before and get a second opinion from someone in the field.
Are ghostwriters legal?
Ghostwriting is perfectly legal and has been ongoing for centuries. Mozart himself was paid top dollar to ghostwrite music for wealthy clients. So, it's not taboo. It isn't just beneficial for people who feel like they can't write a story or article. It's also massively useful for capable professionals that need to focus their time on other tasks.
By trusting the writing to a ghostwriter you still receive full credit and legal claim to the work, whilst being able to get on with other aspects of your project. Win-win!