Last Updated on December 25, 2022
Are you a fan of tactical shooting games? If so, you must be aware of Arma 3. It is one of the best modern warfare games because of the realistic experience it offers.
One of the best things about Arma 3 is that it is an award-winning game. This is why you may want to play it with your friends on a private server. If so, you have come to the right place.
We know everything about this tactical game and will be guiding you today. In this post, we share the top three ranked Arma 3 server hosting companies with you. Below is all the information you need for them.
What Is The Best Arma 3 Server Hosting Service?
Here are the reviews of the three best Arma 3 server hosting service providers:
HostHavoc – Best For Providing A Safe Service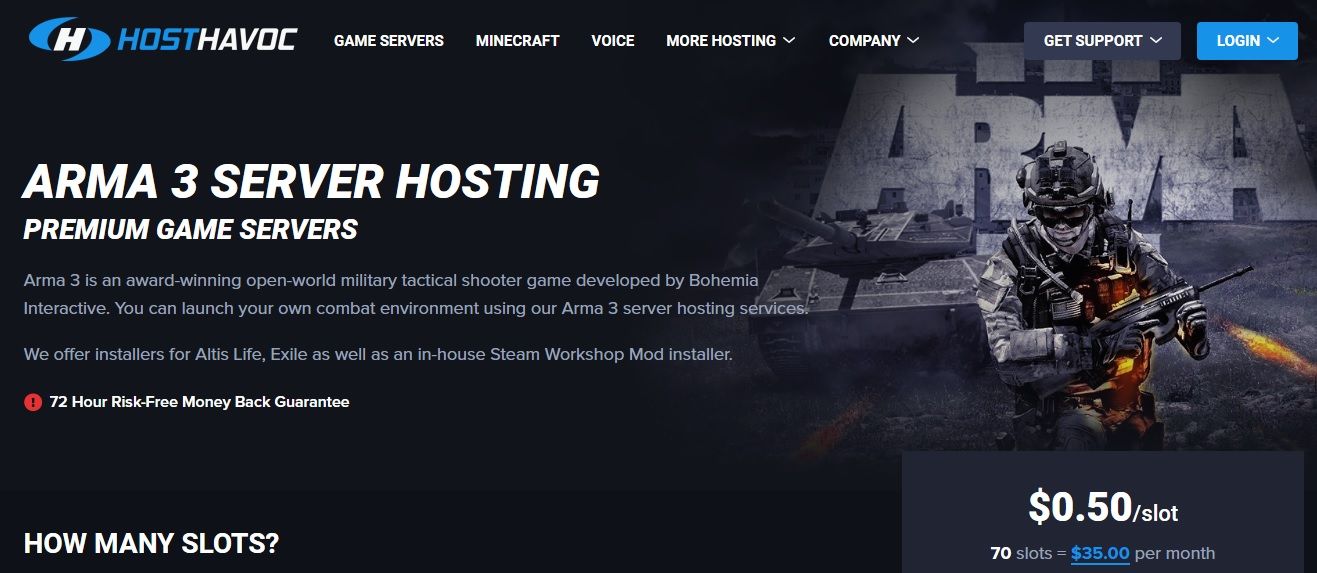 HostHavoc is a premium Arma 3 server hosting company that is known for its global coverage. The service provider offers you the best gaming experience through custom templates. They allow you to install unique features for this award-winning game.
All the servers are hosted on the reliable and robust control panel of HostHavoc. The platform also enables you to launch a custom combat environment in the game. However, the best thing about HostHavoc is that it offers you a refund within three days of signing up if you are not satisfied with its service.
A key feature of this Arma 3 server hosting company is that it has a simple interface. This is why the platform is suitable for beginners and advanced players. You can also install the servers for different mods of Arma 3, such as Altis Life, Exile, and much more.
Looking for a robust Arma 3 server hosting company? Check out HostHavoc here.
Survival Servers – Best For Supporting Multiple Locations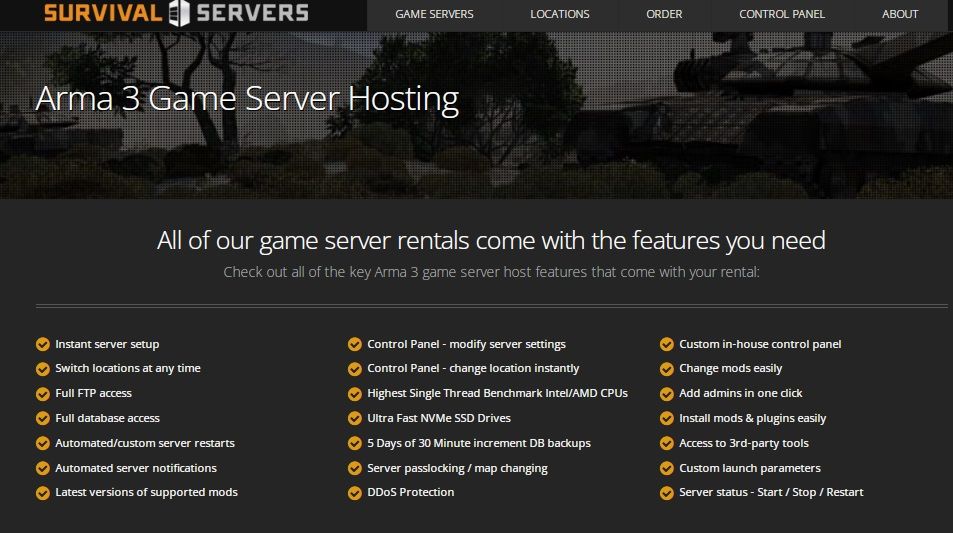 Survival Servers is an Arma 3 server hosting company that allows you to enjoy the best gameplay. The service provider requires you to pay a minimal amount for the servers. After making the payment, you can manage the game easily.
A key feature of Survival Servers is its exceptional control panel that allows you to personalize your server in no time. The company also offers DDoS protection in some particular locations. Thus, you don't have to worry about server security when using Survival Servers.
Besides that, this Arma 3 server hosting company offers seven different mods for the game. You can also switch between various maps with ease and change settings with just a single click. The company also provides you with complete access to the database.
Looking for a secure Arma 3 server hosting service provider? Check out Survival Servers here.
GTX Gaming – Best For 24/7 Support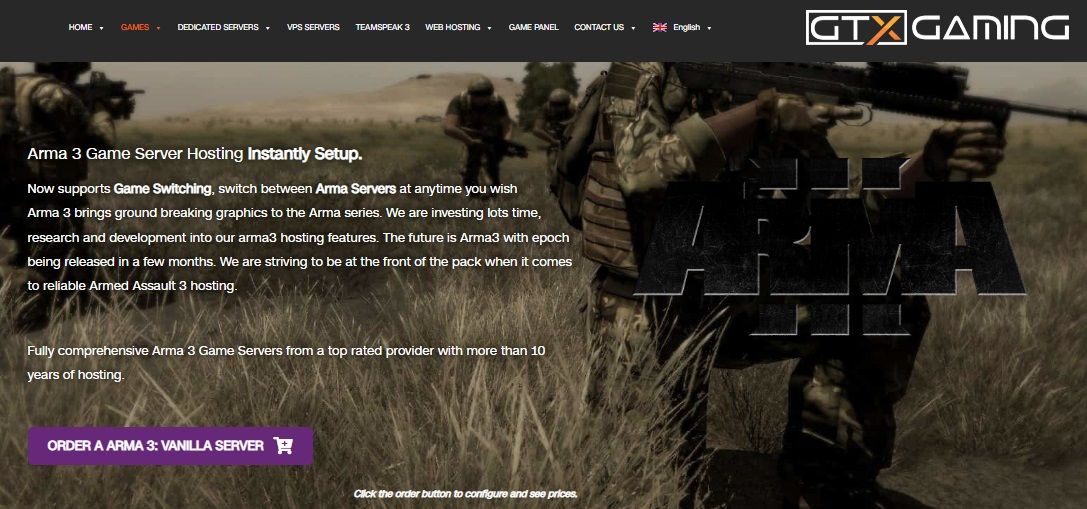 Are you looking for an Arma 3 server hosting company that offers 24/7 support? If so, look no further than GTX Gaming. This platform allows you to start the game by setting up your account instantly. It is also one of the best Arma 3 server hosting companies because of its simple interface.
The gaming features of the servers of this service provider are also more advanced than most other companies. A key fact about GTX Gaming is that it changes its machines each year. This is why they always have the latest Arma 3 server hosting technology.
Another benefit of using GTX Gaming is that they have been in the market for more than a decade. This is why they always offer the best features and specifications for Arma 3. The service provider also provides you with unlimited memory. Thus, you can download multiple plugins easily.
Looking for a highly functional Arma 3 server hosting company? Check out GTX Gaming here.
How Much Does It Cost To Host An Arma 3 Server?
An Arma 3 server hosting price varies depending on the company and its features. Typically, the charges range from $20 to $80. However, sometimes the hosting can be relatively more expensive. This is because most companies charge you by slots.
HostHavoc, one of the leading Arma 3 server hosting companies, charge $0.50 per slot. However, it also offers a discount on a specific number of slots. Meanwhile, Survival Servers charge $25 for every twenty slots, and GTX Gaming costs $13 for every ten slots.
As you can see, the cost to host an Arma 3 server can vary significantly from one service provider to another. The key thing to remember is that the price depends on your slot count.