Last Updated on September 23, 2023
If you are looking for the best whiteboard animation services, take a look at this comprehensive guide to help you find what you are looking for.
What is the best whiteboard animation service?
There are numerous whiteboard animation services out there. But which one is the best for you?
Given below is a list of some of the best whiteboard animation companies and service providers: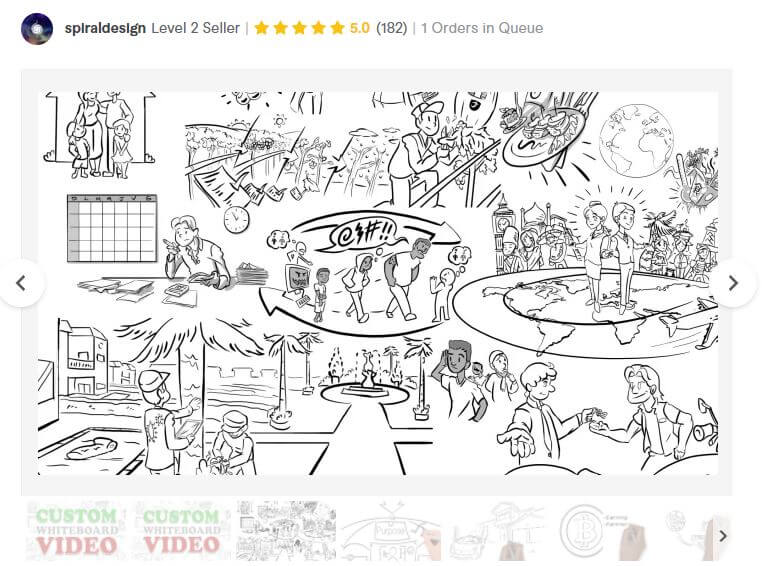 This is a group of graphic designers that are devoted to providing good-quality work. Let's take a look at what they have to offer.
Spiraldesign incorporates several elements such as ease of layout, signage, artistic skill through digital illustration. They offer services employing the use of various Adobe software such as Photoshop, Illustrator, and InDesign. The designs produced by this creator are completely original and custom-made to adhere to your needs. Spiraldesign does not use pre-made and stock drawings.
Key features:
The whiteboard animation services offered by Spiraldesign are completely original and unique.

They give their clients access to unlimited modifications and corrections, given that the original script is followed.

They synch voiceover tracks provided by their clients free of cost. However, they do not record voiceovers.

They allow the minimalist color to be added to the animation as long as it does not ruin the whiteboard's aesthetic. This service carries additional costs.

There is no movement of characters in videos; still, images are created from scratch.

The Spiraldesign team is accommodating, responsive, and timely.
Pros:
Addition of licensed music for free

Professional and timely service

Unique and original content

Variety of services ranging from comic book designs to custom social media designs
Pricing:
Spiraldesign generally charges $120 per minute or 150 words depending on the type of work presented. An additional $25 is charged to add color per minute, while $2 is the rate for faster delivery.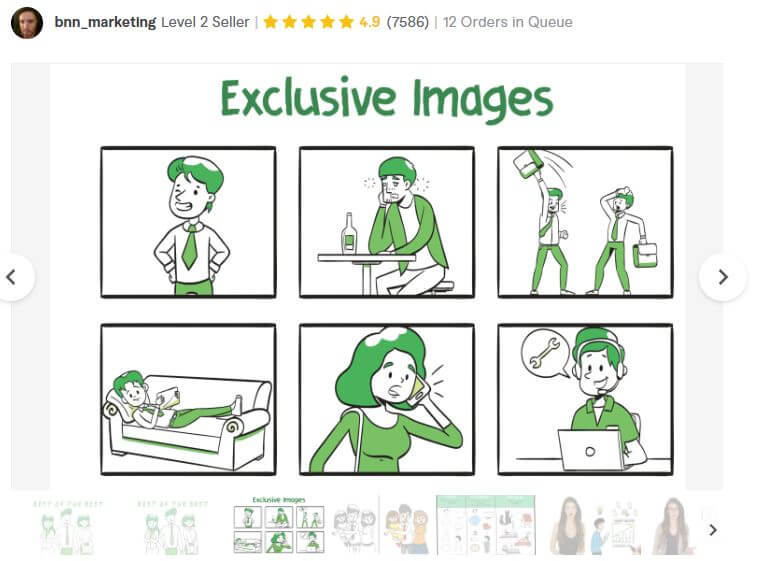 The BNN Marketing group is dedicated to providing customer satisfaction. They offer numerous services.
This is one of the whiteboard animation companies that dabble in numerous designing platforms by using numerous software. They are efficient for whiteboard animation, 2D animations, Adobe After Effects, graphic design, and Adobe Illustrator.
Their designs are completely original and custom-made to suit the preferences of their clients. They have professional online marketing experience.
Key features:
BNN Marketing provides efficient and quick service even for complex tasks.

They are communicative and understand the needs of their customers.

The graphic quality offered by them is superior due to the extensive experience.

The charges for work are fair and affordable.

They offer the best services when it comes to online marketing.
Pros:
Team is responsive

Accommodating while making changes

Prompt delivery of work

20 years of professional experience

Customized work
Pricing:
BNN Marketing charges depending on the workload and type of animation required. A basic whiteboard digital animation video costs $30, while more complex work such as a professional explainer video using stickman costs over $62. A custom whiteboard animation will cost nearly $80.
3. Webdew

Webdew is a reputable video production company, with a team of growth hackers focused on delivering the animation possible.
They guarantee to deliver high-quality services to their clients at a very affordable cost. They are known for creating different video styles such as video ads, explainer videos, testimonial videos and onboarding videos.
Each video Webdew's team create explains the words into actions through excellent animated videos.
Key features:
Professional team
24/7 services
Solid communication skills
They ensure they understand the client requirements before starting any work
Affordable prices
Highly responsive and quick
This company is known for offering one of the best whiteboard animation services. They offer top-quality whiteboard animations.
Inspire Studios have had significant experience in the field as they have worked with numerous brands such as Cisco and Aon. They promise high-converting whiteboard animations that are custom-made for their clients. They also indulge in creating scripts for your videos.
Key features:
The team has an award-winning writer that can craft the perfect video script.

Voiceovers are professional as they have been featured on national television.

Considering the extent of services, Inspire Studios allows reasonable pricing to satisfy its customers.

They cater to specific needs to build your business.

Their expertise is unmatched as they have impeccable experience.
Pros:
Quick communication allowing top-quality customer service

Provide numerous services such as scriptwriting and voiceovers

The artwork is incredible

Rates are worth the business development
Pricing:
Inspire Studios offers three packages for whiteboard animations:
Basic: This package is for 30 seconds with 75 words in the script, including voiceover and animated explainers, for $315.

Standard: This provides 60 seconds with 150 words, including the script, voiceover, and animated explainers, for $457.

Premium: This provides 90 seconds with 225 words, including the script, voiceover, and animated explainers, for $599.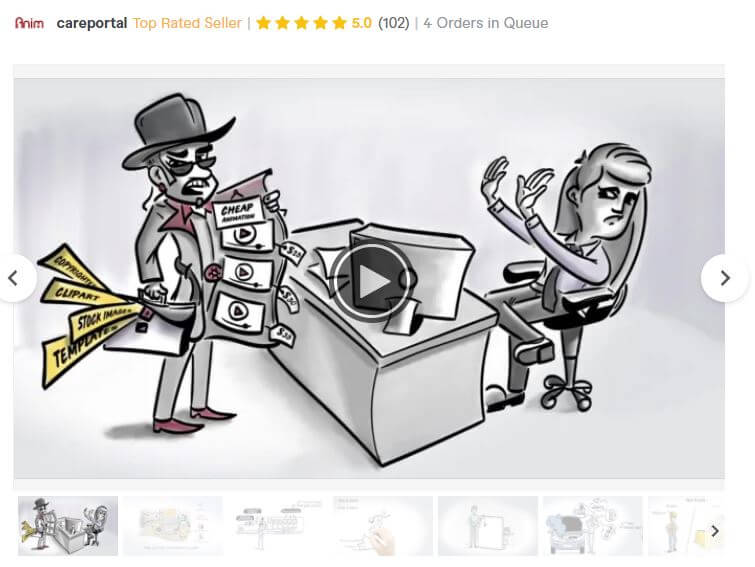 Formerly known as CarePortal, WeAnim8 is a trustworthy animation company that provides the best quality work.
This company specializes in creating unique and comprehensive animated explainer videos. They are fluent in English as well as Dutch and create animations, 2D animations, and whiteboard animations. They are equipped with experienced storytellers and talented illustrators.
Key features:
The whiteboard animation company is known for its premium quality.

They are responsive and easy to communicate with.

The professionalism of this company is impeccable as they provide prompt service.

They provide top-notch videos at reasonable prices.

They take up scriptwriting as well as illustration.

They take time to understand the nuances of your business.
Pros:
Cartoon as well as comic illustrations

Premium quality explainer videos

Powerful scriptwriting

Bilingual videos
Pricing:
WeAnim8 is suitable for all types of businesses as they offer services within different price ranges. Starting at $60, their prices for premium videos can go up to $290. The prices vary depending on the services required.
6. Anita Queen
This independent animator is highly qualified to offer the best animation services.
Anita Queen specializes in numerous services such as logo animation, whiteboard animation, logo designing, video editing, and photo editing. Additionally, she can create custom blackboard and green board explainer videos.
Key features:
Professional and premium quality animation videos that can be customized.

They can create intro as well as outro logo animations for your videos.

In addition to whiteboard animation services, they can curate premium blackboard and green board videos as well.

The pricing is reasonable and affordable for the quality of services.
Pros:
Timely and responsive service

Accepts multiple revisions and accommodations

Creative and unique products
Pricing:
Anita Queen offers services at reasonable prices ranging from $5 for logo designs to $105 for premium whiteboard animations. The cost varies based on requirements.
7. Silueta
This is one of the leading whiteboard animation companies as they are a team of experienced curators.
Silueta is a professional studio for animation videos that are engaging and unforgettable. Their visual storytelling is efficient due to the ecstatic team of artists, techies, and designers. Their services are completely customized as they create original illustrations with voiceovers.
Key features:
Hand-drawn, customized, and unique whiteboard animations.

Professional storytellers to craft the perfect video script.

A team of six to eight creative experts works on your animation.

The team will make an active effort to understand the message you want to send.
Pros:
High-quality videos

Exceptional expertise

Recognized worldwide

Quick and efficient
What is the best whiteboard animation company?
Several factors need to be kept in mind when looking for the perfect whiteboard animation company to fulfill your expectations. These include the quality of work and expertise of the designers, they must be responsive and accommodating, and the pricing should be reasonable without compromising on quality.
You must ensure that the company has qualified individuals that have sufficient experience to give you the best output. The whiteboard animation companies mentioned in this article are extremely qualified and produce nothing short of marvelous videos.
Additionally, ensuring that the company is equipped with sufficient skills to tailor the video to improve your business is essential. The companies mentioned have professional storytellers that can effectively convey the message of your business. This also ensures that your viewers retain the contents of the videos by making it simple yet powerful.
The whiteboard animation companies given above have worked with international companies that are extensively recognized. This level of experience will ensure a successful and premium video. Open communication and timely service are also essential components when recruiting the right whiteboard animation services.
Due to this, the company can create the perfect video to cater to your vision.
How can I produce whiteboard animation videos myself?
Even if you have little to no tech skills, there are many software available that will allow you to create whiteboard animations with ease. One of the most popular and easy to use the software is Doodly. This animation creator has numerous features that make it simple for a beginner to make elaborate whiteboard videos.
Let's take a look at some of the features offered by this software.
Numerous board styles
Doodly allows you to design the layout of your video by giving you access to multiple board styles. You can choose from the chalkboard, green board, whiteboard, glass board, and custom board.
Hand styles
Doodly offers different hand styles to personalize your videos. You can choose from 15 real hand styles and 13 cartoon styles.
Video editing
Doodly offers a platform that makes editing videos simple and easy. Deleting scenes, editing timeline, duplicating scenes, and many other functions can be performed with ease.