Last Updated on April 24, 2022
Whiteboard animations are an incredibly powerful tool in capturing viewer's attention. They offer a unique vibe and can increase your  users engagement considerably.
In the past, this type of video required actual drawing skills and a camera to capture the drawings. But with the help of a whiteboard animation software, creating your own animation videos can now be super easy.
In this article, we would share with you the top 15 best whiteboard animation software available currently on the market, along with the special perks and benefits of each one of them.
What is the Best Whiteboard Animation Software?
Below are our top picks for the best whiteboard animation software this year:
1. Doodly – Best overall pick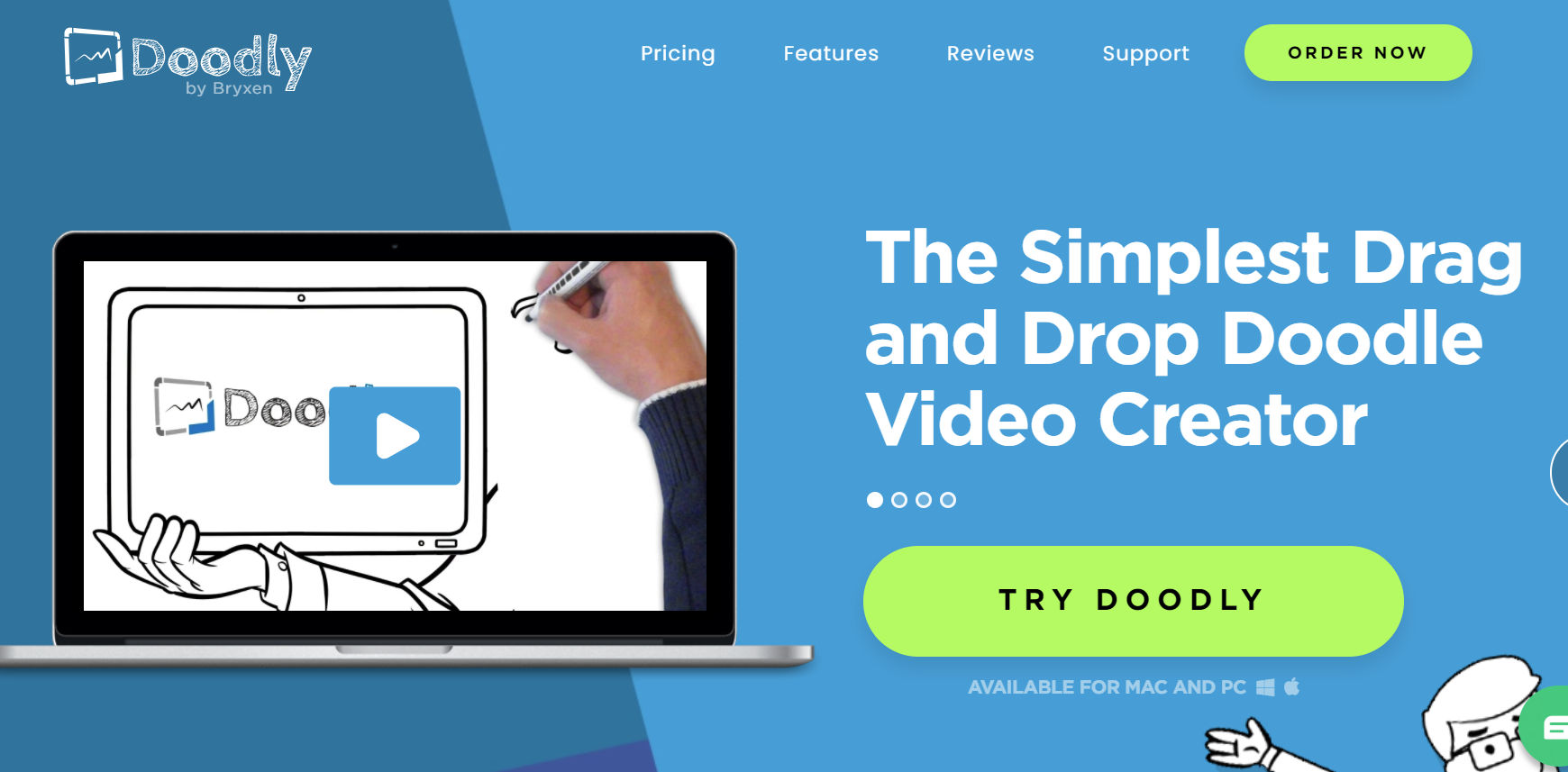 Our number 1 pick for the best whiteboard animation software is Doodly.
Doodly is a desktop animation software that allows you to create whiteboard, black board, greenboard and even glassboard animations. It's extremely simple to use and require no coding or drawing skills.
With doodly you can produce high quality explainer videos for you or for your clients. The creation process is super simple and user-friendly – All you need to do is drag an image of your choice to the software, and Doodly will automatically create a doodle of that image.
The software even come with a built-in Smart Draw feature that allows you to indicate the software how you want it to be drawn, in order to make the final result as natural as possible.
Doodly offer two versions: Standard and Enterprise. Standard comes with a basic set of 400 pre-made doodle assets, while Enterprise comes with over 6200 unique assets and access to the Doodly Club. Members of the Doodly Club get new doodle assets every month.
All of their plans come with a 30 days money-back guarantee.
With each purchase of Doodly, you also get access to the Doodly private Facebook group, which currently have over 70,000 members who would answer any potential question you might have.
Overall, Doodly is the most comprehensive software in the market currently, with plenty of features that you won't find in any of their competitors, and thus – it's our number 1 choice.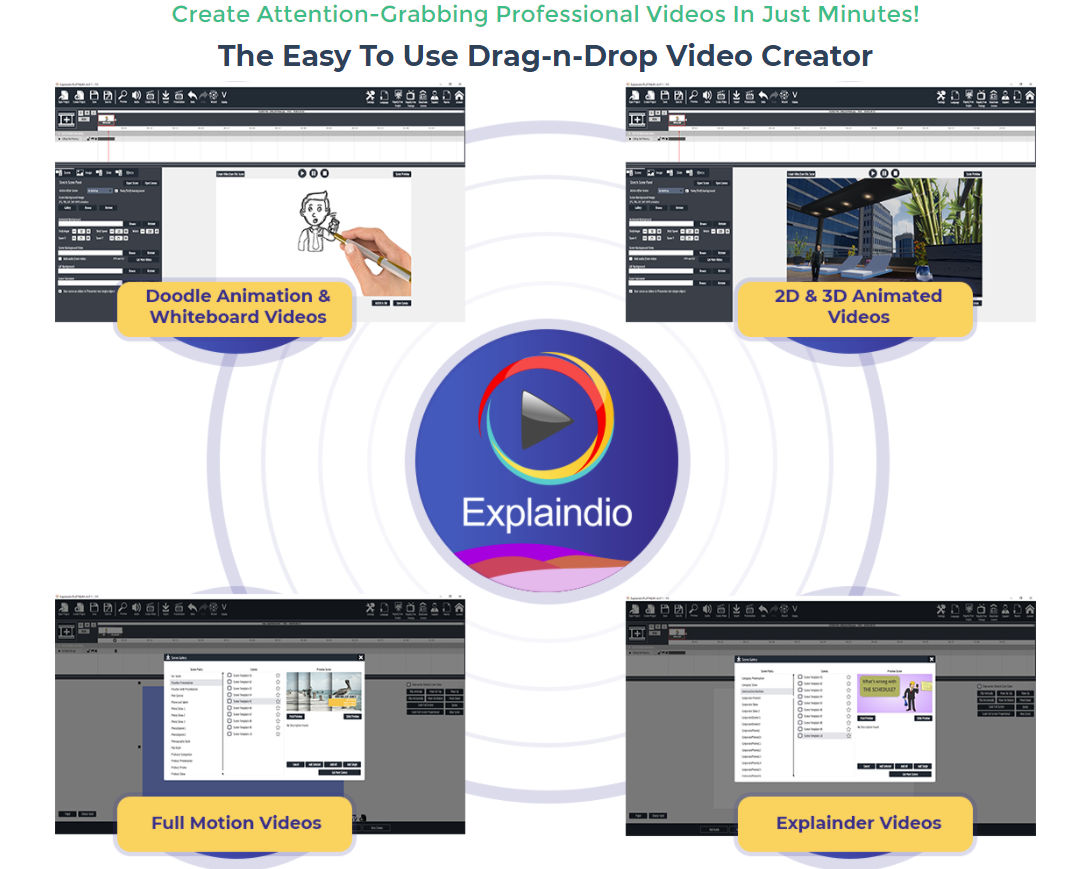 Explaindio is a modern drag-and-drop video creator that allows you to produce stunning whiteboard animation videos, without all the usual hassle.
Unlike other similar software's, Explaindio comes with the option of producing full-motion and explainer videos, in addition to the usual whiteboard animation features.
Explaindio provide its users with multiple animation features, over 180 pre-made text animations, 300 font options and over 200 animated scenes to produce more engaging videos.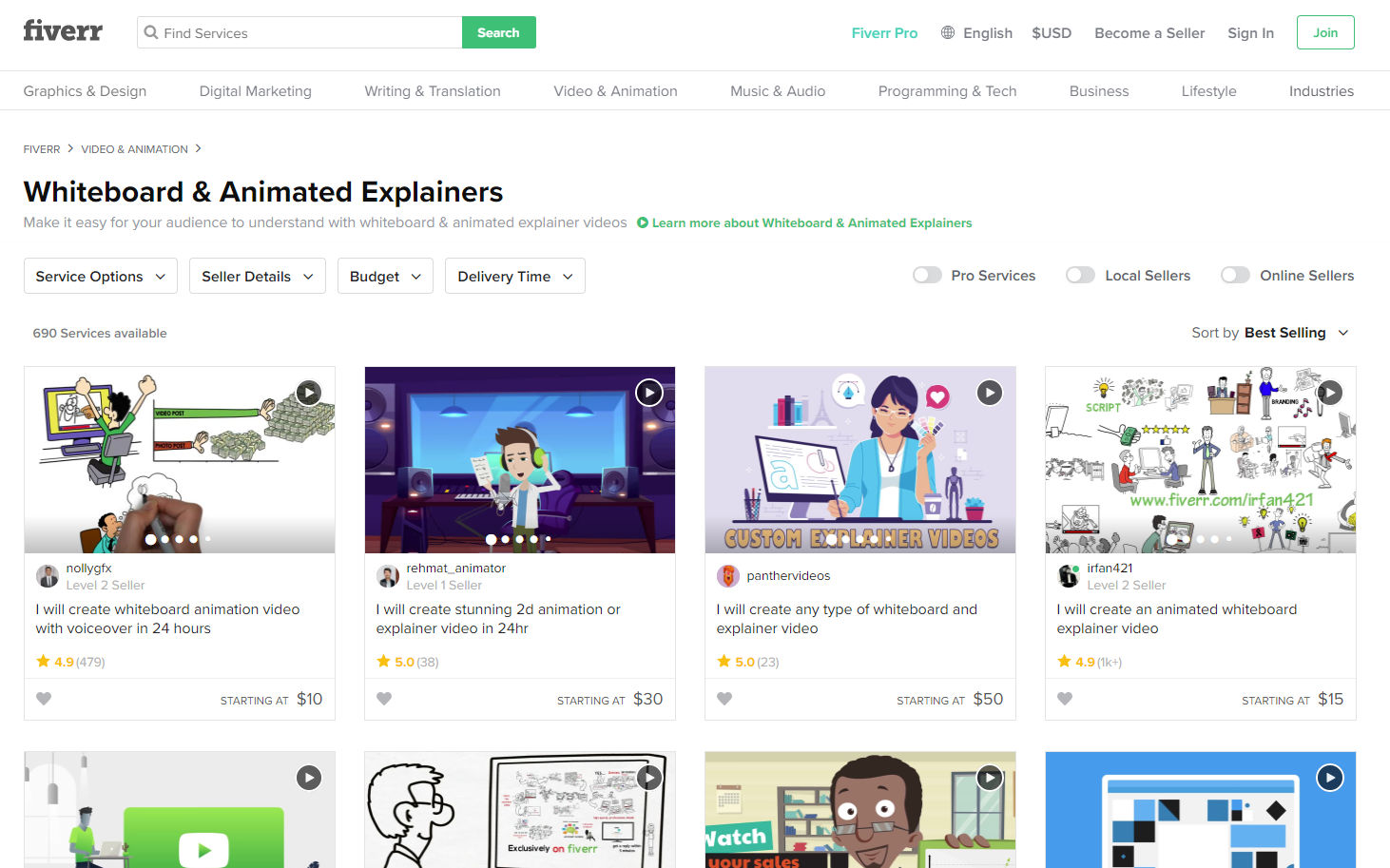 While it's not a whiteboard animation software, Fiverr is the best place to get whiteboard animation services and the perfect solution for those of you who want to create an animation video without doing any of the work involved.
You can use it to hire a professional who would produce a video for you in a manner of just a few days. They have a designated category for whiteboard animation, full with over thousand of different available sellers. You can go to the Whiteboard Animation category page and find a seller you like by clicking here.
Make sure to select the animator after going through their reviews, samples, and years of experience. There are plenty of hidden gems over there, just make you do your homework.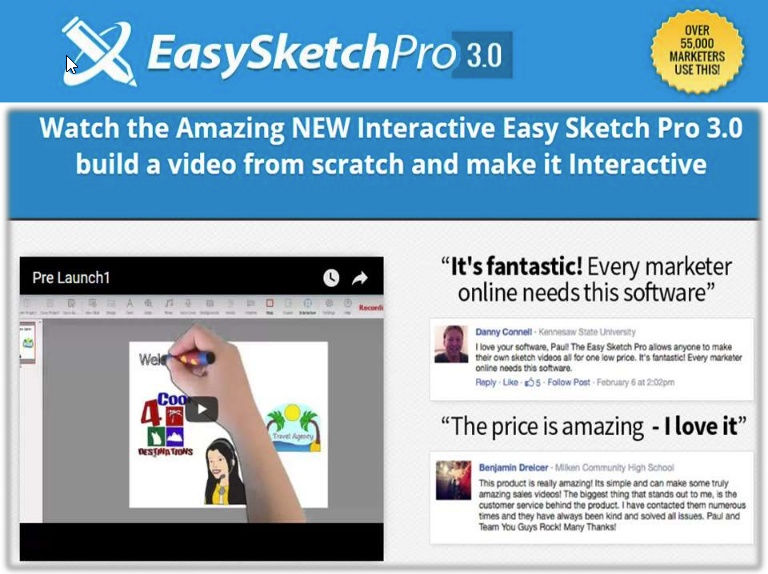 Easy Sketch Pro is a clean and intuitive whiteboard animation software. You can use it to create any kind of doodle or sketch videos in just minutes.
Its biggest advantage is the fact that unlike its competitors, easy sketch pro doesn't require a monthly or yearly membership. You can get complete access to it via a one-time payment.
It comes with a very well-made and accessible interface that can be used by anyone without hours of learning. It offers plenty of customization options in terms of backgrounds, graphics and pre-made animations.
One of Easy Sketch Pro's unique features is the ability to add doodles directly on top of a video. So instead of the usual white background, you could sketch text and drawings on a live video while its being played!
Pricing: Easy Sketch Pro offer 3 different plans: Starter, Business and Business Pro.
In the Starter plan, you get access to all of the main features. However, all the videos you'll make with this plan will have a 'Made with Easy Sketch Pro' watermark at the bottom.
To remove the watermark, you need to use either their Business or business pro plan. Their most premium plan – Business Pro – comes with an additional 12,000 premium images and sound tracks for your free usage.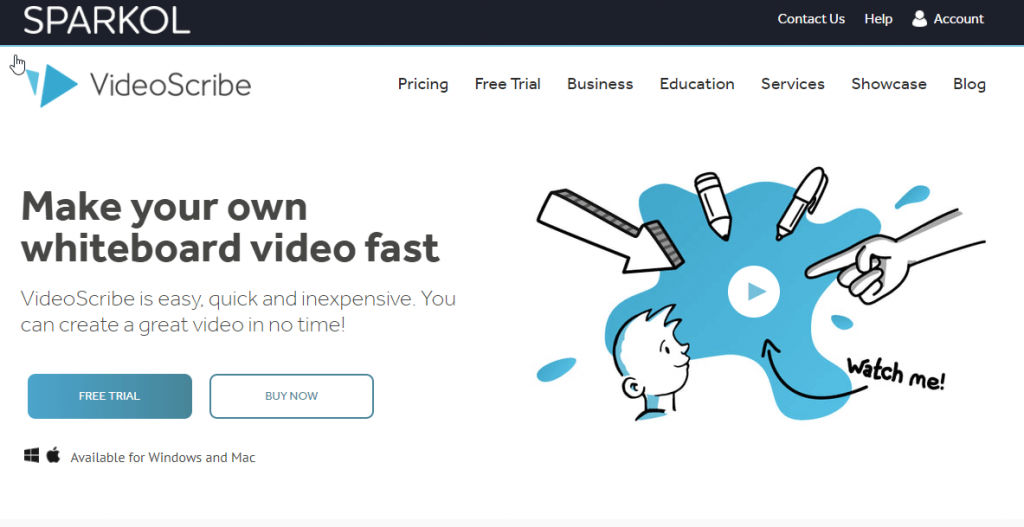 Videoscribe is the go-to whiteboard animation software for beginners and the most widely known name in the industry, for a reason.
It's one of the most versatile and beginner-friendly software in the market, and it comes with a 7 days free trail which doesn't require a credit card.
One of the best features of Videoscribe that isn't mentioned often in reviews is that it supports RTL (right to left) languages as well when it comes to the software's hand writing, which is a huge difference maker for users from countries that speak languages such as Arabic.
The software divides your video's timeline into a block system, which can be controlled with an easy drag-and-drop function.
It comes with an extremely large library of free images to choose from of over 6000 unique SVG images, that already have animations attached to them.
Videoscribe supports costom image imports as well, but if you'd like to turn your images into an actual whiteboard animation – you'll have to hire a designer who would turn them into SVG images first. Such artists can be found in Fiverr.com.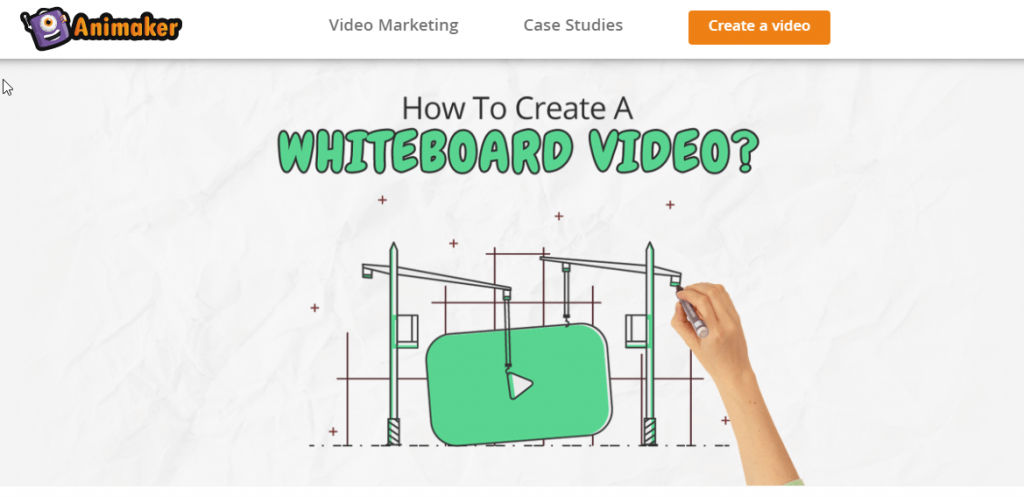 Animaker is another all-around animation software that offers whiteboard animation videos as well in its wide arsenal of tools. Its interface is extremely easy and you'd quickly be able to create videos within a few minutes. They put a big focus on using characters (from their huge ready-made list of custom characters) to enhance your storytelling.
Unlike most whiteboard and doodle animation software discussed above, Animaker is an online tool, and you'll need to install Flash in order to use it.
Animaker offers a massive library of over 100 million stock pictures and videos. On top of that, you have the option to choose from over 1000 templates. There's a template for every occasion and requirement.
Some of its most prominent video making features include extensive facial expressions for videos, auto lip-sync, gradient backgrounds, and much more.
Pricing: Animaker's free plan enables you to create standard videos of up to 120 seconds in length. They allow you to export up to 5 videos each month. It's important to note that all of them will contain an Animaker watermark.
Their premium plan's pricing starts at 10$/month, and are as follows:
Basic plan – 10$/month, allow you to create 5 videos per month.
Starter plan – 19$/month, allow you to create 10 videos per month.
Pro plan – 39$/month, allow you to create 20 videos per month.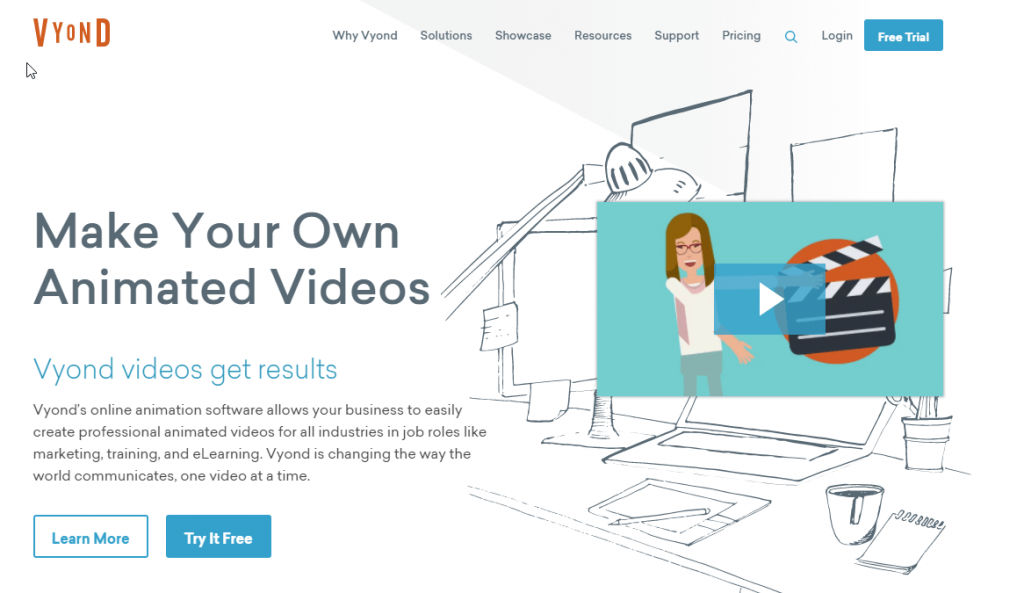 Vyond (formerly GoAnimate) is a big video creation and automation company. Their video creation software is very flexible, and one of its main features is creating stunning whiteboard and doodle style animation videos.
Vyond is an excellent option, especially for small businesses and enterprises. They offer an extremely large library of templates, audio files and graphics that you can access for free through their membership.
The most unique feature of their software is the automatic character lipsync, that allows you to bring your characters into life. The animation quality is very high and all of the movements look real.
Pricing: As a complete all-around video creation solution, Vyond is not the cheapest option on the list.
Their premium plan rates:
Essential plan – 299$/year, the Vyond logo would stay as a watermark in your videos.
Premium plan – 699$/year, single user membership.
Professional plan – 999$/year, a multi user membership where you pay additional cost for each new seat.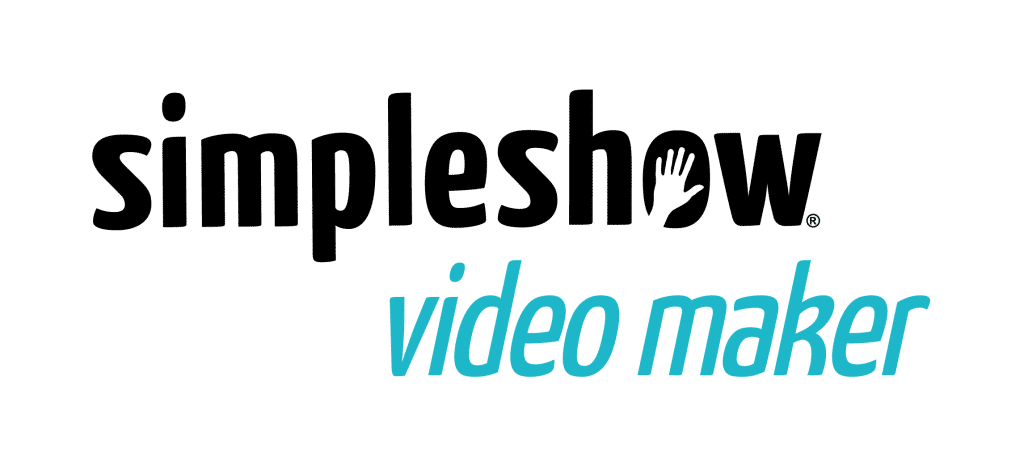 simpleshow is an awesome, fairly unknown whiteboard animation software with a twist. It can help you create an high-quality video in just a few simple steps, using automated tools.
Their video creation process starts by you choosing a storyline template from their list of dozens already-made video templates. You add your own script and then simpleshow's Explainer Engine automatically generates a final storyboard for you to edit.
Other notable features of simpleshow:
Text-to-speech voice over – The software comes with a built-in voice over automation tool that allows you to turn your videos scripts immediately into a nice voice over narration.
Vast library of illustrations – simpleshow gives you an access to thousands of illustrations in their graphics library. Unlike most generic whiteboard graphics libraries, their list include a lot of high quality images and illustrations that can help your video really stand out from the crowd.
Free plan – Don't want to commit immediately to a paid plan? No worries! They offer a free plan with limited features to allow you to test the waters out.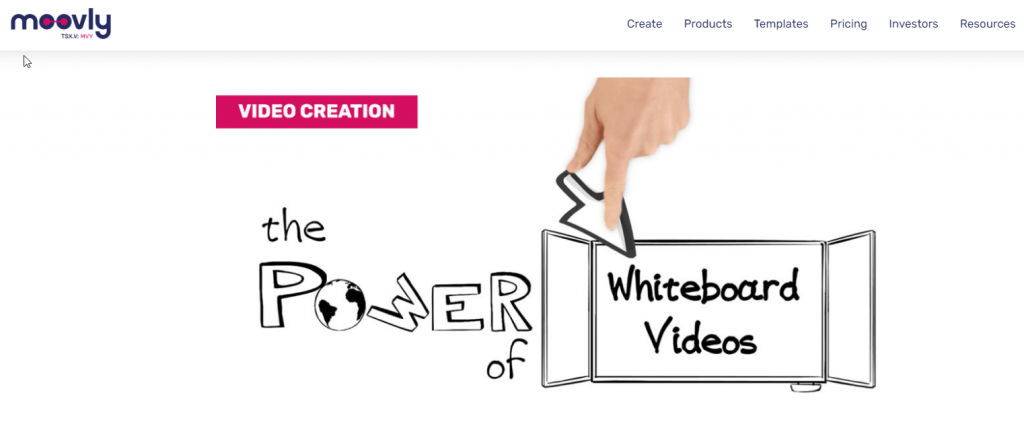 Moovly is a video creation software, mostly known as a great solution for creating easy automated videos from stock photos. However, it also comes with a whiteboard animation feature. And it's great!
This is how the video creation process works with Moovly:
You choose a video template from Moovly's ever-growing list of templates.
Use their simple drag-and-drop editor to add the images, text and animation you'd like to add to your video. You can choose from over a million unique assets in their graphics library.
Customize every single aspect of the video using their smart editor.
Download your video and share it with your audience!
Pricing: Moovly offers a free version, but like most of its competitors – this free version includes their watermark on your videos, which makes it not very tempting for any professional use.
In regards to their premium plans, their prices are as follows:
Pro – 299$/year – up to 25 video downloads per month
Max – 599$/year – up to 50 video downloads per month
10. Mango Animate Whiteboard Animation Software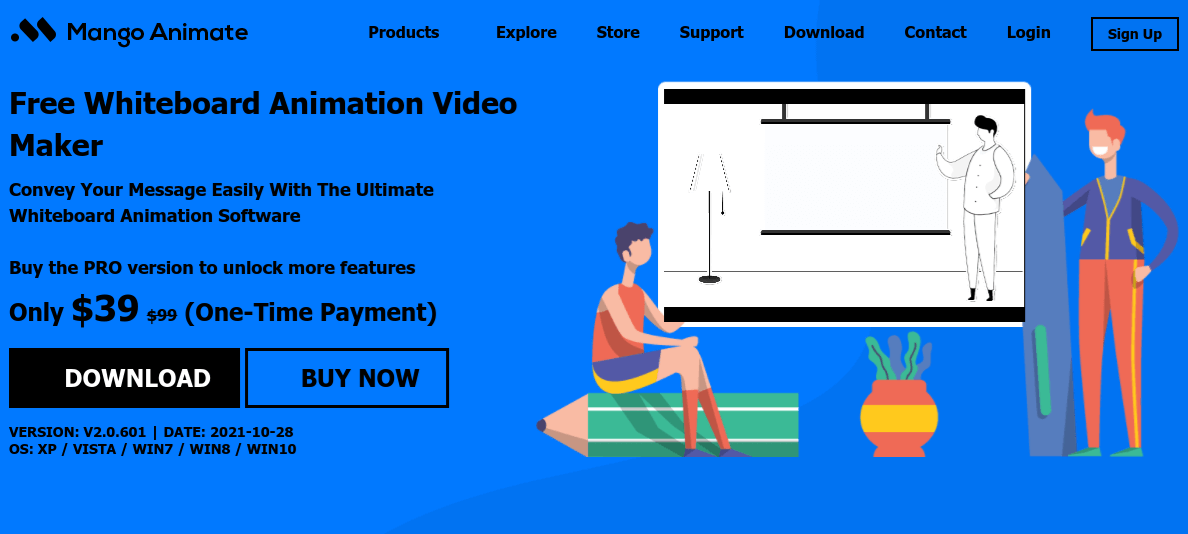 Mango Animate is a professional whiteboard animation software that is capable of creating various whiteboard videos. The rich features and functionalities of this tool enable anyone to create high-quality animated videos in a few minutes with absolutely no difficult settings involved.
Mango Animate allows you to create a high-quality whiteboard animation with ease. It comes with a large selection of character templates, voice-over scripts, and sound effects. You can use the audio from your computer or record it on your own to add more life to each animated video.
No wonder Mango Animate is trusted by many people worldwide as their whiteboard animation software for PC.
The most remarkable thing about this software is that it comes with more than 3000 ready-made templates for you to choose from, so whether you have an existing story or if you want to create one from scratch, Mango Animate installation will provide your needs.
Pricing:
Mango Animate Free Download – Monthly Payment of $7.99
Pro Version – One-time payment of $39.99
Character Maker – $139
2-in-1 Enterprise Version – $239
11. Camtasia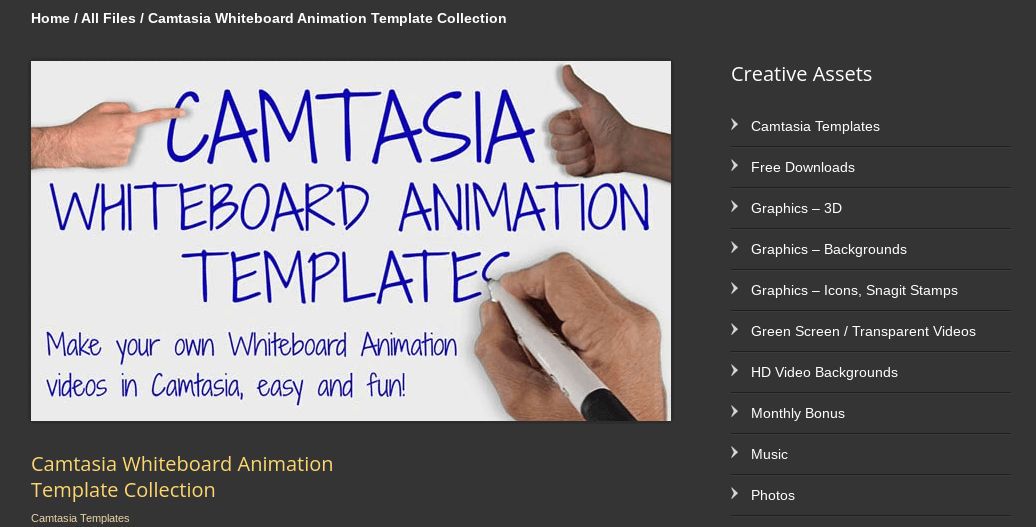 Camtasia is a powerful screen capturing and editing tool that can help you create engaging video presentations easily. The features of the tool enable you to add animated diagrams, drawings, and voice-over narration to your videos so that you can share your knowledge with people who need it in a way they understand it best.
Camtasia features a breakout timeline that comes in handy for anyone who wants to divide their video into segments according to the flow of their presentation.
Aside from its user-friendly interface, Camtasia is also known for its ability to adapt to any working environment. It offers support for multiple formats such as videos and images, live chat tool collaboration, and web conferencing integration for those who need an all-in-one package.
Camtasia allows you to annotate presentation videos in much the same way you would when using an actual whiteboard. This is the main reason why the tool is extensively used by teachers, trainers, consultants, and presenters who need to train people on various issues regarding their topic.
Pricing:
Camtasia Free Download – 30 days money-back guarantee trial of $199
Camtasia Whiteboard Animation Software for Mac – Annual subscription fee of $8.25 /month or month to month subscription of $37
12. RenderForest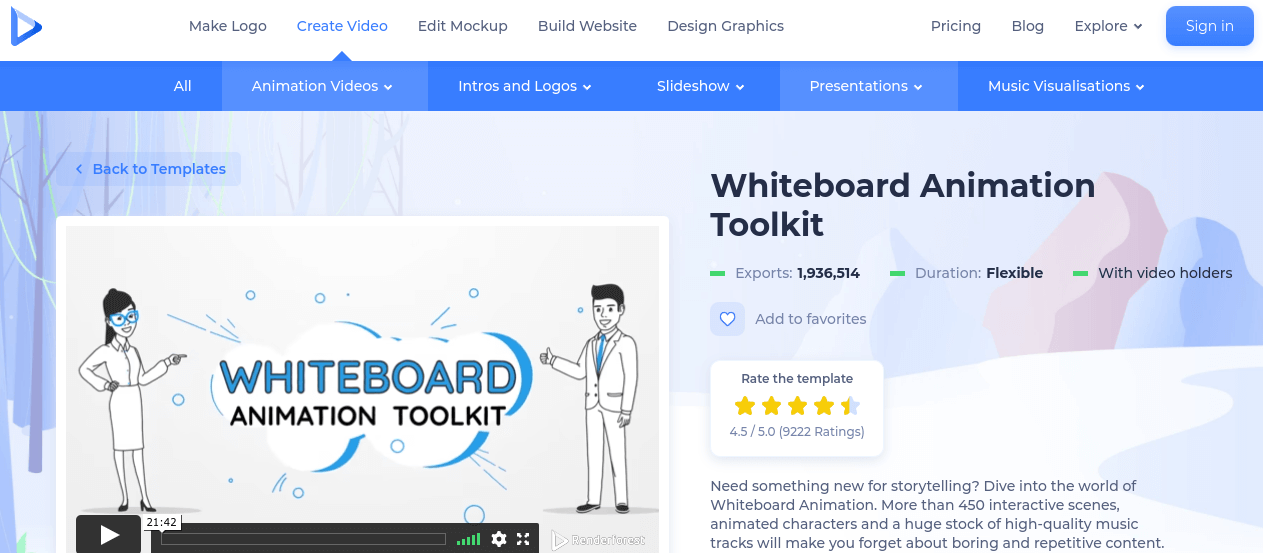 RenderForest is an online marketplace and a video maker tool used by over 10 million users. You can choose from thousands of ready-made graphics and background music to create your own stunning videos in no time.
RenderForest allows you to create educational, explainer videos and also marketing videos that can go viral on social media. The software has a simple and intuitive interface that makes the entire process of creating animated videos easy. It works on Windows and Mac operating systems, making it ideal for people who work on both platforms.
Then you will be able to download the whiteboard animation video to use it as a professional marketing tool or for any other purpose that you see fit.
Pricing:
Free- Unlimited 360p video exports
Lite – $5.99/ month billed annually 10 GB storage
Amateur $9.99/ month billed annually-20 GB storage
Pro $19.99/ month billed annually40 GB storage
Agency $49.99/ month billed annually 80 GB storage ​MO
13. TruScribe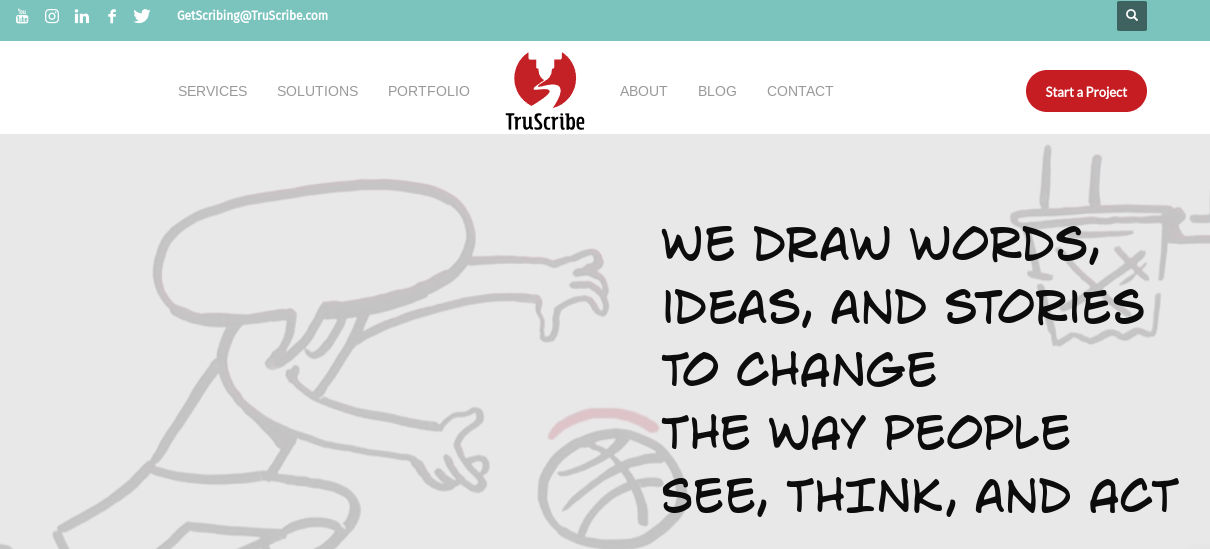 TruScribe is a powerful software that has all the tools and features you need to create professional whiteboard videos in no time. The amazing thing about this tool is that it comes with true camera-less animation, which basically means that your video animations are created using vector graphics instead of static images.
This makes it easy for you to add animated drawings effects effortlessly to your videos. There are three different plans that you can choose from depending on how much storage you want. The pricing features of each plan are highlighted below:
Pricing:
TruScribe Free Trial – 30 days free trial
Ultimate Plan – $7 per month or $59 annually billed monthly
Pro Plan – $12 per month or $99 annually billed monthly
14. Filmora Pro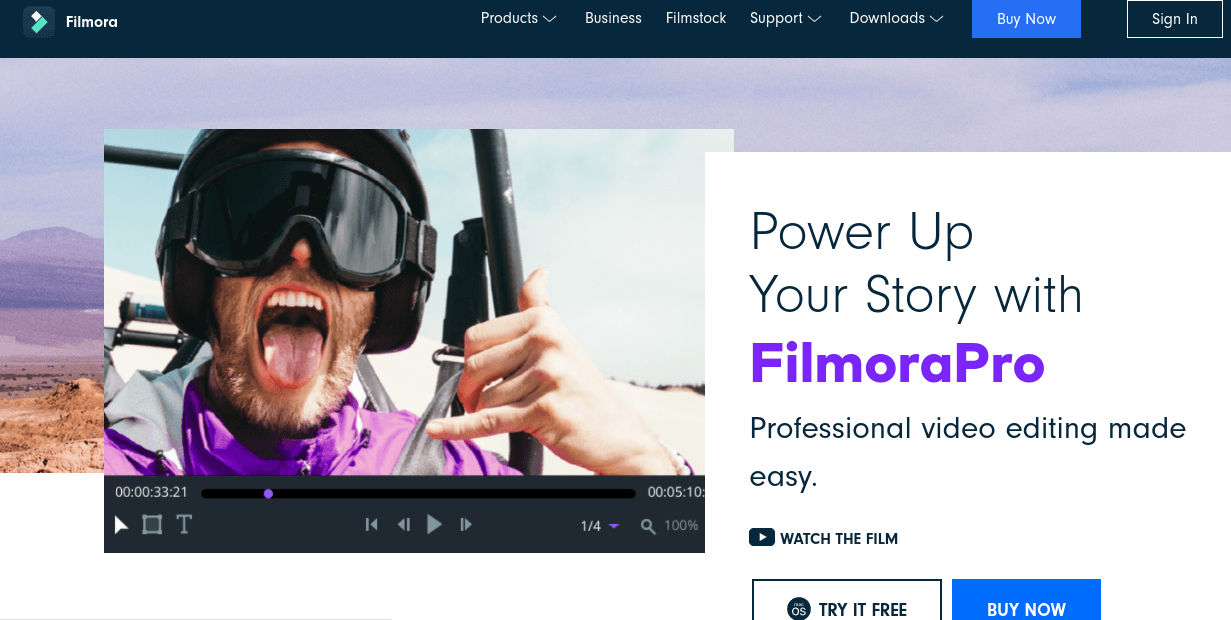 Filmora Pro is a video editing software that is also capable of creating engaging whiteboard animation videos. This tool comes with a wide range of features and tools that enable you to add cool animations, title effects, motion graphics, color grades & filters to any type of video, so you can create your own compelling video presentations in no time.
Filmora Pro allows you to create high-quality whiteboard animation videos from scratch, using its video and audio editing tools. You can also choose from thousands of ready-made templates and effects and even resize the existing brush size to suit your needs.
Pricing:
Filmora Free Download – 30 days free trial
Lifetime Plan- $149
Annual Plan – $89.99
15. Biteable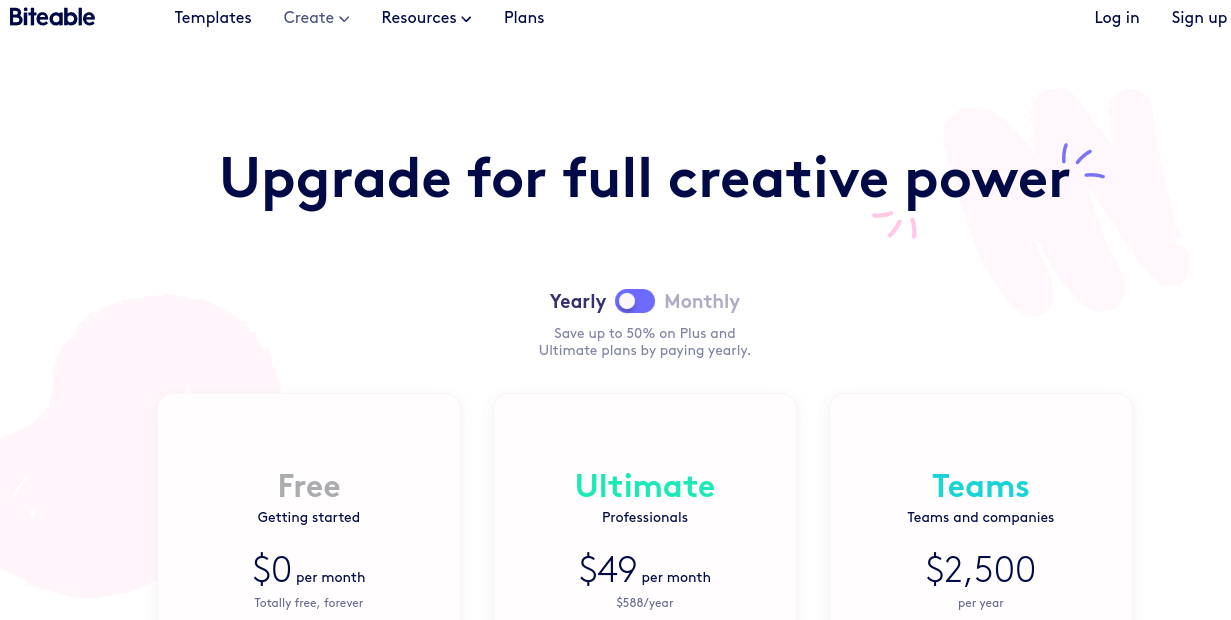 Biteable is an online animated videos software that is ideal for creating high-quality explainer and whiteboard videos. It enables you to create your explainer video in no time, and it comes with an amazing feature where you can easily change text, color, animations and background music.
Biteable is entirely cloud-based, which means you can start creating your explainer video by simply signing up for an account. Then you will be able to download the whiteboard animation video you produce to use it as a professional marketing tool or sell it to your customers.
Pricing:
Biteable Free – Free Download
Ultimate Plan – $49 / month or $588 annually billed
Teams – $2500 annually billed
16. Powtoon White Board Animation Software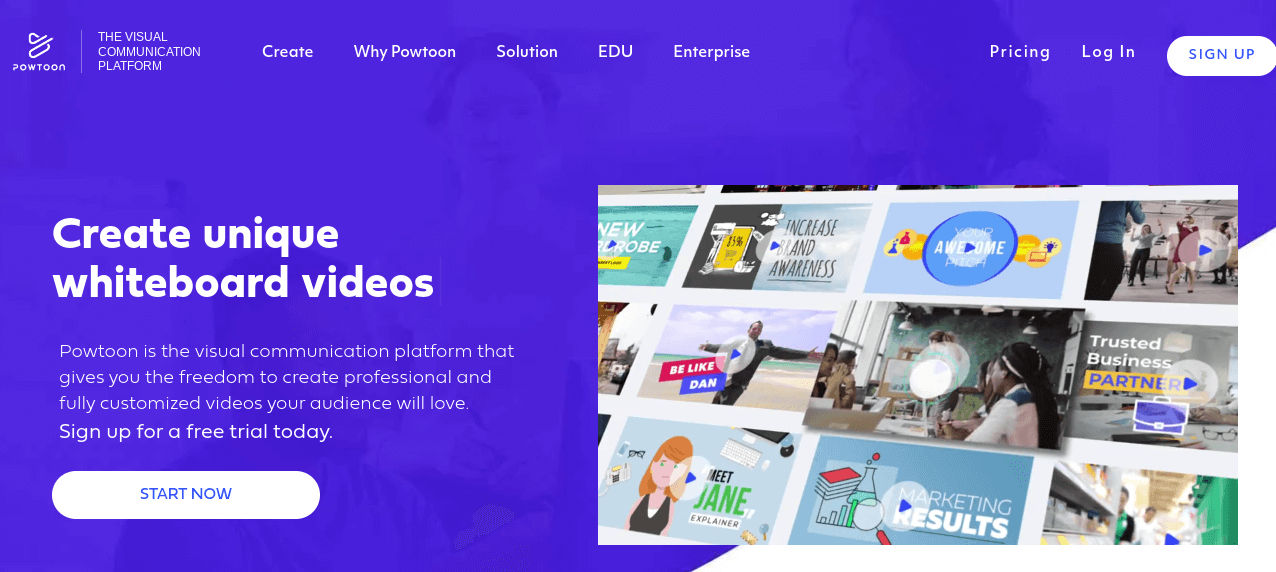 Powtoon is a powerful whiteboard animation software hailing from Israel. It can be used to create various styles of animation videos, but in our opinion – its whiteboard animation capability is what makes it stand out from the competition.
Powtoon's main feature is the ease of use. Any new user would find its interface extremely simple and welcoming, unlike a lot of other non-intuitive solution on the market.
Pricing:
Free Download
Pro Plan- $19/ month ($228 billed annually)
Pro + Plan – $59/ months ($708 billed annually)
Agency Plan – $99/ month ($1188 billed annually)