Last Updated on February 18, 2023
With the fast technological advancements during the last few years, came the need to convert 2D images into digital 3D images.
Whether you are an artist, product designer or simply looking to add 3D dimensions to your image concepts, there are plenty of online tools and apps that claim they can assist you in the 2D to 3D conversion process.
In this article, I will explore the top 2D to 3D image converter apps in the market, their features, their ease of use and how they can fit your needs.
What Is The Best Application To Convert 2D Images To 3D?
Here are the top tools that will allow you to convert 2D images to 3D:
1. Fiverr – Our top Choice For Converting Images to 3D
Pricing: Premium
Platform: Web-Based
Fiverr is the top marketplace where you can find experts who will convert 2D images to 3D for you. This means you will not have to buy software to complete your project. Besides that, you do not have to worry about prior digital skills when choosing a seller from Fiverr.
The best thing about this marketplace is that it can convert 2D images to 3D for as low as $5. Not only that, but you can benefit from files in multiple formats for different purposes. So you can easily print the 3D model with a compatible device.
Another benefit of using Fiverr is that you do not have to buy a monthly subscription if your needs are low. Thus, you only pay for the service you get. There are also no additional charges for signing up on the platform and making an account.
Pros
Pay as you go
No additional charges
Best for low needs
Least time-consuming
Beginner-friendly
Cons
Delivery time depends on the seller
Looking for a quick image conversion without any skills? Try Fiverr!
2. Vectary

Pricing: Free and Premium
Platform: Web-Based
Vectary is a browser app that allows you to convert 2D images to 3D effortlessly. The interface of the website is simple, so beginners can also use the app. Besides that, the CAD software also adds to the appealing factor of this tool.
A key thing to note is that the application comes with an extensive library with all the tools you need to create the 3D visuals. So you can jump straight to your final design. Besides that, you can use premade templates for the graphics.
Lastly, you can use the software to create a 3D model from scratch. The tool also allows you to add shadows to the objects. Not only that, but you can export the files to different platforms without any issues.
Pros
Offers pre-designed graphics
Multiple realistic features
Textured tools
Allows viewing in Augmented Reality
Cons
It comes with a learning curve
Not the best to use on Apple devices
3. Selva 3D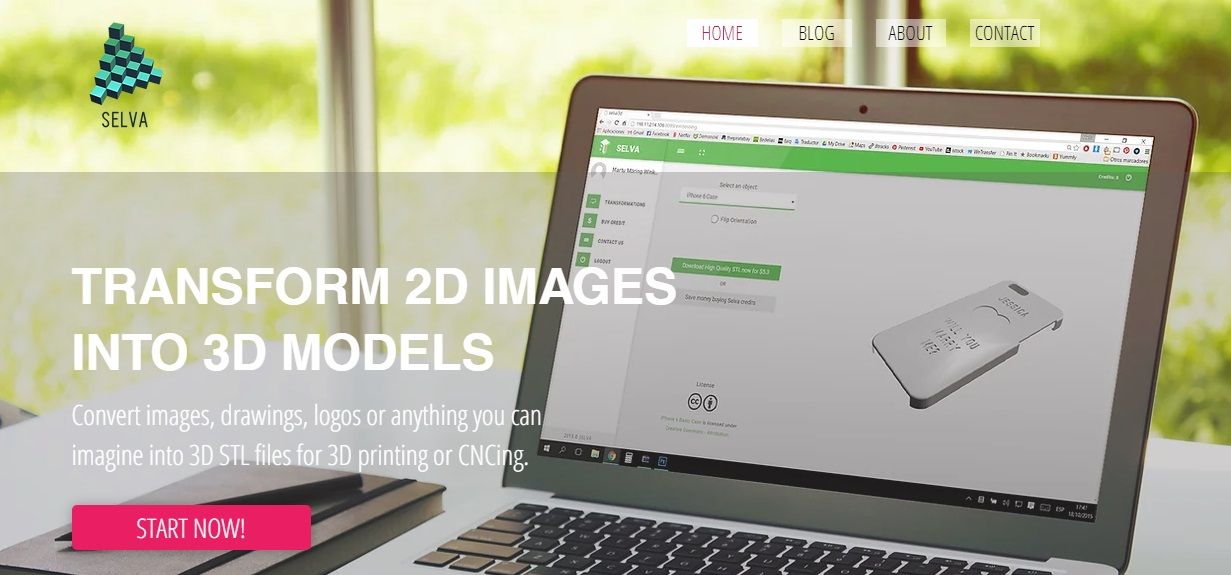 Pricing: $2.5 per STL File
Platform: Web-Based
Selva 3D is a platform that many professionals in the graphics industry use. This is because it generates a 3D model from an image directly without needing much effort. You can upload any type of file, and the application will turn the picture into a flat 3D image.
The best thing is that you can also convert GIFs into 3D files. Additionally, the platform offers you a high-quality resolution. So you do not have to worry about quality degradation after the conversion.
Darker colors in your image will be related to black while light one with white. However, you can change this setting by using the threshold controlling option. This allows you to experiment with the various details of your 3D image.
Pros
Easy to use
Two transformation types
Thickness is adjustable
Brightness can be varied
Cons
Registration is necessary to use the tool
4. Blender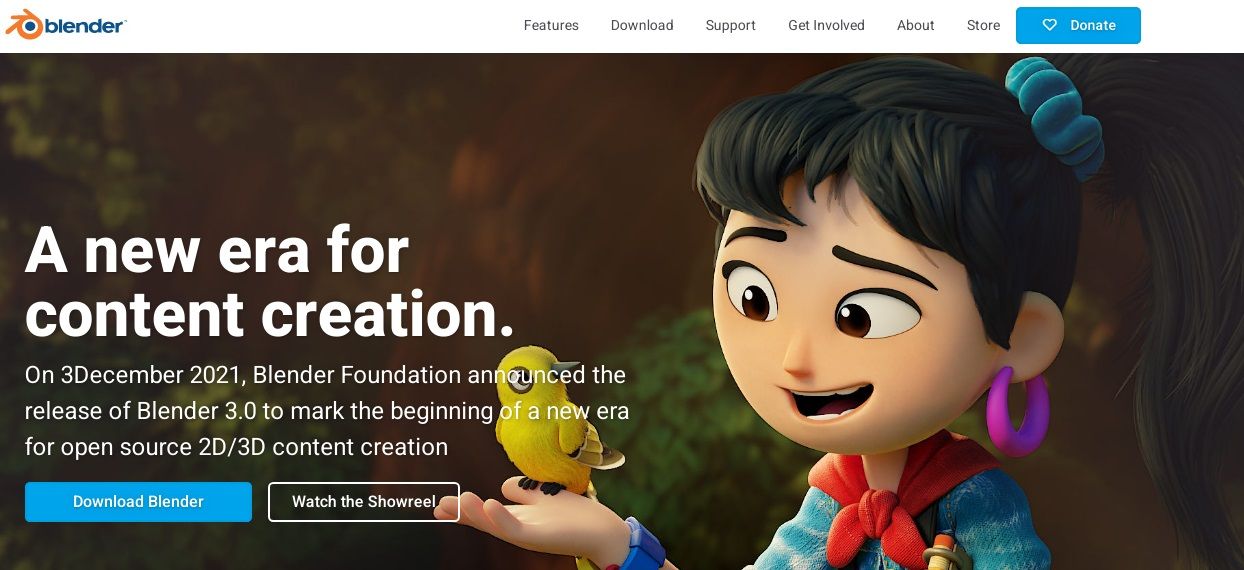 Pricing: Free
Platform: Windows and Mac
Blender is professional software that allows you to perform editing and remake various designs. Many people in the film industry, editing sector, and 3D architecture use this application. That is why it is a leading tool for commercial projects.
The top thing about this platform is that it is compatible with various laptop devices. This is why you can use the tool on various electronics. You have two options when using Blender. Firstly, you can create a 3D image from scratch.
Besides that, you can convert 2D images to 3D without any issues. The platform is versatile and allows you to edit the converted pictures too. So you will have more control over the various options. Additionally, you can use the files for 3D printing, film-making, and much more.
Pros
Entirely free tool
Open-source software
Updates regularly
Multiple features
Cons
Not the best for advanced users
5. Insight3D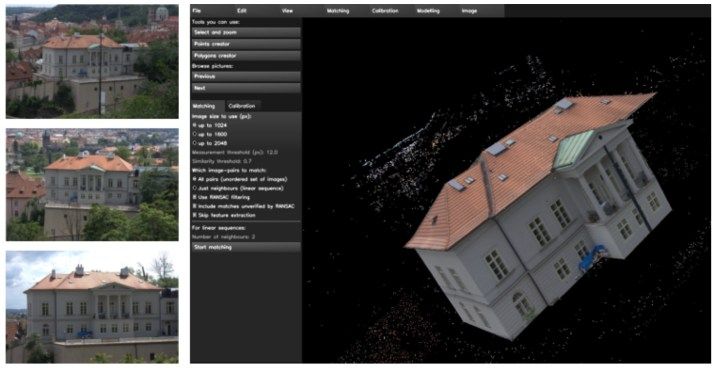 Pricing: Free
Platform: Linux and Windows
Insight3D is one of the most versatile tools on the market to convert 2D images to 3D. This is because you can use multiple images to create a realistic scene using the software. The application measures the position of the object in the space while keeping in mind the optical parameters.
Once the measurement is done, the software generates a 3D polygonal image from the sources. The file has textured finishing and offers you a high-resolution quality. However, the tool does not allow you to make 3D images from scratch.
The primary purpose of Insight3D is to offer you a platform to work on complex images. Thus, it eases the process of conversion and helps you enjoy simple conversions. The platform is free, and all you require is an excellent camera.
Pros
Generates a 3D model from multiple images by accurate measurements
It is one of the top applications for complex design projects
Allows you to export the 3D image in files of multiple formats
No payment is required
Cons
It has not been updated for some time, so may not work well on new devices
Cannot create an excellent high-quality 3D image
Final Words
These are the top five applications you can use to convert 2D images to 3D. The best platform for this purpose is Fiverr because it eliminates the need for you to do the conversion.
Besides that, you can benefit from the service of a professional editor. So you do not rely on an automatic platform to generate the image.