Last Updated on September 4, 2022
With over 100 million podcast listeners in the United States alone, podcasts are definitely one of the biggest trends right now.
Starting a new podcast is very exciting.
You get to create a content you're actually interested in producing, bring on guests and share your very own podcast with the rest of the world.
But there is one crucial step in starting a podcast that most new podcasters overlook, and that's choosing the right podcast hosting platform . Different podcasters will require different hosting services, all depending on their specific needs.
To make matters even worse, there are a tons of options out there with very similar features. So how do you pick the best one?
In this article, we would try to make your choice easier by providing information on the best podcast hosting sites and help you find the perfect fit for your new podcast.
We'll discuss the best 3 options in the market currently, and give you an overview of the specific benefits of each one of them.
The best podcast hosting sites for this year are:
So let's get right into it!
What is The Best Podcast Hosting Platform?
Here our top picks for the best podcast hosting this year:
1. Best overall podcast hosting – Buzzsprout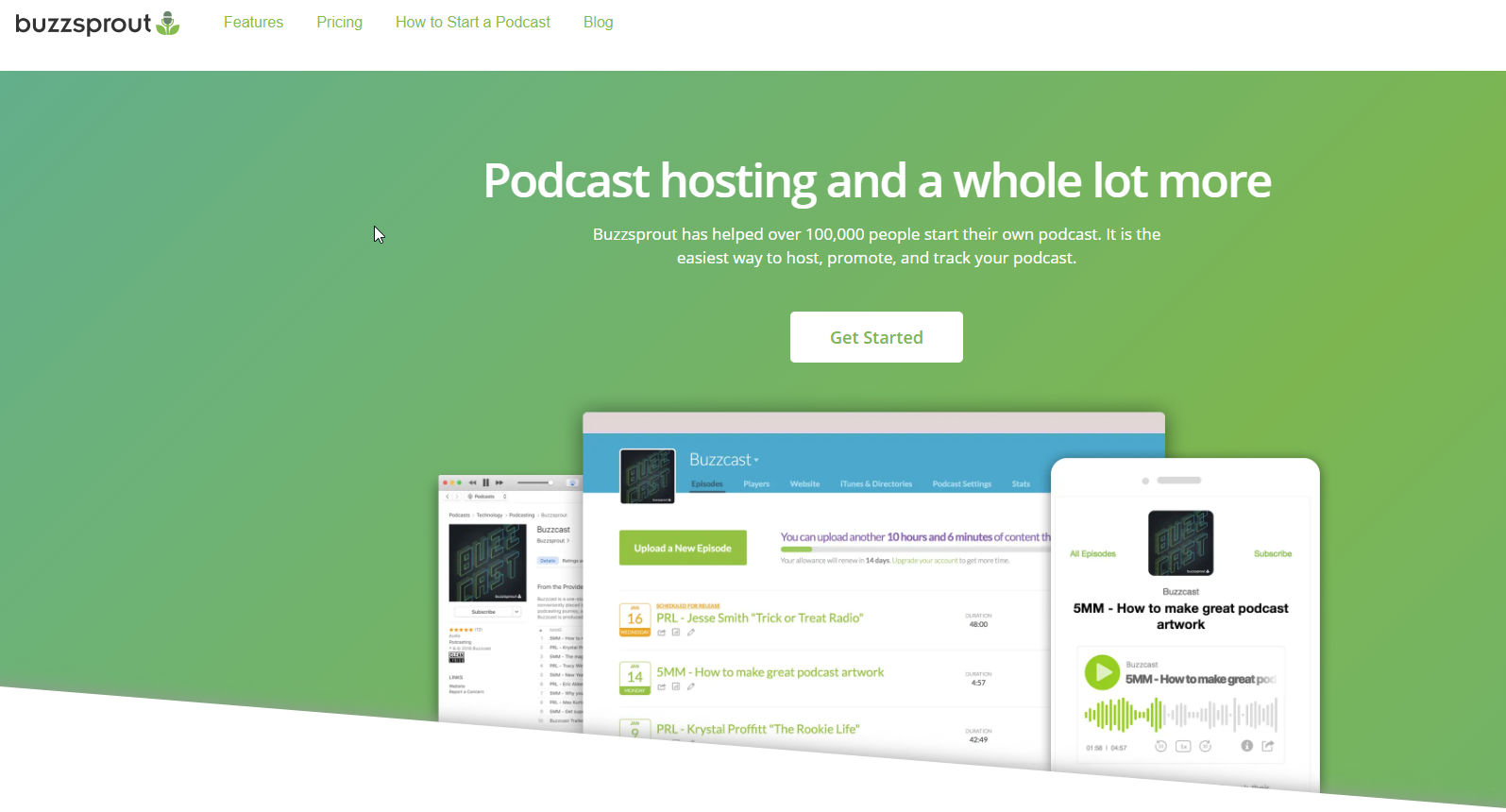 Buzzsprout is a podcast hosting company that has been in business since 2009 and is trusted by over 100,000 podcasters worldwide. They're one of the few companies that offer a totally free hosting plan with unlimited member accounts.
Buzzsprout's audio quality on their platform is fantastic and come with a built-in stereo optimization for even better sound.
They offer an easy-to-use advanced analytics dashboard with an algorithm that estimates how many listeners each episode receives, along with demographic details such as their country. These analytics features are super helpful and better than the rest of the competition.
Their free plan allows you to upload two hours of content each month. If you're serious about podcasting, you can scale up and upgrade your plan based on how many hours of content you need to upload per month.
When upgrading to one of their paid plans ranging from $12 to 24 per month, you'll get an unlimited storage and up to 250GB of bandwidth per month, which is enough for around 40,000 individual downloads.
Other notable benefits of Buzzsprout are the ease of upload and the option of scheduling your podcast. You can simply upload your audio file, setup the episode title and description, and submit your podcast to all major platforms with one click.
To sign up for free to Buzzsprout, you can click here. Upgrading your plan would reward you with a free $20 Amazon gift card as well!

RSS.com is an innovative podcast hosting solution, offering the unique benefit of unlimited audio storage on their paid plans.
Other features that come with RSS.com include: easy directory distribution, social media integrations, a free podcasting website, episode scheduling and real-time analytics. In addition, trying out their podcast platform is completely free and requires no credit card!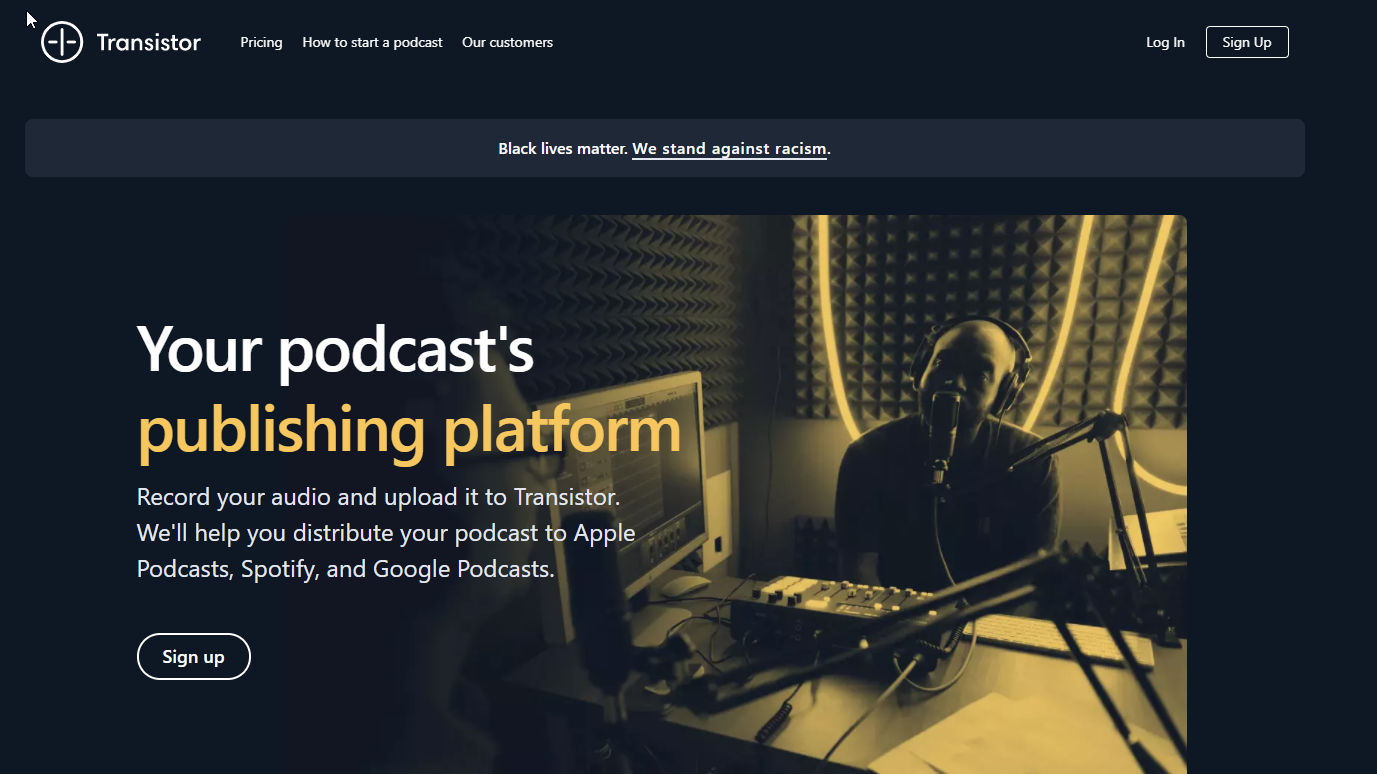 Transistor is a high-quality, professional podcast hosting solution, used by famous podcasts such as Drift, Honeybadger, and Cards Against Humanity. They are an hosting service that is focused mainly on brands and people who wish to take podcasting to the next level, and as such they are a great solution for businesses as well.
They provide their podcasters with a complete all-around solution to everything they need to grow their podcast. Their list of features include hosting unlimited number of shows (which is a big plus if you have more than one podcast), managing multiple users in one account and easy marketing services.
One of their most unique and special features is the option to generate branded websites and logos for your podcast right from their platform.
If you have any future plan of launching a website for your podcast, this tool can save you a significant amount of time and money. This feature comes with tons of customization options, as well as built-in email integrations.
They offer a 14 days free trial, which you can access right now by clicking here.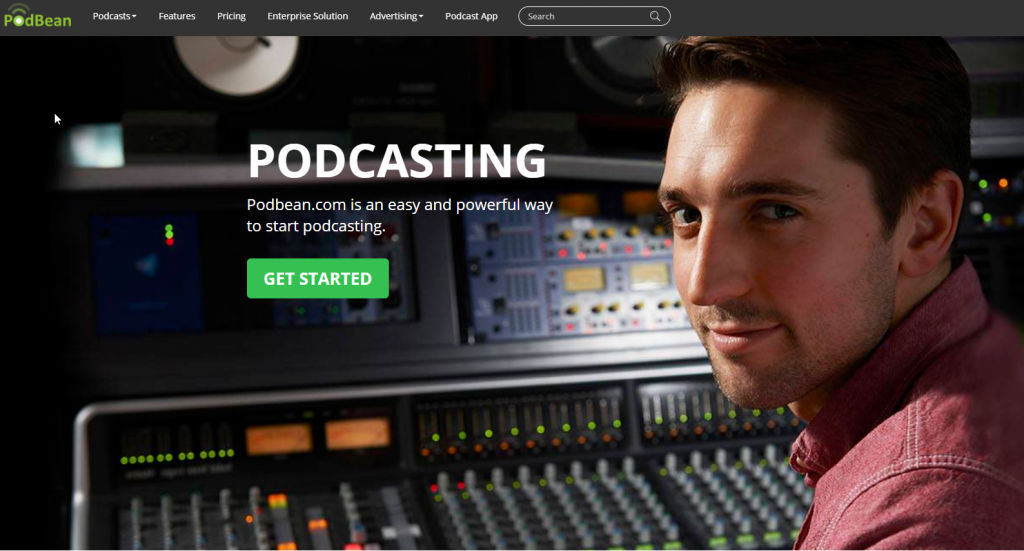 PodBean has been in the podcasting hosting space for over 10 years and are regarded as one of the best hosting providers. They offer unlimited hosting services, distribution and promotion on all major platforms such as iTunes, Google Play, Spotify and Amazon.
They serve over 220,000 different podcasters, with an astounding total of over 7.1 billion downloads on their platform.
To get started, they offer a free plan as well. In the free plan, you can upload up to 5 hours of content per month, but are only allowed to use 100GB of bandwidth.
If you are a podcaster that is serious about running your professional show, you should have a look at their $29/month Unlimited Plus Plan. This plan is much better than the free option and gives you absolutely everything you need. It's not cheap, but it's the best overall solution in the market.