Last Updated on January 21, 2023
VTubing is a new, rising online phenomenon hugely popular in Asian countries, especially Japan.
This relatively small niche industry is abbreviated from the word Virtual YouTubers and is now gaining unlimited fame in other parts of the world as well.
Those virtual YouTubers do not work on artificial intelligence. There are actual people behind their movements, controlling these virtual avatars through mocaps and other sensor and motion detection technologies.
In most cases VTubers use either motion capture or a mocap technology suit to detect and track their human facial and body movements.
With time, the motion capture programs became cheaper and VR systems became simpler. Improved audience numbers, higher viewership rankings and easy to use VTuber software technology has further accelerated the appearance of such virtual YouTubers all over the internet.
VTubing has now risen as one of the next big opportunities in the live video streaming industry.
All you need to start as a VTuber is a computer an internet streaming system, a VTuber maker software, and voila! Your avatar is ready to hit the screens of the world's audience with a bang.
With most of the VTuber maker software in the market available for free, the venture can be lifted off without actually having to spend a dime.
Over the years we have witnessed that technological advancement has made such software readily available to the people providing premium quality and more productive and innovative features.
What is a VTuber maker software?
A VTuber Maker Software is a type of graphics-based creator that allow you to create a virtual avatar in either 2D and 3D digital graphic videos.
The avatars are created using high quality computer graphics and motion capture technology and other VR systems are employed to control its movement.
With so many programs and software available in the market, it often becomes confusing to select the best one for you.
To make things a little simpler for you, we have compiled together a list of the top VTuber maker software!
What is the best VTuber maker software?
Below you would find our list of the 7 best VTuber maker software this year, based on our own previous experience:
1. Fiverr – Our top choice for custom VTuber models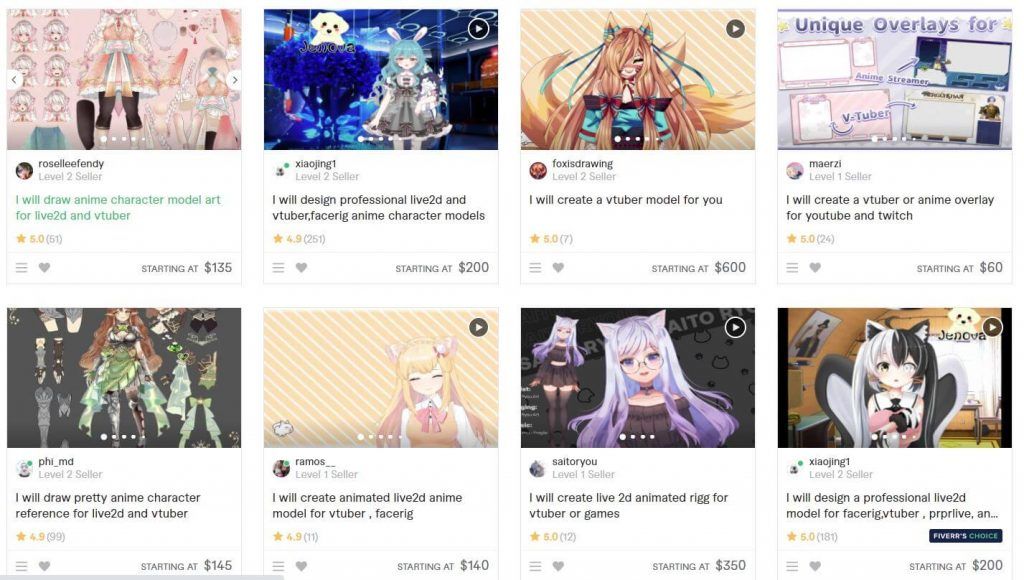 If you you are looking for a fully custom VTuber avatar model to start your new VTubing career but don't have the skills to design one yourself – then Fiverr is the perfect option for you.
They have hundreds of sellers and services for VTubers, all ready and eager to fulfil your orders.
While Fiverr may not be a maker software in the sense that you can't control the whole process by yourself – it's still undoubtedly the best place to get custom VTuber models made, both in terms of design quality and price and we had to put it very high on this list.
2. VRoid – Best for 3D VTuber avatars

VRoid is one of the most essential and foremost software needed to start your journey as a VTuber.
The first thing you need is a graphic avatar or anime character to star in all your videos. This software enables you to create a 3D avatar or anime with advanced but easy to use tools and features.
You can use sample characters or start from scratch. It has all the key features needed to customize a character according to your liking and desire. Some of the features are free while others require you to pay.
Whether you are a starter or pro, having access to this avatar crating software is a must. It lets you go wild on your imagination and work on even the minutest of the details and customizations of your virtual characters.
Compatible for usage on windows as well as Mac systems, the VRoid studio is a great option for all type of VTubers.
There are many distinctive features of Vroid Studio that make it stand out among other options. The procedure hair design is one such feature which allows the users to create and edit hairdos. The texture editing is powered by pen like tools that are supported with layering and sensitivity.
3. VSeeFace – Best for 2D VTuber avatars
Available through its official website for free, VSeeFace is a latest addition to the VTuber maker software industry.
One of the key advantages that makes it superior to other software is its unmatched high tracking accuracy and the Leap Motion accessorized hand tracking system.
Another innovative addition is its advanced expression recognition feature. While most of the competitor software require manual shortcuts to initiate expressional changes, the VSeeFace software has a beta service feature that allows automatic detection of the essential facial expressions.
It is best for new starters who might find other manually operated systems a little too complicated. In VSeeFace all you need to do its record your essential expression and let the software recognize and display them automatically without manual stimulation.
4. Wakaru
A popular name in the VTubing industry, Wakaru is an innovative and advanced VTuber software available for computers powered by Windows operating systems. This multi-featured program allows you to create VTuber content without the need for a virtual reality component.
Its intuitive interface requires only the installation of a web camera on your PC. You can even substitute this camera with a smart phone camera and you are ready to use the VTuber tools.
Although the movements are not as smooth as they would be in case of a VR powered system, this is a great option for newbies or starters.
Some of its key features include facial control, mouth shape capture, eye capture, real-time gesture tracking, head pose capture and much more.
Real-time gesture and body control can be managed without importing pre-recording motions and is best suited for live videos.
Wakaru is suitable for Vtubers looking for a live streaming software at a low cost. Although it may not be perfect in motion like a VR device, it still helps generate some of the best live performances.
5. Vtube Studio
A comprehensive and fully powered VTuber software available for Windows and Mac systems, Vtube Studio employs a smart phone connection for tracking your face and animation movements. Compatible with both android and iOS, you can control your Live2D Cubism Character with easy to use interface and multi-featured software options.
It is one of the most simple and user friendly VTuber maker software that can make your virtual journey smooth and innovative. With some limitation of not been able to track your eye movements, winking and minute expressions, for starters it is great.
Vtube Studio has a safer Face tracking program and is best suited for Live2D VTubing. The supporting feature that allows it to control your Live 2D model through advanced tracking inputs, includes audio based Lipsync.
6. VMagic Mirror
This is an advanced VTuber software mostly used by the gaming VTubes of the world. Although the basic software is free to use, it is fully packed with cutting-edge and innovative features that include mouse and keyboard control options and animation simulation through controllers for more realistic results.
With a little paid upgrade you can further enhance streaming quality and output by improving your avatar's tracking accuracy with Leap Motion System.
Another important feature that makes it different from other VTuber software is its ability to operate without the need of a webcam or mobile camera. However, in such a case the videos will not be fully controlled by your own movements but by an artificial intelligence-based technology.
The facial expressions are controlled and created by manual shortcut commands or a manual controller. You can also link them with key phrases for automatic stimulation.
VMagic Mirror is just like mirror reflecting you as a graphic model. It supports Gamepad input to character motion, Web camera based face tracking and Lipsync.
It is best used for recording videos and streaming PC game plays, writing work streaming, presentation streaming and as a desktop mascot. It can also be beneficial for software events where you need to code live.
7. FaceRig
As the name implies, this is a software used by VTubers who do not want to show their entire body on the screen. It offers simple to use but advanced features that are suitable to control the facial movements and expressions of the avatar or VTuber overlay in an effective and creative manner.
Ideally suited for making YouTube virtual reality videos without using the VR devices or components, the software is fully packed with a variety of technology-driven features and applications.
Available at an affordable cost, some of the notable and distinctive features of Facerig include instant digital cosplay, outstanding rendering quality, real-time voice processing, and state of the art customization tools for every user.
Supporting Live 2D Cubism 3 technology, this software empower VTubes the capability of creating a variety of different types of virtual videos depending upon their needs and requirements.
What Software Does VTubers Use?
VTubers require more than just one software to launch their career as professional VTubers.
Here are the types of software that they commonly use:
Character Creator Software
The first and foremost software they require is a 3D or 2D character creator program. This multi-featured software should help them design and create a virtual avatar or character that will appear on the screen instead of the real person.
Facial and Physical Movement Tracking Software
Once the customized virtual avatar or character is ready, the next software required is a facial expression and physical movement tracking and detection program.
VTuber Software and Video Editor
There are a number of different types of software available in the market for free or for a small amount of price that can help you animate and move your avatar or virtual character and create graphically superior video with it.
These virtual video making software provide the VTubes user friendly tools to create, edit and stream virtually powered live videos for their audience on their YouTube Channels.'
How Do I Make My Own VTuber?
If you are a new player in the industry of VTubing and want to create a virtual YouTuber for your channel, then the place to find such helpful services is Fiverr.
With a large number of options and huge pool of expert freelancers ready to render their professional VTuber creation services, Fiverr is the platform to start your character designing and development process.
Based on your project requirements, goals and budget, you can look out for the available options and select the best suited one. Once you have made the right connection you can share the details of your virtual character requirements with the expert and let him do the rest.
It is a convenient, efficient and reliable way to capitalize on the expertise of VTuber Creator services of freelancers and get your VTubing channel going in an affordable budget.