Last Updated on October 10, 2022
Looking to create your own VRoid model but don't have any design knowledge?
Interested in finding a talented artist who could create a VTuber avatar for you?
In this article we would show you our top 6 recommended VRoid model artists, and teach you how to commission their work!
Who are the best VRoid commission artists?
Below you'd find our list of best VRoid commission artists to try this year:
1. ixxxdd – Best VRoid commission artist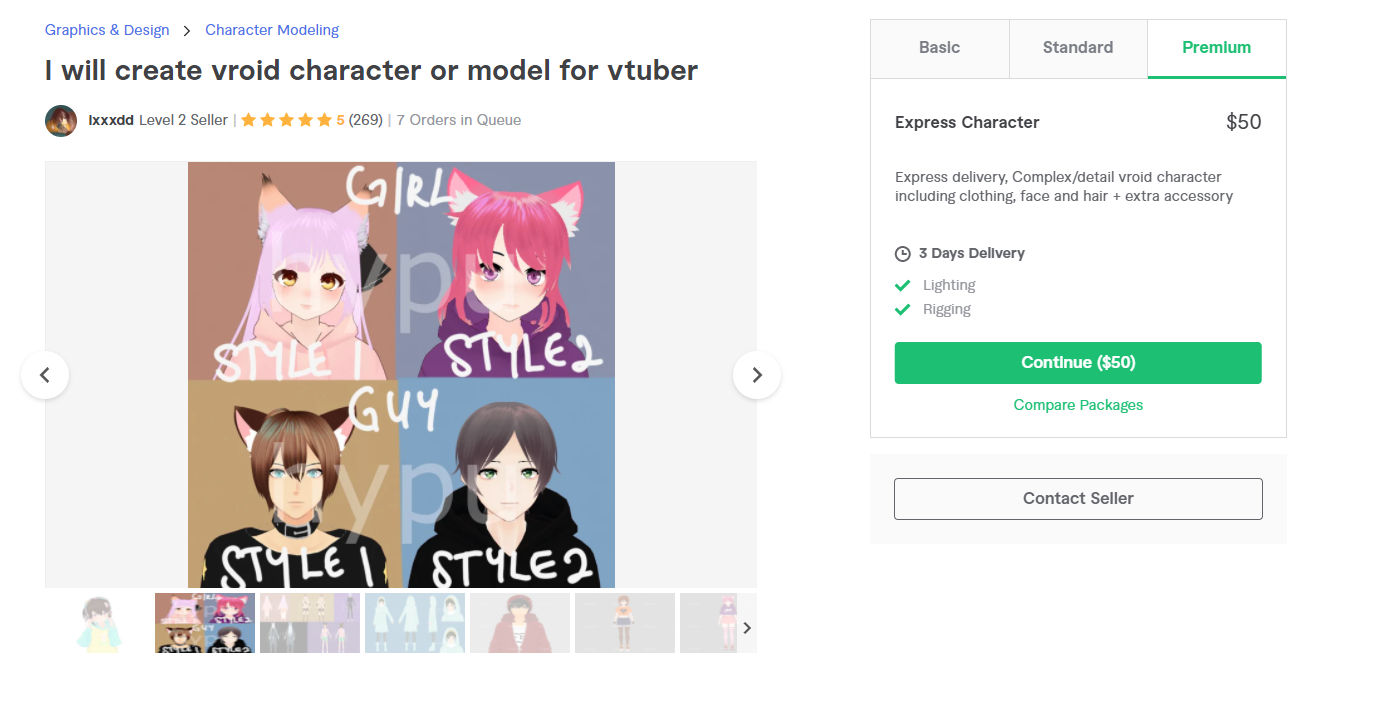 Hypu is a VTuber and a highly-rated artist with over two years of experience in the field and over 300+ positive reviews under her belt.
The fact that she is a VTuber herself means that she's the best to take on your project as she understands all that's needed to create a perfect VRoid model.
She offers to create a custom VRoid model for VTuber in her style, which is quite similar to anime style but with a little tweak. The project is 100% made in VRoid, except for certain accessories that will be added in unity.
Her prices range from $45 to $70, and guarantees delivery in 7 days with two revisions and provide delivery in VRM file. If you're looking to get the VRoid file itself, it costs extra.
She creates models from your selfie/picture (in her style), original character, fantasy and others. However, she doesn't offer Furry, Realistic/real human style, and NSFW (18+). Do make sure to get in touch first before placing an order so as to be on the same page.
Looking for a highly rated VRoid professional? Check out ixxxdd's VRoid model gig.
2. olive_s – Cute, well-detailed VRoid Model Designs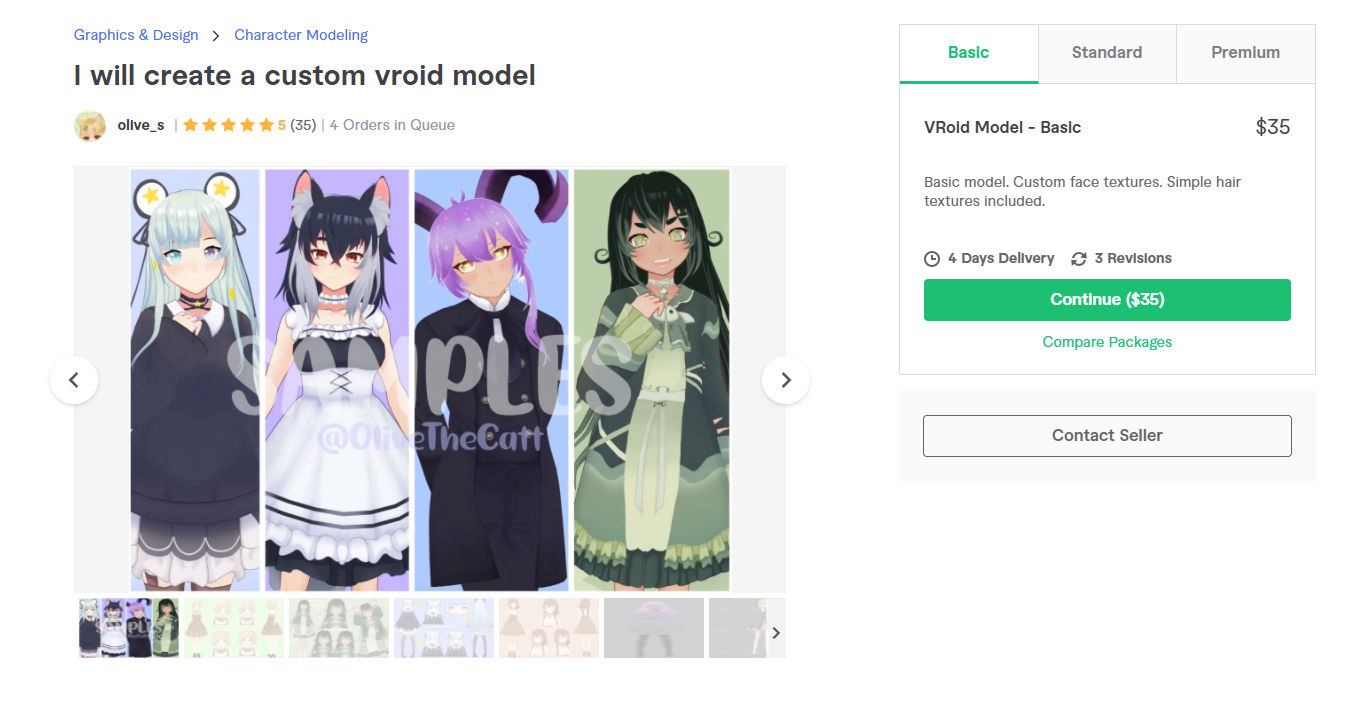 Olive is a 2D artist and 3D artist using VRoid, Unity and blender to create cute well-detailed VRoid model designs. She offers to deliver in VRM and is open to creating 18+ models and any other design with the exception of anthropomorphic creatures.
Her price ranges from $115 to $145 and guarantees delivery in 14days with three revisions. I recommend her premium package if you're willing to go all-out on your model.
The reviewers mostly seem to be praising this Spanish VRoid model creator's attention to detail and responsiveness.
The premium package of olive_s is definitely our best recommendation for those willing to go all-out on their VRoid model purchase due to the inclusion of extra accessories and custom clothing alongside an extra outfit.
People love the design as much as they love the quantitative features of her packages. Her service stands at a rating of 5 stars with 35 total ratings.
Looking for a cute, well-detailed VRoid model? Then Olive is your go-to pro!
3. phynra – Budget Friendly VRoid models with textures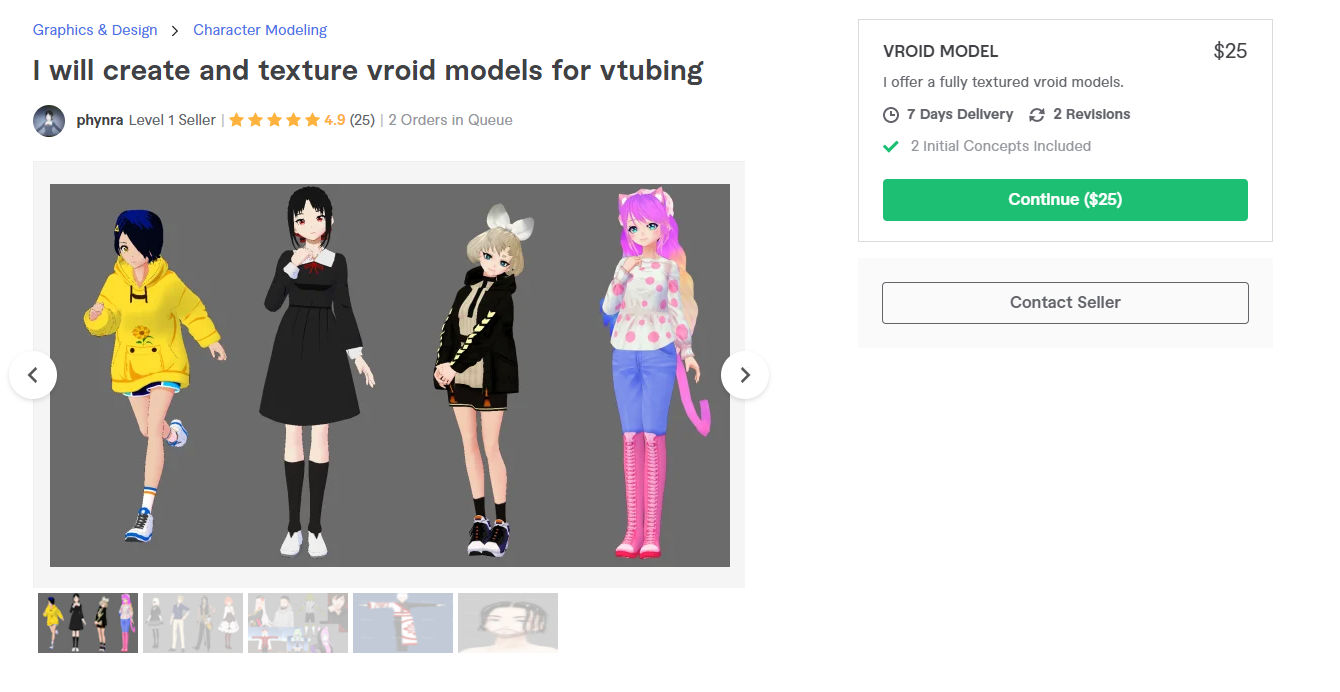 This VRoid model creator from Kenya has earned a reputation for being one of the most stylish VRoid model creators.
The budget-friendly pricing is one of the best aspects of her service, and it's not even a package for the minimalistic people; she also provides her customers with high-quality textures for the models. And even the casual clothing ends up looking authentic.
Her service stands at an average rating of 4.9 stars with 71 total ratings. Her price ranges from $25 (Base VRoid model) to $65 (which involves Vroid model + accessories + rigging) and guarantees to deliver in 7-14days with two revisions.
Want an excellent VRoid model at an affordable rate? Try phynra's gig.
4. Rabbithazard – 3D Expert With Premium Pricing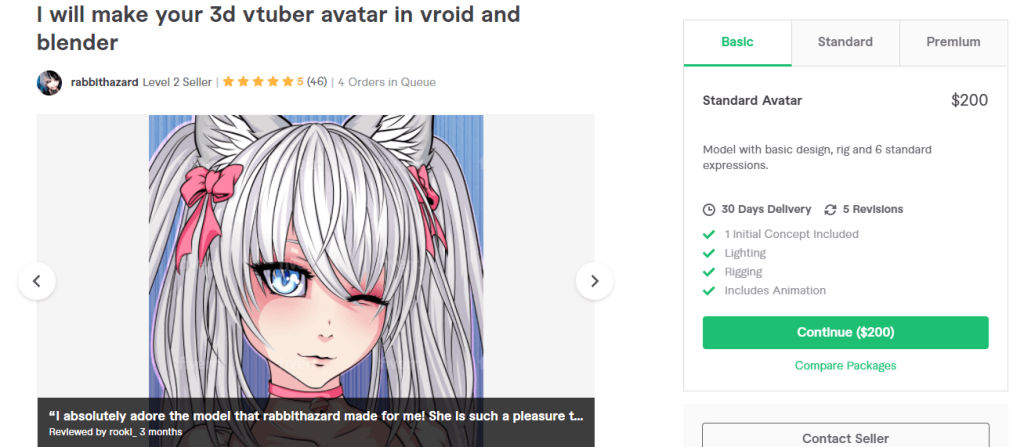 If you're looking to put in a lot of work in your model, then Ara is your go-to pro.
Ara is a character design, illustration, and 3D artist capable of bringing your character to life.
She offers to create a 3D VTuber avatar using VRoid and blender. She's an expert on both software and provides a top-notch model with intricate details.
Her price ranges from $200 to $300 and guarantees delivery in 30days. If you have a big budget, then you can never go wrong with her.
Her packages range from standard humanoid avatars to complex ones with custom expression and Non-humanoid avatars. The sky is the limit with this artist, just communicate what exactly you're looking for and get your mind blown.
Looking for a 3D expert to handle your projects? Reach out to ARA.
5. Gumiokon – Most Affordable VRoid Commission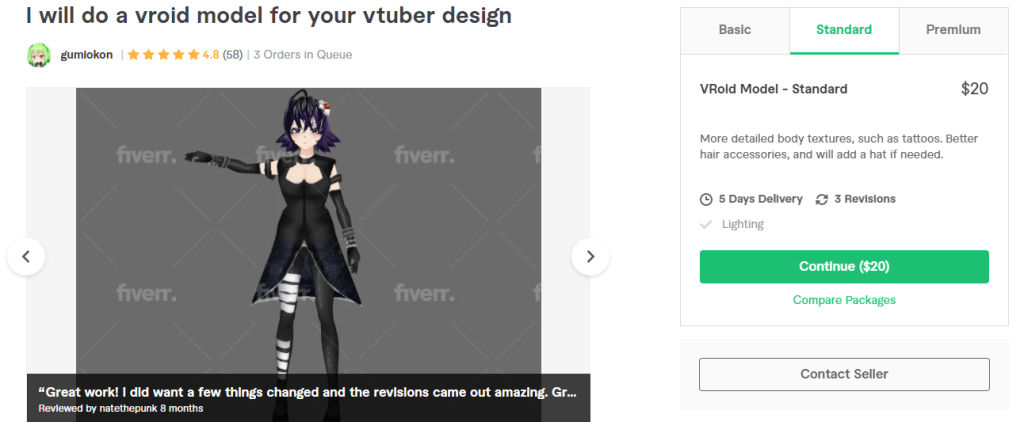 If you are on a strict budget and don't want to break the bank just for a VRoid model, then Gumikon is your guy.
He is a 3D modeller, character designer, and animator capable of bringing your ideas to life without you breaking the bank.
His price ranges from $10 to $30 (and it includes detailed body textures and rigging) sound too good to be true, right? Well, that's one of the pros of using Fiverr.
Gumikon charging low doesn't mean his work is of low quality. However, you can check out his portfolio on Fiverr if it suits what you're looking for, then you can reach out to him.
Looking for an affordable VRoid Commission? Get in touch with Gumikon.
6. kaysim24 – High quality VRoid model with lighting details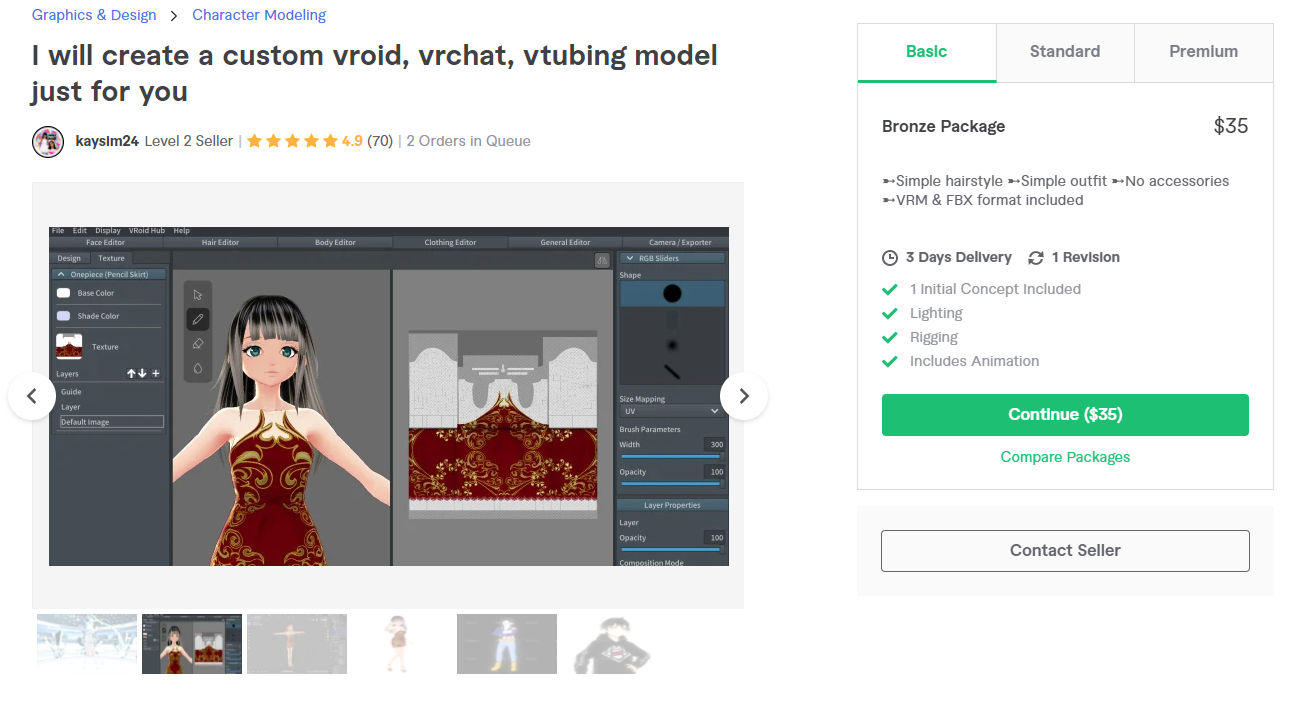 This VRoid model creator has earned reputation for their attention to detail in bringing the vision of their customers to life.
His models are extremely well made in the more expensive packages, and even the basic ones are great if you are looking for something casual.
The best aspect of this seller's models is the detailed lighting, which works for the models universally. The textures, as displayed in the preview images are also creative.
This gig stands at an average rating of 4.9 stars with 70 total ratings.
Want to have an excellent VRoid model with detailed lighting? The VRoid model commission of kaysim24 has you covered.
How much does it cost to commission a VRoid model?
The average cost of a VRoid model is between $25 to $95.
If you want a simple model with basic textures and clothing, you can commission one for a price between $25 and $40, whereas more detailed VRoid model designs that come with original outfits and texture designs can cost something in between $50 to $95.
Is VRoid Free for Commercial Use?
Yes, VRoid is free for commercial use regardless of whether you're an individual or corporate body.
However, you need to agree to the Studio's T&cs before using the service. It's also worth noting that distributing the VRoid Studio software itself to third parties is prohibited, both for sale and free of charge.
How to Get a VRoid Custom Clothes Commission?
To get a VRoid cloth commission, all you need to do is go to Fiverr. If you haven't heard of Fiverr, it is is the world's largest marketplace for digital services, where creatives of all kinds offer their services for as low as $5.
To do that, you begin by going to the Fiverr homepage and searching for "VRoid clothes" in the search field. All of the designers who offer the service will appear in your search results. Scroll through the results, glance through several portfolios and pick a designer whose style you prefer.
To avoid the stress of searching for the perfect artist for your project, you can reach out to momosdoodles. He is a seasoned 3D artist best known for his budget-friendly commissions. His price ranges from $10 -$20. He is a true professional in the field.