Last Updated on December 24, 2022
Are you a fan looking to commission NSFW art for yourself but lack the artistic talent or don't know how to go about it?
Then you're in the right place.
Who Are the Best NSFW Commission Artists?
In this article, we'll be reviewing the Top Five (5) artists on Fiverr who most suited to handle your art needs, based on our experience:
1. Iamfranarias – NSFW Cartoon-Styled Art Commission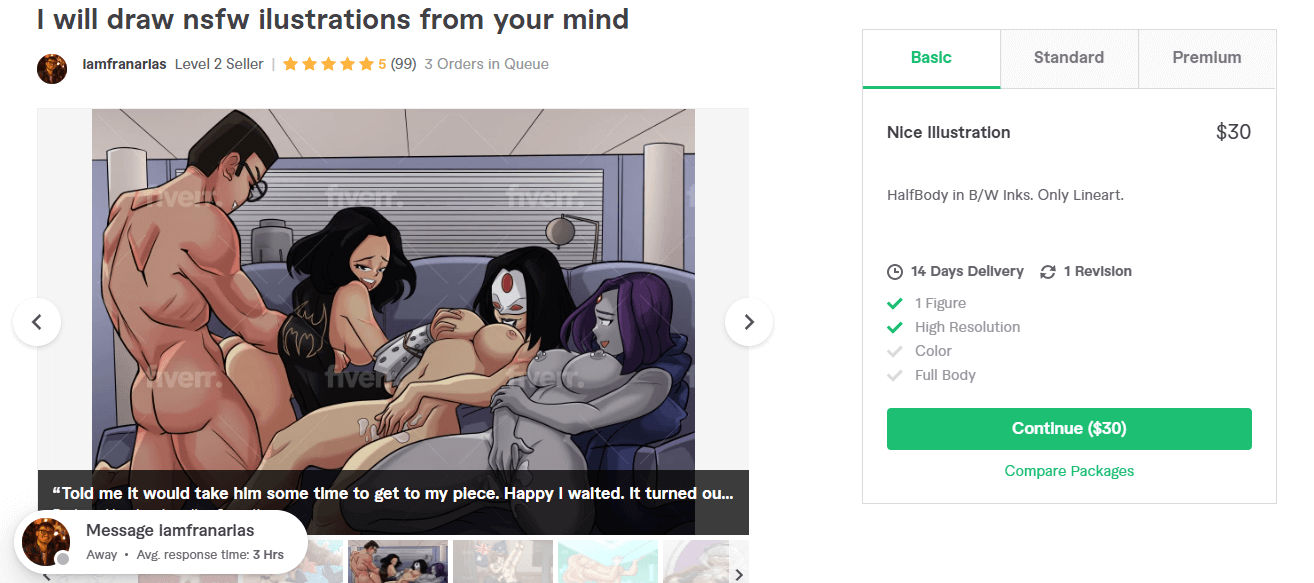 Fran is an Illustrator & Comic-strips Artist focused on cartoon-styled art.
He can draw robots, anime or self-created characters, pin-ups, magical girls, furry, fantasy, and science fiction illustrations, among other things. (These illustrations feature a figure doing whatever is requested.)
Fran is open to drawing whatever, as long as they don't contain anything too explicit or infringe on other groups' rights. His prices range from $30 for half-body line art to $55 for colored full-body art.
Looking for a cartoon-styled NSFW art? Fran is your guy!
2. Manishambre – NSFW Pin-Up Art Commission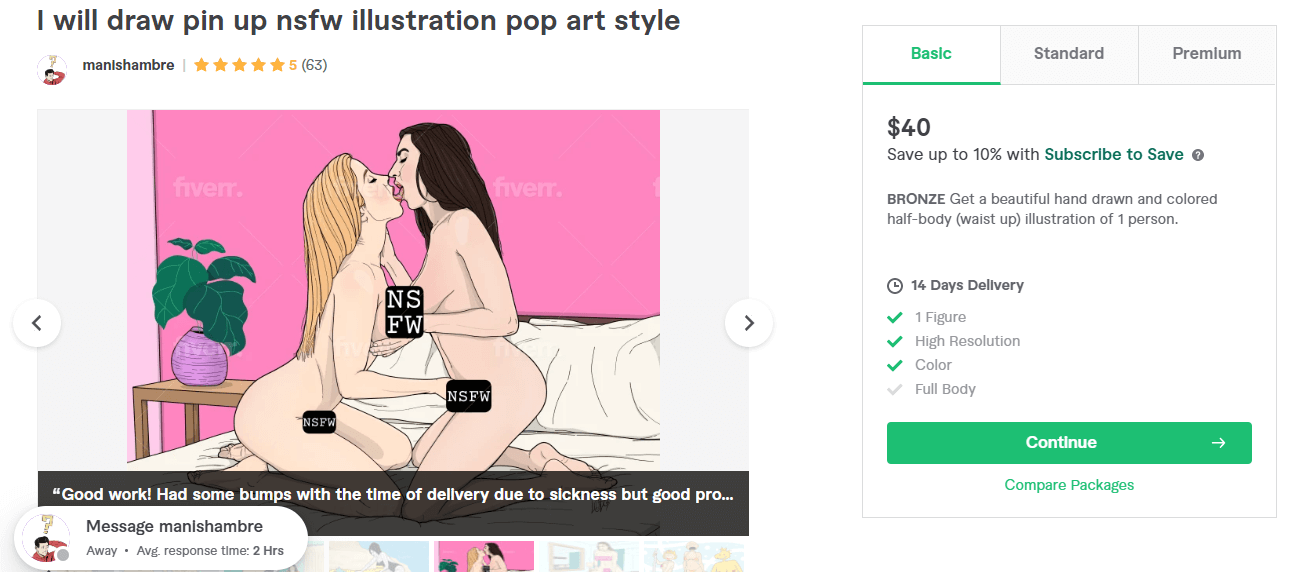 Manishambre is a professional illustrator specializing in NSFW and SFW pin-up model art drawn in realistic human anatomy drawing style with bold line art.
He's open to drawing any mainstream fetishes (BDSM, foot, LGBTQ+, and so on) in any NSFW setting or scenario. He solely draws human characters and does not work in other styles such as anime or manga.
He charges $40 for a colorful half-body (waist up) illustration of one person to $100 for a colored full-body illustration of two persons.
Looking for an NSFW pin-up art? You can't go wrong with Manishambre.
3. Udelart – NSFW Anime Art Commission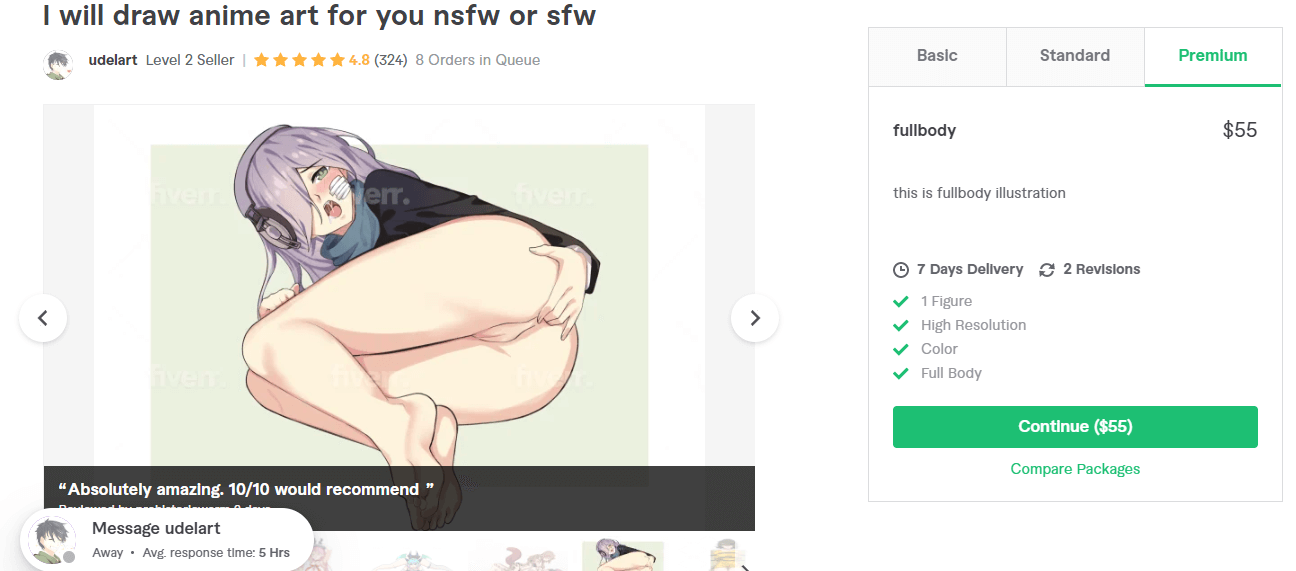 Udelart is a seasoned freelance illustrator who has worked on various projects. He offers to draw NSFW anime fanart, original characters, or human conversions. Except for gore-based art, this artist's creativity knows no bounds.
His prices range from $30 for a Headshot illustration to $55 for a full-body illustration with a lightning-quick turnaround time.
Looking for NSFW anime art? Reach out to Udelart.
4. Rerechow – NSFW Comic Art Commission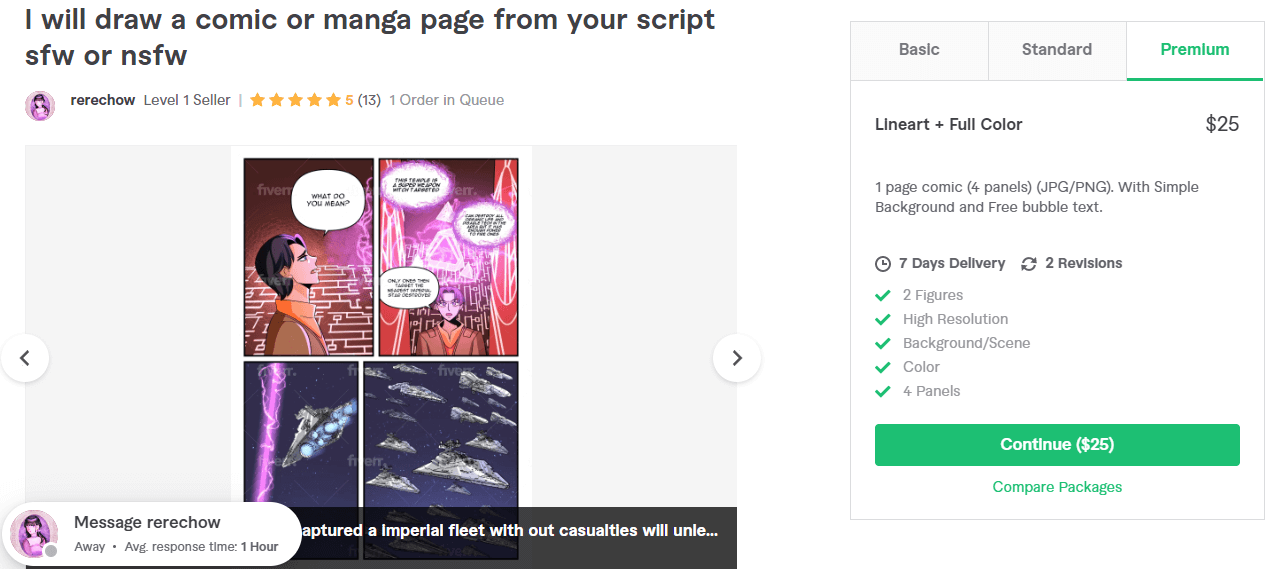 Rerechow is a seasoned illustration freelancer with years of experience creating comics in webtoon style or comic strip. He can draw romance, drama, slice of life, school, fantasy, and action comics, but not horror/thriller or Mecha.
His prices range from $15 for a single black-and-white page (4 panels) to $25 for a full-color page (4 panels) with a background. You can contact him before placing an order if you want to draw more than four panels.
You have to send him a detailed reference and description of how you want the comic to look, then sit back and watch him perform his magic. He'll also keep you informed throughout the entire process.
Looking for a NSFW comic art? Rerechow is your go-to pro.
5. Shizukaproject – NSFW Dakimakura Art Commission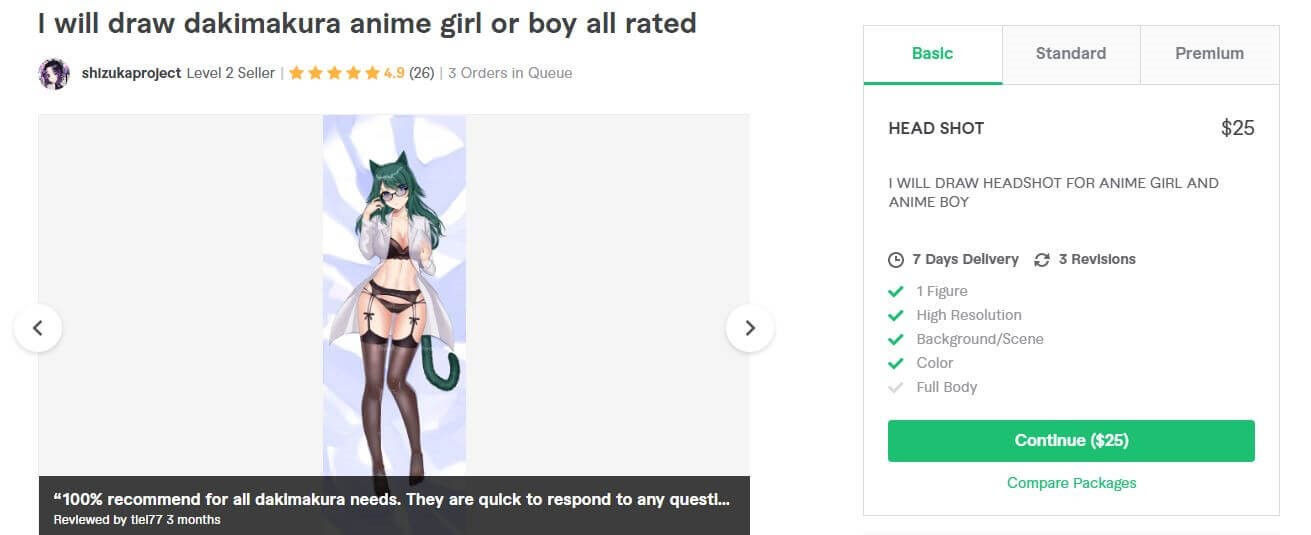 Dakimakura is an anime-themed body pillow popular among anime fans. Shizuka is a graphic artist that can create custom character art for your dakimakura.
Shizuka is a level two seller that creates all-rated dakimakura of waifu and husbando. He can draw male and female fanart characters, OC (original character), and human-to-anime conversions.
His prices range from $25 to $70 and guarantee delivery in 7 to 10 days with three rounds of revisions. This pricing, however, is only for one character and one side of the dakimakura. So, send him a message if you want to order more than one character for both sides.
Before placing an order, he asks that you write him a message. Explain or send the reference task (with a photo if possible) and be explicit and detailed, so the work does not take too long.
Looking for a NSFW Dakimakura art commission? Check out shizuka's gig.
What Is the Difference Between NSFW Art and SFW Art?
NSFW is an abbreviation that stands for "Not Safe for Work." NSFW art defines artwork with explicit or adult content.
In contrast, SFW (Safe for Work) is the polar opposite of that – explicit free content.