Last Updated on December 31, 2022
Are you a WEEB or OTAKU looking to commission a dakimakura art of your waifu or husbando with no prior experience? If that's the case, then you're at the right place.
Finding qualified and affordable freelancers that are a good fit for your project can be a difficult task. To take the pressure off, we've done the legwork and collected a list of exceptional artists that are best equipped to take on your projects, each with their own set of skills and distinctive style.
Each of these freelancers was found on Fiverr, my all-time favorite hiring platform, which features hundreds of thousands of skilled creatives from all over the world selling their services for as little as $5 or near that cheap price threshold.
What are the best Dakimakura commission services?
In this article, we'll be reviewing the Top Five (5) artists on Fiverr most suited to handle your dakimakura projects based on our experience:
Keep in mind that these artists have a lot of NSFW commissions that will not be featured here. To see their work, go to Fiverr and look through their portfolio using the links below.
1. Scaith – All round dakimakura expert with premium pricing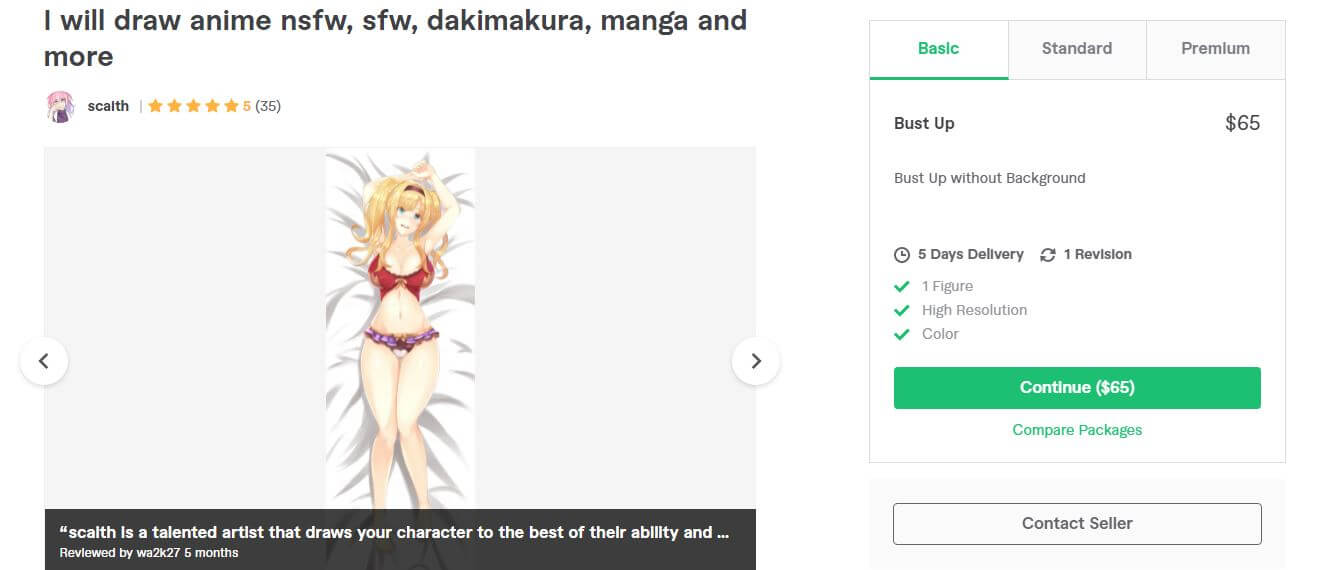 Scaith will draw any fanart character in both NSFW and SFW styles, with the exception of full furry characters. In the case of NSFW works, you can choose whether or not to censor them. She recommends including things like pose, background, and other details in your request for better results. as well as scene ideas or how you want to view the character.
Her prices range from $65 to $130, and she guarantees delivery in 5 to 7 days with one revision. the prices may seem a bit high, but rest assured that you're getting the best quality. She can work on a variety of projects, but she appears to be more active in the NSFW scene, so send her a message if that's what you're looking for.
Looking for an expert to bring your character to life? Check out Scaith's gig.
2. phi_md – All Round Anime Art Commission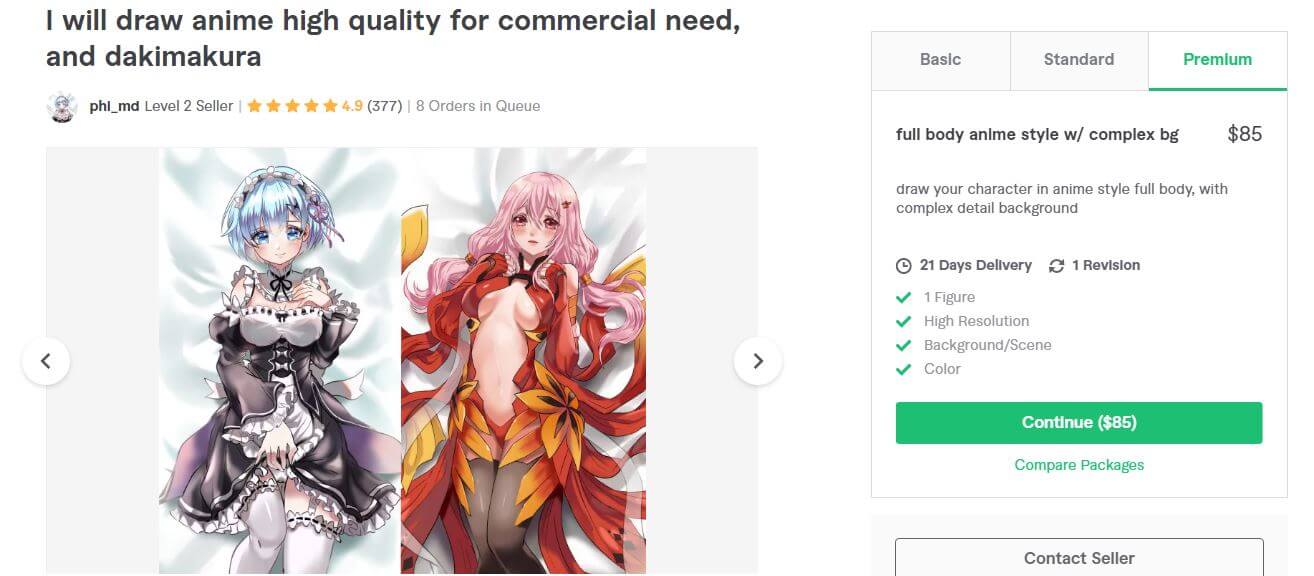 Phi_md is a talented artist who makes a wide range of anime-related artwork. From anime portraits to fanart to dakimakura and itasha, there's something for everyone. You'll be getting anything anime in high resolution and print-friendly format.
His prices range from $25 to $85, and he guarantees delivery in 14 to 21 days with one revision. However, because he offers a diverse selection of artworks, his price is not fixed.
So, before placing an order, I recommend sending him a message to discuss your project. Depending on how complex your project is, you might not end up spending up to $85. His usual response time is one hour, so expect a response within that period.
Looking for an anime expert to take on your projects? Check out phi_md's gig.
3. Antasmi – High-Quality Dakimakura Commissions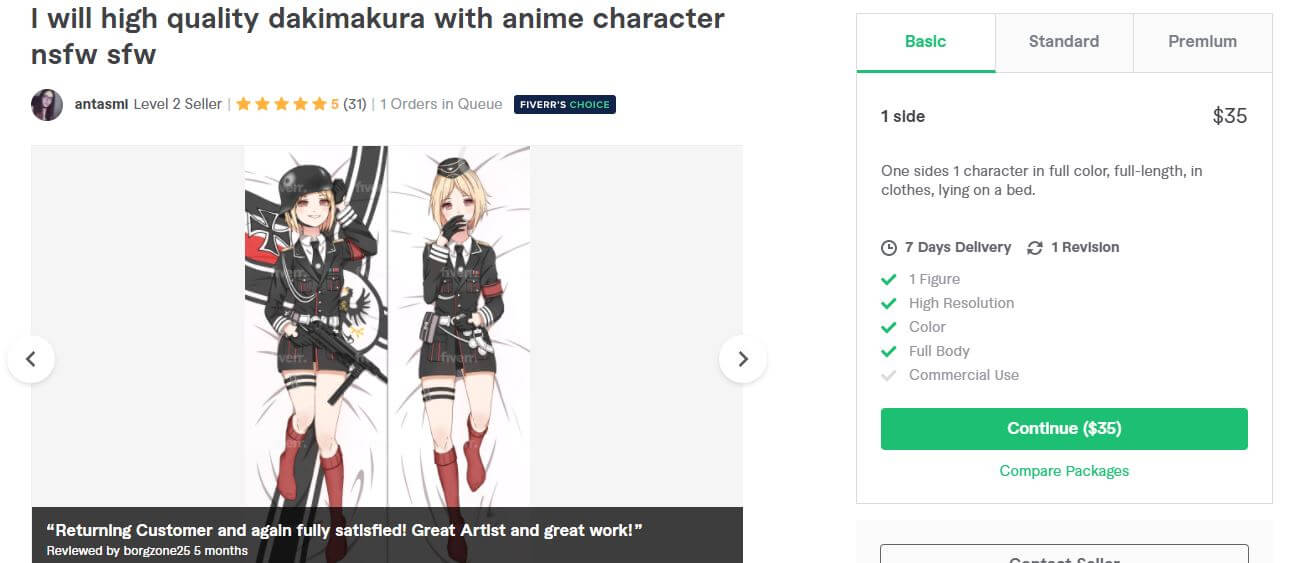 Antasmi is a talented digital artist and illustrator on the platform that specializes in dakimakura design. She can draw fanart of any character from a game, anime, manga, cartoon, or book in a variety of styles, including anime, cartoons, and semi-realism.
She can draw on one or both sides for dakimakura, as well as NSFW contents such as armor, milf, bondage, maid, ahegao, futanari, mutant, trap, ecchi, furry, nekomimi, animal ears/tail, mecha, monster, BDSM, loli/shota (13-18 age) in any gender.
She is also able to create SFW content if you're not looking for something intense. Her price ranges from $35 to $105 and she offers to deliver within 7 to 10 days with 2 revisions. Send her a message today to bring your character to life. Her average response time is one hour, so you should hear back within that time frame.
Looking for a high-quality dakimakura commission? Check out Antasmi's gig.
4. Shizukaproject – Highly Rated Dakimakura Professional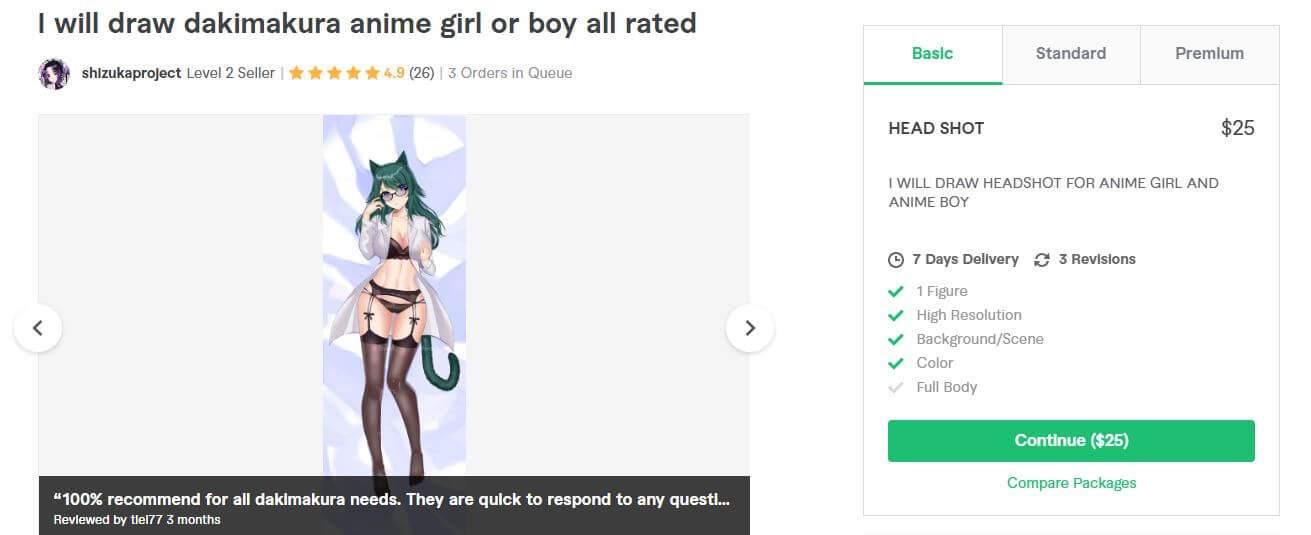 Shizuka is a level two seller that creates all-rated dakimakura of waifu's and husbando. He can draw both male and female fanart characters, as well as OC (original character) and human-to-anime conversions.
His prices range from $25 to $70 and guarantee delivery in 7 to 10days with 3 rounds of revisions. This pricing, however, is only for one character and one side of the dakimakura. So, send him a message if you want to order more than one character for both sides.
Before placing an order, he asks that you write him a message. Explain or send the reference task (with a photo if possible) and be as explicit and detailed as possible so the work does not take too long.
Looking for a highly rated professional to take on your project? Check out shizuka's gig.
5. hey_kraiva – Most Affordable Dakimakura Commission
Luna is a professional anime artist that commissions the most affordable dakimakura on the platform while maintaining quality.
For just $15, you'll get a full-body printable dakimakura pillow of any character of your choice in SFW or NSFW art in 7 days with unlimited revisions. Sounds too good to be true right?! Well, it isn't. you can get everything for that price and still maintain great quality, that's what makes this gig stand out.
However, for an extra $15 you can get: One more posing, additional figure (2 figures on a pillow), Extra fast delivery, and get your dakimakura image in just 1 day. Send Luna a message today to get your own dakimakura. Her usual response time is one hour, so expect a response within that period.
Looking for an affordable dakimakura commission? Checkout Luna's gig.